Nerja (Spain). June 20, 2021
The Prime Minister of Spain announced a few days ago that as of next Saturday (June 26th) no masks are going to be required outdoors. We've had to wear masks outdoors in Spain since March of 2020 – so that news is huge. If there's one thing we've learned during this pandemic it is how much we've (previously) taken for granted the ability to walk outdoors and enjoy fresh air. No more foggy glasses, sweaty faces or shortness of breath. We can't wait to be able to take off our masks. I'm just wondering if we'll recognize all the people we've met over the time we've been living in Spain…
I've previously written about how tourists can now come to Spain. It's all a sign of things finally coming back to a semblance of "normal".
Adjusting to life in Spain
The above coincides with us getting our 2nd doses of the Pfizer vaccine next week.
All this couldn't come at a better time for us. We've been living in Spain for 8 months now (the first month we had an Airbnb apartment before finding the apartment that is now our home). It's been a busy time with bureaucracy* and fixing up our apartment. After 6 years of full-time travel it's been an adjustment.
---
*Bureaucracy since we came to Spain with our Non-lucrative Residence Visas (NLV)
Getting our Spanish Residency Cards which, between the two of us, required 4 trips to the police station in Antequera (getting your Spanish Residency cards should be your #1 priority when arriving in Spain on your NLV). Obtaining our padrón (a certificate showing us as having registered at the local town hall), talking to a tax advisor, getting our digital certificates (and going to Velez-Malaga to get it authenticated), signing up to the Spanish Health care system, getting vaccination appointments…pretty soon we have to look into renewing our visas which is more paperwork I don't look forward to.
---
For the first time in my life I've bought power tools. I've become somewhat of a handyman, fixing things up in the house and garden. Lissette's been busy with home projects and made a tabletop with Moroccan tiles (azulejos) and picture frames with stamps. Over the last several weeks we've bought plants and flowers and have worked on our yards. We've gone from travelling full-time to being almost domesticated 🙂 .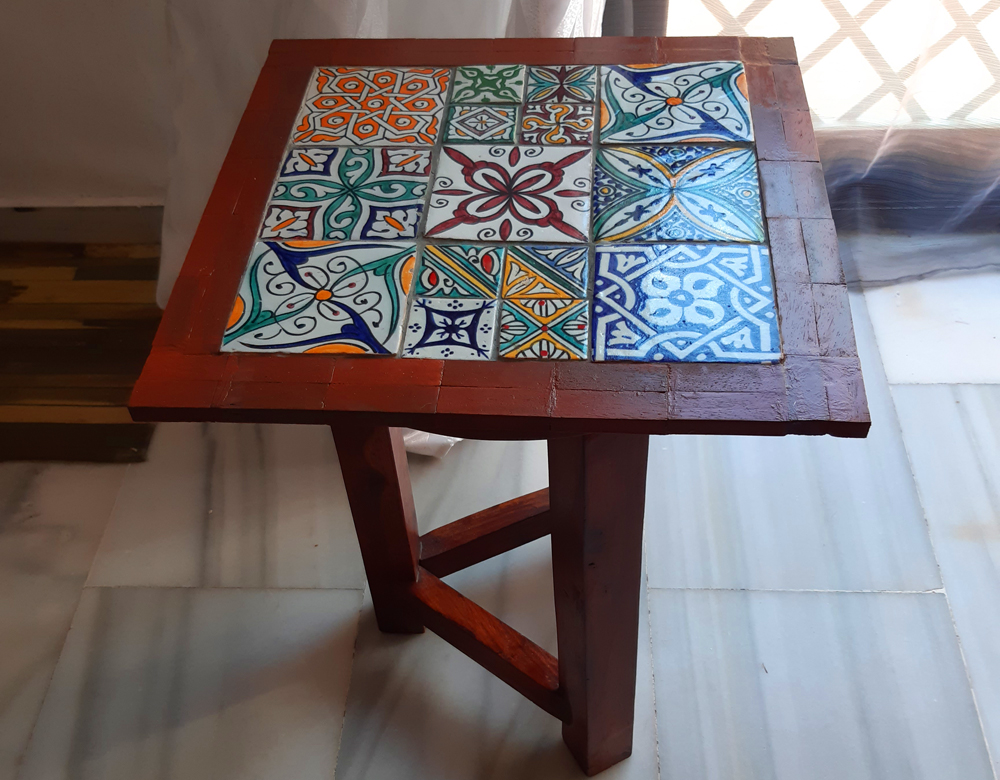 In our 'Ask an Expat' series I always ask what the biggest adjustment expats have encountered coming to Spain. The answers usually center in two things: 1) bureaucracy and 2) siestas and working hours.

I've mentioned bureaucracy above. It's normal I think, you're a foreigner coming to live in Spain so of course they'll be hoops to go through when you get here. But the harder thing for us was working around the siesta hour where mostly everything is closed between 2 – 5 pm (except banks and many government offices – many don't reopen at all after 2pm). We couldn't sync our schedule and just felt like we couldn't get anything done. It's taken a while but we now feel we've adapted – and can even appreciate the Spanish siesta. Now we wake up early (no matter what time we went to bed), have a coffee and a "Spanish breakfast" (usually a couple of cookies or a piece of toast), go out and do what we have to do, then come home in the early afternoon. By then the sun is hot. We'll have lunch and by then we're ready for a nap. After a nap (which can be 20 minutes to an hour depending on the day), we'll take a walk, go to the beach, or work in the garden. We'll usually have a drink outside before having a late supper. In the end, "giving in" to the siesta just makes sense.
Loving Spain…
I've previously written the choices we had in where we wanted to live and how we ended up living in Split (Croatia) for a year. It is one of the most beautiful places we've been. There are many things we loved about Split. But being in Spain we look back and realize that life is so much better and easier in Spain (that's mostly me talking. Lissette loved Croatia much more than I ever could). We both speak Spanish and that is a big deal – if you don't speak the language you're not going to have the same experience. Locals here are friendly and chatty, but we've also seen them get nervous when they think you can't speak the language (the level of English in Spain is very low). Our interactions with locals and our ability to do day-to-day stuff would be so much harder if we didn't speak Spanish. On the other hand, if we had stayed in Croatia I don't think we could ever have learned Croatian well enough to have decent interaction. And without the language you can't fully integrate.
But there's more than that. Spain is modern, developed, and has links to all of Europe. We'll be appreciating that when we start travelling again.
Finally, there's the nature. We've been here 8 months and have seen most of the yearly cycle of plants and flowers. Oranges in the trees, bougainvillea bushes hanging over arches, orchids, wisteria, hibiscus…there are so many colours and natural beauty around. It really is one of the most beautiful regions in the world.
Some photos from around Nerja
Looking forward
Once we get our 2nd vaccine doses and can take off our masks (that's next Saturday) we'll start exploring the region. There are lots of pretty little towns nearby including Frigiliana (just 6km away), Almuñécar, and Salobrena. All are within an hour's bus ride of Nerja.
I've also just started studying for my Spanish driver's license and hope to get that later this summer. Once I have that we plan on doing extensive road trips discovering more of the region.
So we have lots to look forward to and hope (cross your fingers) that the worst of Covid is behind us.
Join Our Newsletter
If you haven't subscribed yet and want to get our posts sent to your email, just insert your email address below. It's free!