Cafes to experience in Nerja
We always like trying out different cafes in Nerja. There's a lot of variety here, I've previously mentioned Good Stuff Café (which makes excellent breakfasts), Teteria Zaidin (a Moroccan-style café/teahouse) and Café Bar las Cuatro Esquinas (for the best churros in Nerja).
We've recently discovered 4 more Cafes (or café/restaurants), all of which should be experienced for different reasons.
Cafeteria Snack la Habana
This pretty café sits almost right across from Mercadona on Nerja's main drag. Somehow we've passed by without ever spotting it.
We have a weak spot for Cuba (having spent 3 weeks there a few years back) so we decided to have a look and order something.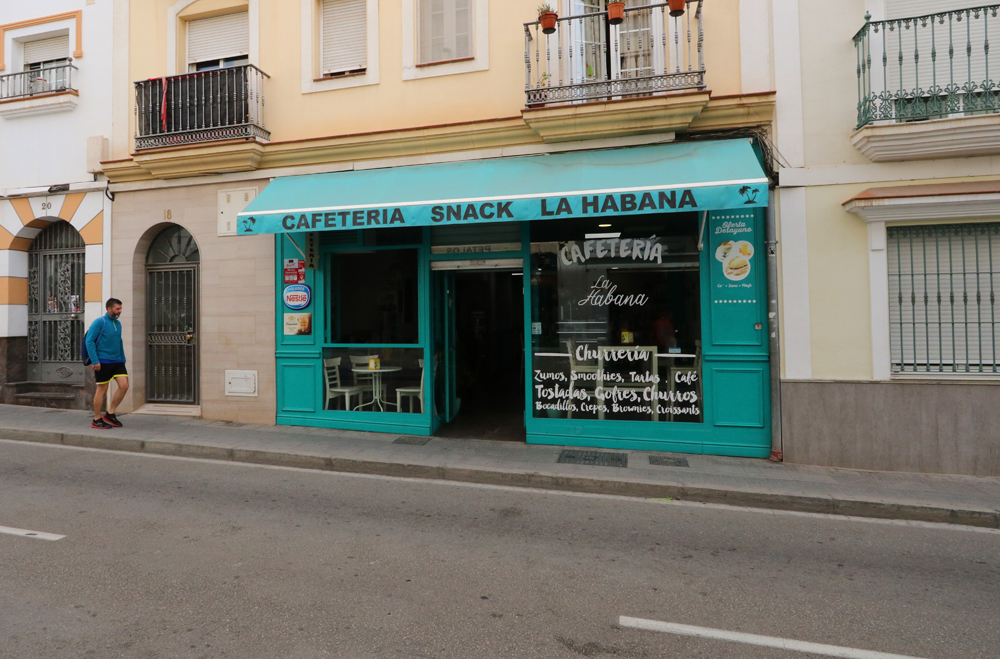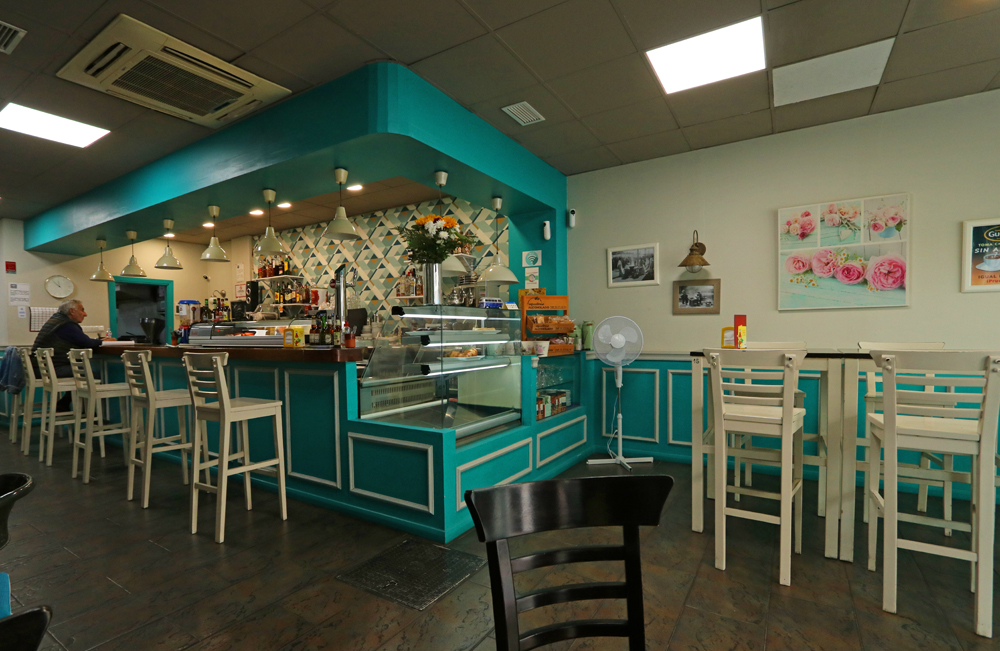 ---
---
La Habana serves typical Spanish breakfasts, sandwiches, coffee, juices and alcoholic drinks. The most common thing on the menu is a "Pitufo", which is another word for a Tostada in Malaga province.
*Looking it up, a Pitufo literally means "smurf," in this case it refers to a sandwich made with a miniature loaf of bread. These are especially popular for breakfast along with a coffee and orange juice. It's also a common late afternoon snack, or merienda.
We both ordered the combo "Café + Pitufo + Zumo" which costs 4.50 Euro. We had one pitufo with marmalade, the other with a mix of olive oil and grated tomato. This is a very typical Spanish breakfast that we had never tried before. It was excellent.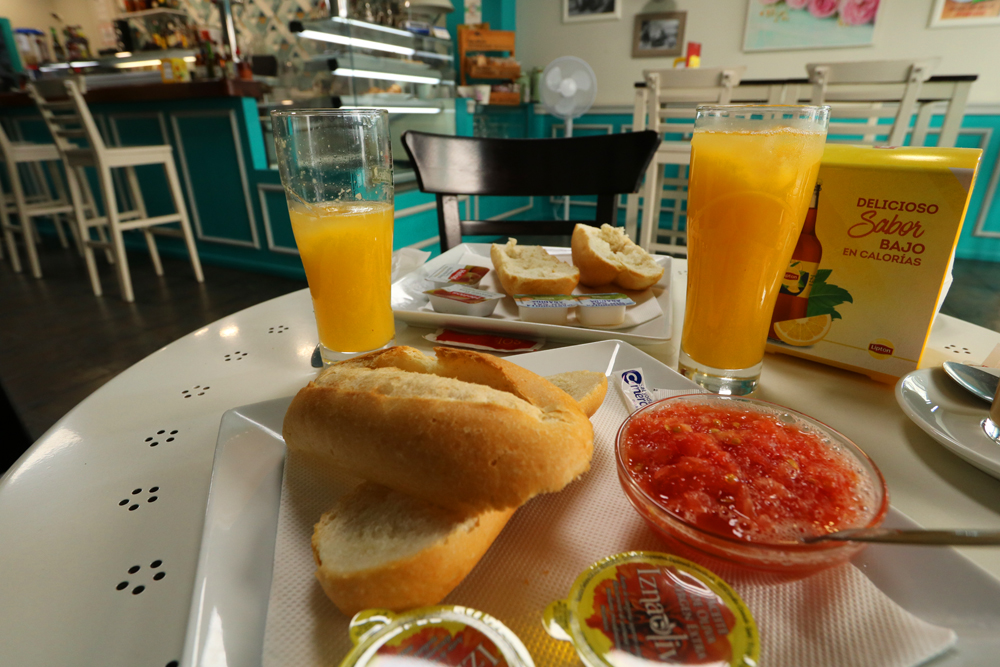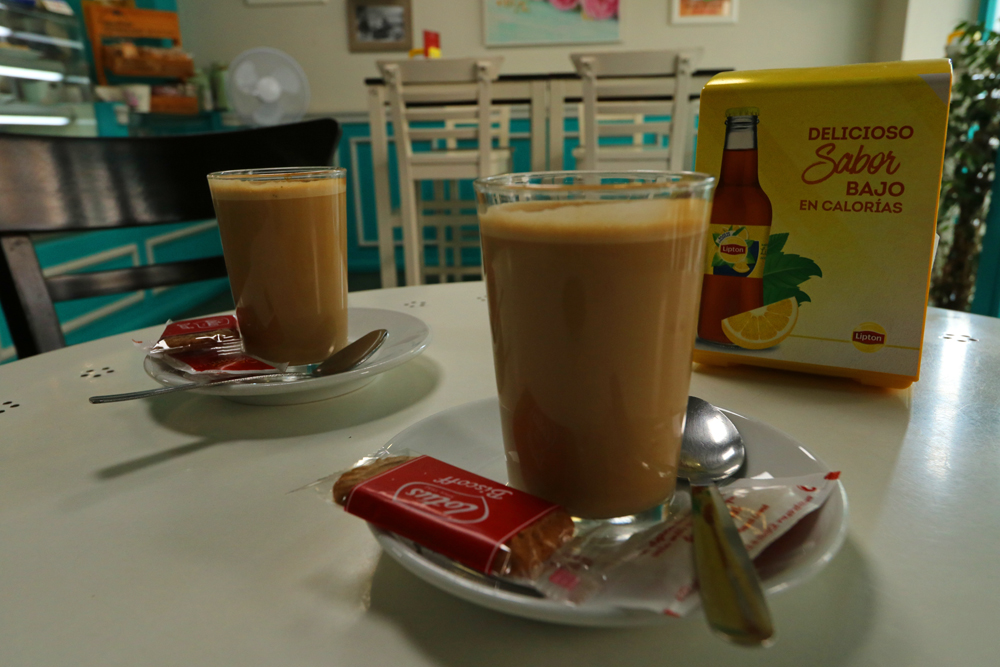 The owner is a friendly Cuban lady who will make you anything you want. Want some Caribbean food? She'll make it especially for you, just tell her what you want and give her some pre-advice so that she can plan ahead. One of our readers told us that she also makes wonderful Caribbean cakes with pineapple.
We had a café con leche and a cappuccino. Both were simple and unpretentious…but good. Just like the place.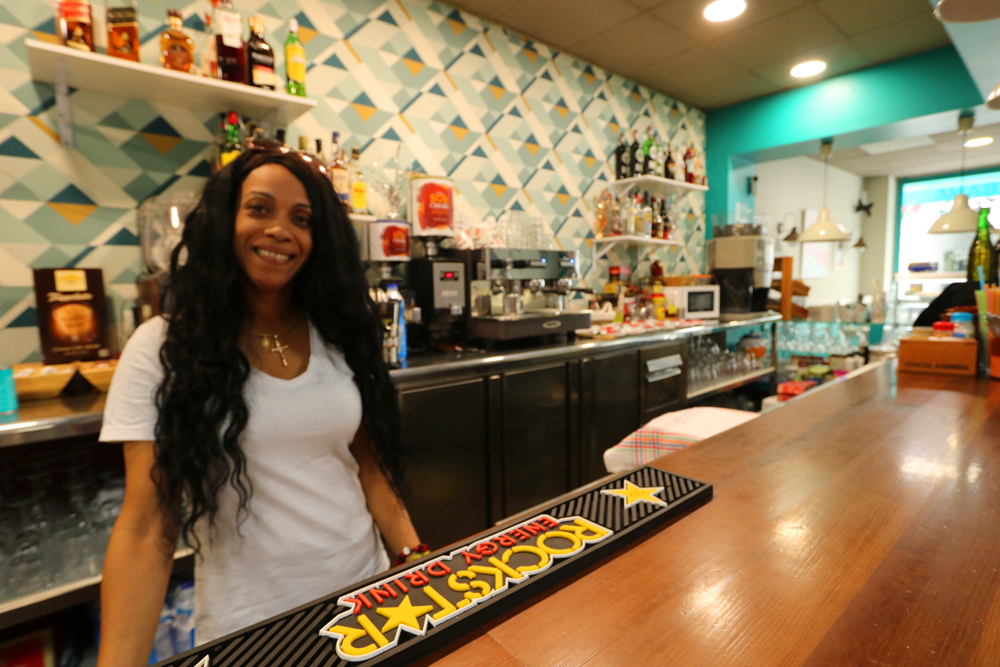 Why you should visit Cafeteria Snack la Habana: friendly service and typical Spanish food with a Caribbean touch. Good place for breakfast before doing your grocery shopping at Mercadona.
Note: You can't find Cafeteria Snack la Habana on the internet or the map. You can find Cafeteria la Rueda on this spot – my understanding is that there was a change in ownership about 7 months ago. The friendly lady told us that she also has another café called La Habana II up the street close to Plaza de Cantarero.
---
---
Julieta
Down the street, across from Panaderia Salvador, is Julieta. It looks like a little barn. It actually looks pretty small from the outside.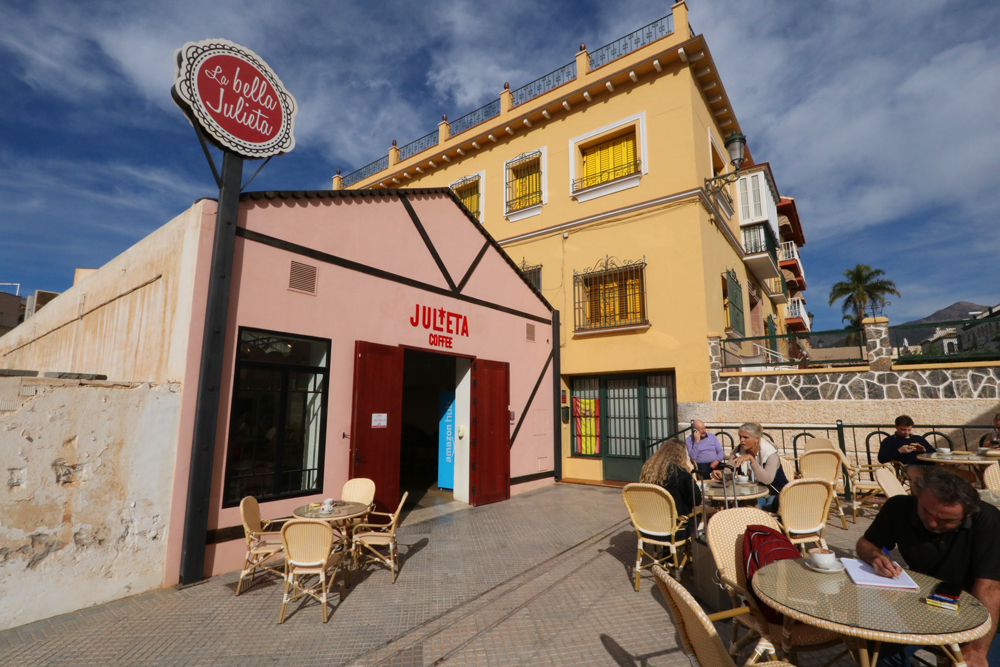 So we were surprised to walk in and see that this a very large café.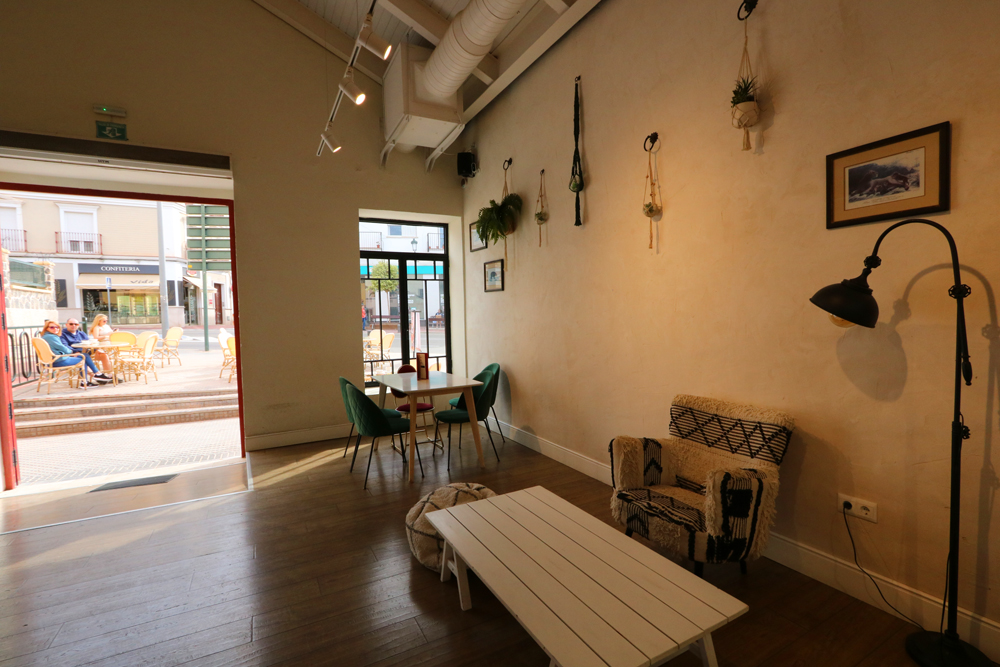 Julieta is the closest thing to a Starbucks in Nerja. Even the logo looks suspiciously like the Starbucks logo (albeit in a different colour).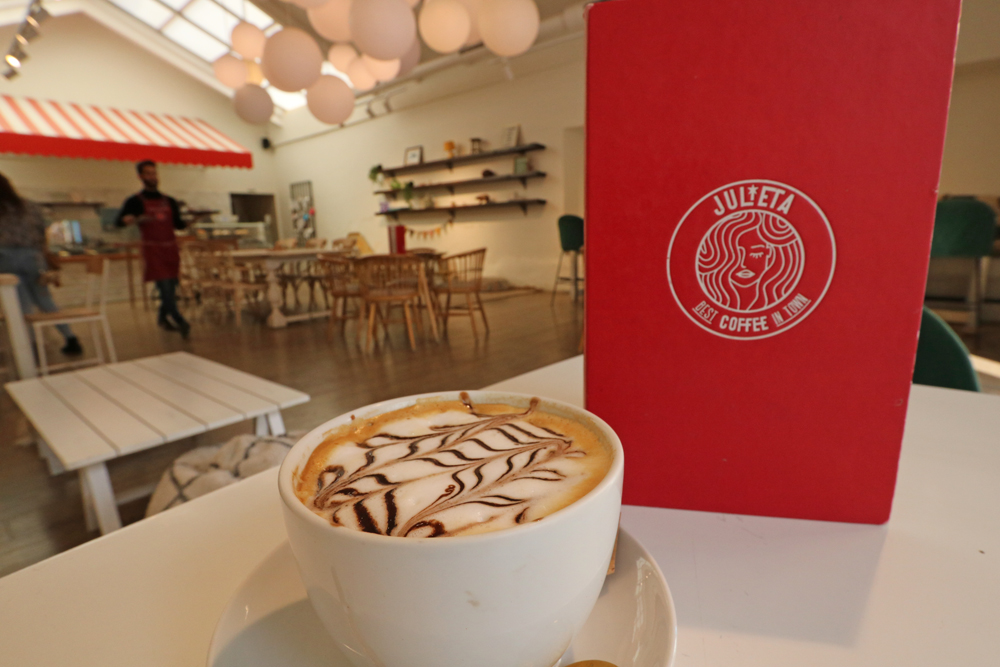 As you can see though, it's a beautiful place – a relaxing place to talk to friends over coffee, read a newspaper or get some work done.
Why visit Julieta? For the closest thing to a "Starbucks vibe" in Nerja.
---
---
Mena Garden
This beautiful property is quite popular. Stylish, with a Moorish theme, the highlight is the incredible garden space in the back.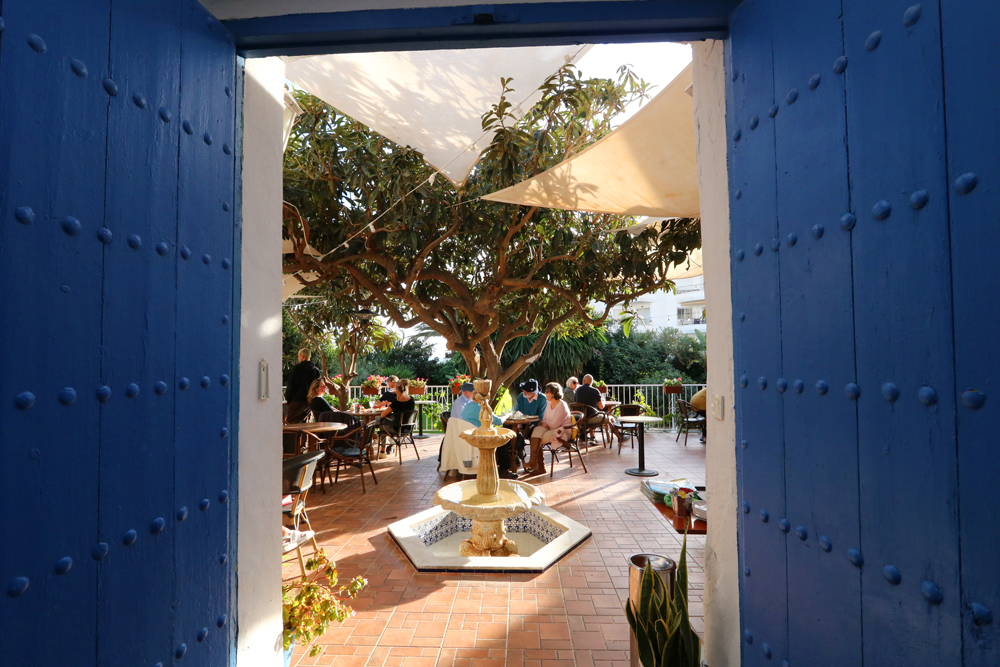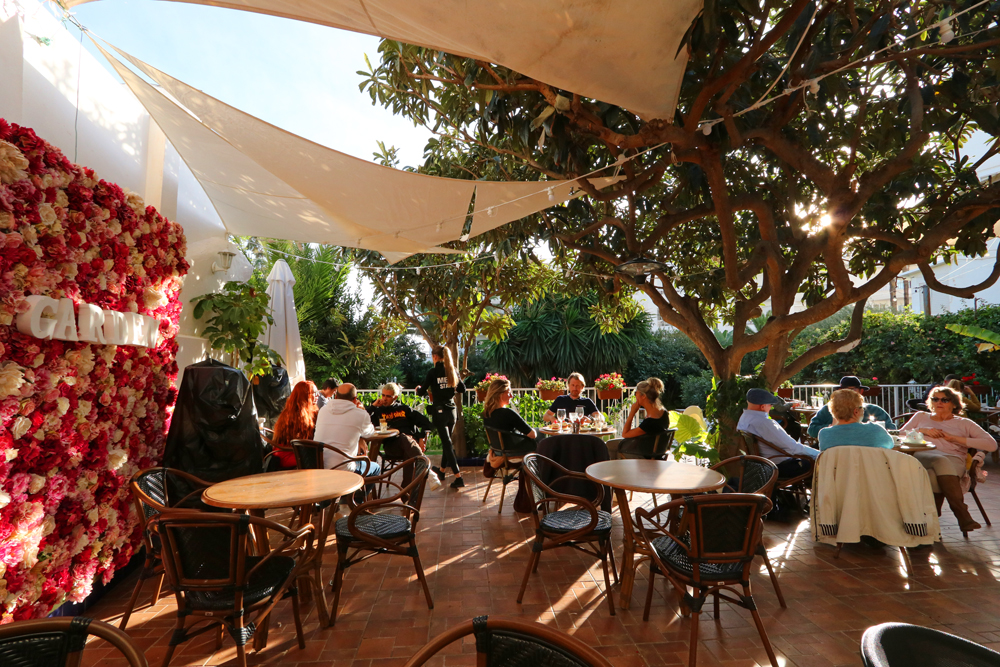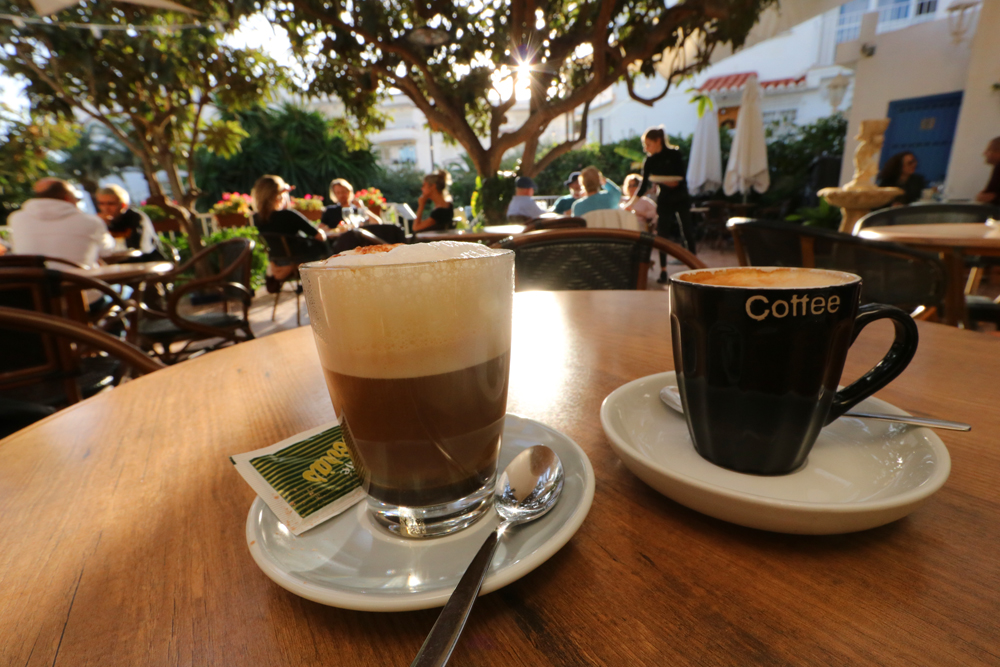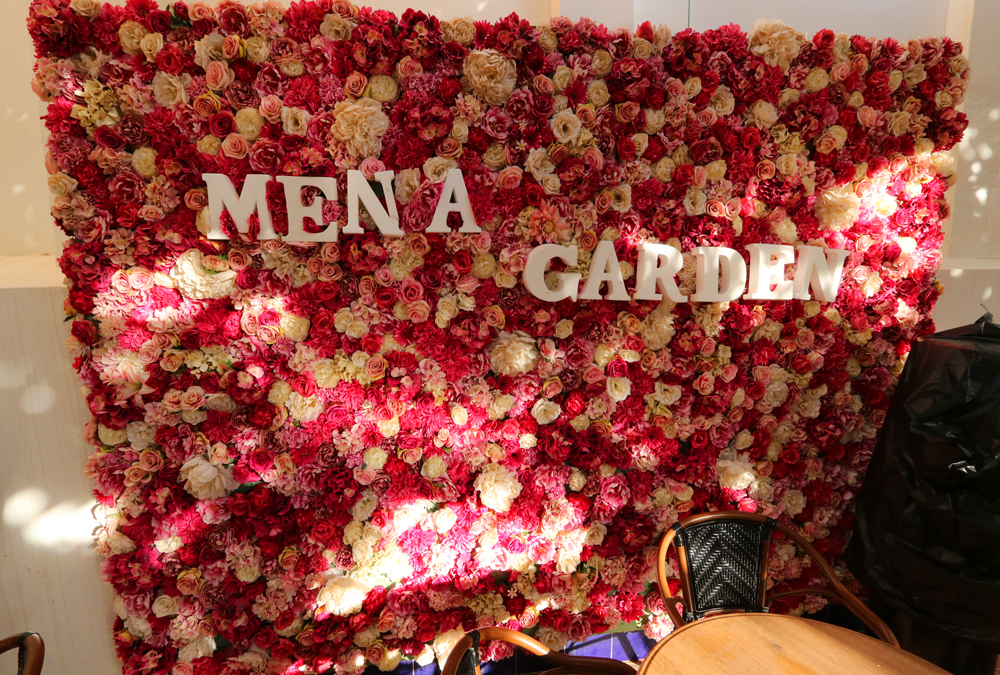 Mena Garden has a huge menu with lots of food options.
I recommend coming here for drinks and enjoying the outdoor space. We've been here several times for that alone. It is wonderful and relaxing. If you order a coffee stick to a simple café con leche.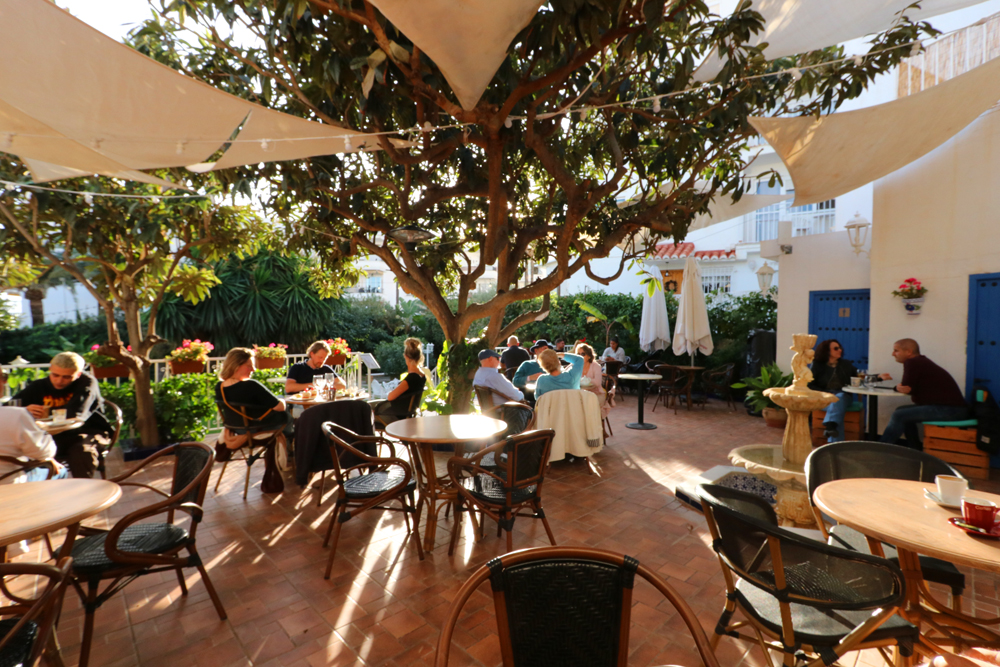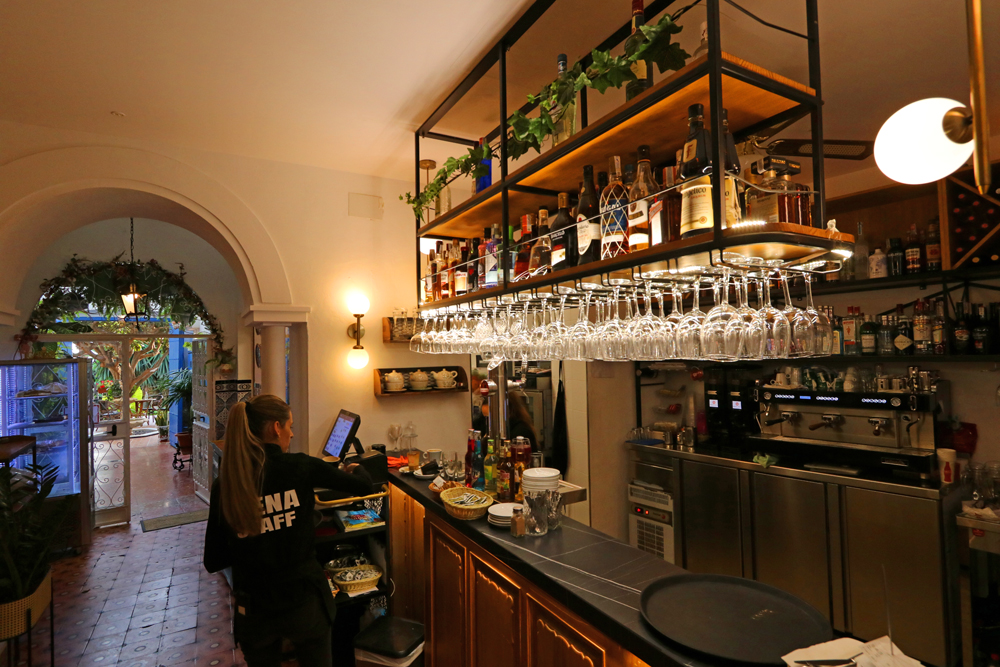 Why visit Mena Garden? Maybe the most beautiful garden space in Nerja, a fabulous place to come for drinks with your partner or friends.
---
---
La Nube
This café takes up much of Plaza Cantarero. It's our favorite plaza in Nerja, a place where you see locals sitting on park benches under the huge tree that provides much needed shade in the summer. It's a beautiful plaza framed by bougainvillea and cactus and we love coming here and ordering a coffee or breakfast. It's always lively and a good place to watch the world go by. Also: the bus station is right across the street, so if you have a bit of time to kill this is a good place to do it.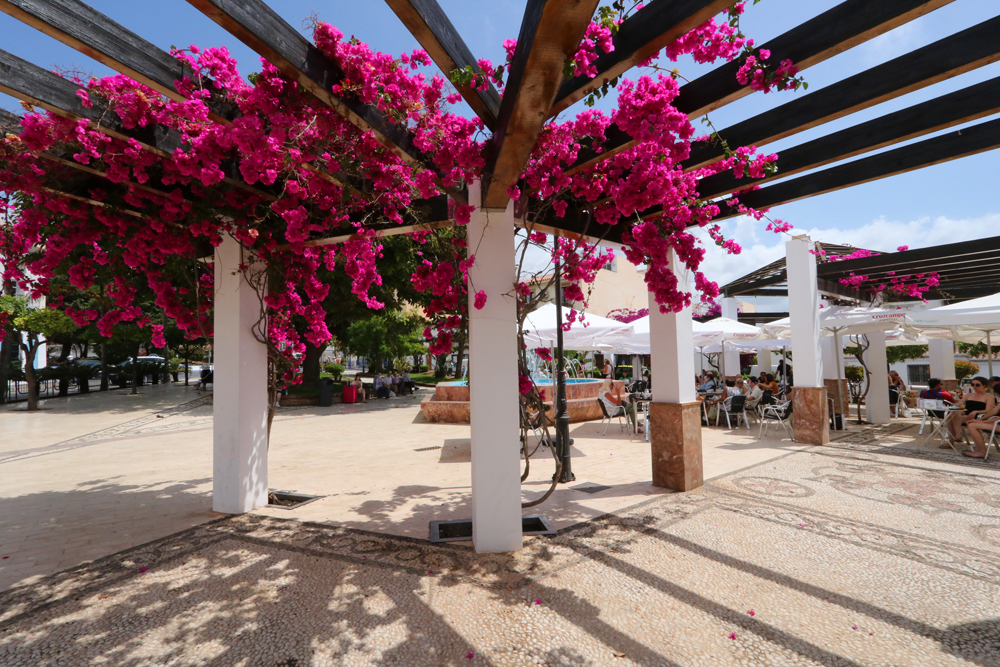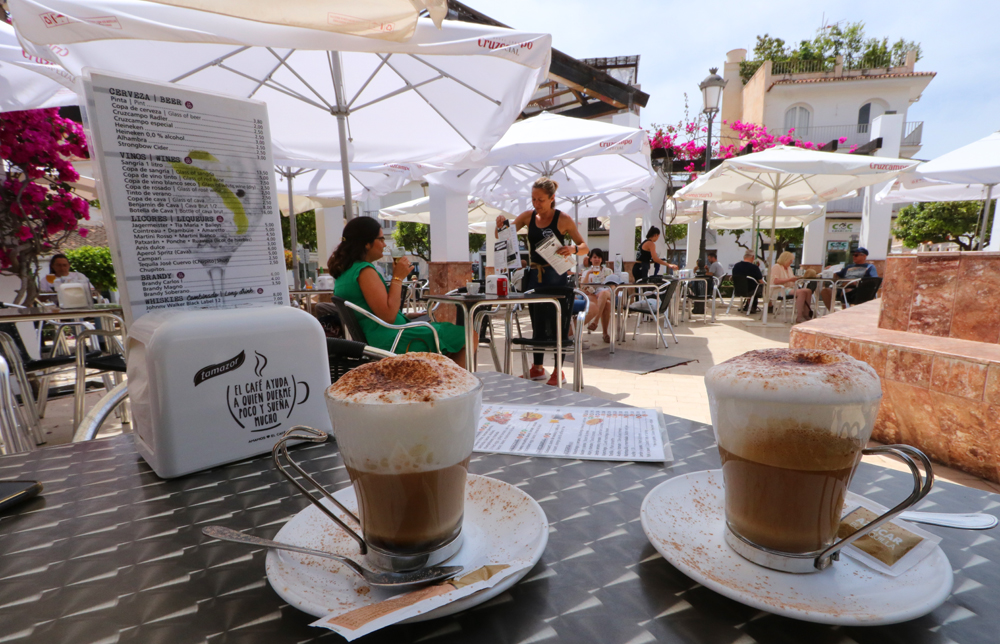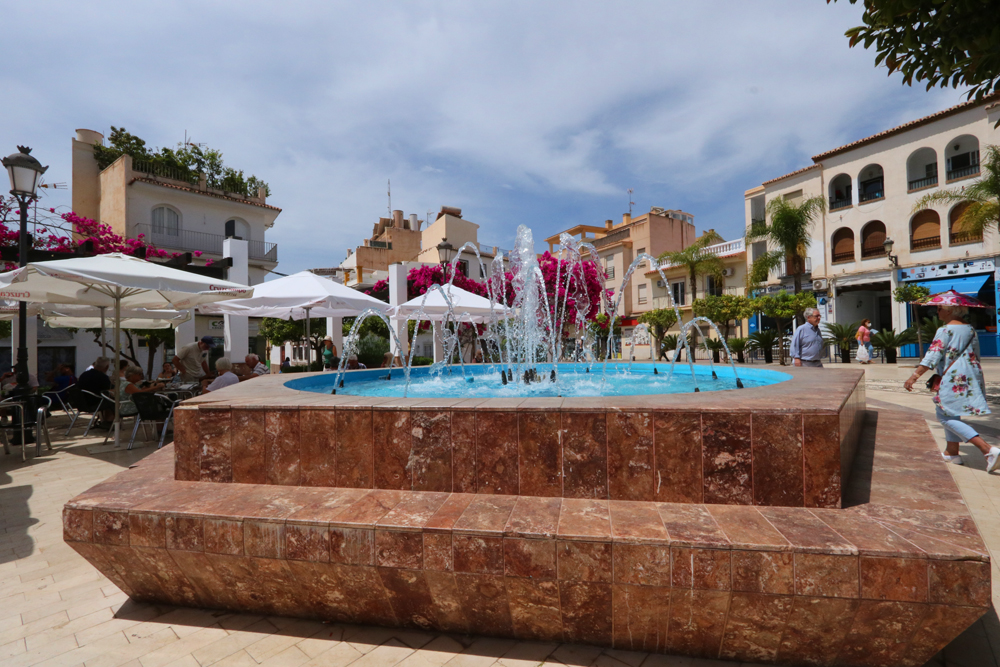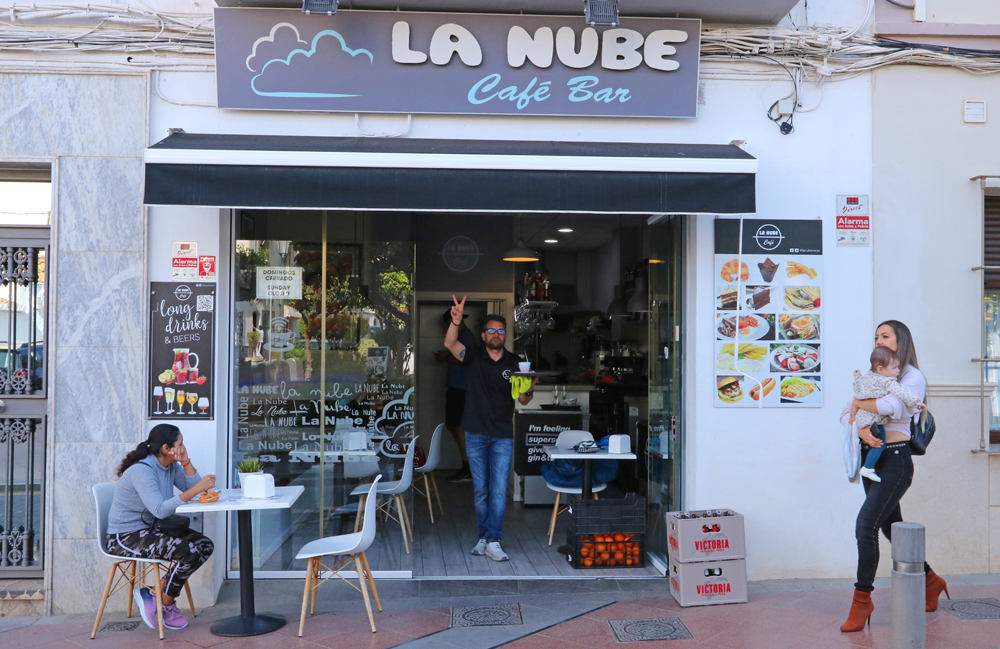 Why visit la Nube? For the setting and good food and coffee.
As you can see, all the above Cafes should be experienced for different reasons 🙂
---
---
Join Our Newsletter
If you haven't subscribed yet and want to get our posts sent to your email, just insert your email address below. It's free!