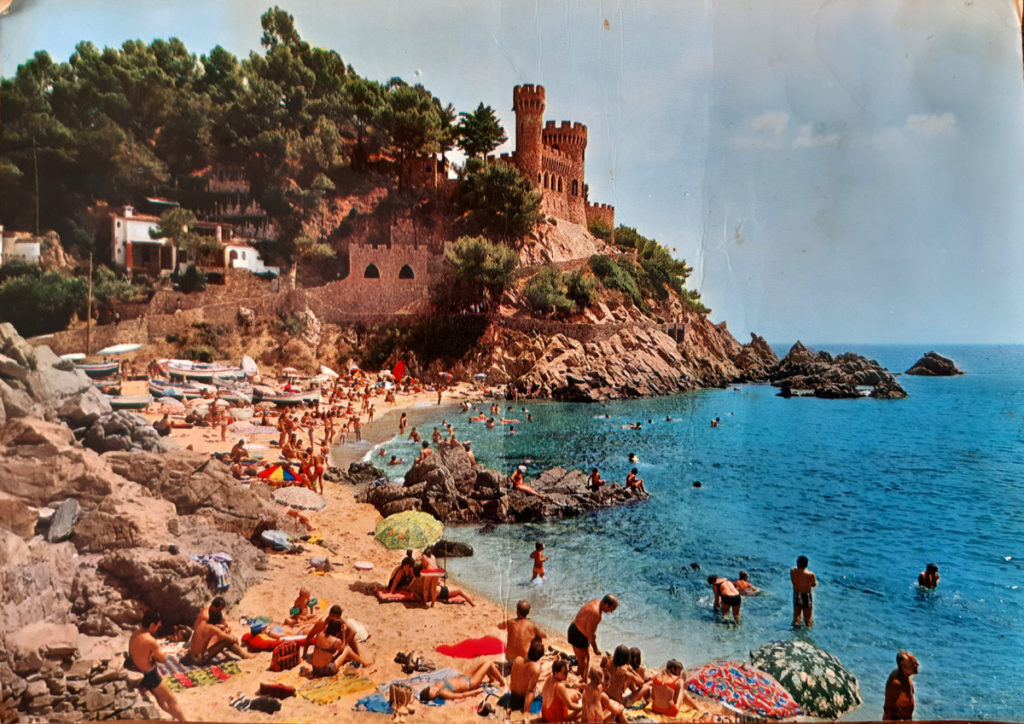 A postcard from Lloret de Mar (1985)
Back in 1985 I travelled to Spain (from Canada) with Laurent, a good childhood friend. I was 18 at the time.
I recently came across this postcard going through some old family albums. I had to share it just because it's interesting to see all the things that have changed in travel and technology since 1985.
---
Dear Mom, 15/08/85
Hi from Lloret de Mar! In case I haven't been able to talk to you by telephone by now it's because its super hard to get a line at the times you're home. We tried twice and couldn't get through. Anyway, I've sent lots of postcards. Everything's going great, we have 14 days left and I still have 15 travellers cheques. We're having a super time, the weather's great (rained 2 hours in 2 weeks) and the Costa Brava is beautiful. We're camping at a beautiful beach about 3 km from Lloret de Mar. Today we went down to Lloret and bought a tape recorder so we could listen to my tapes. Everything here is super cheap, especially alcohol and food. Nearly all the other tourists here are either German or Italian, there's hardly any French, English or Americans. The water here is really beautiful, clear and warm, and the sun really hot. I've got a really good tan and starting to peal. Can you please pick me up at 11:00 am on the 30th at Mirabel airport? Everything's going great and we're having a super time.
Love,
Frank
---
---
Besides being a pretty boring postcard (I guess the most important things to teenagers are still cheap food and alcohol and the ability to listen to their music), it brought me back to the complexities of travel at the time: making long distance phone calls home, money (exchanging money at home and bringing traveller's cheques), and lodging (this was before internet – we would just wander around looking for camping spots or cheap hotels).
It's pretty amazing all the changes that have taken place since then.
What I didn't tell my mom in that postcard were the more interesting stories. Like the night in Lloret when we went bar hopping and (taking a break from drinking) laid down at the beach and fell asleep. It was before midnight. We woke up around 3am (drunk) and staggered back to our camping spot where we spent the next day throwing up. Then there was another evening when we went dancing with the two pretty sisters who had a tent next to ours. We were pretty innocent back then and nothing happened. The next day we saw the two girls lead a guy into their tent for an afternoon of sex. Laurent and I just looked at each other in dismay, dwelling on what a bunch of losers we were.
It was the first trip for both of us without parents and – excluding the above – we have lots of good memories of that trip. I also wonder what Lloret de Mar and neighboring Tossa de Mar (which was our favorite spot on the Costa Brava) are like today? They're both places I want to get back to one day.
---
---
Join Our Newsletter
If you haven't subscribed yet and want to get our posts sent to your email, just insert your email address below. It's free!