I wrote about Nerja's Ruta de Tapa a couple of weeks ago. It had just started and we were excited to have our first "Ruta de Tapa" experience.
The final day was last Sunday (June 12).
With it being finished I thought I'd reflect on the experience and also tell you the restaurant most deserving (in our opinion) to win the restaurant competition.
---
Just a quick summary in case you don't know anything about Nerja's Ruta de Tapa: Every year in late May/early June, Nerja holds a degustation tour/restaurant competition called the "Ruta de la Tapa" (Route of the Tapa). For 2 Euros for a beer and tapa, you get to sample food from restaurants you might not be familiar with. This year there were 13 participating restaurants. It's not just about you getting a cheap tapa and beer, it's an actual competition – you get to vote on the different restaurants. The winners get a bit of prestige as well as a cash price. (in 2019, the last time they had the competition, the winner was Restaurante Hermes with an average score of 4.5. They won 300 Euros. 2nd Prize was Pescaderia El Artesano with an average of 4.4. They won 150 Euros. 3rd was Salamandra with an average of 4.2. They won 100 Euros)
This year there were some new restaurants as well as some repeats. Photos:
---
---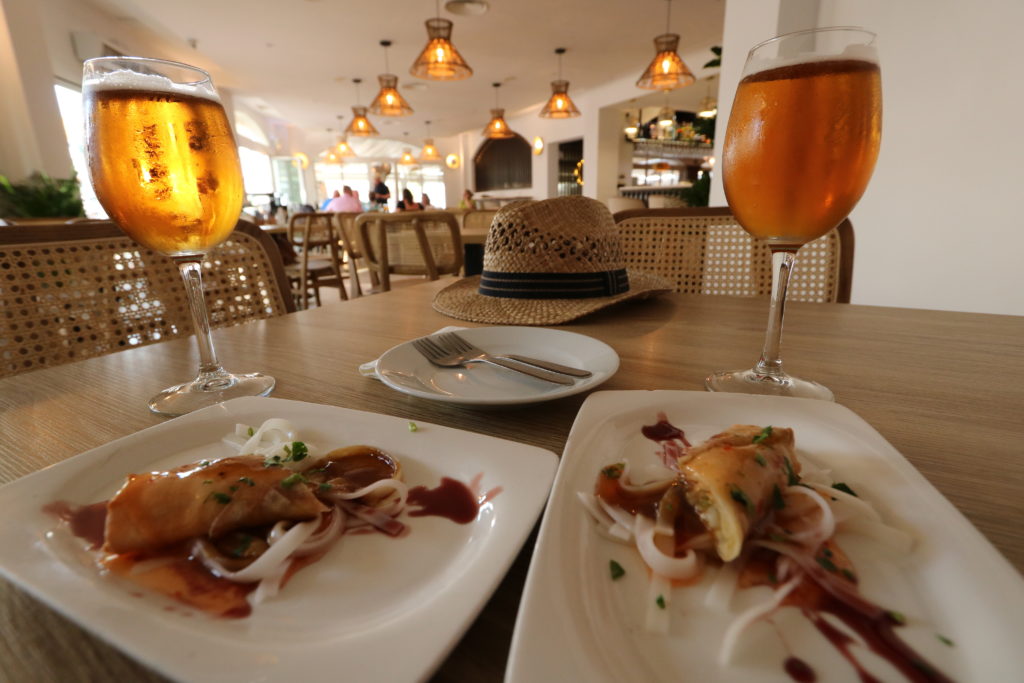 ---
---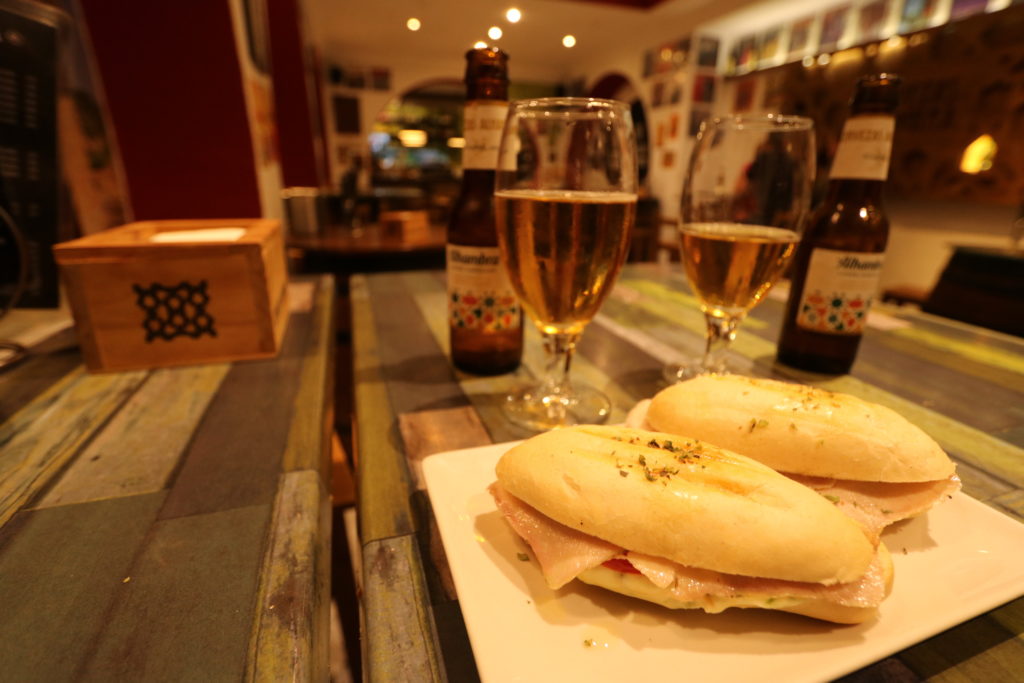 ---
---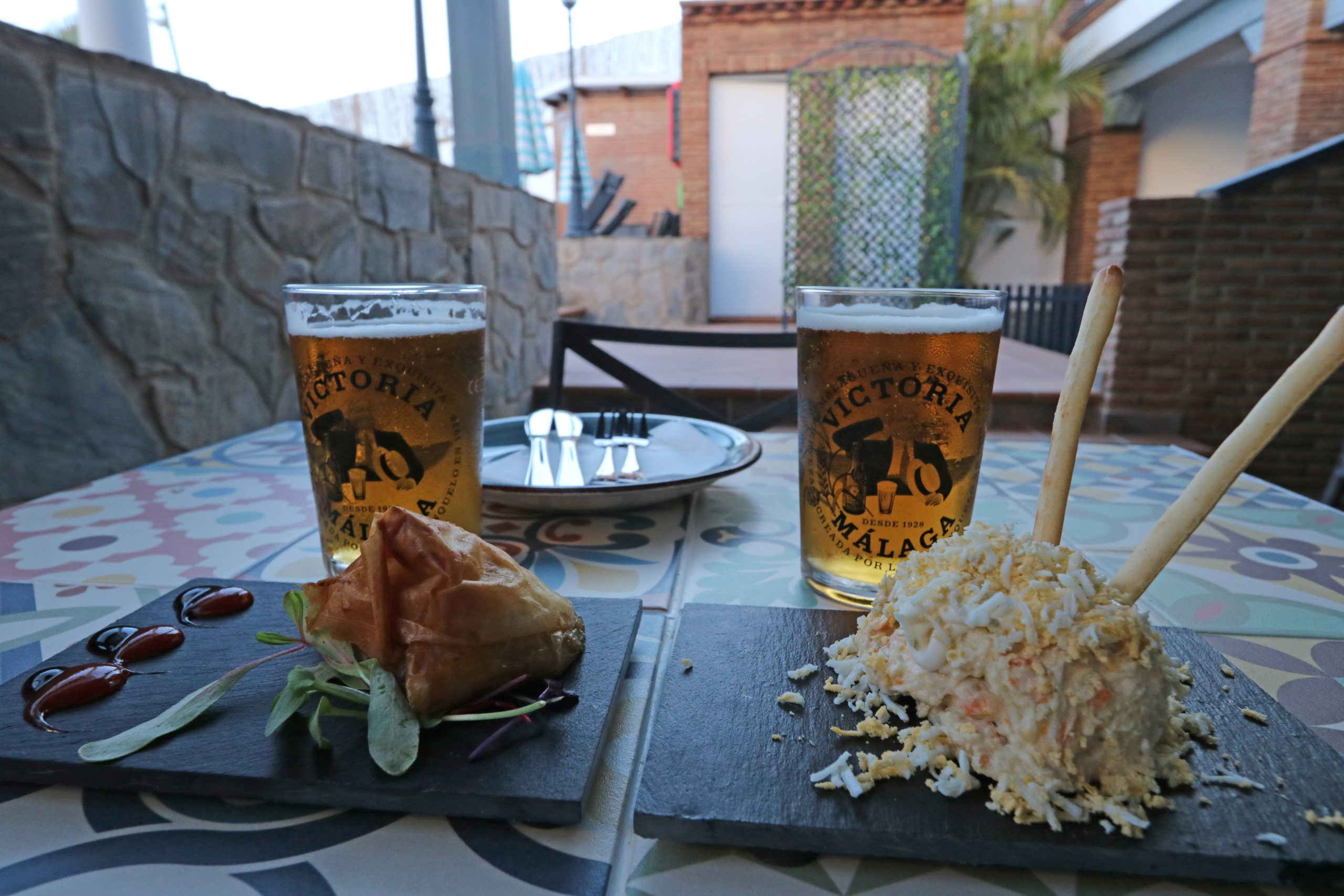 ---
---
Note: We visited 11 of 13 restaurants. The others: there was one we went to 3 times. It was always closed. The other told us their kitchen was closed when we arrived at 10 pm (in Spain ???)
Ruta de Nerja: the Good and the Bad
The Good
The Good – actually the Great – about the Ruta de Tapa was discovering restaurants we've never tried in Nerja. I'll stick to the really great experiences (all the ones I have below got 5 out of 5 scores from us)
Both El Artesano restaurants provided fantastic food and friendly service. The "tuna boat" and the "Potato mousse with blue cheese and octopus" were great. They obviously put a lot of effort and pride in concocting these tapas. I think the Ruta de Tapa is a wonderful way for restaurants to market themselves and El Artesano understood that. They've found themselves new clients because we will be back.
The "pork cheek" at Hermes was excellent and large. More than a tapa. And since my wife is vegetarian I got to eat both which amounted to a meal (No vegetarian option was offered unfortunately).
The "Filo stuffed pastry" at Hotel Sibarys was good. It would have received a 4 but the fact that they had a vegetarian option for Lissette elevated the whole experience to a 5.
Great experiences above. We'll be back to all of them at some point.
---
---
The Bad
A few restaurants just didn't make the effort to be honest. I'm not going to name names but I think they know who they are. Why go into a competition if you're not going to a half-assed effort with food or service? There were a couple of restaurants where we felt that we were 2nd class citizens when we showed up and told them we were on the Ruta de Tapa. At one of those we had sat down on their outside terrace – upon telling them we were on the Ruta they asked us to go sit inside. I guess they only wanted full paying customers on their terrace. We would never go back there.
Again, it's all about marketing yourself.
Organization could be a lot better. The "Tapaporte" tells you when the restaurants are open. But different restaurants sometimes had different schedules for people of the Ruta de Tapas. So the restaurant might be open all day but they'd tell you to come back between 2 -4 pm for tapas (for example). It would be good if the Tapaporte would tell you when restaurants were specifically open for the Ruta de Tapa.
Then there's the question of submitting your Tapaporte. The submission date was Sunday June 12 and the drop off point was the Oficina Comercial y Turistica next to Boquete de Calahonda. We went on Saturday and the office was closed. There were no hours posted on the door, no mail slot for the submissions…I asked the lady at the café next door when the office was open and she told me Monday. We never ended up submitting our forms. So those scores I have up top don't mean anything in the official scoring.
Overall though we thought it was a lot of fun and will do the Ruta de Tapa again.
---
---
The Winner of the competition? We think it should go to Pescaderia El Artesano. The "tuna boat" was a spectacular tapa we thought. But I'm betting Restaurante Hermes wins it with their "pork cheek". It's an excellent dish as well and most people will always prefer meat to fish.
We'll find out the official winner in the next few days on the Ruta de Tapa Facebook page.
Update: Winners 1) Kronox, 2) Hermes, 3) El Artesano 2.0, 4) Sibarys, 5) Parador de Nerja. Hmmm…don't agree with #1 at all…
Did you do Nerja's Ruta de Tapa? What do you think?
Join Our Newsletter
If you haven't subscribed yet and want to get our posts sent to your email, just insert your email address below. It's free!