Where to Eat in Nerja
We lived 2 ½ years in Nerja and experienced many of its restaurants. Many of are good…but there are also lots of bad and overpriced restaurants in Nerja.
In this post (and video) I cover some of our favorite restaurants and other food locations in Nerja. You might not agree with some, you might consider other restaurants better than some I recommend. That's ok, taste is subjective. But what I'll guaranteed is that you'll get good food in all the places I recommend and you won't leave feeling ripped off.
The Video below. Below the video (scroll down), I go into detail on the places I recommend.
For Breakfast
Good Stuff Café
Without a doubt the best place for breakfast in Nerja. Really great food and very nice owners. I cover the Good Stuff Café in detail in this post.
Another thing you should know is that the owners are very charitable. Every time we've been there we've seen them give free drinks and food to the less fortunate.
Don't let anyone tell you otherwise – Good Stuff Café is the best place for breakfast in Nerja.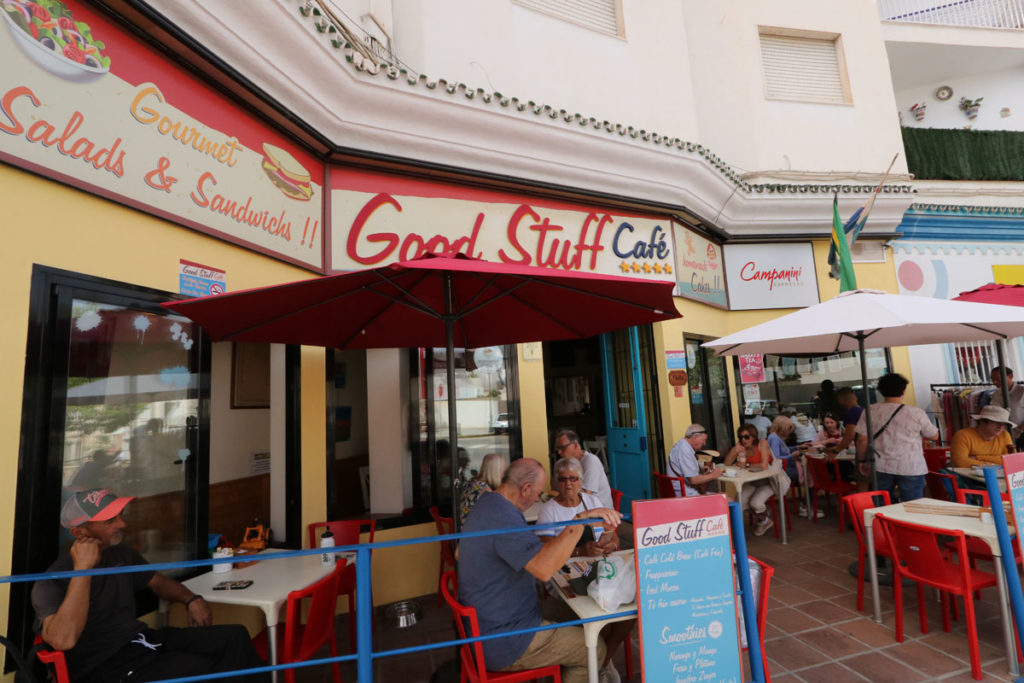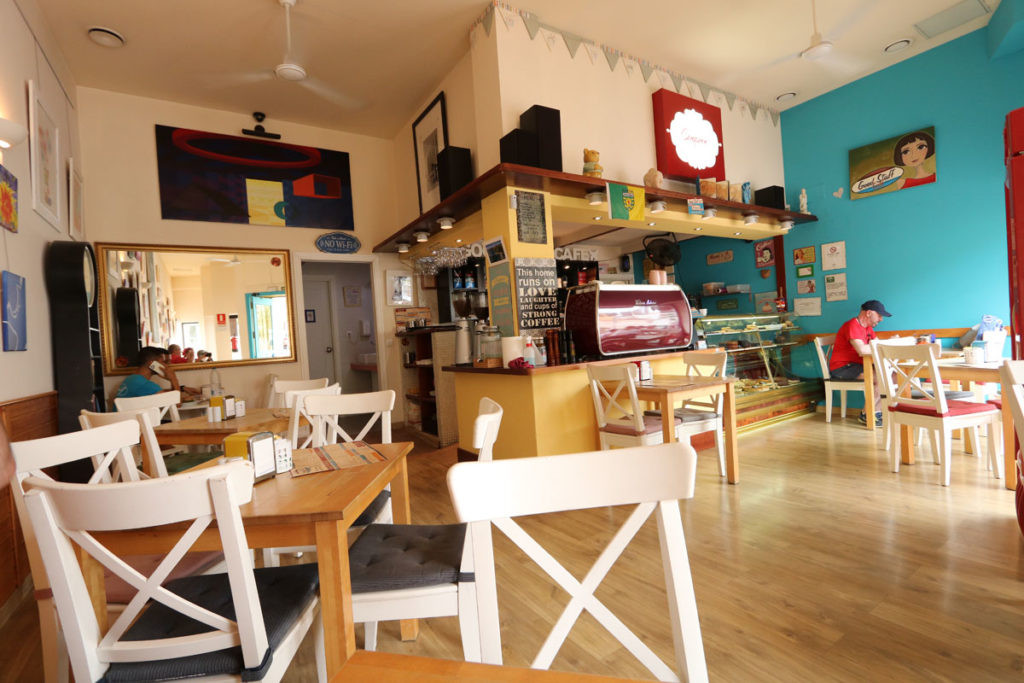 ---
---
Typical Spanish Restaurant
El Pulguilla
It's right in the center of Nerja. It doesn't look like much on the outside – but go in and you'll see that the place is huge.
Outside and in the first half of the restaurant, El Pulguilla serves Tapas. Go further in and you'll see the restaurant section which is outdoors but covered for protection from the sun.
El Pulguilla gets packed with locals (you won't see many foreigners). Especially on weekends. They come in for typical Spanish food, a nice ambiance and good prices.
Whenever we've had visitors we've taken them here just because of the local flavour. You can't go wrong. Ps. Don't worry, their menu is also in English and the very efficient servers will help you out if you have any difficulties.
I should mention that El Pulguilla is also good for tapas. Besides the food, you're right in the heart of the action (especially if you can get a table outside. Come early).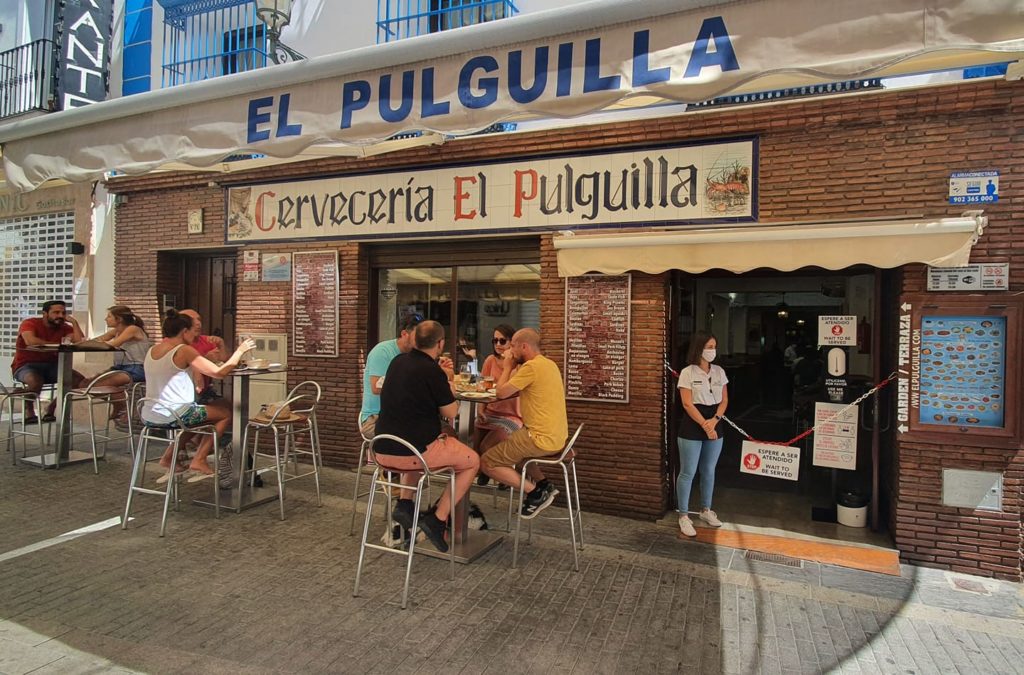 ---
---
Tapas
We've tried many of the Tapas bars in Nerja. In the end, two bars are our favorites (they're about a 10-minute walk outside the center within about 50m of each other).
La Puntilla is #1 for us. One of the great things is that you can choose your tapa from a list. My preferred tapas are the chorizo, the morcilla (blood sausage) and the pork pinchitos. Lissette (who doesn't eat meat) loves the Gambas Pil-Pil and the Bacalao. The beer is super cold (usually served in a chilled glass), the wine is good and generous. La Puntilla usually is really happening. It's a cool atmosphere.
More on Tapas at La Puntilla.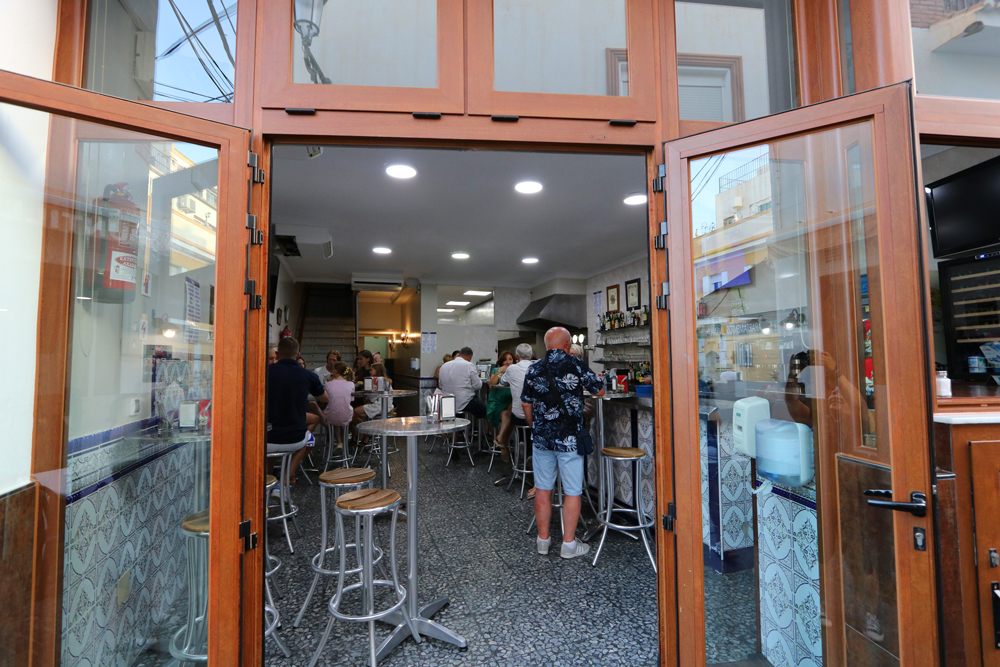 Dolores El Chispa is #2 for us. The first time we came here we didn't like it much. Service was rough and nothing was explained (there's no Tapas menu here, they'll randomly give you a tapa).
With time we really got to like Dolores El Chispa. As I say in the video, the fried fish here is – in our opinion – the best in Nerja. One of my complaints is that restaurants in Spain over-salt everything…but Dolores El Chispa gets it just right. But besides the salt issue, Dolores El Chispa serves lots of different fish dishes and the portions are generous. The service is still a bit rough (the waiters are busy and run around a lot so they don't have time for chit chat) but once you've shown up a few times they get a lot friendlier.
Note: once in a while they'll serve you pork pinchitos as a tapa which is a bit unexpected (since this really is a fish place). Let them know if you don't eat meat.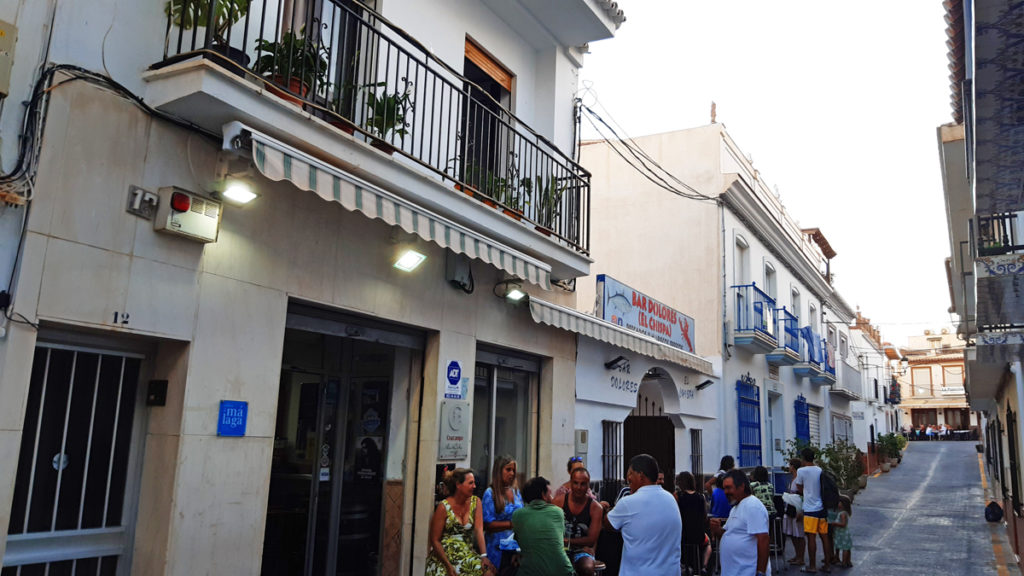 Also: Besides tapas, both La Puntilla and Dolores El Chispa have very good restaurants serving traditional Andalusian dishes.
---
---
Pizza
Nerja has a lot of "Pizza restaurants" and most are crap. I've never had as bad pizza as I've had in Nerja (or Spain in general). How hard is it to make good pizza?
The best pizza we've had in Nerja is at Trebol restaurant. Trebol is not strictly a pizza restaurant – but they have one of those traditional pizza ovens and they make THE best pizza in Nerja in my opinion. I like the Napolitana pizza, Lissette likes the Margarita.
Other than pizza, Trebol is overly generous when it comes to salt. If you don't like a mountain of salt on your food tell them in advance…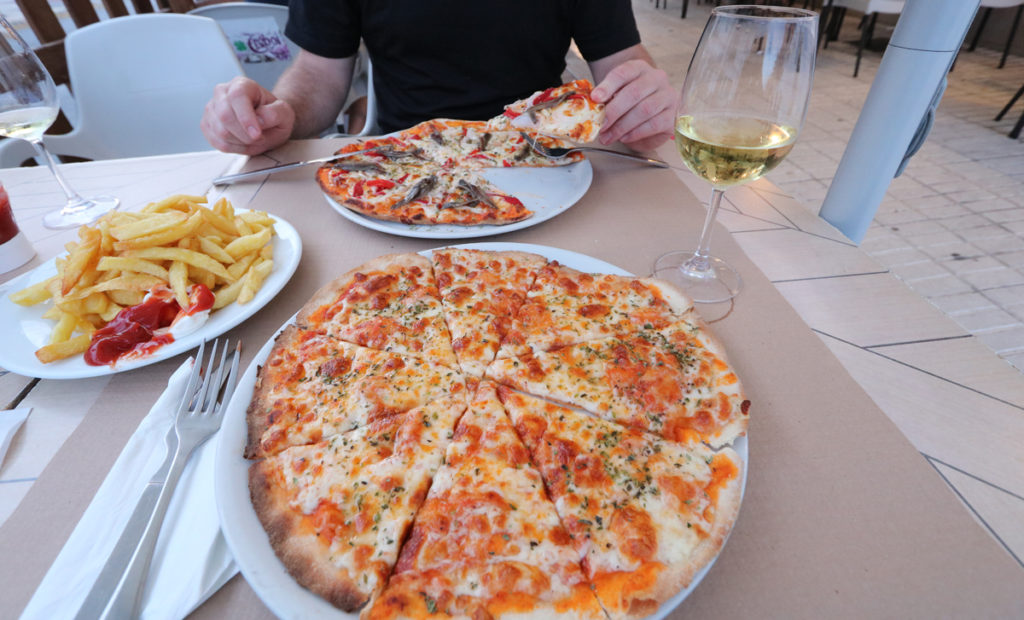 Indian
Nerja has a lot of Indian restaurants. We've tried many of them and have found Mum Indian Restaurant to be consistently the best. Mind you, we almost always order the same thing: vegetable samosas, Lamb vindaloo, Aloo Gobi, onion naan, Pilau rice…but it's always excellent.
As I say in the video, we almost always have take away. But if you eat there in person make sure to order the Cobra beer.
Note: friends of ours swear by Namaste, a Nepalese/Indian restaurant nearby. But we find it a bit more expensive…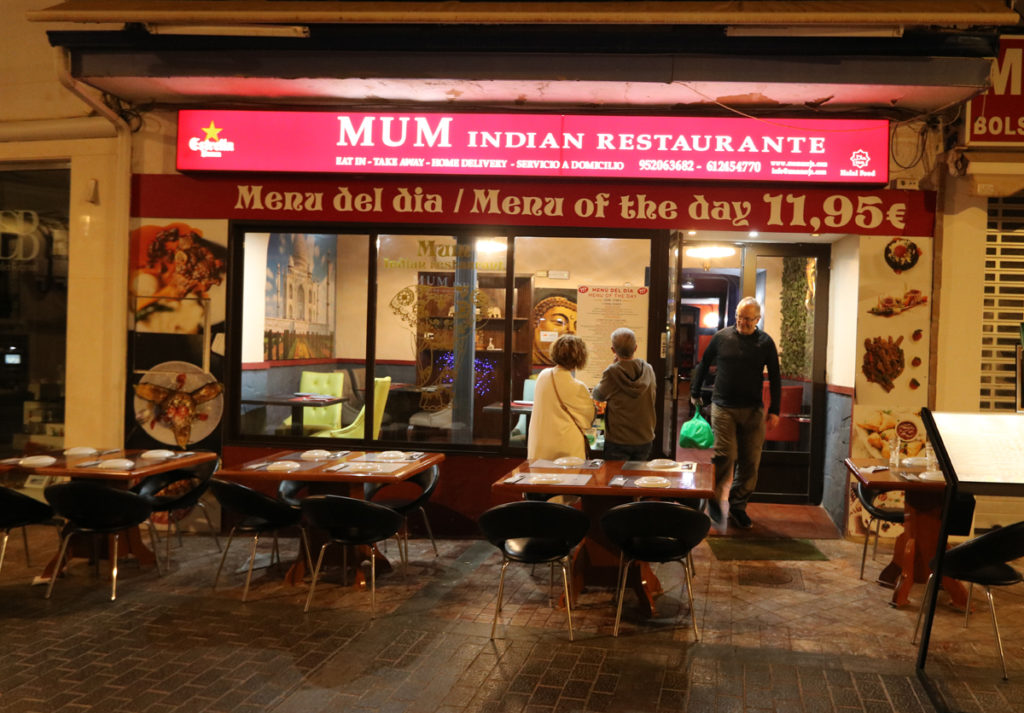 ---
---
For a special (upscale) meal
If you have a special occasion to celebrate , I recommend Bakus restaurant. I wrote a detailed review of Bakus here.
The only thing we don't like about Bakus is the lighting at night (white cold lighting). I prefer coming during the day, sitting on the terrace and enjoying the views of the sea and mountains.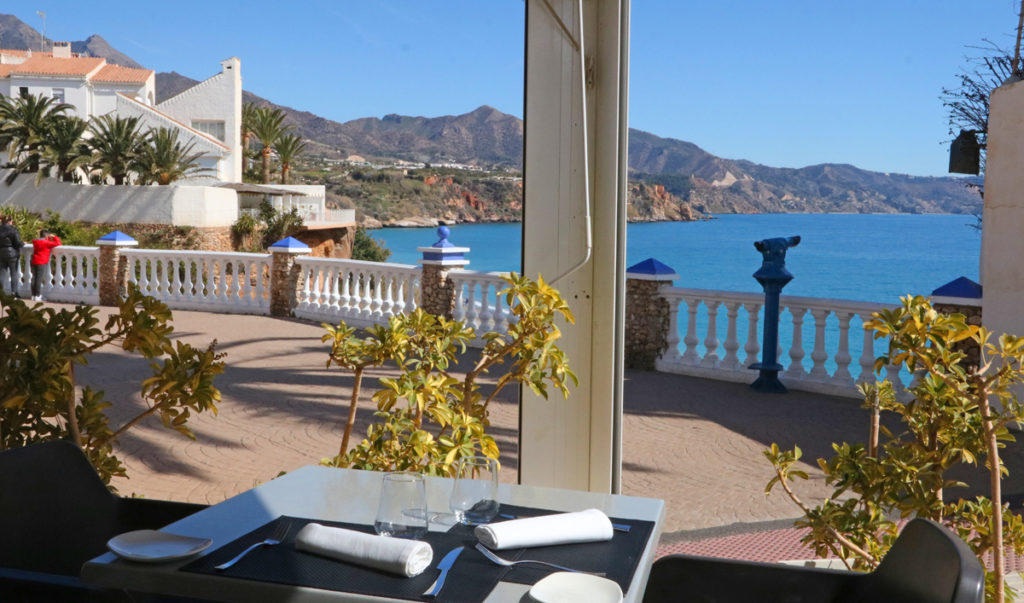 Traditional Spanish food for takeaway
'Que comemos hoy?' is great if looking for inexpensive take away food. The highlight here is roasted chicken but they have all types of traditional Spanish dishes and every day they have a featured dish. I wrote more about this restaurant here. Note: they're open everyday but only from 12 – 4 pm.
---
---
Chinese Food
Our favorite place is the huge China House. Good food, large portions, well-priced. We especially like the noodle dishes (tallarines) and the spicy shrimp dish.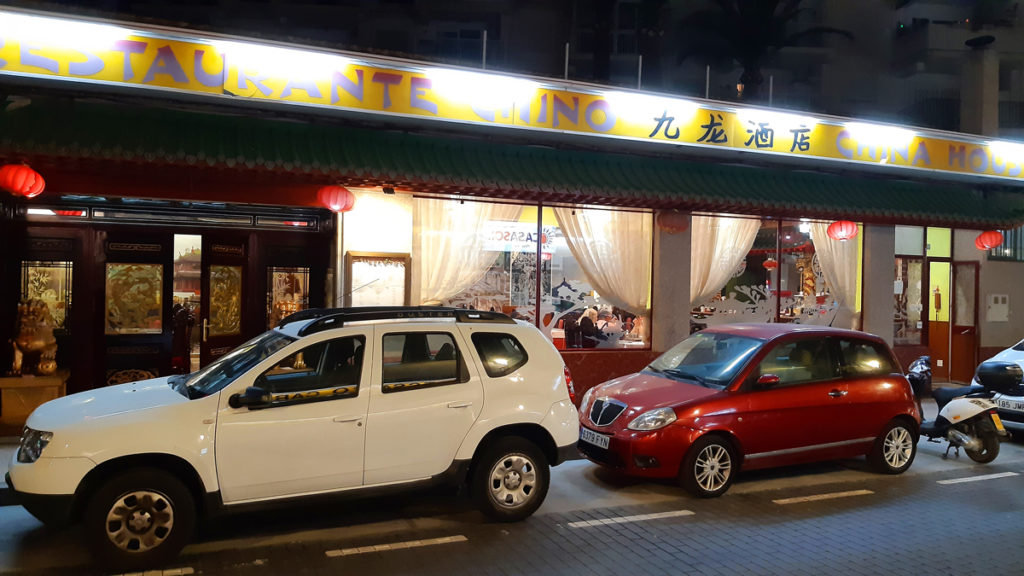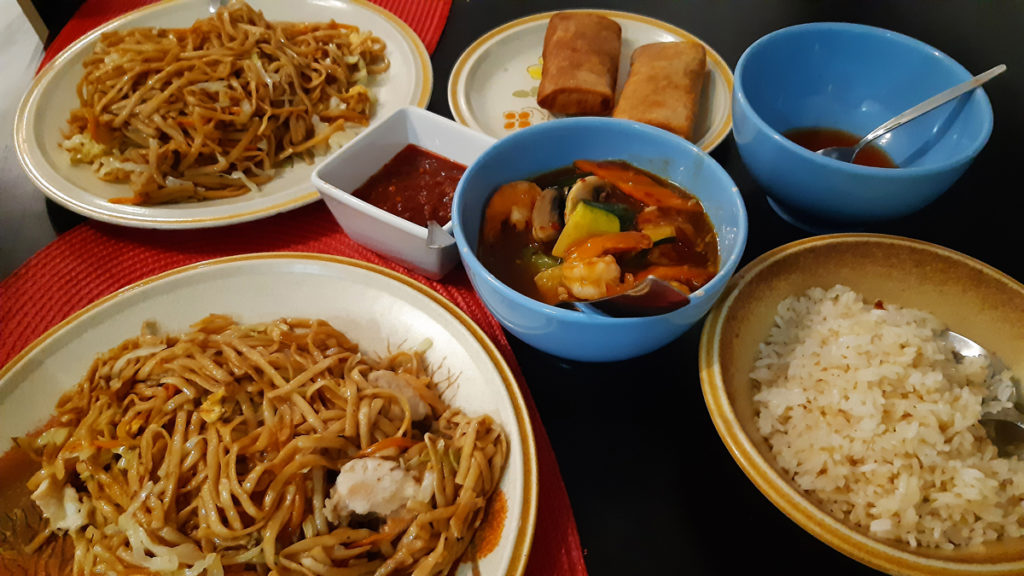 Bakeries
There are lots of "Panaderias" in Nerja.
The most popular is Panaderia Salvador on the main drag. Very good baguettes and good pastries of all kinds.
I should mention that the Mercadona up the street has a quite good bakery section which is the most inexpensive option.
But the best bakery is Salvana (officially Panaderia minimarket Salvana) across from Trebol restaurant. The different kinds of baguettes along with croissants (which taste like real French croissants) are the highlight. But they also have nice empanadas and pastries. A bit more pricy…but the best.
Churros
Café Bar Las Cuatros Esquinas (just steps away from the center). Make sure to order the chocolate because it doesn't automatically come with the churros.
More: Café bar Las Cuatros Esquinas
Ice Cream
Lots of ice cream places in Nerja, especially around the Balcon area. Go to Albi, they're the best.
---
---