What's it like living in a Cave House?
What kind of people live in Cave Houses? What are Cave Houses like?
There aren't many places on earth where people live in caves so we were very curious when we heard that there's such a thing as "Cave Houses" in Spain. Most are in Andalusia and are concentrated in the Granada area.
We've ended up interviewing 3 people/couples for this post. Each has a fascinating story to tell about their cave houses and the reasons they chose to live in cave houses.
Matilda and her Owls
Matilda lives in a Cave House located in what was an 11th century salt warehouse. She doesn't just live there, she has a bird of prey sanctuary (specializing in owls) on the premises which visitors can visit.
Her story and lots of photos below. Have a look at the sanctuary's website for more.
---
Name: Matilda Kennard Troughton
Age: 54
Country of Origin: UK
Number of years living in Spain: 21
---
Hi Matilda! Before I ask you about the cave house I'd like to know your story. How did you end up in Spain?
I was working for a UK wholesaler of furniture and giftware, spending much of my time in Asia sourcing products and overseeing quality control. A punishing schedule of factory visits and internal flights.
I returned to the UK for Christmas one year and it was cold and raining as usual. As I had no family to worry about, I booked the cheapest flight to the sunniest destination I could find which was Alicante. I spent the holiday period there. I'd never been to Spain before and although the area wasn't for me, I did like the Spanish and the inland areas I'd seen so I decided to 'retire' to Spain.
It took a year to sell my house in Cornwall and finish my work obligations and then I moved over to start house hunting.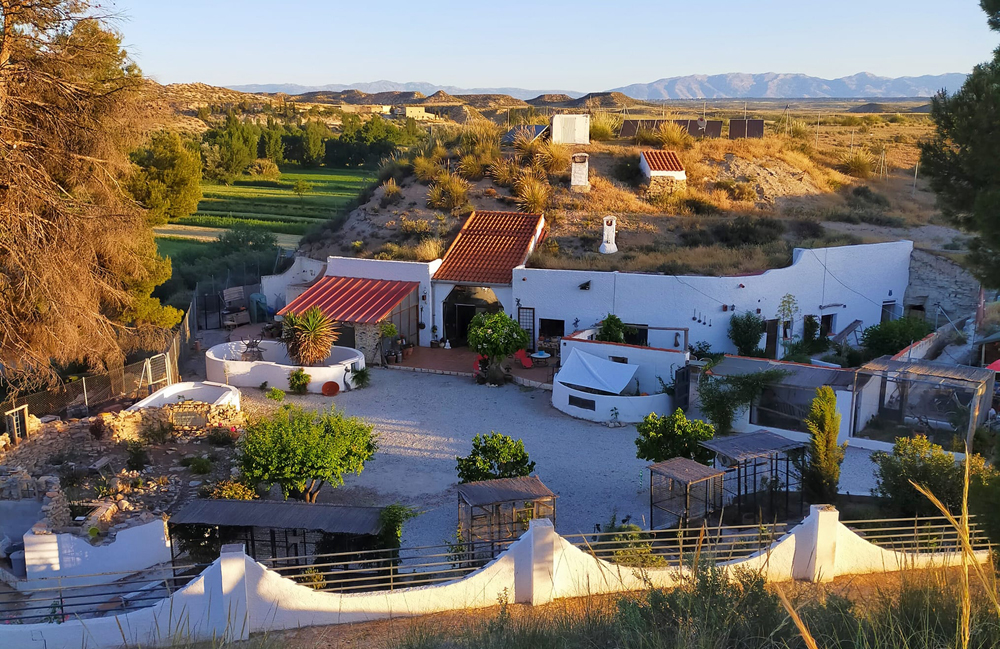 ---
---
You have a Cave House as well as an animal sanctuary. I'm fascinated by that. Did the Cave House come first and then the sanctuary? Please tell us all about that.
At the time when I moved over, cave houses weren't advertised on the Internet, they were seen as poor peoples abodes although the larger ones with land weren't cheap. I'd initially been looking for country houses not far from an airport so that should I need to travel I didn't have the same scenario as living in Cornwall, miles away from any airport.
It was a rainy December and I'd travelled from Alicante to Malaga to see some properties, this was before the motorway section to Malaga had been opened and the road was dreadful: steep mountain climbs, pot holes and narrow. One of the break disks cracked on my car and rather than return via this route I headed inland towards Granada which was motorway all the way, a little easier on the nerves 🙂
The main things I didn't like about the coastal areas were the tourists, cranes on every skyline, the high humidity and all the high security fences and gates that every property seemed to have. I passed by Guadix, a beautiful city with an amazing cathedral, then headed back towards the coast passing Baza where I stopped for the night. It felt right, compact but everything there that you could ask for and all Spanish so I concentrated my efforts on that area.
I found an estate agent and returned a few days later, after seeing a few cave houses and the beautiful Lake Negratin the agent had one place left to show me that he hadn't seen himself (he worked with a Spanish guy who found the properties for him). We made our way through a valley and dropped down a track to a large yard with what looked like a garage door leant up against the hill.
The keys arrived by tractor 20 minutes later, a tiny old man opened up the door and that was it, I fell in love with the place. It took three months to renovate, a local building team did all the basics like the flooring, electrics and fitting the bathrooms and kitchen plumbing and then it was a case of finishing. The cave has 264m2 on the ground floor and 81 on the first floor but that section isn't used, it was just too much so the bats live up there with access only for them.
As for the sanctuary, I'd dealt with birds all my life and would often be handed chicks to bring up as they'd fallen out of nests etc. About five years ago I met a chap who was a falconer and he had the idea of doing bird of prey experiences, obviously I had a large enough house to share and there was also a large cave room in the corral garden that could be made into a mews for the birds.
He subsequently returned to the UK. So I'm left holding lots of babies, we had 166 rescues come in this spring for various reasons and 164 have been released back into the wild, two more will stay over winter here until spring as they missed their migration. The only support I have is from donations as I can't register as a business and I don't want to register as a charity because it would mean the owls would have to be available to be seen after midday and that's not right, they prefer the early mornings. It's very tough to say the least but rewarding.
---
---
You mentioned that one of the things you like about Cave Houses is their "individuality and their low impact on the environment". Can you tell us more Matilda?
Each cave house was designed for the family's requirements. Most have a central hallway of about 3m2, a room beyond that and then rooms to the left and right of the hallway with more rooms leading further into the ground which are normally used as bedrooms.
As the family grew another room was created and so it went on. Animals were also catered for with their own cave rooms often with a corral outside to contain them.
If you were wealthy you'd make sure everyone knew it and have a large entrance hallway and much larger rooms throughout as of course you would have the funds to employ people to dig them out for you.
Cave houses maintain a temperature of about 20 degrees throughout the year so they're warm in the Winter and cool in the Summer, you could actually do without heating if you used thermal glass but it's expensive.
These days many renovations include underfloor heating which is a more cost effective method to heat such large houses.
It's believed that the mica which occurs naturally in the walls has a soporific effect hence why you always sleep so well in a cave house, perhaps that and that it's silent and dark as many bedrooms don't have windows.
If there's an earthquake cave dwellers don't feel it as we are part of the movement rather than being balanced on top of it as with conventional builds. There's a misconception that caves fall down, if they've been created by somebody without experience of course they can, it's just like having somebody with no building experience whip up a villa.
They need to be ventilated like any other house, they're not damp unless you have a problem with water ingress which is very rare and everything around you is natural, no plasterboard, block walls or need for masses of concrete or cement apart from laying a tiled floor for ease.
Like all properties, you choose what would suit your needs, this one suits me perfectly 🙂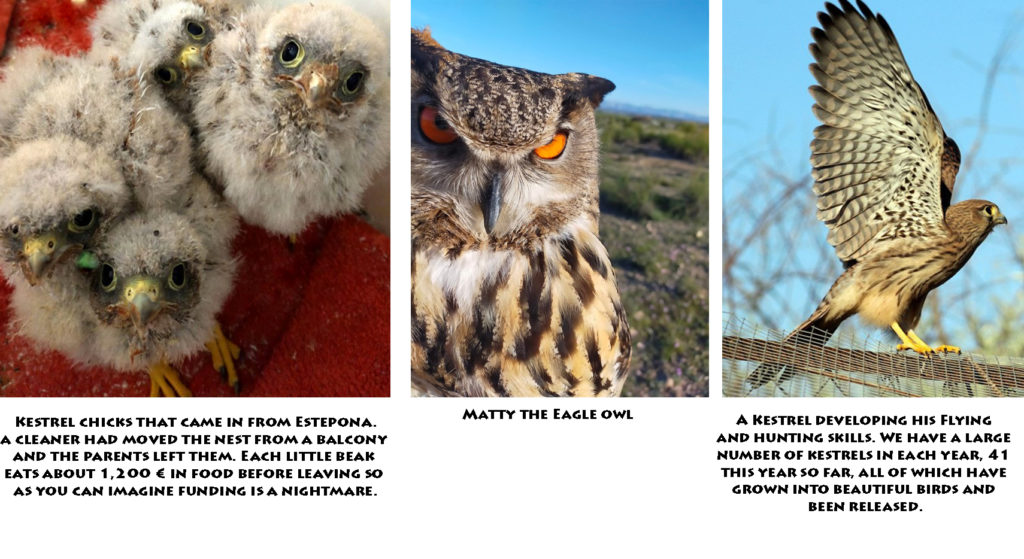 ---
---
You have an animal sanctuary. And I see that people can visit and see the animals free of charge. I'd love to know all about your sanctuary and your animals. Why is this a passion of yours?
As mentioned before it's always been something that I've done, I'm patient which is really the only skill you need with birds and animals . Due to the specialised food we have for the resident owls which were hatched in captivity we're the obvious choice when somebody has found a bird of prey chick or now anything with feathers that needs a bit of help.
We were swamped this year with dehydrated birds due to the heat and also birds displaced from the wild fires. Most just needed a week's R&R and then were released either here or in a forest which has a river running through it all year. Where there's water there's food.
I encourage people to visit to learn about the owls, birds of prey are an integral part of the eco system and should be welcomed by farmers to keep the vermin under control. There's nothing mysterious about them, they just prefer to work nights 🙂
If you want to find out more about visiting Matilda's sanctuary there's plenty on the website: Cortijo Búho. We intend to visit sometime soon.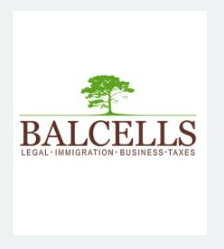 Need help with your immigration needs? Contact Marta at Balcells Group. She handles it all, whether it be a Spanish non-lucrative Visa, Golden Visa, Digital Nomad Visa, Work Visa etc…. More detail here
---
Shirley and Mark and their "Dream Hotel"
Shirley and Mark wanted a unique accommodation and stayed in a cave house while on holiday. They fell in love with the concept and built their own…and then went even further, building a luxury holiday cave house (their experience was featured on the show "Our Dream Hotel").
Their story below. Have a look at their website if looking to stay in their luxury cave house.
---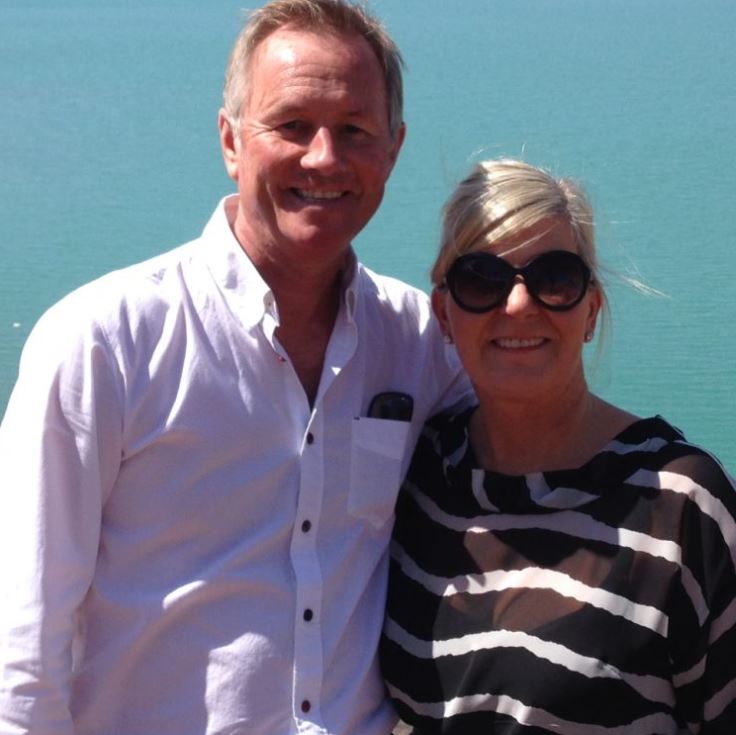 Name: Shirley and Mark
Age: 60
Country of Origin: Scotland
Number of years living in Spain: 13

---
Hi Shirley and Mark! Before I ask you about the cave house I'd like to know your story. How did you end up in Spain?

We bought a holiday home in San Cayetano (Murcia) in 2006 which we used for a few years. We then decided to make the move full-time 2009 after Mark had a few back operations. The idea was to semi-retire which never happened as he decided he couldn't give up work.

He has been a Painter & Decorator since he was 15 and had his own business since he was 25 so it was natural to start his painting business here .

His business is still going but we know that he can't keep painting forever and will eventually have to retire.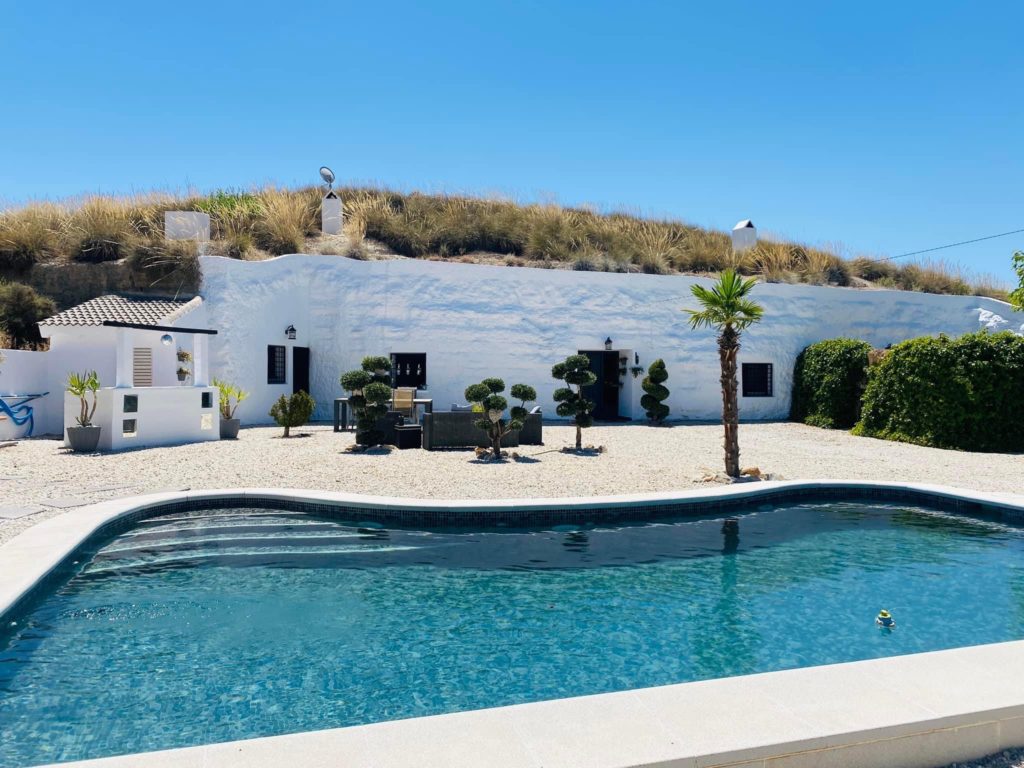 ---
---
So how did the idea of a Cave House come up? Why a Cave House?

Mark and I came on holiday to Andalucia in January 2013 for a short break. We wanted to go somewhere different other than the coast in Spain and decided to try an inland area instead. As we were only going for a few nights, Mark challenged me to find something within a 2 hour drive from our home, in Murcia .

I found a cave house which we could rent. Having never been in a cave, I booked it not knowing what to expect.

We were both anxious about it at first, but thought if it wasn't for us, we could easily head back home. We laughed about staying in a cave house like Fred and Wilma Flintstone and were pleasantly surprised how much we both liked it.

It was such a change from a hotel room or an apartment.

This is when we fell in love with this part of Spain as it is so different from the coast. We loved the scenery and the pace of life. We also loved that this region of Spain still serves tapas with a wine or a beer. It's always interesting waiting to find out what you'll get with your drinks.

Over the next few months we visited lots of places in the area and stayed in several different caves. Every cave is different, so each was a new experience and some were better than others. Through these visits, we knew that this was the area where we wanted to find a place of our own.

In May 2014, we contacted a few agents and arranged some viewings. We had our budget and a list of "must haves". We wanted a location that was not too rural, we also wanted easy access to a motorway and not too far from a village.

We had carried out some on-line research myself. We gave the agents a list of caves in which we were interested and asked them to arrange viewings.

We looked at 15 caves over 2 days. All were different and some were in very unexpected places. We soon learned that there were key factors to be considered when cave hunting. It must be dry, services like water and electricity must be available and it needs to have a good Hat. This means it must have good height on top. These are only a few of the things we had to take into account.

After viewing all the caves, we decided the first one we had seen was the one for us. Typically for us, this was the cave that needed the most work. It was previously an animal cave and had no water or electricity but the views and the size of the cave were outstanding. It was detached with land and we soon found out this was rare and difficult to find in the area.

We called our agent Nick at Rusticom the next day to put in our offer. He was surprised that we were going to take on this cave, bearing in mind the amount of work involved in the reform and the fact that we had no previous experience of this type of work. However, we thought if we were going to take on a project like this we should start from scratch and that way we could create what we wanted.

Nick was fantastic and we can't recommend him highly enough. His knowledge of cave houses and the surrounding area is exceptional. In addition, he also helped us through the legal process. We then had to find a contractor with cave experience to start our reform.

We started planning how we were going to reform the cave and this was very exciting. We more or less had a free rein on the layout, although we were guided by our builders on what we could and couldn't do structurally. This way we were able to create our own unique cave. Plans were submitted and passed after a few hurdles .

Work began in October 2014 and our first cave was completed in December that year.
---
---
So the plan was to have a Cave House as a holiday home for yourselves. You've greatly expanded on that and now also have a luxury Cave House that you rent out as a Holiday Cave House for others (I think it's spectacular). Can you tell us about the thought process behind that and how you made it all happen?

Once our first cave was complete we used this for several months as our holiday home. We would come down from Murcia every weekend. It was a great escape for us – we just felt so chilled and it became harder to go back home after our weekend. We casually joked one night after a few wines "Do you think we could do another cave on our land ???" We spoke more about it and decided it wasn't that bad an idea.

We saw it as a way that Mark could stop painting and we could do something together.

After a few more talks we decided to get our builders out for advice to see if this was achievable or not. First of all, they said we would need to dig down several metres to achieve a good height in the cave. We also had to see if the soil was the same as our first cave.

After digging out 4 tunnels, we then went into full planning mode and got plans drawn up. We started the work on our Holiday Rental Cave House .

This wasn't as straight forward as our first cave as we hit a lot of problems with paperwork but won't go into all that lol…

Our journey on Cuevas Helena was filmed throughout our project and it's all explained on the programme Our Dream Hotel (video of the program on that link) which has now been aired worldwide which is amazing. We never expected this exposure at all.
---
---
I know you've visited and stayed on many Cave Houses. What do you love so much about Cave Houses? And what are the greatest positives and greatest negatives of living in a cave house? 

We love cave houses as no two are the same. We just love the quirkiness of them, we love how cool they are in the summer (no need for air con) and in the winter (although people say they keep their temp it all depends on each cave we have log burners in both caves to keep us warm during the winter months).

The sleep you get in a cave house is amazing. Our guests tell us all the time that it's the best night's sleep they've ever had.


What advice would you give people thinking of living in a Cave House?

Our first bit of advice is ensure you are viewing the cave with a knowledgeable agent who knows about caves as everyone is different. Also make sure all the paperwork is in place and up to date if the cave has had any alterations. Also always make sure your cave has good ventilation. Caves needs maintenance like any other house, some more than others if they have a lot of salt in the walls. We are lucky we don't suffer this problem in our cave but we've seen caves that suffer with this problem. The main things we were looking for was a cave with a good HAT: basically meaning it has plenty of height above the ceiling height of the cave. This helps with insulation.
Much more on Shirley and Marks luxury cave house hotel: Cuevas Helena
---
---
---
Amanda and her Campo cave house
Amanda and her husband wanted something very different. They found it in their cave house in the campo and have had some unusual wildlife encounters.
Her story below.
---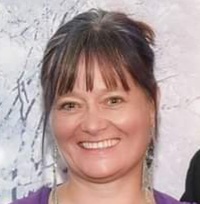 Name: Amanda
Age: 55
Country of Origin: UK
Number of years living in Spain: 2 ½
---
Hi Amanda! So how did you hear about Cave Houses? And why did you end up deciding to live in a Cave House?
My husband and I enjoyed holidays where we could explore the local areas and do something different. Neither of us had been to Spain so early in 2018 I typed in good old Google "unusual holidays in Spain". It came up with cave houses which neither of us had heard about, so we decided to investigate.
We ended up in a 3-bed rental cave in Galera. It was so different to anything we'd stayed in, not only in that the area was similar to Scotland (which we love too). A bit warmer and dryer and less green mind. We fell in love with the area completely, not only that, we found the Spaniards friendly and helpful and the food is right up our street! The way of life appeared simple and relaxed.
We weren't keen being in such a densely ex pat community, we wanted traditional Spain so after a couple of holidays exploring the area (and on honeymoon in 2019) we decided to look at caves out in the campo on the Granada/ Almeria border.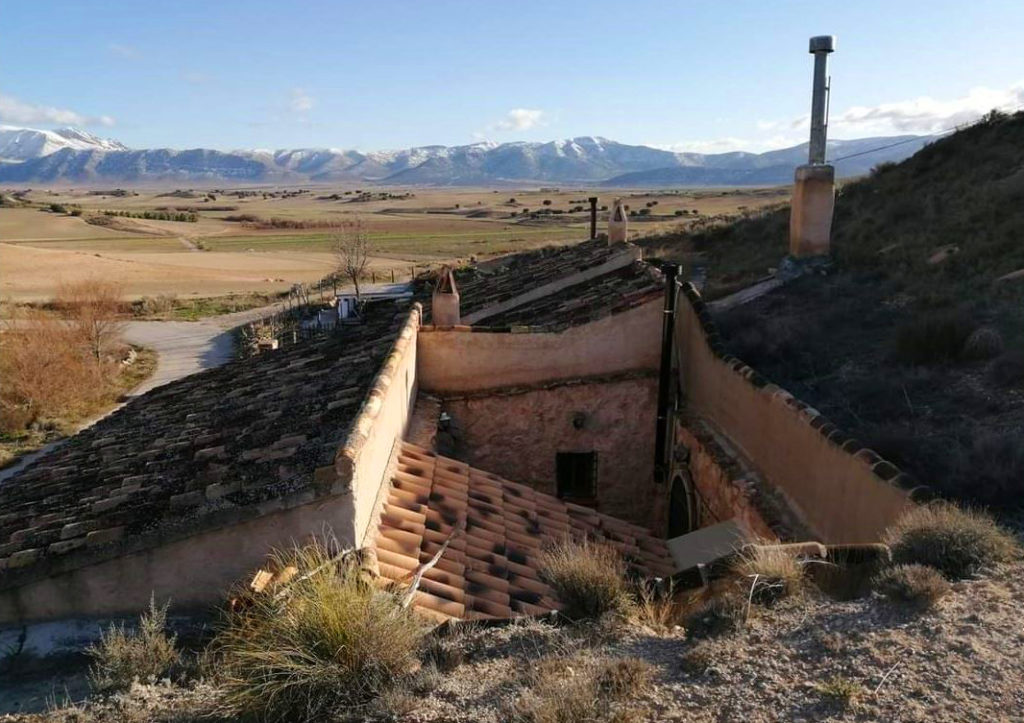 What do you find special about cave houses Amanda?
Every cave is different! Absolutely unique. Viewing each one was an adventure, wondering what they would be like inside. Most were still inhabited by people- some permanent, some holiday homes, some empty. It was interesting to see how they had been decorated. This gave us lots of ideas. Inside, cave houses are mostly painted white to keep them as light as possible and it's the additions which give them another uniqueness. Old tiles used as uplighters, Moroccan/ Arabic influences for tiling and other lights. One cave even had radiators which made us giggle as the plumbing was basic and it was all runoff and an open fire with a water tank behind it! Cave houses are generally heated with wood burners or open fires.
---
---
How did you end up finding your cave house?
We found the one we're living in after the estate agent pointed us in its direction (it's not one we had considered, but so glad now we saw it). Our 3 bed cave house was a third of the price of our 3 bed house in Suffolk, in general that's about right for cave house prices, but you can get unreformed ones for under €20k, so as long as you are a builder with experience of cave house renovation or have money to pay for a builder who knows then that's always an option if you are prepared to wait. Mañana is a word often used here and there's no point getting frustrated when things don't happen straight away.
Our cave is slightly different from a lot of the others in that the living room is an extension and it has a garage. It has a most amazing view over the Sierra Maria's. Every day the light is different and the view changes, we spend a lot of time outside just watching how things change, listening and watching the birds and the shepherd with his sheep and goat herd. Our neighbours are scattered and of various nationalities, all of who are private: German, French, Spanish. Some use their caves as holiday caves so we rarely see them and only a few are permanent. We are friends so have each other's support. We have British friends too and are always there to support each other. It's a great community.
Any weird Cave house stories?
We have bats in our spare cave, we've have donkeys walk over our roof and had a snake fall into the kitchen from our kitchen chimney! Cave houses never get boring!
Many thanks to Matilda, Shirley & Mark, and Amanda for contributing their cave house experiences!
---
---
Join Our Newsletter
If you haven't subscribed yet and want to get our posts sent to your email, just insert your email address below. It's free!