What's it like living in El Puerto de Santa Maria?
I really like this interview. It has a great story of a grandmother's dying wish and an appearance on "A Place in the Sun". It details leaving the humdrum 9-5 behind and making all you want out of life a reality.
Daniel and John's story below.
---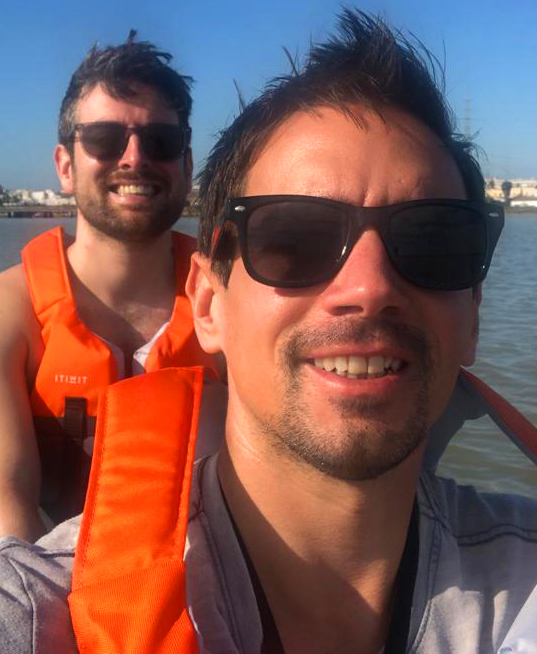 Name: Daniel Cairns
Age: 33
Country of Origin: Oxford, UK
Number of years living in Spain: 3 years
---
Hi Daniel! Can you please tell me about yourself and on how you ended up moving to Spain?
Me and my boyfriend John were living in London. We were working hard but still finding the time to travel most months for a long weekend somewhere in Europe. One month we were sat in a town called Tossa del Mar outside of Barcelona when John received news that the inheritance from his Nan's estate had finally been settled. The condition of the inheritance was it couldn't be spent on bills or anything mundane. It needed to be something fun. John commented how poetic it was that we received this news in Spain (technically Catalonia) where his Nan used to come and spend half the year by herself. It was right there in that moment we made our travel plans to come back to Spain the year after and stay for the summer in the family campervan using the inheritance.
We wanted to learn a little bit of the language so that we weren't completely oblivious to what was going on around us. After initial google searches told us that the cheapest Spanish lessons were in the South, in Cadiz, we started to plan out our route, through France all the way to the south of Spain. We planned to do Spanish lessons for a month in Cadiz but when we were looking at the camp sites available we weren't that impressed with the ones in the capital. With further research we found a campsite in El Puerto de Santa Maria that was right on the beach.
After a lot of planning, we left London and spent the summer travelling around France and Spain before reaching El Puerto. We spent a month of our time camping right by the beach. The summer was amazing and we met loads of friends at the language school. We ate and drank well and generally lived life to the fullest.
When we went back to London we felt we had changed. We couldn't get back in the "London routine". We visited a restaurant that was a favourite of ours before travelling. The food was bad but worse still, it was bad and super expensive. It made us questions what we were doing. Why were we paying so much money for this bad food? Why were we working so hard that we didn't have time to enjoy life? Our summer in El Puerto de Santa Maria had shown us how fun life could be and we wanted that life. Not the mediocre life of working too much and eating bland food.
Still suffering from the worst holiday blues possible, John decided to apply for the TV show "A Place in the Sun", which is a very popular and successful show in the UK that follows people's journey as they look for a house in a different country in a sunnier climate. He was in fact so persistent they had to ask him to stop messaging. It worked and we appeared on the show in 2018. Although we were shown interesting properties, we actually found a property on our own.
Our house, though beautiful, needed a lot of renovation and we are still working on it to this day. When we first bought the house, we were travelling from London to Spain every month to renovate a little bit, piece by piece. After a year of doing that and having saved a substantial sum, we decided it was time to take the plunge and renovate full-time. It felt like a very natural progression from not living here to living here full-time.
We still live in our apartment but have started to rent out the other apartments in the house. Our passion is showing other people around El Puerto de Santa Maria. We take them to local butchers, fruit shops and corner shops instead of the supermarket so our neighbors can benefit too. The food quality is so much better in the local shops (cheaper too!) so in the end everyone wins.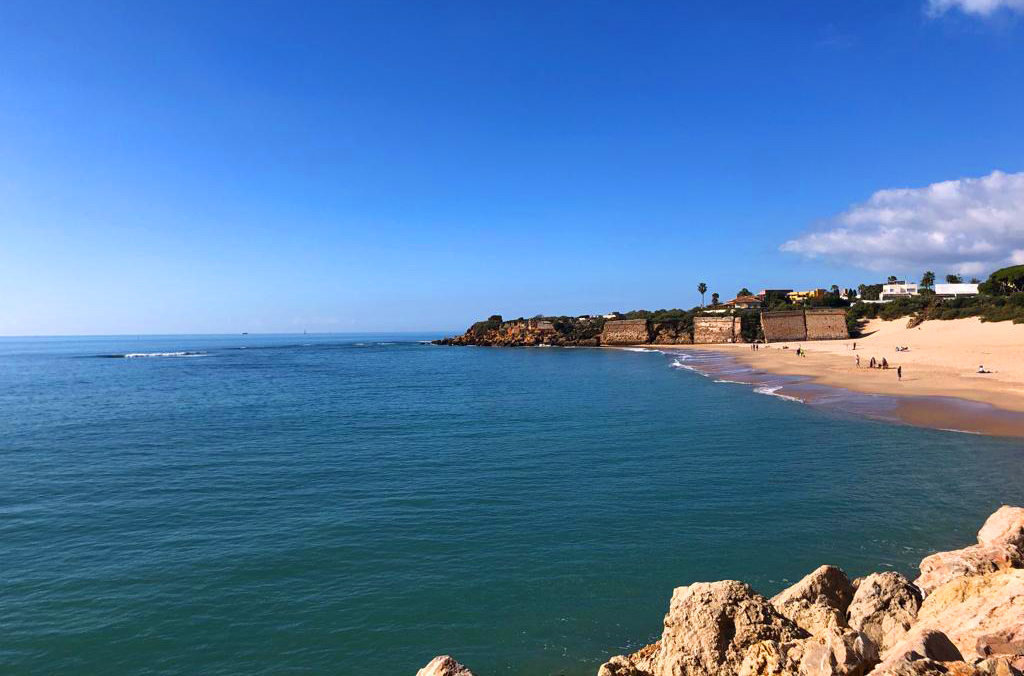 ---
---
So why El Puerto?
We spent a summer in El Puerto and feel it all came about by chance or because of some divine intervention. We dared to dream and this is where the journey led us.
The reason we loved El Puerto initially is because there are loads of bars and restaurants that all serve amazing food and drinks. We love sitting outside on one of the main streets eating dinner or enjoying a glass of wine watching the world go by.
What I think El Puerto does well is that it is a fun place to live. There is a little bit of something for everyone. From living here and experiencing the different events that they have throughout the year, there is always something to look forward to. After Christmas and King's day there is Carnival, a few weeks later they go crazy for Easter, then feria. Then loads of concerts throughout the summer, Flamenco, sherry festivals, and by the time you've recovered, it's almost time for Christmas again.
El Puerto de Santa Maria is part of the sherry triangle and one of our favourite things to do is to visit our local bodega to sample some of the different variations that start at one euro a glass. It is a traditional bodega that is decorated with bull's heads and bullfighting memorabilia. I think it is important to note that people from different walks of life and of all ages go to the bars and restaurants to enjoy themselves. It feels completely accessible to everyone.
We love the people in El Puerto. They are so incredibly kind, we feel like we have family and roots here now. It is the hardest thing about living in another country. We feel extremely lucky.
How did "Place in the Sun" help with your search?
Place in the Sun showed us 4 or 5 properties that were around our price range. What we were really looking for was a big house that needed a lot of renovation. That was the dream. They showed us one property that was similar to what we were looking for and we put in a low cheeky offer that was rejected. We both really enjoyed being part of the TV show. It was a good experience and during the week of filming we took the opportunity to view more houses while we were there. That's how we found our house. There was no behind the scenes support or help in the process. However, what I do love about the show – and why I would happily film with them again – is that it encourages people to visit El Puerto de Santa Maria, a place that is now our home. Highlighting the town is really important to us. We want people to experience the town and all the great things it has to offer.
You've been very busy renovating while still mastering the language and getting your feet on the ground. How has that been?
Many of the renovations were completed during the pandemic (we moved to Spain in December 2019 and Spain was completely locked down by March 2020). So, we were trying to explain in basic Spanish what we needed to whilst wearing a mask…and they were wearing a mask. It was the same for language classes. It was really difficult and frustrating but we didn't give up. We had a very clear goal, and we knew what we wanted to achieve and do. That kept us motivated and going. John's parents caught one of the last flights to Spain. They got stuck here and ended up staying with us for four months. When life gives you lemons you make lemonade, so we put John's parents to work and work they did.
The renovations made our neighbors curious about us and what we were doing so we would have lots of conversations in the streets about what we had done and why. Also, we live in a traditional Spanish neighborhood so they thought it strange that we were here and were extremely inquisitive. It was a curiosity that I thought would fizzle out but 3 years later everyone still has an interest in what is going on. The renovations helped us with our Spanish because we were forced to communicate and convey what we wanted across. We also picked up strange technical vocabulary.
During the pandemic it was normal for the whole street to go up to their roof terraces to clap for the health professionals. Over time our neighbours turned this into a bit of a party with music. Different families took turns putting on performances with dancing or celebrations for birthdays, easter or other key events. This was a great opportunity for us to meet people in the neighbourhood, some for the first time. Though obviously we were shouting over roof tops… which was one way of practicing Spanish when all the schools were closed. It was also extremely bonding as we were all going through the same thing together. I almost miss the routine of going up to the roof terrace at 8pm to wave and see everyone.
When the restrictions were over the builders started again. It took us a while to find a builder that we actually liked and wanted to work with, once we found him we didn't want to let him go. He is a friend's dad and he may have started off as our builder but he is now a key part in our Spanish family too.
---
---
Have you made friends in El Puerto de Santa Maria? Is it an easy place to meet other people and/or to take part in various activities?
When we came here our first friends were our neighbours. We went to the local shops where we would often have conversations in the queues waiting for our turn. People have shown us an amazing amount of patience. Each person we've met has taken it upon themselves to teach and explain a new word to us when we see them in the street. Always offering help and being kind.
We met other friends through Spanish classes with varying degrees off success. Though it's great to talk English with friends for a bit, our experience is that many expats stay for short periods. It's why having Spanish friends has been so important to us.
Our butcher introduced us to a girl our age that needed a room to stay. We were still renovating parts of the house but she was desperate. She stayed with us briefly and she introduced us to all her friends. This got us talking to loads of different people in our age group, Spanish people who live in town. Many are people we still speak to today.
There are a large amount of social clubs in El Puerto de Santa Maria that you can join. I've been tempted to join a local art school myself. I honestly believe there is something for everyone in El Puerto de Santa Maria because the focus is having a great fulfilling life whilst spending as much time as possible with friends and family. That's the priority above all else. We really enjoy watching the kayak classes racing each other on the river, so much so we decided to buy a kayak for ourselves. Weekend discussions normally stem around whether we are going to take the kayak or bike out that weekend.
Most recently we have started to rent out our other apartments in our house. During the winter months guests tend to stay longer in the area. We've seen it as an opportunity to make new friends and share our passion of the area by offering to show people around. An Australian man recently stayed with us: it was supposed to be a week-long stay but a month later he was still with us. He was enamored by the town and the secrets it has to offer. We took him on our favourite bike ride around the salt marshes so we could show him the flamingos. He admitted he had tried to find them himself without success. It was really satisfying to be able to show him and share our insider knowledge. Within 24 hours of coming back from the bike ride he was talking about going again.
What I would say about making friends is that you need to be proactive. You need to sign up for classes, go to the flamenco bar or bodega even if you have to go by yourself. If you do the things that you love, you will find similar-minded people. It's strange because it's almost like dating. You may not like everyone you meet and some people may not like you either but if you don't give up you'll find someone you find interesting to enjoy a beer with.
There is some kind of festival or celebration nearly every month in El Puerto. John and I spend some time at the weekend doing jobs but after we've done a few jobs we make sure we go out and enjoy the festivities and socialize. El Puerto is famous for its parties after all.
Looking for a place to stay in El Puerto de Santa Maria? Daniel and John have apartments to rent on Airbnb (see here and here).
---
---
How have you adapted? Any unexpected surprises (either positive/negative) or funny stories?
We've had to relax because everyone around us is much more relaxed. There is never ever a rush to do anything. At first we found the lack of urgency incredibly frustrating but then we reminded ourselves it is the calmness and prioritizing fun over working all the time that attracted us to the area in the first place. We've adapted by prioritizing having fun above all else and reminding ourselves regularly to do so. At the same time, I don't want to give anyone the wrong impression: we still work very hard but it's to build our home and business which are our passions. Our neighbours still tell us to work less but we think we've achieved a much healthier balance. We'll be more relaxed in the future when we feel we've finished doing everything around the property.
Learning Spanish: I've learnt to not fear making mistakes. I've also learned to learn from them. I would say our confidence has improved drastically as well as our practical skills from our daily interactions with builders and other workmen and dealing with tasks around the house. We are much more self-sufficient.
Is there anything you miss from the UK?
We miss family and friends. But I would argue that we make much more of a conscious effort to see everyone now than I did when I was living an hour away. We love it when they visit us here – our house is the perfect house for when a big family comes to stay.
I'm afraid it's mainly food we miss. English sausages, so much so that we keep offering to show our friend the butcher how to make them. There is an abundance of restaurants that serve fried fish but none with chips.
We also miss being understood straight away, the ease of the whole communication process.
---
---
Do you have any advice for anyone coming to Spain and El Puerto de Santa Maria in particular? What have you learned through this process?
El Puerto de Santa Maria is where a lot of Spanish people come during the summer to laze by some of the most beautiful beaches in the world.
The beaches are beautiful, but this town has so much more to offer than that. I think it is perfect for people who want to see and experience the culture of Spain.
You don't have to come in the summer months. In fact I would recommend visiting in April/May or September / October. The weather is still superb but it is cool enough to enjoy the experience, wander around taking in the ambience of the bustling little town.
My advice is to walk, ride a bike or kayak down the river and explore the salt marshes. Count how many different types of bird you can see.
Take in the local sights and learn some of the history from the castle, Plaza de Toros and the church.
Go to an authentic sherry tasting. El Puerto de Santa Maria is part of the sherry triangle. As I mentioned above, we have a bodega 2 minutes from the house where drinks start from a euro. It is a great way of discovering the different types of sherry. It's so much more than the stereotype of the drink your Nan drinks at Christmas. It's a huge part of Spanish culture, not just for drinking but cooking too.
Look up the calendar of social events in El Puerto. There is usually something going on of note. Honestly, it has the best street parties I've ever been to. The most hilarious was when there was a religious festival, Halloween and Octoberfest themed party to celebrate all of these things at the same time. Though I laughed it's also super inclusive and it's an opportunity for different people to all come together and celebrate. And more importantly it's so much fun!
You must eat out as much as possible, there are many choices of restaurant and the food is always phenomenal.
If you are staying in El Puerto de Santa Maria for a longer stay it is a great base for you travel to other towns and cities. Jerez is 8 minutes away and Cadiz is 30 minutes away by public transport. One of my favourite things to do is to take the catamaran to Cadiz. It is very peaceful and I challenge you to stay awake with the gentle rocking after two beers…
If you have a car, go to Arcos de la Frontera or Vejer de la Frontera to see what some of the famous white towns have to offer. The views are amazing.
For anything thinking of moving to Spain, I recommend learning the language as much and as soon as possible. Shop locally – not only is the product better and cheaper but you will feel like a part of the community. It's where I get all the local gossip.
Include yourself in the local festivities. They are super fun and if you involve yourself you will always feel like you have something to look forward to.
If you need to work to make a living, work remotely if you can. Or have a good idea for a business that you can start here. Make sure you have enough money to live comfortably for a few years.
Be proactive at making friends. If you are a couple it is important you find friends individually too.
Remember: if you are moving to Spain to change your life, you are going to need to change too. Do the things that interest you and go from there.
---
---
What do you envision for the future? Do you both see yourselves living the rest of your lives in Spain?
After we've finished the house (which should be completed this year), we would like to start offering Yoga retreats and Sherry tours of our own. I can't ever imagine a time where we will ever get bored of showing other people this part of Spain. We honestly love it. Expanding our business in this way would allow us to show even more people the culture of this country that we love so dearly.
Whether John and I will spend the rest of our lives here is hard to say. All I can say is we are extremely happy to call El Puerto de Santa Maria our home.
Thank you for doing this interview Daniel!
Don't forget to check out Daniel's Airbnb profile to see the different apartments he has for rent. He would be happy to host you.
Want to be interviewed on Mapping Spain? If so send us an email or leave a comment
Join Our Newsletter
If you haven't subscribed yet and want to get our posts sent to your email, just insert your email address below. It's free!