Why did this couple choose Cádiz?
Toni and Roberto are a bit different – they have a base in Northern Italy but also wanted a Spanish base where they could spend the winter months.
Why did they chose Cádiz? All about that in this post.
---
Name: Toni Hilton
Country of Origin: USA / Italy
Number of years living in Spain: 3 months
Sorry, no Toni in this photo 🙂 . This is her husband Roberto and their daughter.
---
Hi Toni! Thank you very much for doing this interview. First question – why have you and your husband decided to move to Spain from Italy? Would love to hear your story.
Well, we haven't truly "moved" to Spain. We have added a Spanish base to our lives, but we will keep our Italian home, as well. They are two very different realities. In Italy, we live in a traditional hamlet of about 80 residents, in the very beautiful Alpine foothills of Piemonte, a zone called Monferrato. Our old farmhouse is surrounded by vineyards, olive groves and fields…idyllic for many months. But, the winters are often chill, foggy and grey.
Our new base is in the barrio of La Vina in Càdiz city, Andalucia. We bought a snug apartment near the Caleta beach. In Càdiz, we are within walking distance to nearly everything: a great open market, the Teatro Falla, shops small and huge (El Corte Ingles), cinemas, restaurants/bars/chiringuitos. We have at least 120,000 neighbors, all year. The winter is most often mild, sunny and the winter beaches have more (happy) dogs than people. For now, we will keep 'a foot in each' wonderful place.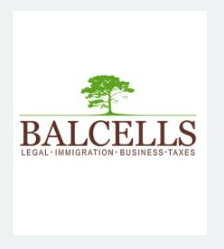 Need help with your immigration needs? Contact Marta at Balcells Group. She handles it all, whether it be a Spanish non-lucrative Visa, Golden Visa, Digital Nomad Visa, Work Visa etc…. More detail here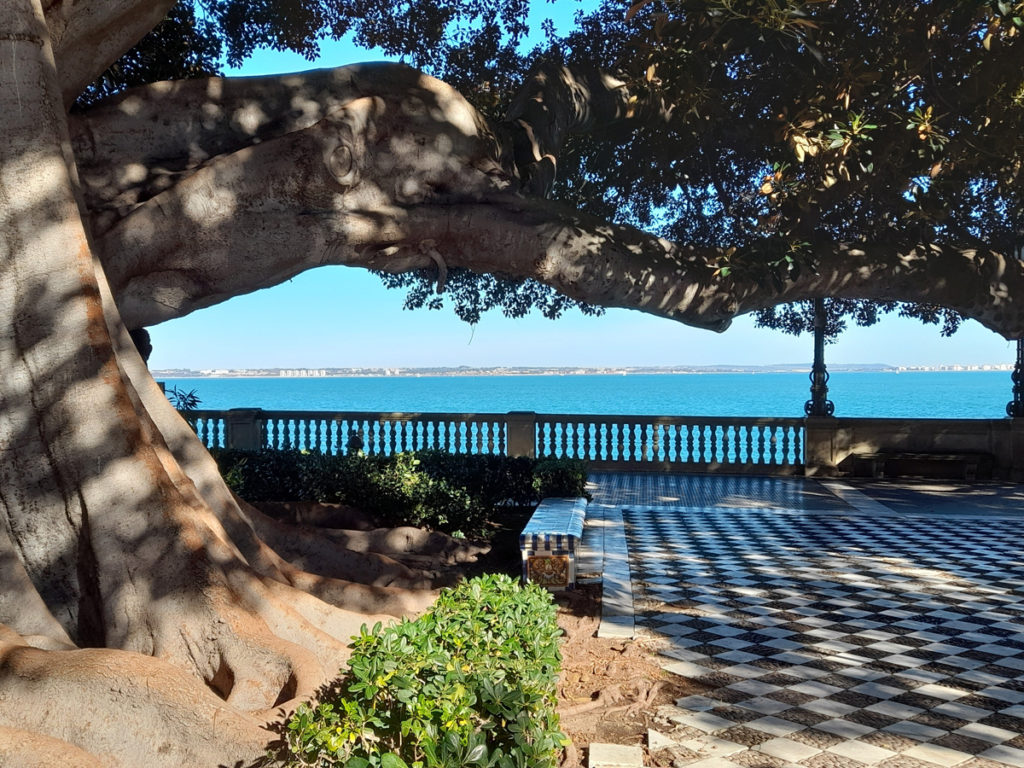 ---
---
When you went about deciding where to live in Spain, what was your criteria? What was most important to you and why did you decide that Cádiz best met that criteria?
I need to see beauty every day. I want big blue skies, clean sand, ancient walls, flowers. I need to feel amongst civil people. I need to be near the ocean. My husband has a different list. He needs more city ambiance, pleasurable walks/bike trails, benches facing the sea, congenial company, a football stadium, fast internet, fresh seafood. Of course…we also considered practical criteria such as reasonable taxation, language ability and access to health care…Càdiz has it all.
You mentioned to me that you just bought an apartment in Cádiz. So you jumped in with both feet (I say this because you've only been 3 months in Spain). What made you decide to buy instead of rent?
I know that I publically agreed with other readers on the fundamental need to rent in different places before settling on one…and then…yes, we did just the opposite. Each of us can claim experience and situations uniquely our own. I can only say that we grabbed at a chance that felt extremely "right" to both of us. I had lived half of my life near the ocean, along the coast of the U.S and Caribbean. I moved frequently. 30 times in 40 years. I lived in cities and on islands, in villas, cabins and boats. Roberto was raised in a big city apartment and traveled the world for work and adventure.
We had imagined our retirement life in a very different base– a waterfront cottage in Florida, that we had owned and coveted for decades. But, when the time came, we had to admit that it wasn't the right place for us. We sold it last year.
---
---
Before deciding on Cádiz, did you visit other places in Spain? Were there other contenders? Or was Cádiz an obvious choice for you?
We actually, did not come to Spain looking to buy a house. We rented a great duplex in Sevilla for December and used the train system to explore other cities: Cordoba, Granada, Merida, Carmona, Ecija. But, our intentions were touristic. We had in mind continuing to Portugal, where we have visited several times. My husband (who speaks Portugese) was intrigued by their resident tax discounts. One of our day trips took us to Càdiz. When it was nearing time to get the train back to Sevilla, we couldn't. Instead we bought toothbrushes and booked a hotel room.
How did you go about finding an apartment? Did you use a real estate agent? Was it pretty straight-forward? Appreciate any tips/advice you may have (a lot of people – including us – rent and are not familiar with the process here in Spain)
We started with an AirBnB rental in Càdiz for a month..which became two months and then three. After the first weeks, I began to look at the realty market. (Here, I have to say that we have bought/restored/sold several houses in Italy over the past 30 years, so we have some skill.) Roberto focused on the long term rental market. We viewed many from the street—getting to know neighborhoods and construction traditions– and, about a dozen, thoroughly, with realtors. One realty agency definitely offered the best attention and service (I'll furnish the name on request). They collaborated with a few other agencies (not commonly done in Spain), and in fact, our choice had really been listed by a different agency, but, they worked together to make the sale. English was useless. We discovered that very few Gaditanos, even professionals, speak it. But, we are also Italian speakers, and that helped us very much. After discussions with the realtors, we always followed up with a summarizing written message, to be sure our communications were correct. Our agency helped us to get our NIE, even chauffeuring us to Jerez for the appointment. We interviewed ten banks and decided on one that offered the best terms and flexibility…but, again…no English was used in doing so. The buying process in Spain was actually very similar to that in Italy. We were given the title, costs and contracts in advance, to review, and our agents were very clear in answering our every question. We were offered a translator for the deed exchange, but, as it turned out, the officiating Notario spoke Italian and the seller spoke very clear English.
---
---
How is your Spanish? Did you learn Spanish before coming to Spain? How have your first 3 months been in terms of adaptation?
Both of us have worked and traveled in Spanish language countries, but I can't say that we are fluent. We both can read Spanish..though, I still have a dictionary beside me. I prepare my vocabulary list before I initiate a conversation, whereas Roberto is much more natural. When we don't know a word, we use the Italian one, and often it "works". He has regular conversations with our neighbors, our grocer, other Càdiz FC fans. I was able to furnish the flat, with no hitches, but Google Translator did help. We have also taken advantage of Facebook groups to connect with others here, who speak English or Italian. Through Italians and Americans already resident in Càdiz, we have culled a lot of valuable advice and very pleasant hours.
What are your plans for the future Toni?
Thanks to regular and economical air routes between Northern Italy and Sevilla, we plan to shuttle back and forth often this year and get to know the apartment/neighborhood also in the high season. Our daughter, who has been living in Lisbon, has been charmed by our choice and we hope that she will also use our Càdiz base. We are both signing up for Spanish courses.
Next winter, we look forward to exploring more of Andalucia with walking groups, and train breaks to Spain's other regions, but, we are convinced that we have chosen to settle in the place that suits us best.
Many thanks to Toni for this interesting interview!
---
---
Join Our Newsletter
If you haven't subscribed yet and want to get our posts sent to your email, just insert your email address below. It's free!