A Review of Arte de Tapas (Antequera)
Arte de Tapas might be different than any tapas bar you've ever experienced. I admit it wasn't what we expected.
Arte de Tapas is an upscale tapa experience. If you're used to a loud, rambunctious kind of place where waiters are running around with 5 plates of tapas and overflowing beer glasses in their hands, a place where you're sitting on a barstool in front of a small table filled with crumbs from the last tapa-eater, a place where neighbourhood dogs are staring up at you hoping you'll give them a bit of your chorizo…well, this is not that kind of place.
Instead, Arte de Tapas specializes in traditional (but elaborated) Andalucian recipes. For example, if you want a morcilla (blood sausage) tapa, in the usual place you'll typically get a chunk of morcilla served with a piece of bread. You won't get that at Arte de Tapas. Their morcilla is mixed with apple bits, topped with a mango sauce and served in a bun. Their tapas are much more elaborate.
That's what you can expect from Arte de Tapas.
Also don't expect to be served poor-quality wine. Arte de Tapas doesn't serve mass-produced plunk…they serve fantastic wines from local wineries.
Another thing you can expect from Arte de Tapas (which you've probably figured out reading the above): it's not inexpensive. You'll pay for your upscale tapa experience.
So how was our experience at Arte de Tapas? Some photos (I'm also including the menus below although they're subject to change)
The above was the FREE starter round. I received a mystery meat (I think it was veal) while Lissette (who doesn't eat meat) received a humus plate.
I always like free food and both free tapas were good.
Then came our ordered tapas.
---
---
ROUND 1.
Lissette had the "Arte de tortilla rellena" which had potatoes and vegetables. Very good. I had the "Croqueta de bacalao" which was more than good…it was excellent.
Cost of the tapas: the Tortilla rellena was 4.90 Euros, the Croqueta de bacalao was 3.80 Euros.
Separate was the wine (unlike many places, the tapas don't accompany the wine). We had two glasses of white wine, the "Cortijo La Fuente" from nearby Mollina. Excellent wine. Cost 3.50 Euro/glass.
---
---
ROUND 2
Lissette had the "pimiento campero", I had the "Hamburguesita de prueba de chorizo de matanza". They use some complicated terminology in their menu which I think could be simplified somewhat. The "Hamburguesita de prueba de chorizo de matanza" translates literally to "Slaughter chorizo ​​test hamburger" with google translator.
But both dishes were tasty and we continued with 2 more glasses of the same white wine mention above.
Cost of the tapas: Pimiento campero 4.10, the Chorizo Hamburguesita also 4.10. The wines were 3.50 Euros each.
---
---
Round 3
Lissette had the "Patatas Bravas" which were tasty…but there was a lot of sauce which overwhelmed the dish. I had the "Tartar de morcillo, manzana y salsa de mango" which was a different take on morcillo…but the mix between blood sausage, apple and mango was interesting and successful (don't I sound like a New York Times food critic?).
We had this last round of tapas with a red wine: the Chinchilla Roble from Ronda. Fantastic.
Cost of the tapas: Patata Bravas were 3.80, the morcillo was 4.10. The wines were 3.50 each.
---
---
Summary of Arte de Tapas
Arte de Tapas is a food experience. As I say off the top, it's not really what we expected or wanted when the entered the bar/restaurant. We didn't love every dish but we appreciated the effort behind it, "Arte" is really what they do at Arte de Tapas.
And as I say, it's not inexpensive: the bill came out to 45.80 Euros for the 3 rounds of tapas.
Arte de Tapas won't be our regular tapa spot. It's too pricey for that. But we will be back. First of all, the wines are fantastic. The best wines we've had in a long time. FANTASTIC. And the food is creative, fun and different. The service was friendly and fast. If there's one thing I did not like was the lighting. It was too bright. I didn't find it cosy at all.
I wrote this review so people know what to expect. Arte de Tapas is not your ordinary tapas place, it is an elevated food experience.
Below: their main tapas menu, the wine list, and the "exotic" tapa menu. The menu is subject to change because Arte de Tapas changes their menus according to season
Some more photos:
---
---
Note: Arte de Tapas and Arte de Cozina (which is right next door) are one and the same. You can read about them on the Arte de Cozina website. Arte de Coziina gets fantastic reviews on Trip Advisor and we look forward to a visit.
Arte de Tapas
Calle Calzada 25 (right across from Mercadona)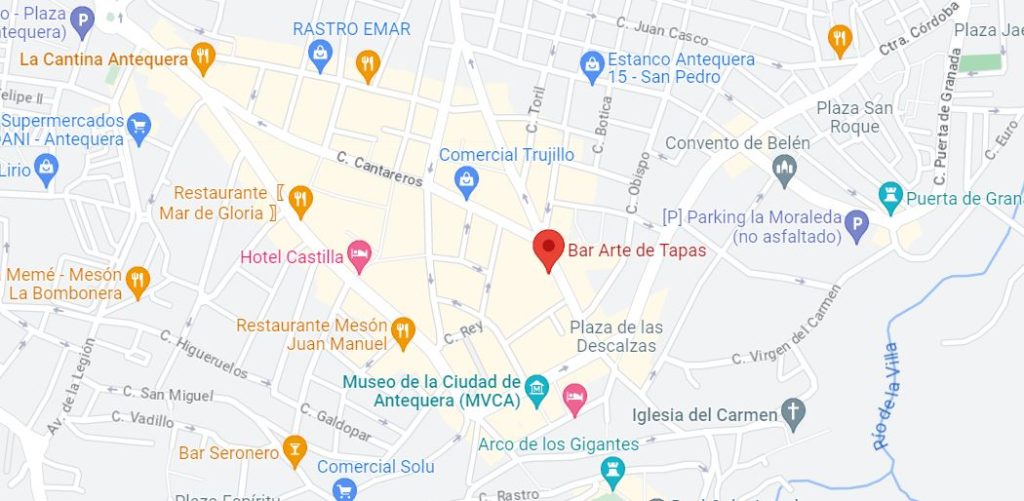 Join Our Newsletter
If you haven't subscribed yet and want to get our posts sent to your email, just insert your email address below. It's free!