A Visit to Frigiliana
Frigiliana is known as one of the prettiest Pueblos Blancos (White Villages) in Andalusia. Located inland along the foothills of the mountains (the Sierras de Tejeda, Almijara and Alhama Natural Park), it is a charming – and touristy – town of about 3000 people.
---
Getting to Frigiliana: if you don't have a car, the only way to Frigiliana is by bus from Nerja. It is an easy and very scenic 10 minute bus ride. Bus Schedule here. Although walking here is tempting I recommend against it – the road is narrow and the shoulder (where one exists) is narrower.
---
A bit of History: Frigiliana dates back 3000 years before Christ. The Phoenicians were the first major civilization to settle here (around 700 BC) followed about 500 years later by the Romans (around 200 BC). It was the Romans that built the hilltop castle (Castillo de Lizar). But it was the Moors who really left their mark on Frigiliana. They built irrigation systems and terraces and produced olive oil, sugar cane, silk, raisins and figs. When the Moorish period came to an end in 1492, the 3 religious groups at the time (Muslims, Jews and the governing Catholics) co-existed peacefully. Unfortunately the new rulers imposed more and more restrictions (and imposed more and more taxes) on the Moorish population and it led to a rebellion in 1569. The Battle of the Peñon de Frigiliana became one of bloodiest in the history of Southern Spain with over 2000 Moors and 500 Catholics killed. Frigiliana became a ghost town and it would take a few centuries for it be resettled to the extent that it is today.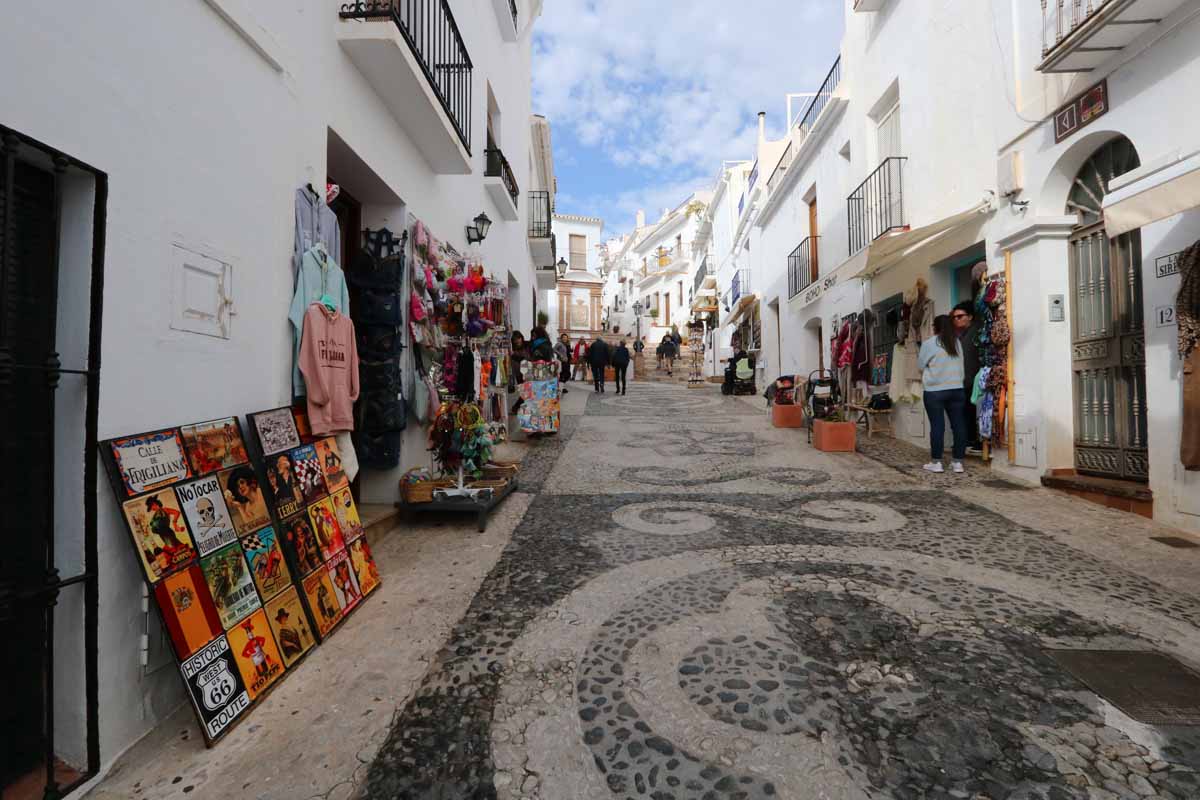 ---
---
Essential must see's in Frigiliana: the whole town is worth exploring for its little streets, scenic views and colourful doors. But as far as "must see sights" I'd suggest: 1) Parroquia de San Antonio de Padua (Church of Saint Anthony of Padua), 2) La Fuente Vieja (the old fountain), 3) the viewpoints on Calle Santo Cristo and Callejon de Peñón. If motivated, you can continue up to the ruins of Castillo de Lizar for ruins over town. If really motivated, the latter is also the jumping off point to hike El Fuerte – a 2 ½ hour hike that takes you to El Fuerte peak on a mountain overlooking Frigiliana and the coast beyond (see my post here on hiking El Fuerte).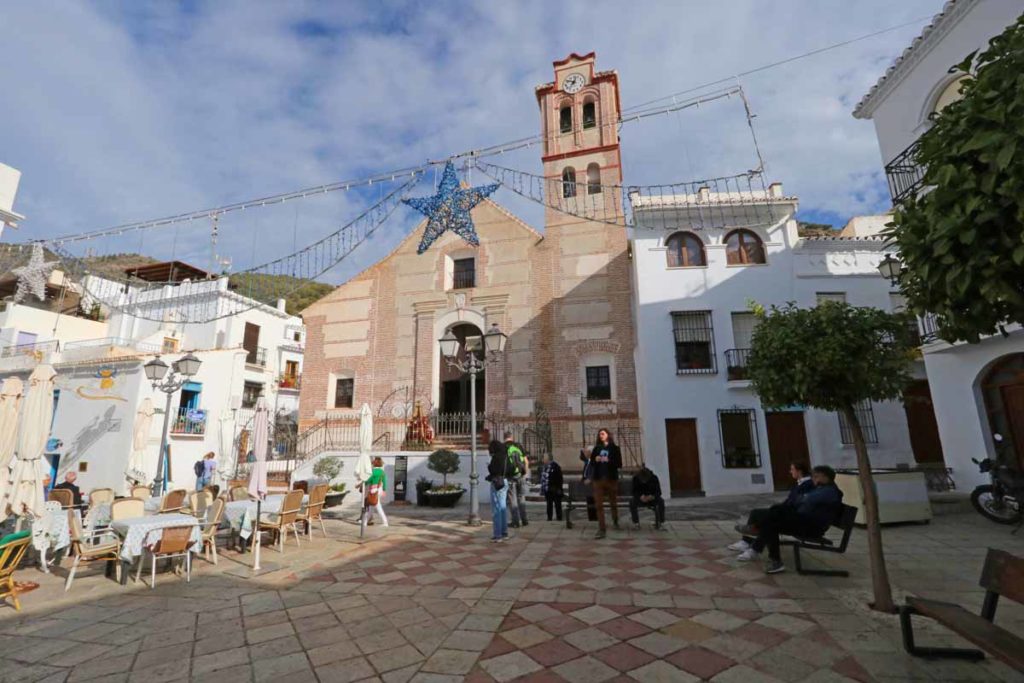 ---
---
Suggested DIY walking tour: The bus will deposit you right in the center of town. From there, the best way of walking the town is on foot – Frigiliana is full of little streets and alleys built on a hill. So expect lots of steps.
From the bus stop, walk up the hill past the Palacio de los Condes (a 16th century palace that is now a honeycane factory). You'll see lots of souvenir stalls and cafes and will come up to the most photographed spot in Frigiliana: the junction of Calle Real and Calle Hernando el Darra.
Stay to the left along Calle Real. It's the main street in the upper town. But it's a pretty street with lots of life. You'll see stores, (more) cafes and some art galleries. At some point you'll see a little a little alley (Calle las Huertas) which leads to the Botanical Gardens. Some scenic views here. But get back on Calle Real and continue along until you get to Parroquia de San Antonio de Padua, the main church in town. Very pretty inside, it's worth a see. When finished, continue just a little along Calle Real, going down a hill. Off to the left is La Fuente Vieja (the old fountain). Built in 1640, it provided fresh water to people and livestock.
Backtrack a bit. Just past the church is Calle Zacatin. Walking up the stairs of this beautiful street – decorated with colourful flowerpots and plants – is the best way to the upper reaches of town. Continuing up you'll get to Calle Alta ("High" street). You can go either way when you get there but the viewpoints (which are the highlights up here) are to the right.
---
---
Continuing along, you'll get to some very nice viewpoints (Google maps indicates them as "Mirador de Santo Cristo" and "Panoramica Frigiliana". This 2nd one is next to El Mirador Restaurant which is a nice place to get a drink and enjoy the views. But my favourite viewpoint is continuing a bit further and going down Callejon de Peñón. Right there, next to Garden Restaurant, is a great viewpoint overlooking the center of town.
From here you can just explore the maze of streets. Or continue down Callejon de Peñón until you pass through the little tunnel. Turn left. The street will take you down the steps at the junction of Calle Real and Calle Hernando el Darra (the point that I previously mentioned as the most photographed spot in Frigiliana).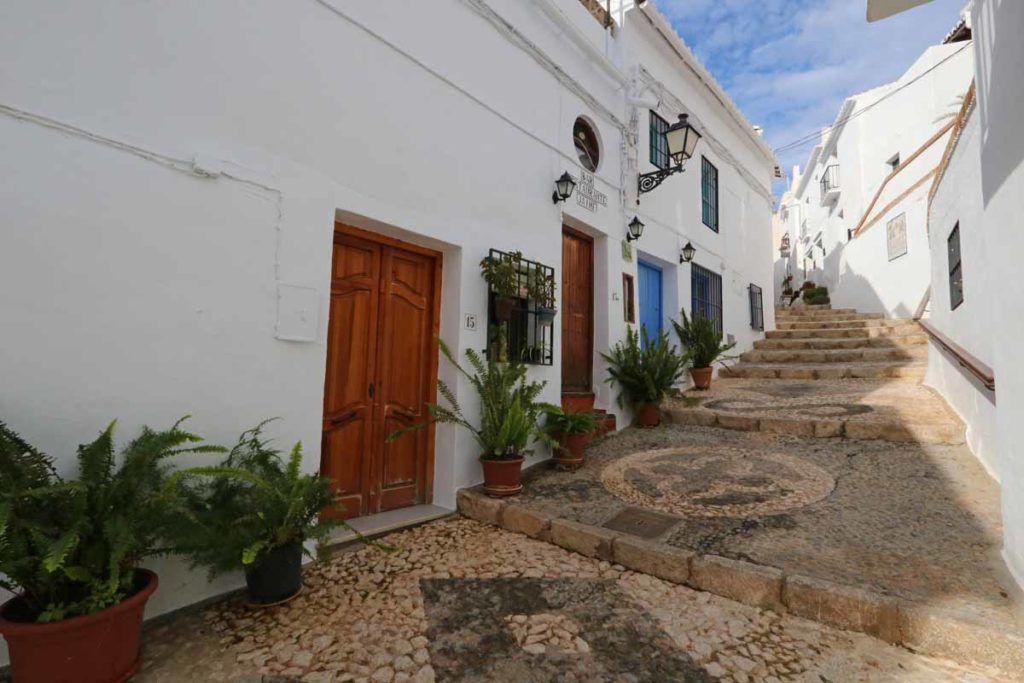 ---
---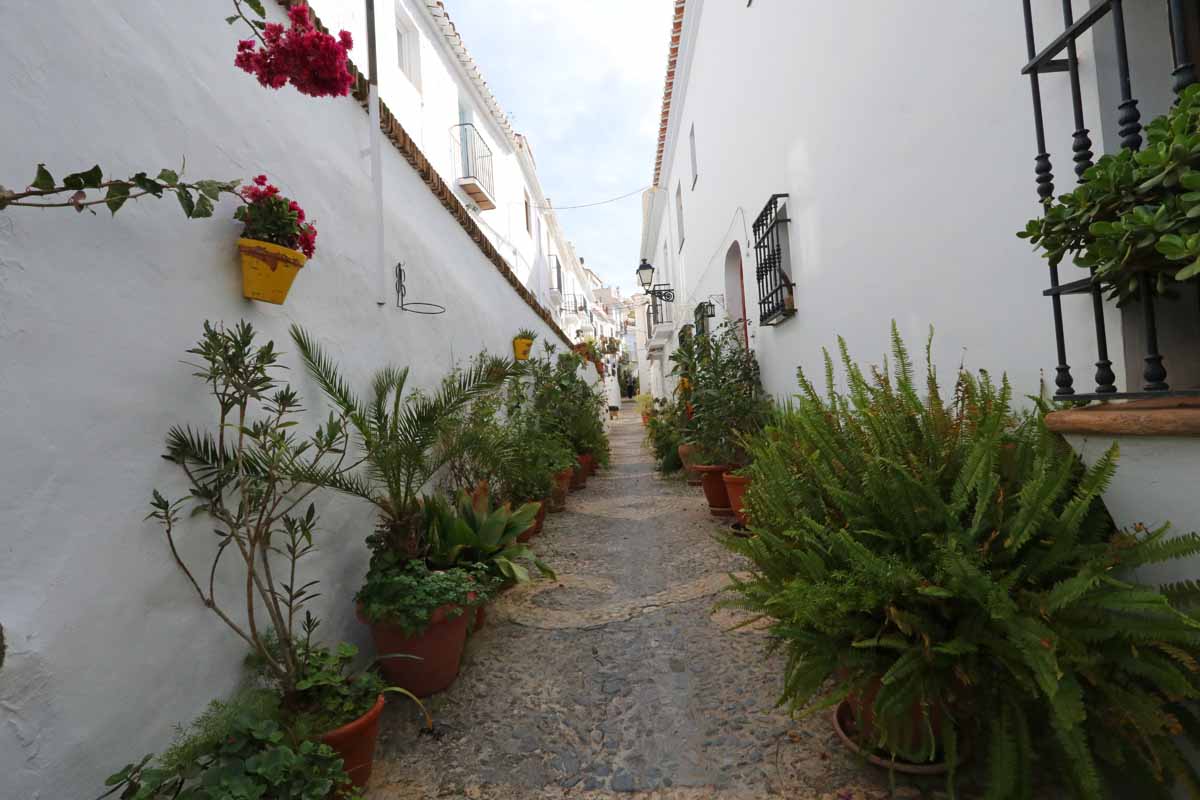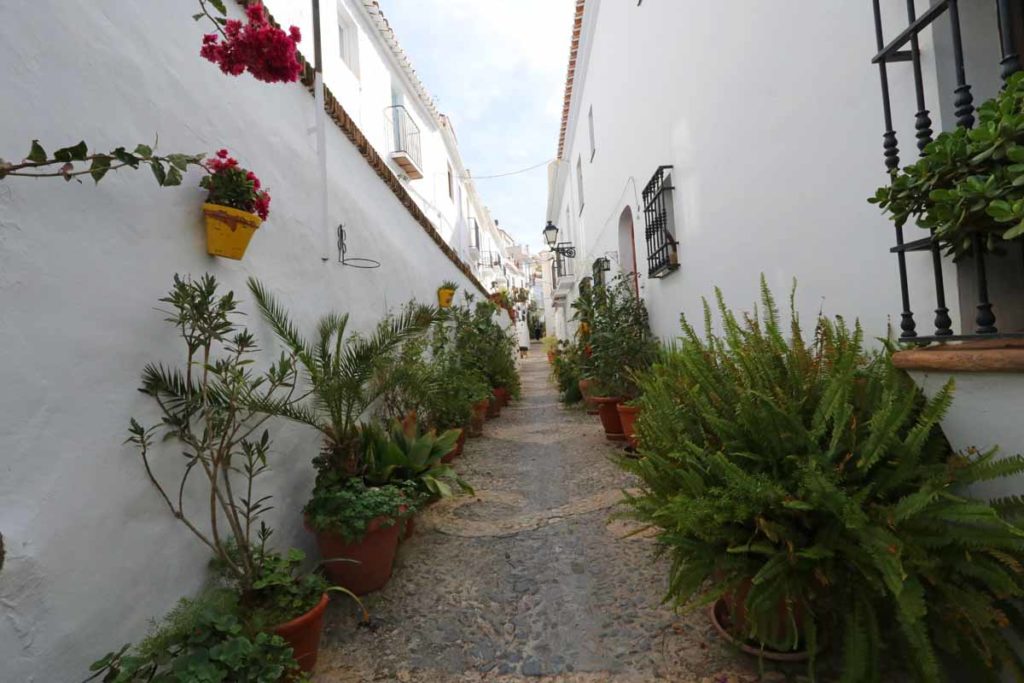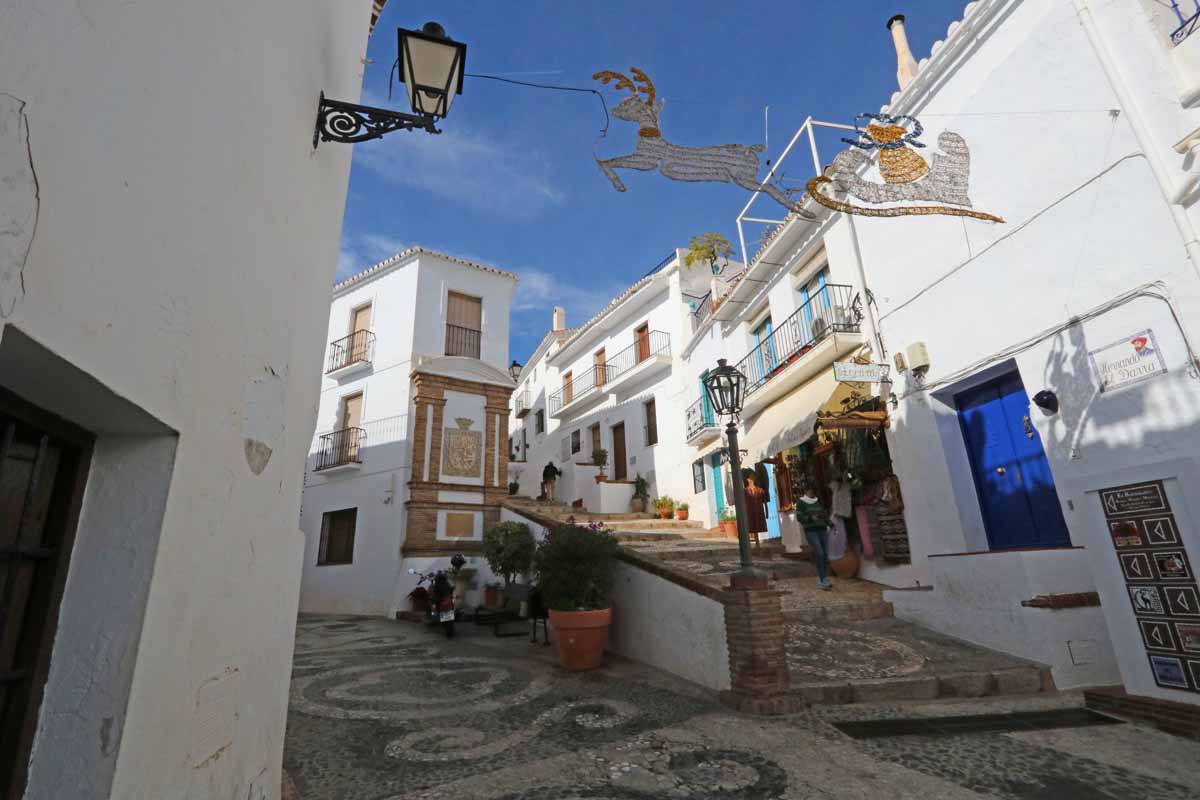 Really, you can probably do the essentials in an hour. Frigiliana isn't a big place. We wandered around and backtracked a lot, spending about 3 hours.
Frigiliana is a very pretty place and also a mirror image of Chefchaouen in Morocco (well, except that everything is white and not blue…).
---
Looking to stay a night in Frigiliana? Frigiliana is a great place to enjoy a romantic evening. La Casita Azul gets great reviews and captures the essence of the town.
---
---
Could we live in Frigiliana?
When we were apartment hunting in Nerja our realtor mentioned Frigiliana. She said Frigiliana was less expensive and that it is a beautiful, charming place.
That's all true. And we saw lots of "for rent" and "for sale" signs.
Having said that, it's not the place for us. Firstly, you really need a car if you're going to live in Frigiliana. You can't depend on the bus service – there are about 12 buses a day between Nerja and Frigiliana but there's an hour or sometimes two between buses. And on Sundays there are even fewer buses. Secondly, it's just too small a town for us.
Who would Frigiliana be suited to? People with cars and people who really like nature. You basically have the mountains at your doorstep so if you like hiking you're in paradise. A lot of expats make Frigiliana home, so it's not undiscovered – I'd say that it probably has the same demographic makeup as Nerja (with about a quarter of the population being foreigners).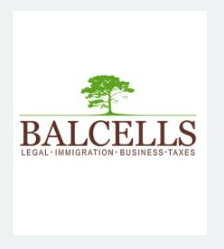 Need help with your immigration needs? Contact Marta at Balcells Group. She handles it all, whether it be a Spanish non-lucrative Visa, Golden Visa, Digital Nomad Visa, Work Visa etc…. More detail here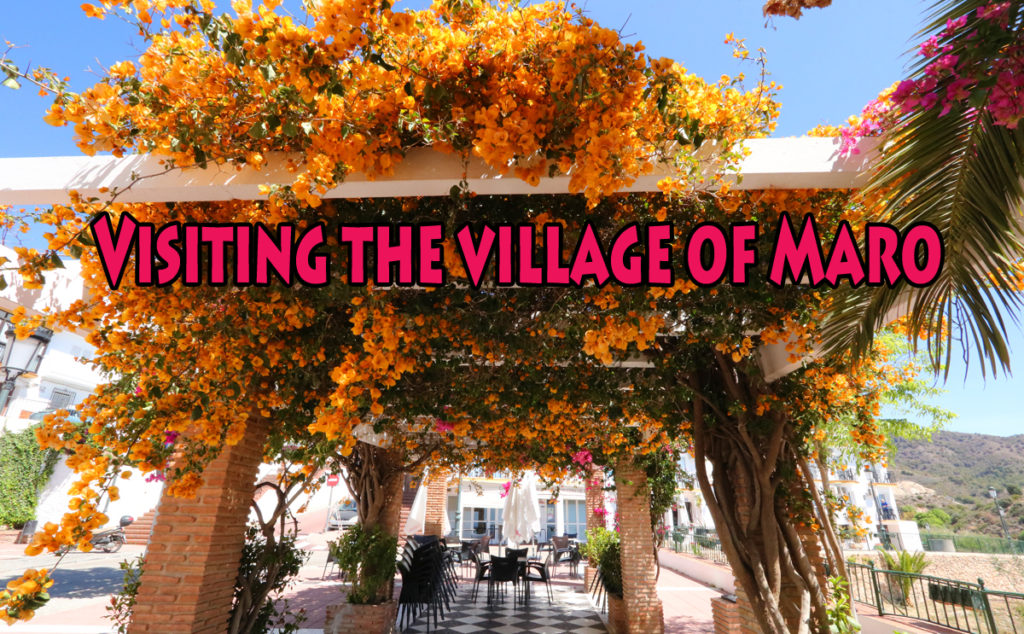 Join Our Newsletter
If you haven't subscribed yet and want to get our posts sent to your email, just insert your email address below. It's free!