All you need to know about learning Spanish
99% of people moving to Spain need to learn some Spanish. Even if you've learned Spanish somewhere else (I learned 'Latin American Spanish' in Canada), chances are you've want to re-learn some basics when you get here.
Cristina is a Spanish tutor that I decided to interview. We cover some interesting topics that might inspire you to either learn Spanish (from scratch) or just improve your language skills.
---
---
Hola Cristina! I'm going to ask you some questions on what us foreigners can do to learn Spanish. But first, can you please tell us about yourself?
Hi Frank! I'm a Spanish teacher. I'm self-employed and the head for a company called Spanishmente. I first started teaching beginner-level Spanish to children and teenagers but I recently expanded into teaching adults.
So I now teach Spanish from Spanishmente to very beginner kids, teenagers as well as adults.
My background is tourism. I have a Higher Certificate in Tourism and Marketing Information. But my passion is teaching so I decided to do training as a Spanish tutor. I am a certified Spanish tutor in the speciality of ELE by the European University of Miguel de Cervantes.
My classes aren't like a traditional lesson, it's a mix of formal education, with explanations and exercises and is very focused on the daily routines of speaking in Spanish. I prefer to call myself a "learning companion" instead of a teacher. I prepare immersive Spanish experiences, touching on travel and other interactions required on a daily basis. I do this in-person in the municipality of El Puerto de Santa María, Cádiz but I also do it online for people not living in this area.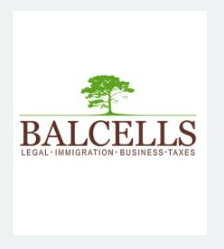 Need help with your immigration needs? Contact Marta at Balcells Group. She handles it all, whether it be a Spanish non-lucrative Visa, Golden Visa, Digital Nomad Visa, Work Visa etc…. More detail here
I know you've travelled and worked abroad in both the UK and Germany. So you've obviously been in the position of being a student in learning different languages. What do you think is the biggest key to learning a new language?
The most important thing is to want to learn and to commit to it. You have to lose the fear to be wrong when speaking in another language. You can't be shy in that aspect, you have to talk to native people and listen to the language (at least ten minutes per day), read texts and try to understand the meaning, and of course to attend classes. If you don't practice conversation with other people, it will slow the speed at which you learn. A teacher helps you to identify your mistakes and pinpoint where to focus your energy to maximize your progress in learning a language.
A lot of people come to Spain with almost zero knowledge of Spanish. What people want to know is – "How long will it take me to learn basic Spanish?". How long do you really think it takes someone to get to a basic level of Spanish? And what is the best and quickest way for someone to get there?
There's no fixed time. It depends on how much time you study and the discipline, in my opinion. Also, it's easier to learn another language if you speak more than one or if the new language is similar to your mother's tongue. For example, for me, it´s much easier to learn French than German, because French is more similar to Spanish than the German language.

But miracles don't exist. The most important things are perseverance, commitment and discipline for learning.

An option could be to attend a basic Spanish course, where the student learns basic aspects such as a greeting, how to say good-bye, numbers, spelling your name, pronouns, the Spanish three conjugations, verbs in present, past and future, regular and irregular verbs, gender and number in Spanish, the time, the months of the year, days of the week, essential vocabulary as the food, clothes, weather, nationalities, professions, etc. A course where the student can work on their speaking skills, grammar and vocabulary.
In Spanishmente I offer Spanish lessons for beginner kids and teenagers, where I follow a method where the young will learn Spanish in a fun way, with games, songs, readings…I also teach adults. Lessons are online and in-person for people who live near El Puerto de Santa María. I also teach Spanish to immigrants who come to Spain and need to learn Spanish for specific goals. In my classes, the student is the centre of the learning process. They're private and focused on the student's needs (when the student is an adult). If it's a kid or a teenager, I had to adapt the lessons to the parent's desires. I have students whose parents just want their kids to learn and have a good time. I have other students who have parents with more serious goals (getting better marks in Spanish at school for example).

I sometimes organize meetings for Spanish and foreign people to make an internship of languages and also I've plans to do the same but with children and teenagers. For more information, can contact me through the details I give in www.spanishmente.com. There I'll inform you about future events I organize.
---
---
Another issue that people face (that I've faced) is learning the local dialect. I learned "Latin American Spanish" and can get by in Latin America. But when I arrived in Spain I realized that I had no idea of what people were saying. We also saw that people in different parts of Spain have very different dialects. So how does a foreigner handle all these differences in how the language is spoken? And even for Spanish people, how difficult is it when travelling to different places in the country?
I had the same problem when I travelled for the first time to the United Kingdom. I went there to do enterprise training. I went to Birmingham and I found it difficult to understand them because of their accent. In every Spanish autonomous community the same happens, and in every province the accent is different. There's a video where you can listen to the different dialects and accents. It's very interesting: This is the video.
So, it's normal not to understand when you get to Spain and Spanish isn't your mother tongue. My advice is not to be desperate and to ask the person to speak slower and clearer. I did that when I went to the United Kingdom. With patience from the other person as well as from myself (don't give up!) I started to understand better. I made use of the spelling of the words. Recognize that we don´t understand what the other person is saying to us and make her/his know it. Ask her/him to repeat again and to check if you finally understood what he/she said.
In Spain, use the words: "Perdonde, no he entendido lo que ha dicho. ¿Lo puede repetir, por favor?" Or just: "Lo siento, no entiendo. ¿Lo puede repetir por favor?

Learning a new language takes time and I think the secret is to be patient with yourself (don't pressure yourself), perseverance, commitment and talk with other people in that language.

Spanish people also have a problem understanding us. Every province has its own vocabulary. For example: "Calamar" (squid) and "choco". They both mean the same but, in some places of Spain it´s called "calamar" and in other ones "choco". I found it funny to see the differences between regions.
---
---
A question out of curiosity – have you found that certain nationalities have a harder time learning Spanish than others? There are a lot of English, Germans, and Swedes that move to Spain and I'm wondering if the speed of learning English is easier based on their native languages…or if it just depends on the individual?
I think that studying a new language which is similar to yours is less difficult than studying another one which is quite different. For example, for me, studying Italian is easier than learning Swedish, because Italian and Spanish are similar. We share the same root. Also, it depends very much on the person, but also I think that pretending to learn something quick is not so good. It´s better to take on with less and to learn the structure properly. Step by step and not so quick.
I know you teach Spanish to children as well as adults. How do teaching methods differ between children and adults?
Kids need to listen to the contents more times than an adult. My lessons with them are thematic classes. For example, I dedicate one whole lesson to the vocals, alphabet and words spelling, another lesson to the greetings, and another one to greetings and polite words…

With them, it´s better to go very step by step. It´s always good to revise the whole lesson before the end of the classroom and to do the same at the beginning of the following lesson. I motivate them through games and fun.

I think that an adult needs more challenges. You can teach them the same way as a kid but at a more advanced level. Our minds have a larger capacity to manage those contents and retain new information.
Finally, why should people hire you to be their Spanish tutor Cristina? How can you help them learn Spanish?
I don't have a perfect formula, but I work to adapt myself and the contents to the student's needs with his/her way of learning, I detect mistakes and I help him/her to realize them. I especially make the student think a lot and I encourage him/her not to be afraid to make mistakes. That is the key to learning Spanish.
---
---