The Political Geography of Spain
Many people get confused by the geography of Spain. What is an autonomous community? What is a province? Is the "Costa del Sol" either? How about comarcas. What are those?
I'm writing this because I get these types of questions all the time from Lissette. We're living in Nerja. Nerja is on the Costa del Sol, it's in Malaga province, it's in the autonomous community of Andalusia. It's also part of Axarquia, a 'comarca'. What's that? Argg!
This post is meant to give a simple overview of the political geography of Spain. I'm starting with the best map I've seen yet on this subject. Looking at it will help you make sense of it all…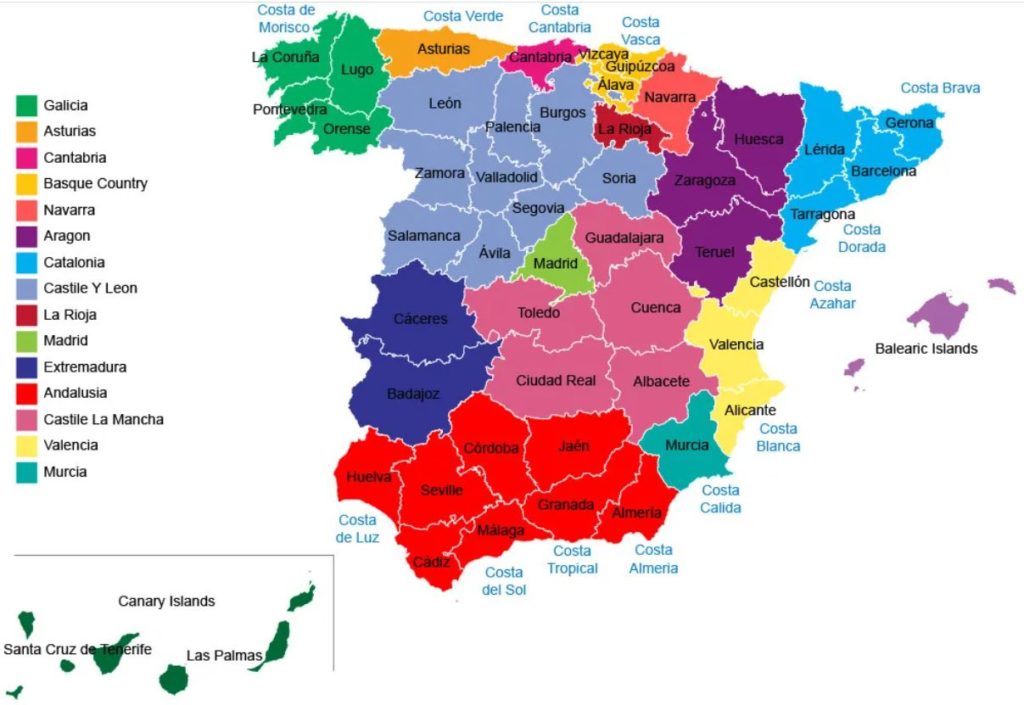 ---
---
Autonomous Communities in Spain
First thing you should know: Spain is a decentralised state made up of 17 autonomous communities. Andalusia for example is an autonomous community. You'll see all of Andalusia in red on the map above.
From 1939 to 1975 Spain was ruled by Franco, a dictator who attempted to homogenize Spain, Spaniards and Spanish culture. After his rule, Spain decided to bring back multiculturalism and in 1978 the constitution provided for distinct autonomous communities within Spain. These autonomous communities all have unique cultures, languages and history and each autonomous community has political autonomy and is self-ruling. They administer things like healthcare, regional tourism, culture, security, public works and the environment. They all have governments and appointed officials who work for them, both within the different autonomous communities and within the Senate at the State level.
Autonomous communities can't just do what they want – in the end the Senate has ultimate control over the autonomous communities. See more on the divisions of power in Spain here. But Autonomous communities have the highest level of administrative and political powers at the regional level.
Autonomous communities have their own flags which you'll often see flying over government and historical buildings in whichever regions you're visiting or living. The different flags here.
---
---
Provinces of Spain
Almost every Autonomous community has Provinces. There are 50 provinces in Spain and the layout of Spain's provinces closely follows the pattern of the territorial division of the country carried out in 1833.
Most autonomous communities have multiple provinces.You'll see on the map above, for example, that the autonomous community of Andalusia contains 8 provinces: Malaga, Cadiz, Huelva, Cordoba, Seville, Granada, Jaen and Almeria. 7 autonomous communities have no provinces: Asturias, the Balearic Islands, Cantabria, Madrid, Murcia, La Rioja and Navarre.
Provinces administer things like funding for their municipalities, promotion of economic and social development, capital expenditure projects like secondary roads, some hospitals etc.
At the political level, provinces are very important as electoral districts in national elections. Spain's parliament is made up of 350 seats – MPs are voted in at the provincial level with each province having at least 2 seats (other seats are allocated to the provinces based on their populations)
---
---
"Comarcas"
I mentioned Lissette asking about the region of "Axarquia" that we have here (Axarquia covers a region from Rincon de la Victoria to Maro).
What is a comarca?
It's not clear and the rules are different in different parts of Spain. They are areas defined with the goal of providing local services to municipalities within each comarca. Axarquia for example is made up of 31 municipalities and its capital is Velez-Malaga. People in the area are called axárquicos.
But often comarcas are not legally defined and are very informal. They can correspond to natural areas like valleys or river basins, mountainous areas or even historical regions. For this reason there are only 83 official comarcas in Spain (most are in Catalonia with 42 and Aragon with 33). But if you include all the unofficial comarcas there are hundreds upon hundreds all over Spain.
The best equivalent to a comarca is a "Borough" for those familiar with that…
Municipalities
I mentioned municipalities above. There are 8131 of them in Spain, they are the most basic administrative level.
Summing it up: each municipality makes up part of a comarca (maybe) but also part of a province (definitively). In turn, each province makes up part of an autonomous community.
---
---
The Costas
The Coasts of Spain, or "Costas", are included on the map above in blue along the coasts they represent. I'm including another map here so you don't have to browse to the top:
Most maps include the 13 that you see on this map. Some maps have 17 because of a fewer exotic sounding coasts they add in northern Catalonia.
Is there anything official about these coasts? I don't think so but feel free to prove me wrong. The names, as far as I've heard, were created for tourism purposes and is usually synonymous with the coast in a province. In Malaga province for example, we're on the Costa del Sol. Step over to Granada province and the coast is called the Costa Tropical (which some also call the Costa de Granada). Go one province over in Almeria and you get the Costa de Almeria.
I hope the above has cleared up some questions 🙂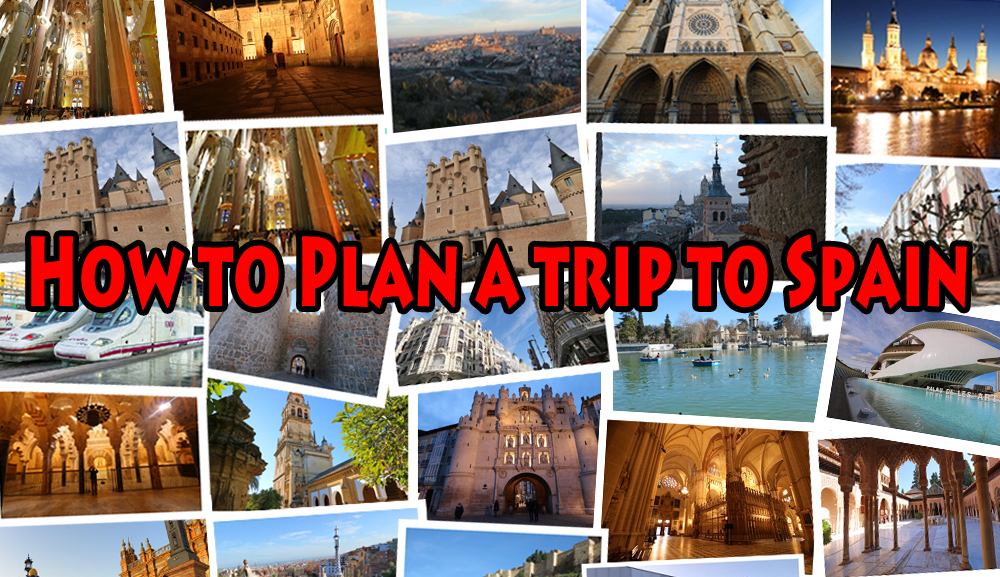 Join Our Newsletter
If you haven't subscribed yet and want to get our posts sent to your email, just insert your email address below. It's free!