Bakus: the best restaurant in Nerja?
Is Bakus the best restaurant in Nerja? If you ask people they'll tell you that it's the place to celebrate a special occasion in Nerja. Besides great food, Bakus is located right next to Mirador del Bendito – if you sit on their outdoor terrace you'll have scenic views over the sea and mountains. It's a great place to sit and enjoy the atmosphere.
Eating in upscale restaurants is not something we do often. But we had something special to celebrate so Bakus was the place that instantly came to mind.

In this post I'll describe our experience at Bakus. I'll also go over the cost – it's not an inexpensive restaurant and you should have an idea of the prices before you sit down (we had a couple who sat at the table next to us who obviously didn't. After 15 minutes of staring at the menu they walked out without ordering anything).
I've included all the various menus at Bakus (click to enlarge)
---
---
The first thing you should know are the hours. Google lists them as being open 1-3 PM and then again from 7-10 PM. As we found out, those are the kitchen hours and not the restaurant hours – if you've had a lunchtime meal and want to sit around and enjoy the atmosphere you can. The restaurant doesn't close.
Not knowing the above, we showed up at 1 PM in order to get the most of our date. It was actually a good thing – we were the first people in the restaurant and (without a reservation), managed to get a great table on the edge of the terrace. I would suggest that you either come in early as we did or make a reservation because the best tables go quick.
What we ordered
We started with some sparkling water and a bottle of white wine which came with an ice bucket. The wine: Melior Verdejo, from bodegas Matarromera. If you like a medium-bodied wine that's refreshing but at the same time has character then it's an excellent choice. A bottle was listed on the menu at 19 Euros.
Note: the white wines were all in the 19 – 22 price range. For the quality – and the fact that you're in an upscale restaurant – I find that reasonably priced.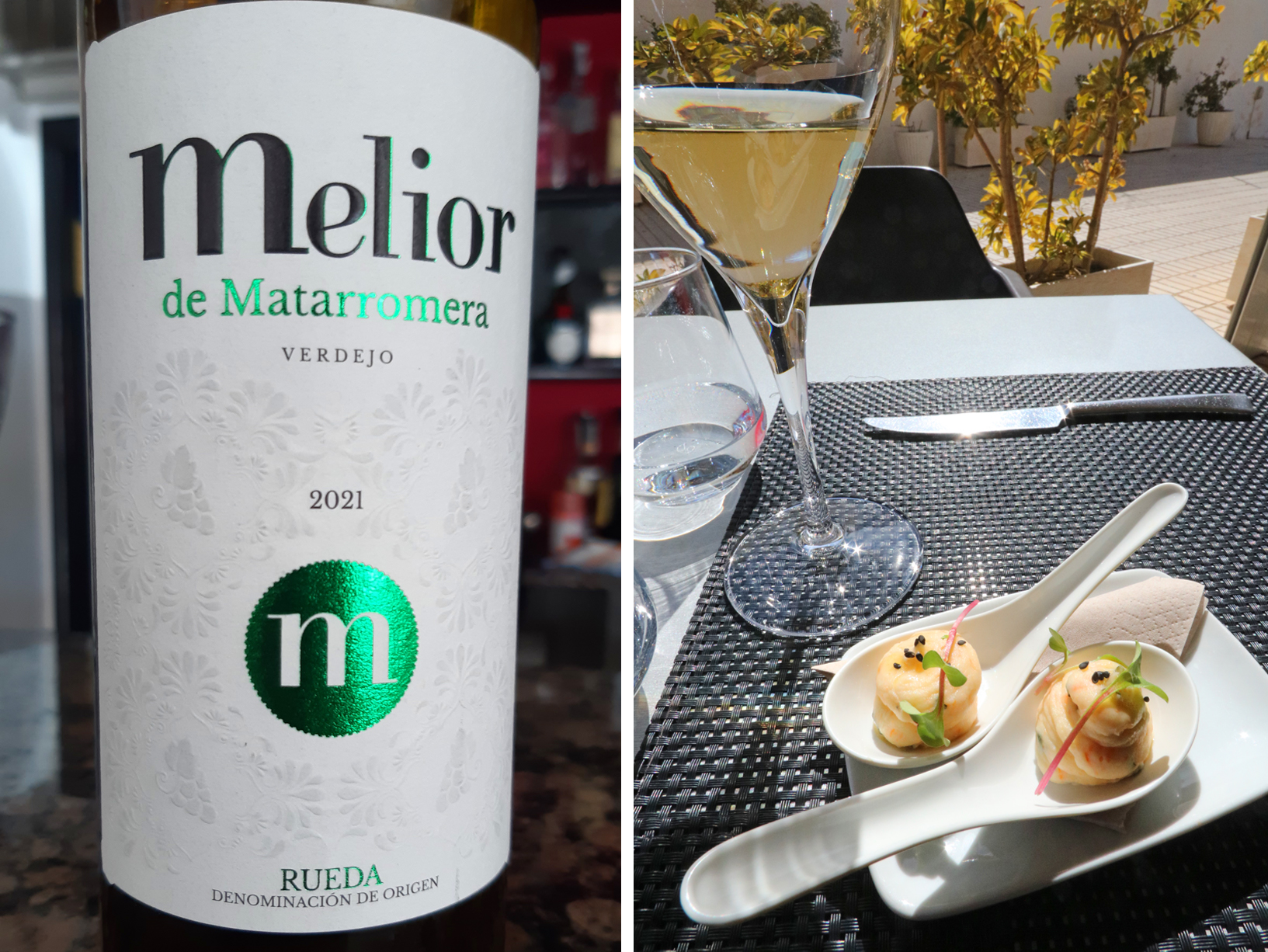 ---
---
We started with 2 salads as starters. The Prawn salad with mango and avocado and a Mixed vegetable salad which included grilled eggplants and mushrooms.
The verdict? The prawn salad is outstanding. Prawns are cooked perfectly and are the perfect combination with the mango and avocado. I'd recommend this to anyone, I'd in fact come back to Bakus just to have this dish again. A 5/5. The mixed vegetable salad is also good with the highlights being the grilled eggplant and mushrooms. It doesn't match the Prawn salad but is still a very good salad. I'd give it a 4/5.
If you're in the mood for an unforgettable salad order the prawn salad.
---
---
Main courses
I ordered the Filet steak and Lissette ordered the Cod.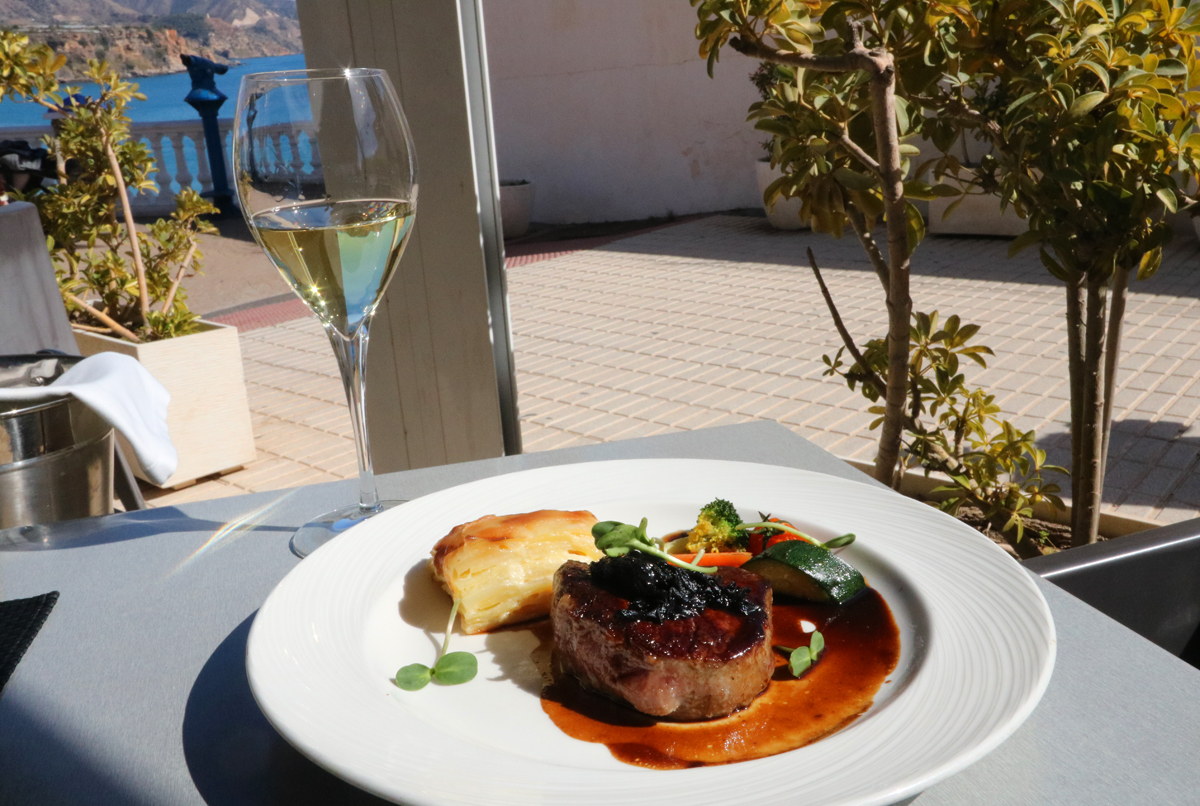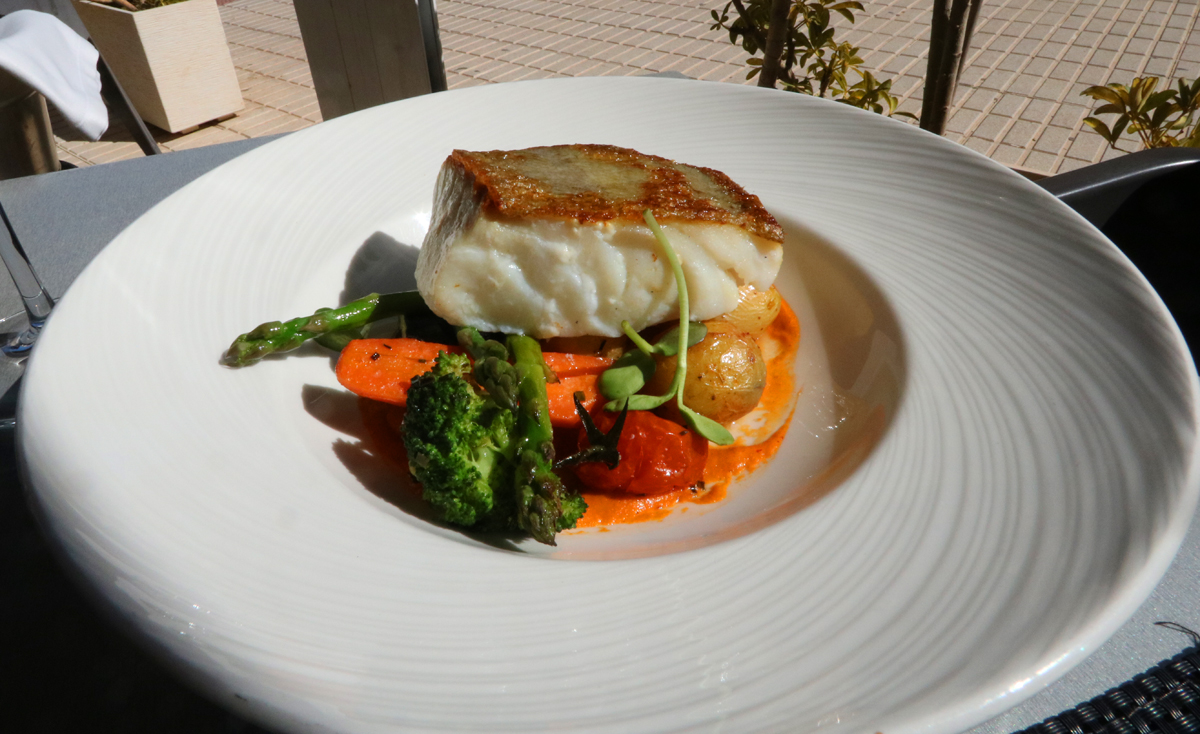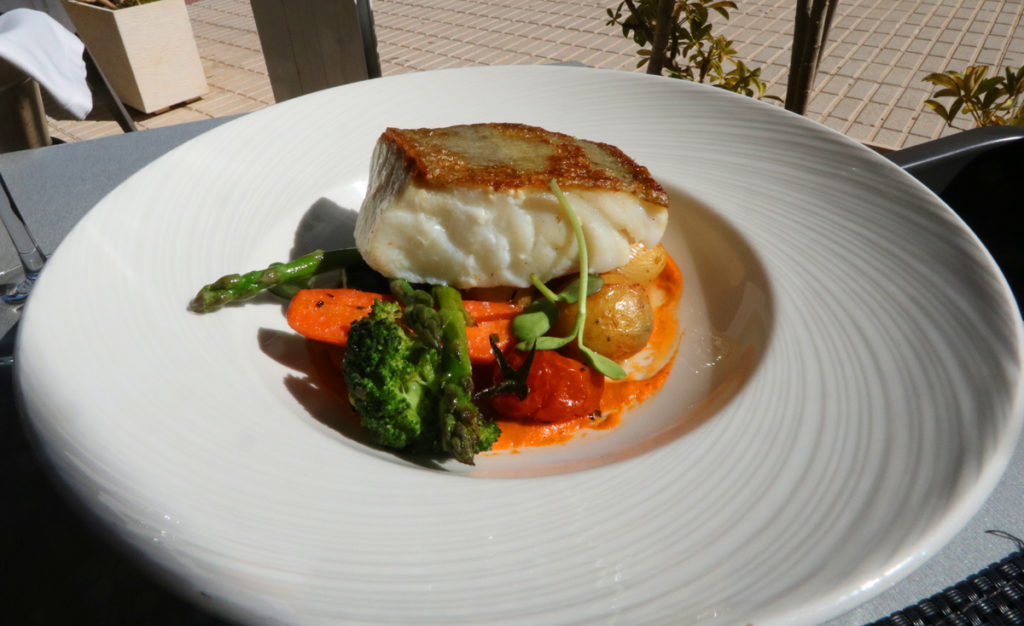 Our thoughts? The steak was very good. Tender, juicy, nicely cooked. I personally thought the sauce could have been richer. Was it the best steak I ever had? Probably not. But it was very good and I'd give it a 4/5. Lissette found her cod a little undercooked to her taste – but that's her taste, she likes a well-done cod that's flaky with very crispy skin. It's how her mom cooked it. If you also like it on the well-done side I'd specify that to the waitress. Other than that, she found the portion generous and the accompaniments excellent. Overall a 3.5/5.
---
---
Desert
We ordered the Chocolate brownie which sits at the top of the dessert menu. We just decided to have that and share it.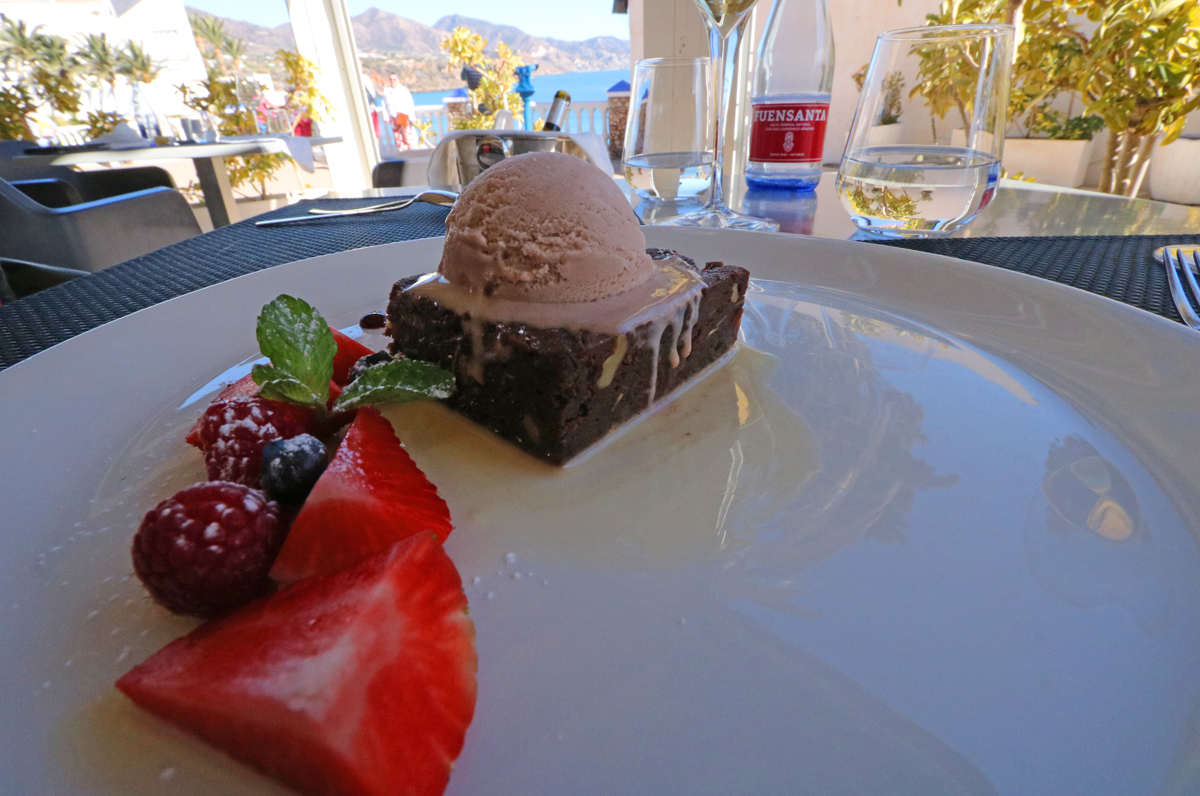 Verdict? Fantastic. An easy 5/5. What makes it great is that they stick it in the oven so it's warm with a melted chocolate component. That, with the ice cream and berries makes it decadent. Fantastic dish.
We didn't order coffee, instead we finished the rest of our wine and enjoyed the sun and the views.
A few more photos inside/around the restaurant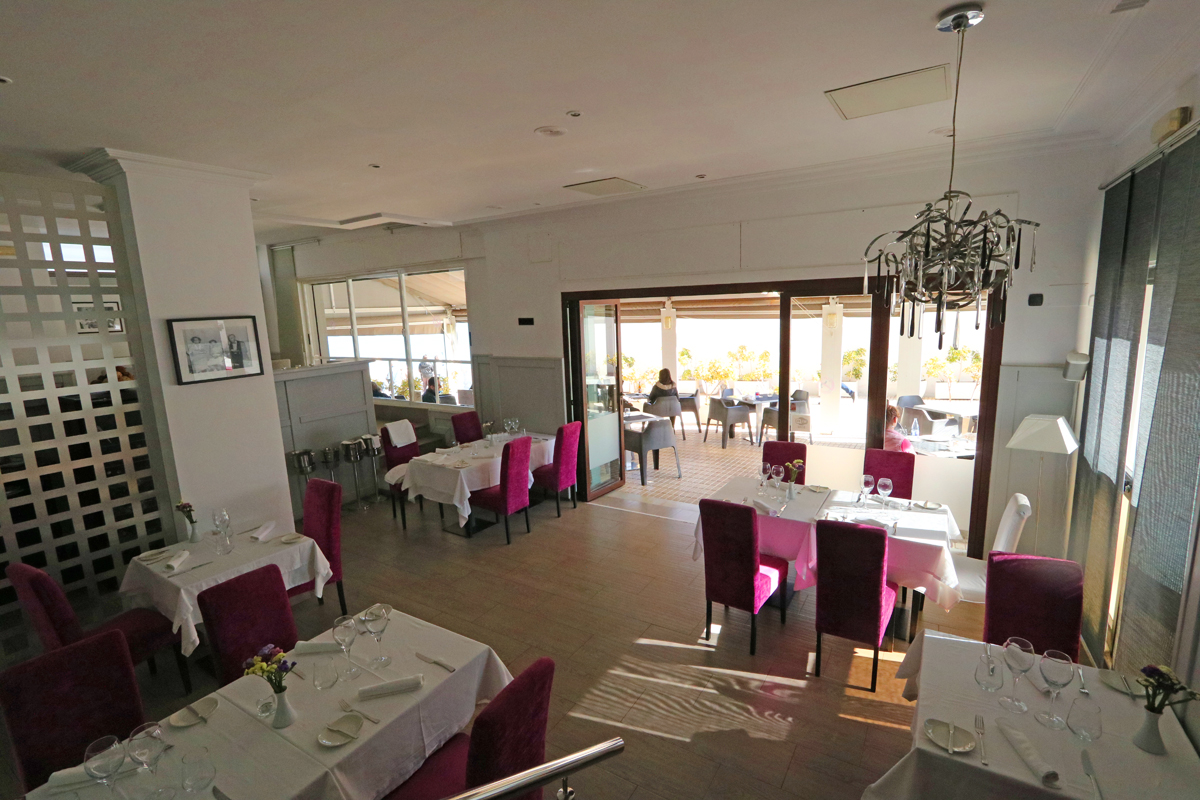 ---
---
So is Bakus the best restaurant in Nerja? As I say, we don't make a habit of going to fancy restaurants anymore (we used to when working in Montreal and New York. But that was a long time ago). So I can't be definite in my answer. Having said that, Bakus is definitely very, very good. And in addition to very, very good food the setting can't be beat. The combination of food and setting might make it the best restaurant in Nerja.
So the final tally?
Bottle of Wine 19.20 Euros
The Prawn/mango/avocado salad 13.10 Euros
The Mixed salad 9.70 Euros
Cod dish 23.60 Euros
Sirloin steak 27.50 Euros
Brownie 8.20 Euros
Sparking Water 2.00 Euros
The total bill before tip came out to 103 Euros for the two of us.
Was the experience at Bakus worth it? We think so. We had a very good meal in a great location. I'd give Bakus an overall 4.5/5 and we'd definitely go there again.
Join Our Newsletter
If you haven't subscribed yet and want to get our posts sent to your email, just insert your email address below. It's free!