The "Healthy Mediterranean diet" in Spain. Is it BS??
"Is the Mediterranean diet (still) prevalent in restaurants, food markets, street food etc? Or has the modern western unhealthy processed fast food taken over like in many other places?"
It's a question that was posed on our FB page a few months ago.
It made me think about just how healthy the Spanish version of the "Healthy Mediterranean diet" is.
Like many people we enjoy going for tapas in Spain. But really, how healthy are tapas? They're usually grilled meat or fish served with a piece of white bread or a side of chips or French fries.
Go to a restaurant and you'll most likely end up eating various pig parts, fried fish (and fried vegetables) and potatoes, all served with a large sprinkling of salt. You'll rarely see fresh vegetables or salads (except the usual "mixed salad" or "Russian salad") on the menu.
Spain is actually one of the least vegetarian friendly countries we've ever visited/lived in (Lissette is vegetarian so we have a lot of first-hand experience).
---
---
In fact, when I think of the "healthy Mediterranean diet" I don't think of Spain. I think of Italy, Greece and Croatia.
In Italy you'll find lots of antipasti featuring marinated vegetables (peppers, zucchini, aubergines, mushrooms, tomatoes and onions). Vegetables aren't an afterthought. In Greece you'll find roasted vegetables, fantastic Greek salads and stuffed peppers. In Croatia (where we lived over a year) you'll always have grilled vegetables (aubergines, zucchini and tomatoes) and salads accompanying grilled meat and fish.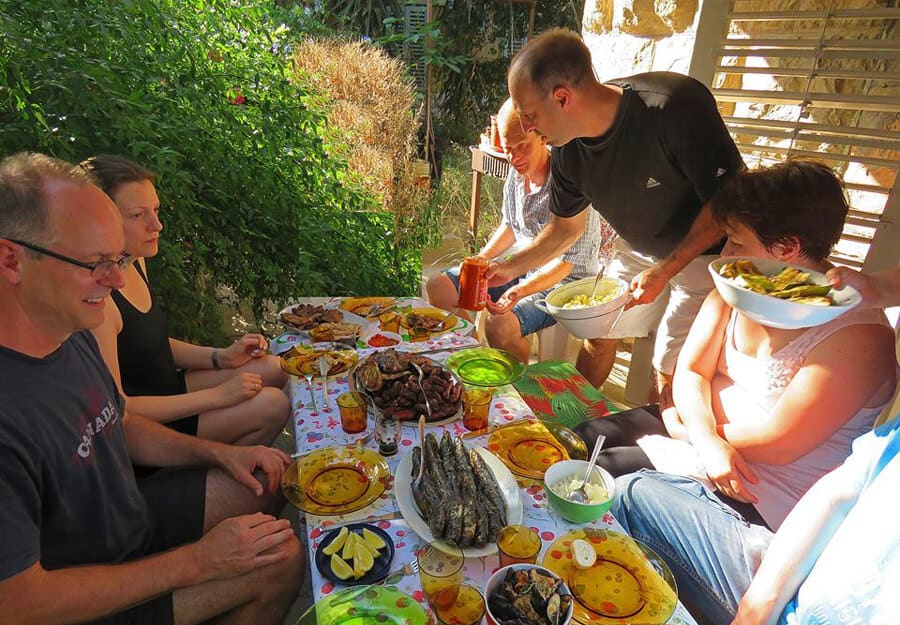 In all three countries I mention above you'll find lots of vegetables without the fried foods that feature so prominently in Spain.
So is Spanish food healthy at all? Or is it all BS?
---
---
Origins of the "Mediterranean Diet"
The Mediterranean diet came into prominence in the 1950's after a study on the diet and lifestyle of locals on the Greek island of Crete. Cretan peasants, physicians observed, were healthier than the average American and they came to the conclusion that this was the result of the diet: a diet that consisted of a lot of vegetables, fish, fruit, cereals, nuts, small quantities of meat and lots of olives and olive oil.
The Mediterranean diet consists of unsaturated fats, "good fats", that don't clog up your arteries. On the other hand, saturated fats – which come from processed food and a heavy meat diet – lead to the build-up of cholesterol and are more likely to result in heart disease.
Based on the above, books were published and the "Mediterranean diet" was hyped up and marketed as the solution for a healthier way of living.
But not everyone agreed and many physicians pointed out that the better health of locals in Mediterranean countries was not only due to diet but also lifestyle: more physical work, eating larger meals at midday versus evening, taking siestas after lunch…(which not everyone agrees with, some say that taking a nap after eating is in fact not healthy and they also question the amount of wine consumed in Mediterranean diets).
The Mediterranean diet is actually a Unesco Intangible Cultural Heritage of Humanity, not because of any health reasons but because of the customs and traditions revolving around the diet. More specifically "a set of skills, knowledge, rituals, symbols and traditions concerning crops, harvesting, fishing, animal husbandry, conservation, processing, cooking, and particularly the sharing and consumption of food."
---
---
El Pais wrote an article on the subject, questioning the Mediterranean diet and warning consumers about falling for products with the word "Mediterranean" on their labels. They argue that many consumers are quick to fall for the marketing of "the Mediterranean diet".
My opinion
So back to the original question put forth by the reader: "Is the Mediterranean diet (still) prevalent in restaurants, food markets, street food etc? Or has the modern western unhealthy processed fast food taken over like in many other places?"
I think what is on offer in most restaurants (and snack counters) in Spain is in fact not at all healthy. Restaurant food is big on pork, processed bread and processed potatoes. A lot of salt is used in seasoning.
On the other hand, we have a lot of fruit/vegetable stores (fruterias) in Spain where all the healthy aspects of the Mediterranean diet are on full display: whole grains, olive oil, fruits, vegetables, beans, nuts and herbs.
A few months ago we moved from Nerja to Antequera and are now living in a very local neighbourhood. A downside is that we're a long walk from our favorite supermarket (Mercadona)…but the upside is that we have a beautiful fruteria next door and we buy much more fresh vegetables and fruits than we ever did. We have a lot of salads with chickpeas and olive oil and we make smoothies with seasonal fruit. We've lost weight and we feel better than we have in a long time.
So in the end it's a mixed bag and just like everywhere else you it's up to you to make the right choices when it comes to food.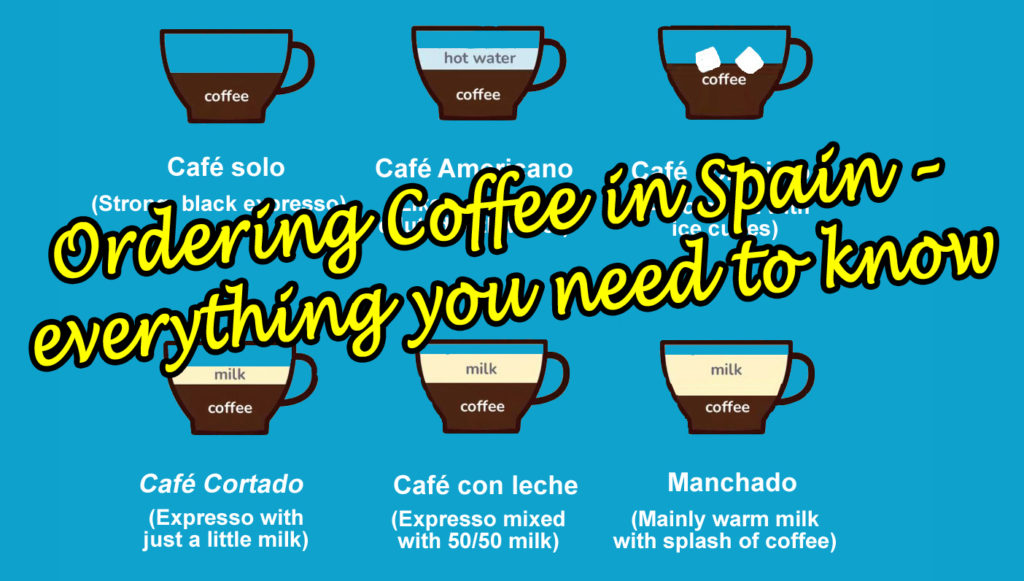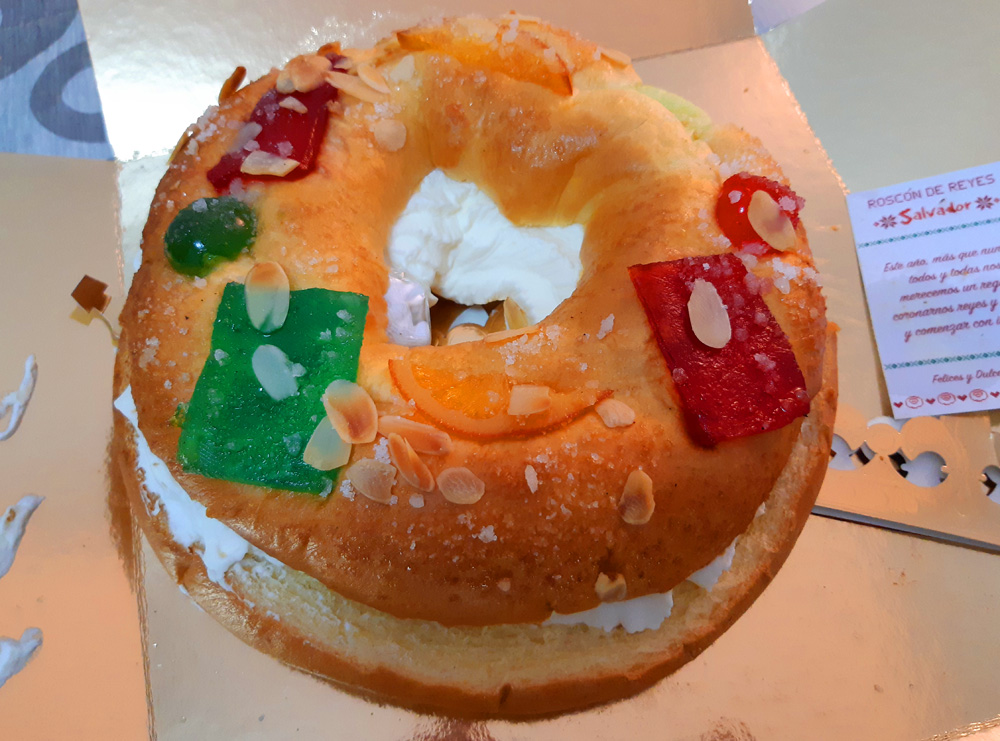 Join Our Newsletter
If you haven't subscribed yet and want to get our posts sent to your email, just insert your email address below. It's free!