I've previously written about the Paradors of Spain and how we want to visit them all. The Parador de Toledo is the 1st Parador that we've visited. It ended up being a great experience and the perfect way to celebrate our 12th wedding anniversary.
The Parador de Toledo is a "modern" Parador, having been completed in 1968. Its highlight is its location overlooking the city of Toledo – it is the best view of Toledo. It has the spectacular vistas you'll see on postcards of the city (they're actually taken from Mirador de Valle, located about 100 feet below the Parador. As our taxi driver said, "the Parador has the same view, but better").
---
---
Built in lodge style, the Parador is a warm, romantic hotel featuring brick, wood and lots of warm colors. It actually has a 1960's "Mad Men" vibe– a time when luxury travel was at its height.
The check in was quick, very professional and friendly…all things you look forward to after a long day of travel. The long, wide corridors are accented with beautiful art installations.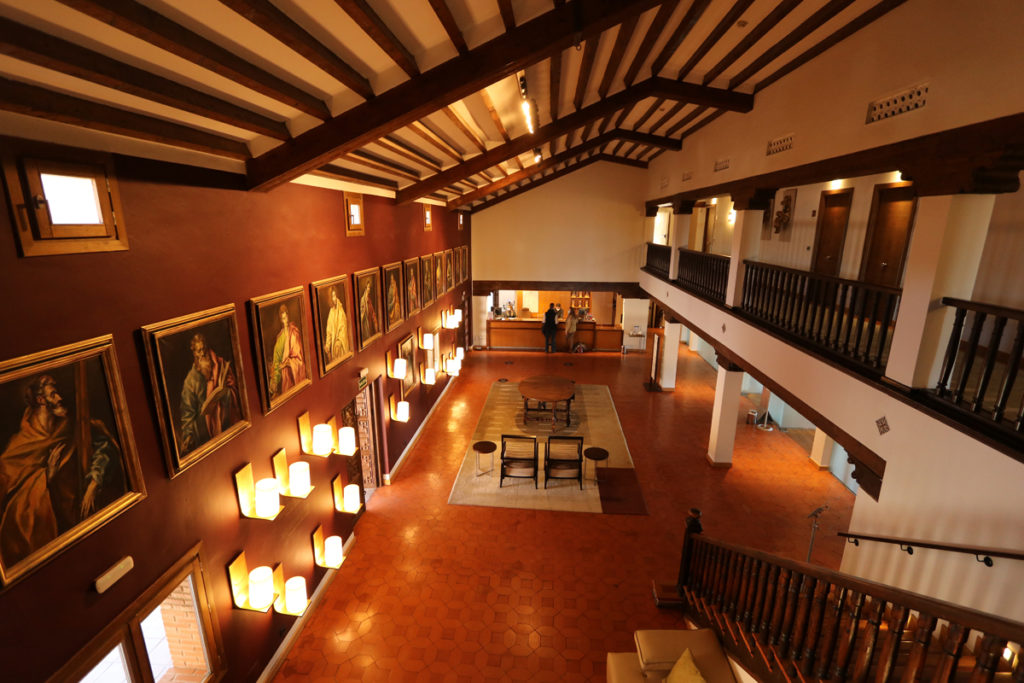 Outside our room we had a lovely sitting space with beautiful art and furniture but it's no match when you have a private balcony overlooking the whole city of Toledo. The suite was beautifully decorated with wonderful amenities. It felt posh and luxurious. We didn't want to leave our suite.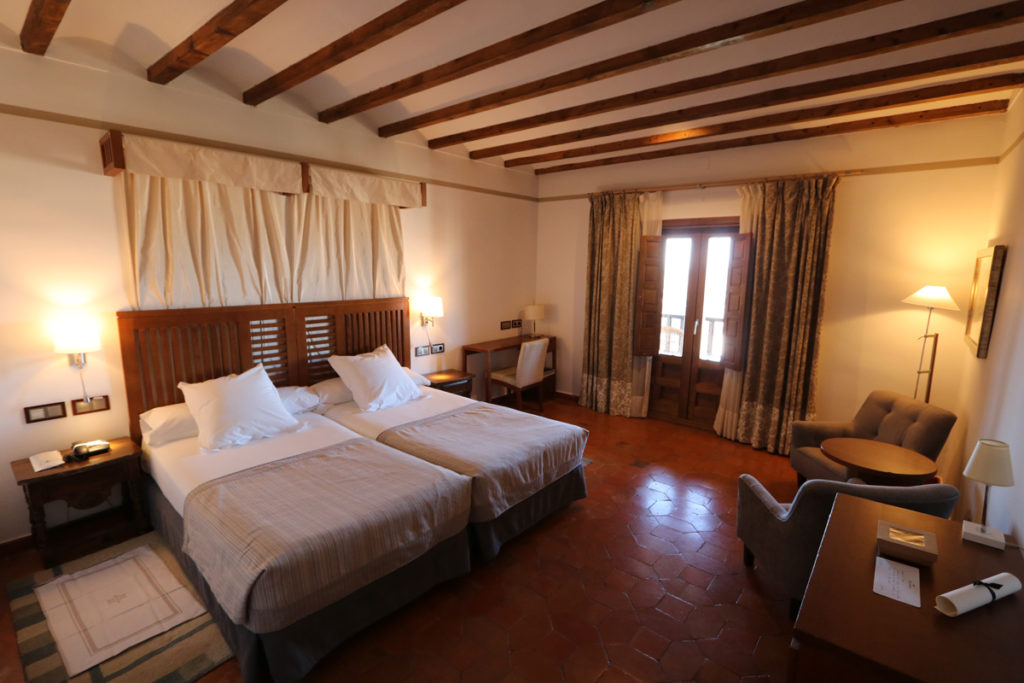 ---
---
The bar and restaurants are open to the public but the high-end sitting rooms are for hotel guests use only.
What we loved most during our stay? Obviously, it was sitting on our large balcony drinking wine while watching the sun going down. It is a peaceful, quiet location away from the hubbub of the city. We also enjoyed the restaurant and ordering regional specialties like Sopa de ajo Castellana (Castillian garlic soup) which includes egg and chorizo sausage and Paletilla de cordero lechal confitada (Confit suckling lamb shoulder) served with baked potato. Restaurants in Paradors specialize in regional dishes and in this case it was dishes from the Castile-La Mancha region. Finally, the rooms are large and very comfortable – we usually stay in 3 Star hotels so staying in the Parador was pure luxury for us*.
*We're currently on a 26 day trip through Spain that includes Cordoba, Toledo, Madrid, Avila, Segovia, Salamanca, Burgos, Zaragoza, Madrid and Girona.
Negatives of the Parador de Toledo? You need a car (or to take a taxi) to get there from the city. If you're thinking of walking it's a steep 45 minute walk. But if you're looking for a relaxing getaway in a beautiful location, the Parador has everything you need under one roof.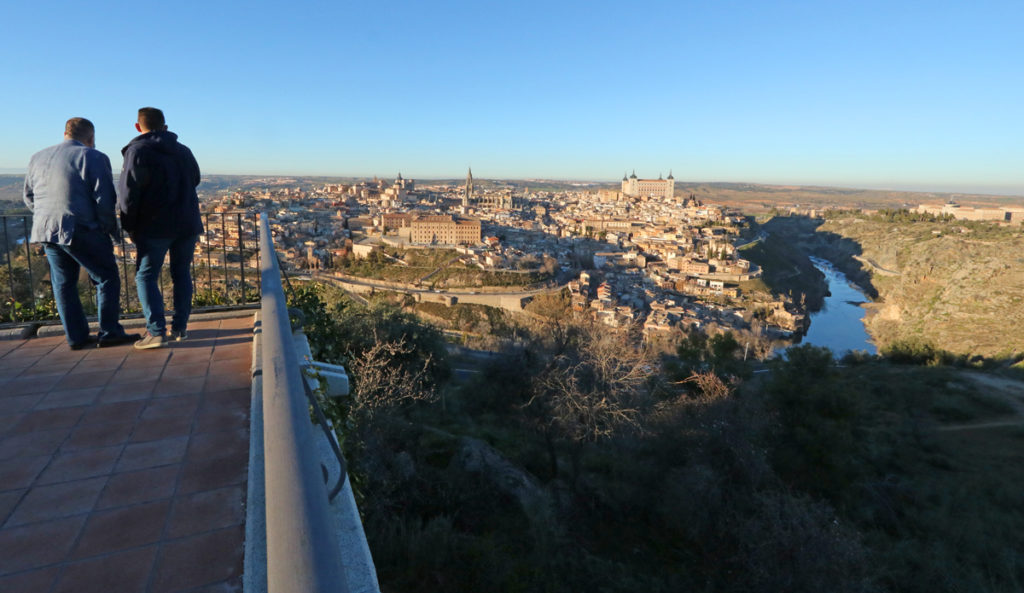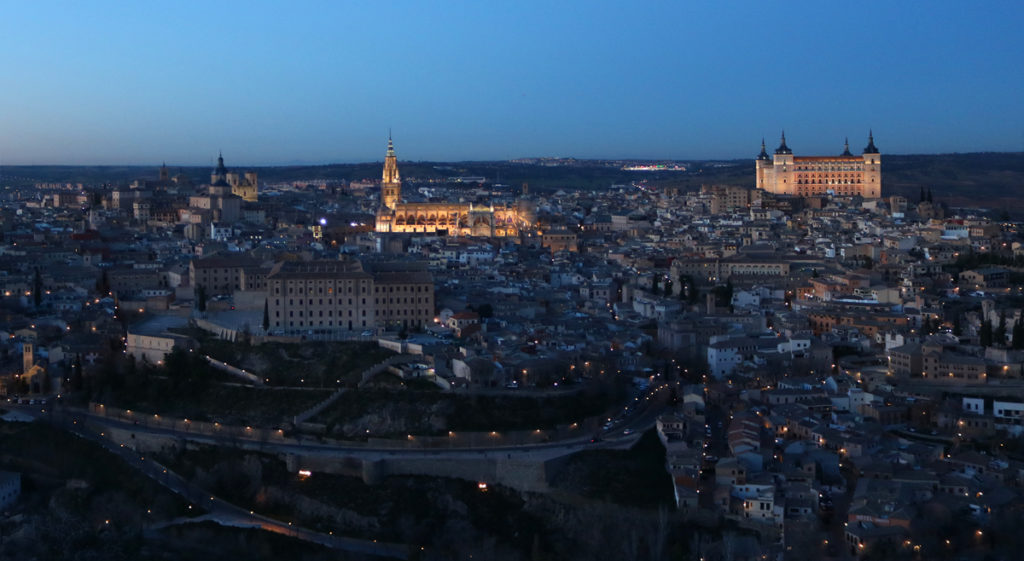 ---
---