The Parador de Nerja
Even if not staying here, the Parador de Nerja has to be visited if coming to Nerja.
The first and foremost reason is the Parador's incredible location. The Parador de Nerja has arguably the best views in Nerja. Looking down, Burriana beach (Nerja's most famous beach) stretches out in front of you. Inland are the peaks of the Sierras de Tejeda, Almijara and Alhama Natural Park (including the peak of El Cielo) which are spectacular and everchanging with the light.
We lived in Nerja 2 ½ years and got used to the views – but the views at the Parador always took our breath away.
A short video of the Parador and its views
---
---
One of our favorite activities was coming to the Parador and having a coffee or snack on their terrace. Even if not a guest you're allowed to do that. Like all Paradores in Spain, the Parador de Nerja is known for its good food and quality of service (the restaurant specializes in high end Malagueño cuisine and is known for fish dishes such as cuttlefish, prawns and rock fish).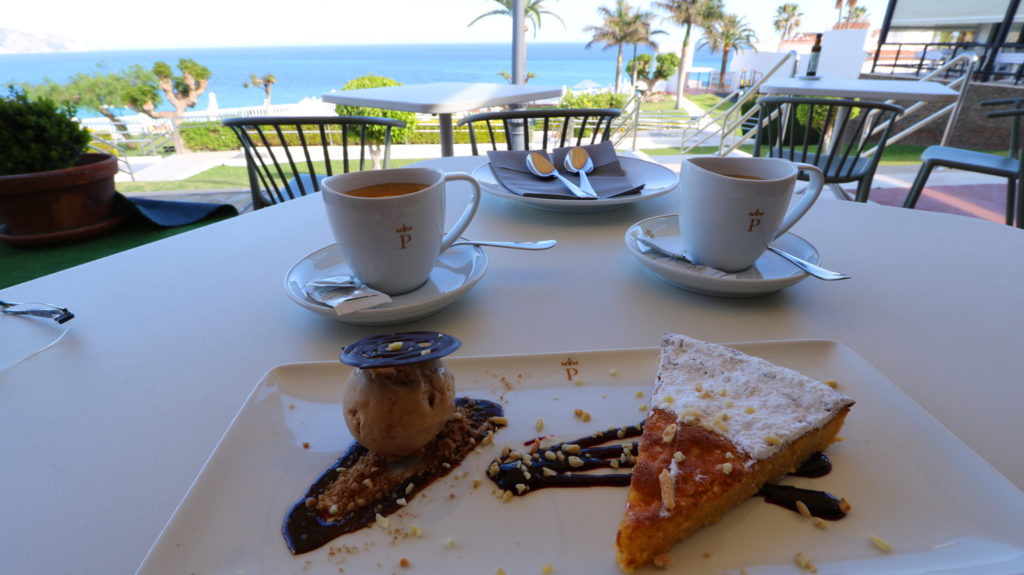 If you chose to stay at the Parador you're in for a treat. Be warned though that it's expensive! (up to 300 Euros per night in the summer. But you can find deals of about 125 Euros/night in the off season)
The Parador has 98 rooms, 92 of which have either balconies or private gardens
Restaurants with both indoor and exterior dining, including good food and great wines.
There's a swimming pool, tennis courts and a basketball court.
There is an elevator that takes you down to Burriana beach where you can do all kinds of water sports. You'll find lots of bars and restaurants along the beach. When you're done, take the elevator back up.
The Parador is about 10-12 minute walk to the center of Nerja. It's a pleasant walk however with the highlights being the many viewpoints looking over the beaches along the way.
---
---
Things to do in Nerja?
Join Our Newsletter
If you haven't subscribed yet and want to get our posts sent to your email, just insert your email address below. It's free!