Visiting the beautiful city of Burgos
Burgos is a historic city, having been the capital of the unified kingdom of Castile and León for five centuries. It has one of Spain's Top 10 Cathedrals and is also an important stop on the Camino de Santiago (the Way of Saint James in English), the pilgrimage trail to Santiago de Compostela. On top of all that, we were surprised what a beautiful city Burgos is. It was actually one of the most beautiful cities that we saw on our 1 month trip around Spain.
What to See in Burgos
Burgos Cathedral
One of Spain's Top Cathedrals, the word that best describes Burgos Cathedral is opulent. It seems that every inch of this huge cathedral is decorated with incredible detail: sculptures and tombs beautifully etched in marble, altars and a staircase (la Escalera Dorada) decorated with gold, incredible paintings and sculptures made by some of Spain's most celebrated artists at the time.
Burgos Cathedral actually made me angry. It's gross in its extravagant display of wealth. We've visited many of Spain's top cathedrals on this trip but the decadence at Burgos Cathedral is too much. You'll no doubt be mesmerized by it all. But you might also find yourself reflecting on the excesses of the church as I did..
---
---
Something that's a bit different at Burgos Cathedral compared to most cathedrals I've seen: the nave of the Cathedral is not very big. Much of the expanse of the cathedral is taken up by huge chapels that by themselves are almost as big as a church. And one of those chapels, the Chapel Of The Constables (La Capilla de los Condestables), is one of the most magnificent chapels we've seen in any cathedral anywhere in Europe.
Whatever your feelings, you should visit Burgos Cathedral. It is the only cathedral in Spain which, for its cathedral building alone, has received the UNESCO World Heritage designation.
---
---
Arco de Santa Maria
Walking to the cathedral from Paseo del Espolón you'll see this beautiful gate. The Arco de Santa María was originally built in the 14th century as a triumphal arch in honor of Emperor Carlos V. It looks like a castle with a couple of towers. Above the arch you'll see statues of Castilian dignitaries like Diego Porcelos (the town's founder) and (above) El Cid (a Castilian knight) and Emperor Charles V.
Iglesia San Gil Abad
There are many churches in Burgos. One of our favorites was Iglesia San Gil Abad. Dating to the 14th century, it is known as "the second cathedral of Burgos". In Gothic style, it is incorporated into the walls that surrounded the city (which are still there in this section). The church has 3 beautiful chapels and is a pilgrimage stop for those going on to Santiago de Compostela.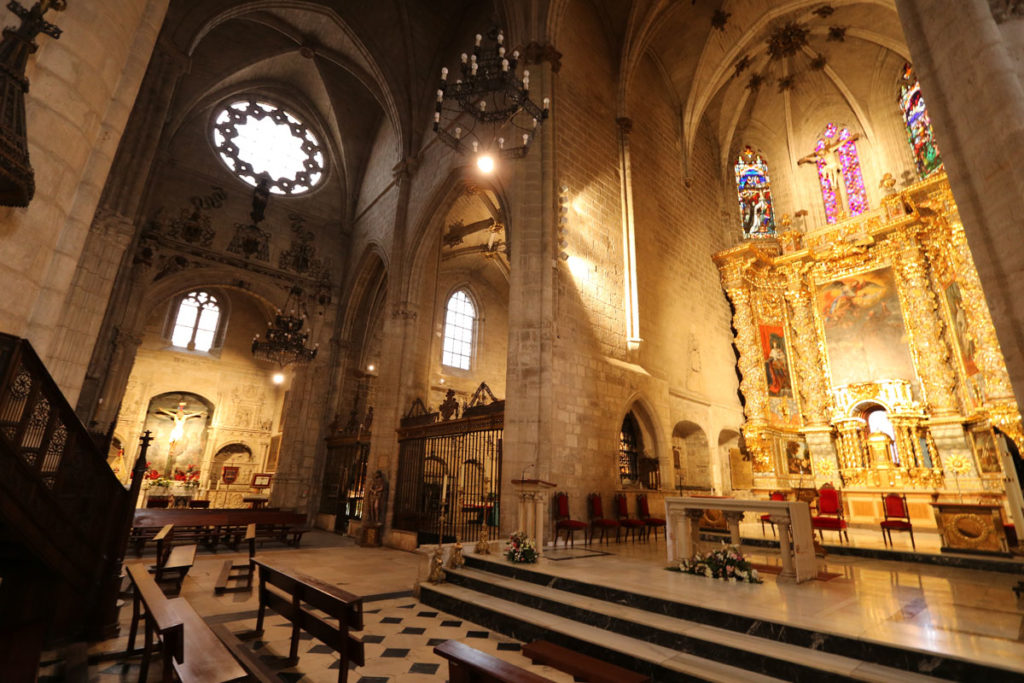 ---
---
Monasterio de Santa María la Real de Las Huelgas
Built originally as a country residence of the kings of Castile, it became a convent for noble women (descents of the royal family). The Monastery has a long and mixed history as a place where ceremonies would be held. Kings were crowned here and knights honoured. It also served as a Royal Pantheon with many tombs of famous kings, queens and archbishops.
The Monastery is beautiful. But if you visit you have to be very interested in history – tours are obligatory, packed with information (Spanish only on the day we were there), and you are kept on a tight leash by the security guards. No photos of the interior allowed. It's a shame because we didn't feel we could enjoy the monastery at our own pace. But if you are ok with the above you'll enjoy the Monastery, it is very impressive.
Paseo del Espolón
The Paseo, or promenade, extends from the Puente de Santa María (close to the Arco de Santa Maria) to the Puente de San Pablo. It is a beautiful pedestrian promenade next to the river filled with cafés, restaurants and green spaces. It's the favorite place of locals.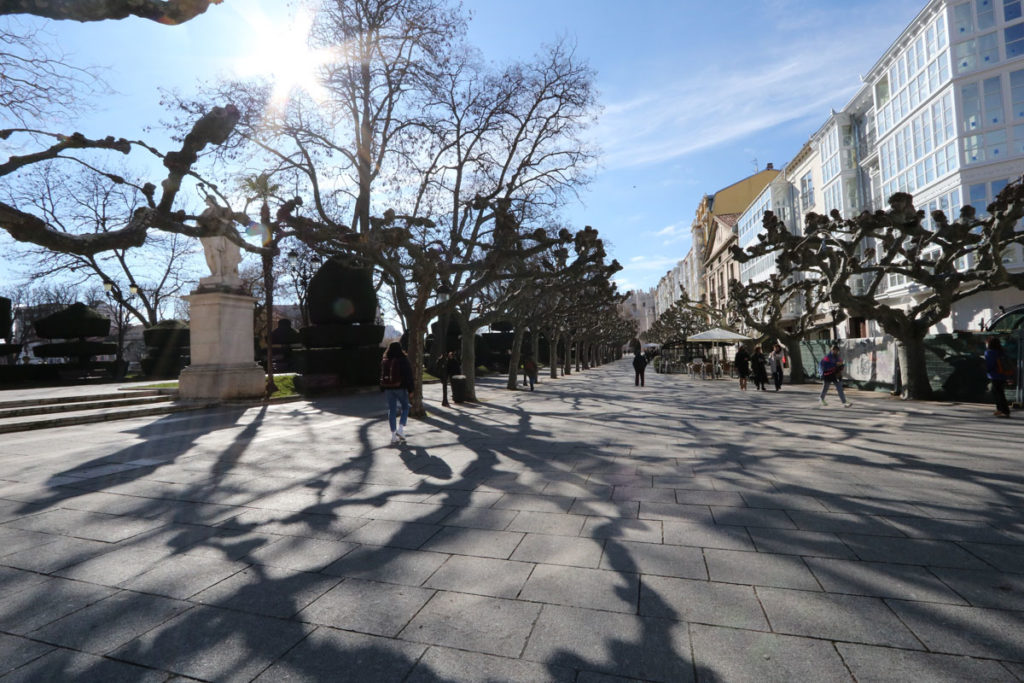 ---
---
Plaza Mayor
Plaza Mayor is a pretty square full of the colourful buildings so typical of Burgos. In the center is a monument to Carlos III (the king of Spain from 1759 – 1788). You'll also see the City Hall building whose arches lead to the Paseo del Espolón.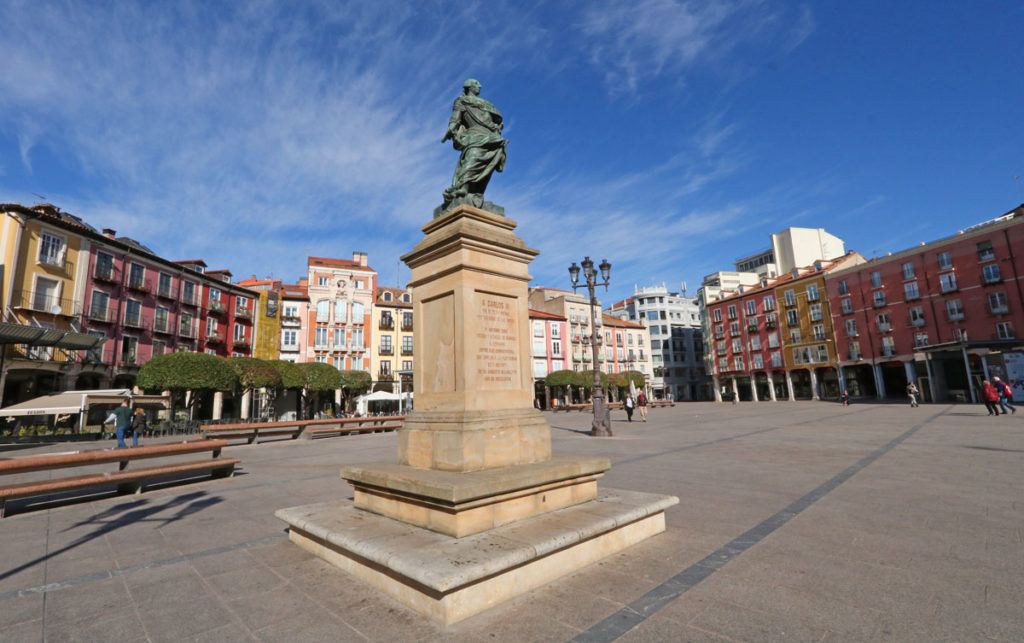 Mirador de Castillo
People come up here for the castle. The castle itself doesn't seem particularly interesting comprising of mostly ruins (we didn't visit the grounds as it was closed). But there are great views up here of the town below.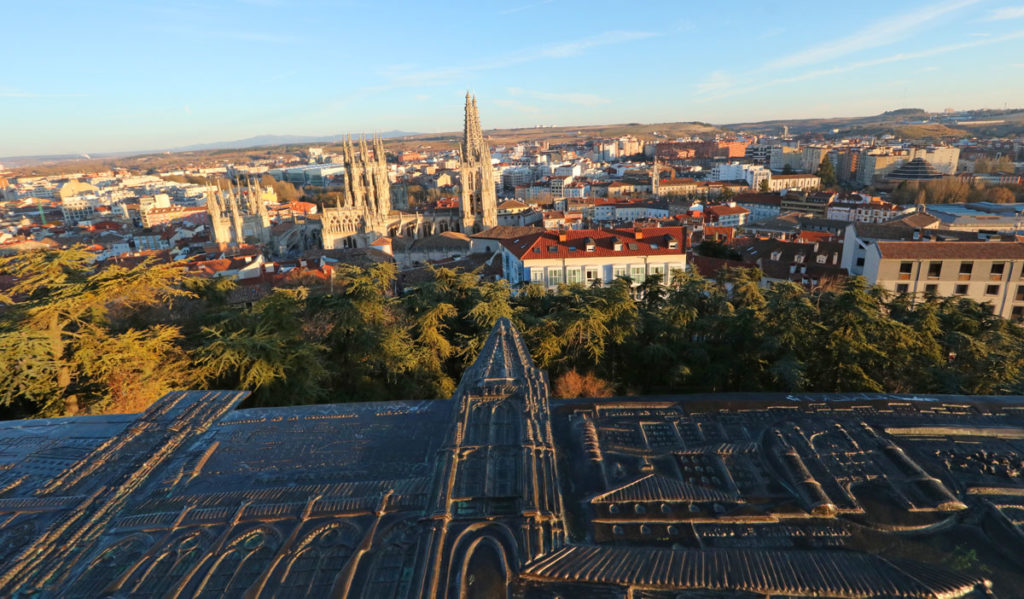 There are many other points of interests if you have more time: among them are lots of churches (Iglesia San Lesmes, Iglesia de San Nicolás, Iglesia de San Esteban) and museums (Museo de Burgos, Museo de la Evolución Humana, Museo del Libro Fadrique de Basilea).
If you can visit Burgos do so. It was one of our favorite places on our trip.
---
---
Practical Information on Burgos
Time Required: You can do Burgos in one full-day if you push yourself. But I would stay 2 full days if you can.
Getting here: Burgos is on the Salamanca – Barcelona train line (we took it from Salamanca and stopped in Burgos, Zaragoza and then Barcelona). Salamanca is about 2 ½ hours from Burgos by train.
Where to Stay: El Arco de San Esteban right next to the center (we increasingly use Booking.com for apartments). If looking for a hotel, we recommend AC Hotel Burgos by Marriott.
Join Our Newsletter
If you haven't subscribed yet and want to get our posts sent to your email, just insert your email address below. It's free!