What's it like living in Moclín? (Granada)
Ian and his husband Andrew moved to Spain in 2016 and opened a few tourism-related businesses in beautiful Moclín. Fast forward a few years, he's been recently elected as the Concejal (Councilor) for Tourism and Heritage in the municipality: partly for all he has done to promote tourism in the region, partly because of the charitable projects he and Andrew have participated in. They've been covered by the BBC, the Telegraph and the Guardian.
A very inspiring interview about moving to Spain and integrating (and giving back) to the community.
---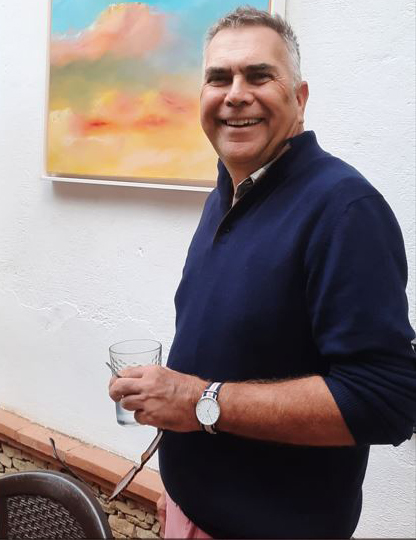 Name: Ian Rutter
Age: 61
Country of Origin: UK
Number of years in Spain: Since October 2016
---
Hi Ian! Can you please tell me about yourself and on how you and your husband ended up moving to Spain?
I have done all sorts of things and sadly consider myself to be a Jack of all Trades and Master of None! I studied architecture at university to degree level but decided not to continue with the diploma, and instead pursued the money with a tempting offer to train in Marks and Spencer management. I then did all sorts of things leading to becoming Creative Director of a marketing agency for 10 years and then I spent 6 years in the charity sector in London educating businesses on the commercial benefits of inclusive design. While working at the charity Age UK, I got the opportunity to produce and present radio programmes for their radio station, The Wireless. This was a job I absolutely loved and it gave me so many opportunities to play the music that was my passion and to interview and chat to people I greatly admired. I produced and presented a Classical Music programme, a business chat programme and a Swing/Jazz show. I got to interview all sorts of people including Andrea Bocelli, Russell Watson, Sylvia Syms, founders of choirs, singers, composers and many more fascinating people. Choir music is my passion.
However, I realised increasingly that London was ageist when it came to looking for new challenges and so I mentioned to my (now) husband, Andrew, that now might be a good time for an adventure and did he fancy coming to Spain to live for a year? Fortunately he said yes, and so we spent 18 months planning for a year abroad. Our plan was to rent a house from a friend for a year, keeping our own house in London just in case we decided to return. I think that, as soon we got on the ferry from Portsmouth to Bilbao, we knew that we wouldn't be going back, but there was a sense of security in the knowledge that we could go back if we had to. We moved at the end of September 2016, a couple of months after the Brexit referendum. We have never regretted the move.
Once we committed to life here, we sold the property in the UK and are now both registered as self-employed in Spain. We still have family in the UK, so we haven't severed ties completely, but Spain is without doubt our home and we love it here.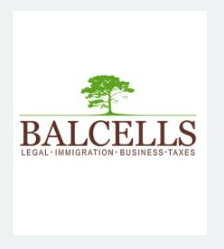 Need help with your immigration needs? Contact Marta at Balcells Group. She handles it all, whether it be a Spanish non-lucrative Visa, Golden Visa, Digital Nomad Visa, Work Visa etc…. More detail here
Why Moclín? What was it about this town that enchanted you?
We rented a friend's house in the Lecrin Valley, to the south of Granada, for our first 18 months in Spain. Once we decided that we wouldn't return to the UK, we needed to think seriously about practicalities such as income and a home! We very nearly bought a house in Saleres, where we were then living, but that purchase came to nought. We knew that we wanted to be within 40 minutes' drive of Granada but didn't want to be in the shadow of the Sierra Nevada, so our range was fairly specific. We took a trip to view a house in Priego de Cordoba, but it was a little too far from Granada for us. However, we passed a sign that bore the legend 'Moclín' and thought we'd take a quick diversion. It happened to be the end of the village's big fiesta in early October, and there was a red carpet outside the church and bunting fluttered over the streets. People were still milling around and sitting outside bars and it had the most amazing atmosphere. The drive to Moclín is always spectacular as from both directions you turn a corner and then see the magnificent 13th Century castle on the hill, surrounded by breathtaking scenery. It really is a special place and we fell for it immediately.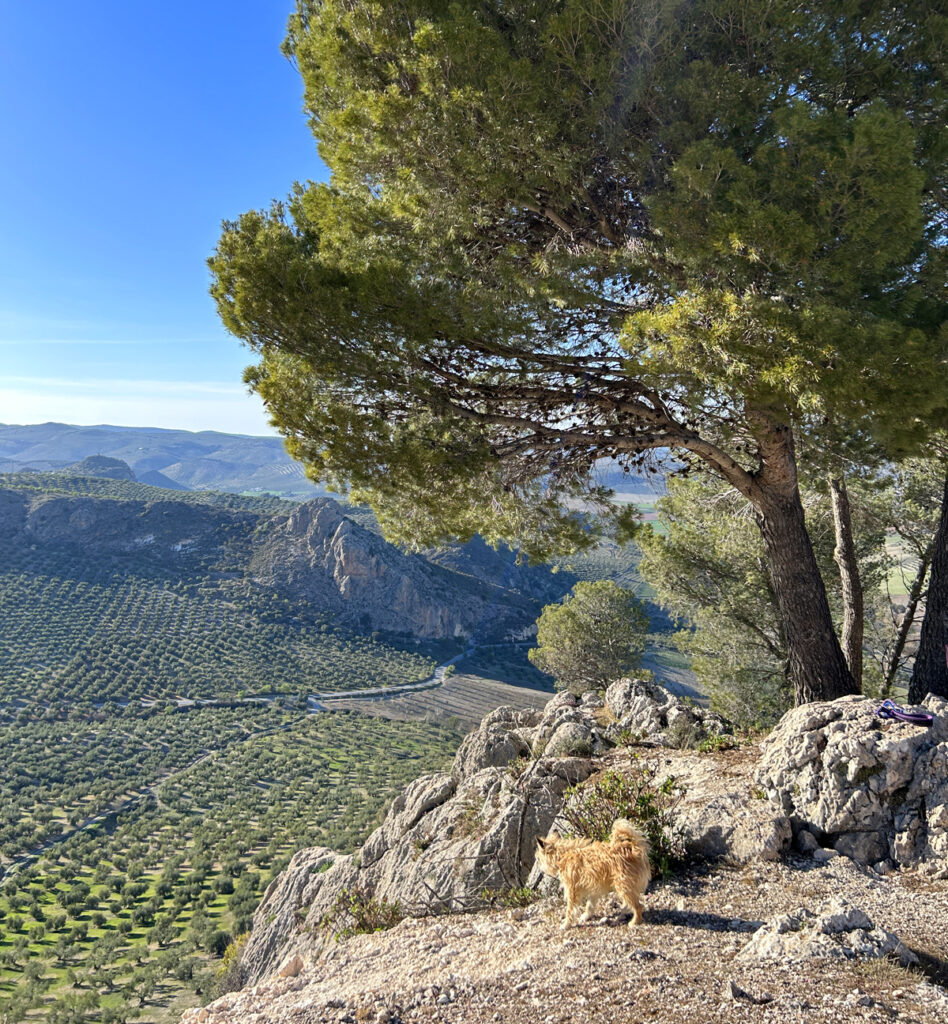 ---
---
You bought and then proceeded to renovate a village house (it looks absolutely stunning). You now run a Bed & Breakfast. I know most of your work experience has been in media – I'm wondering what led to you and Andrew reinventing yourselves in the hospitality business?
Following that first visit, and discovering that we had a friend who knew someone in Moclín, we managed to find a Spanish estate agent who had a handful of houses for sale in the village. We viewed 4 and bought one! At this stage, we knew very little about the village or the people; it could have been a nightmare but fortunately this turned out, yet again, to be a very sound move. We bought the house because of the view at the back, across the vega of Granada and towards the Sierra Nevada; we can see the Alhambra from our terrace (through binoculars), and the entire length of the mountain range. The house itself was very traditional: lots of small rooms; a first floor with very low ceilings; two steep staircases. We could conceivably have lived in it as it was, but we had plans. At this stage, we had no intention of doing anything other than creating and living in our dream home. Our ambitious plans included extending the house out the back and creating a fabulous kitchen with a large roof terrace above. The garden also had what used to be a stable at the end that we turned into a studio. As we planned the house, we decided that there could be a possibility of turning some of the bedrooms into lettable accommodation so that we could cover our bills and become cost-neutral. We always love having friends and family to come and stay, and it has often been suggested that we'd make quite good B and B hosts, so we thought it might not be too silly an idea. We could also combine this with our other projects – I was still producing and presenting radio programmes and doing voiceover work and Andrew is a designer of children's picture books.
We finished the work in April of 2019 and our official opening date for the Bed & Breakfast was 1st April 2020, so that didn't quite go to plan! However, we did turn that negative into something of a positive. We faced lockdown with an empty house that had been prepared for guests, so we decided to offer free holidays to healthcare workers, to provide something hopeful for those people working on the pandemic front line. We were joined by a couple of friends who also had holiday accommodation and so the #MyTravelPledge campaign was born. The campaign was covered by all mainstream press in the UK, and The Guardian then ran a feature later in April. We were inundated with nominations for people who wanted to be considered for a free holiday; we received 2,000 nominations in 24 hours. Over the course of that first lockdown period, from April to June, we were joined by over 100 accommodation providers around the world and we allocated over 220 free holidays to healthcare workers. We were subsequently Commended in the World Travel Market Responsible Tourism Awards for 2020, and featured on the BBC Travel Show. As it turned out, for us it was hugely cathartic as my mother and brother both died within 9 days of each other in that April, and one of Andrew's friends also died in an accident, and having MyTravelPledge was exactly what we needed to see us over a very difficult time. Gradually, as lockdowns were relaxed, we finally managed to open the doors to our hospitality business.
We subsequently bought another little property in the village, the former blacksmiths and latterly a garage for storing almonds. We have restored this and opened it in June of this year as a self-catering holiday rental with 2 bedrooms, 2 bathrooms and a small plunge pool. After that project, Andrew has said "never again", but there are still one or two other little projects I'd like to get my hands on.
Editor's note: Ian and Andrew's 1st property is Casa Higueras, their 2nd Esperanza 9. Both are gorgeous.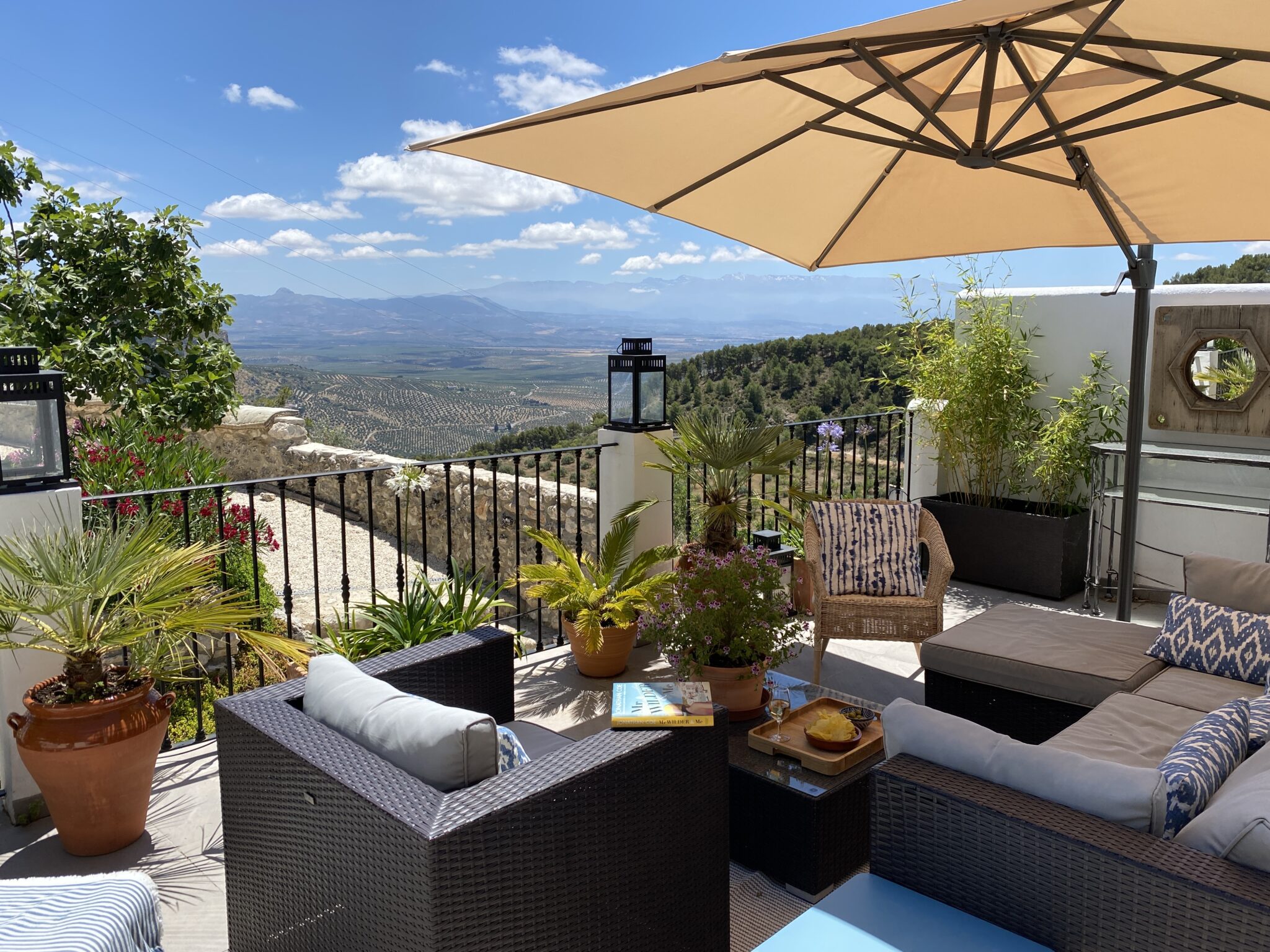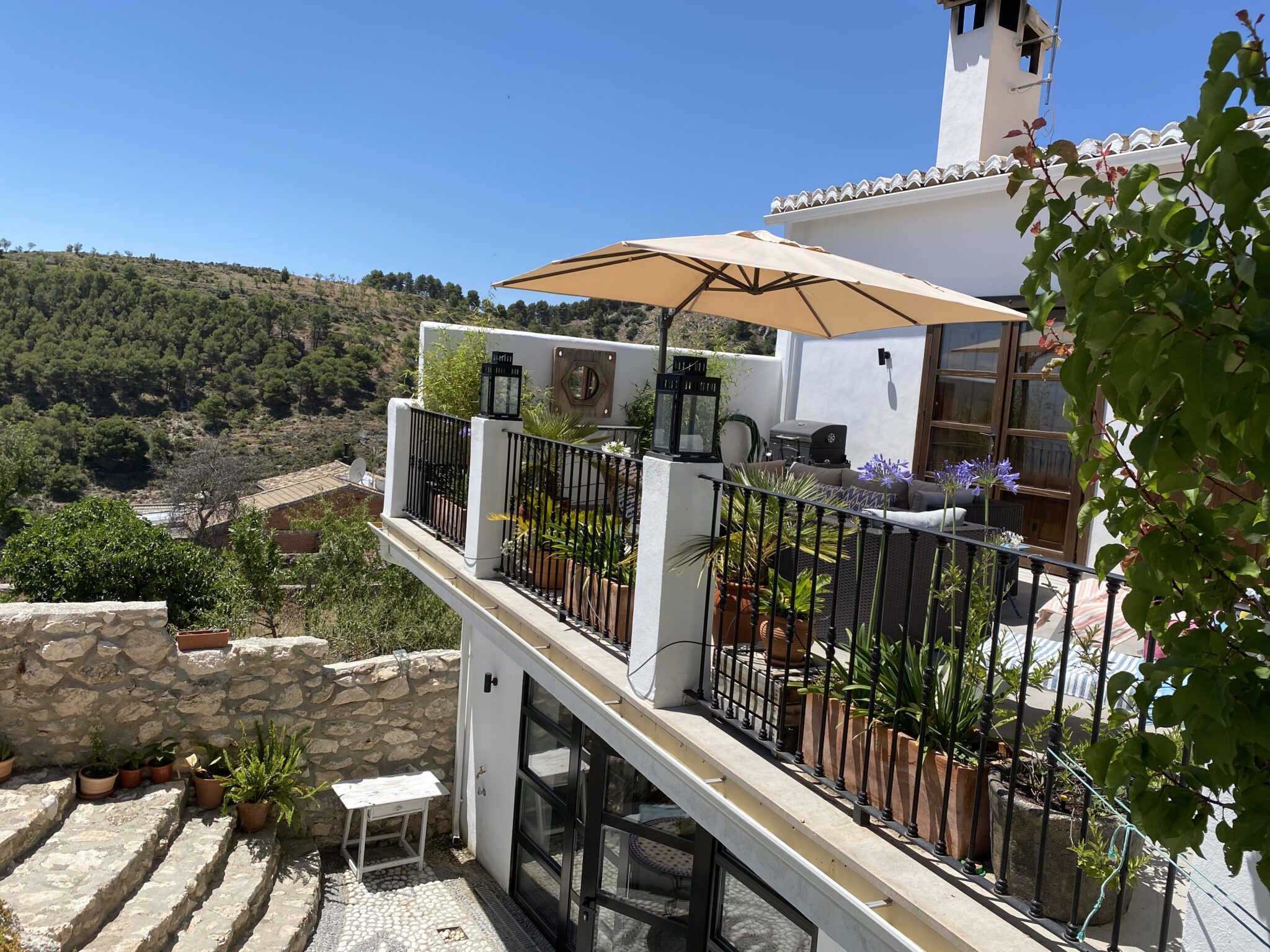 ---
---
Not only do you run a B&B, you offer people cultural holidays so that they can immerse themselves in the culture in Andalusia. How did all that come about?
When we first arrived in Moclín, we rented a small flat in the village square while we set about restoring the house we had bought. As I mentioned above, we had a friend who knew people in Moclín and we were given a guided tour of the village by these neighbours. Both Andrew and I could see, immediately, the tourism potential of the place, with its beautiful castle, its caves with neolithic paintings, civil war trenches, the historic Pósito del Pan and the dramatic landscapes. Many years ago, I ran creative courses on a Greek island, and when we saw one of the properties in the village we knew that this would be the ideal place for a similar programme of creative holidays. The hostal rural, on the edge of the village, used to be a headquarters for the Guardia Civil and subsequently became ayuntamiento-owned accommodation with 10 ensuite bedrooms and a couple of studios. So, we decided that we would run cultural and creative holidays with an emphasis on giving something back to the village.
We ran our first courses in 2019 and immediately our 'Flamenco: Dance, Music and History' course was listed by The Times as one of the Top Cultural Trips of the year. This particular course was, this year, listed as one of the 30 Greatest Holidays in Spain in The Telegraph. Clearly, we were affected by the pandemic, but we managed to keep some courses going so that we had consistency. 2023 was the first year when we actually had an uninterrupted programme and we typically run 5 week-long courses and 2 long-weekend courses throughout the year. You can find all our courses here. They include Andalucian Cookery, Children's Book Creation, The Art of Mosaics, Abstract Landscape Painting in Acrylics, Flamenco, Botanical Watercolour Painting and, new this year, Geometric Designs of the Alhambra. For every course, we draw inspiration from the landscapes, history, culture, food, wine, music, art and people of Andalucia and we always try and get the villagers and our guests together. At the end of our Flamenco course, for example, we put on a show for our village neighbours and this provides a unique experience for our guests, performing in a square outside the church, below the castle and with the twinkling lights or Granada in the distance. Quite magical. At the end of our Children's Book Creation course, our tutor, James Mayhew, illustrates live to music and we have a very talented guitarist from Granada who performs songs by Lorca and James paints the story. Again, this is a truly special evening.
As a result of our efforts, we both won an award from the Ayuntamiento for our contribution to tourism in the area, and this year (in May) I was appointed Councillor for Tourism and Heritage. I'm the first non-Spanish person to be appointed councillor in the history of the municipality. This year, in September, we organised the very first 'Moclin Arte' art festival, a three week programme across the entire municipality that included 4 art exhibitions with over 120 works of art from international artists all over Spain, 3 artists in residence, 6 music concerts, workshops, conferences, and guided tours of historic sites around the municipality.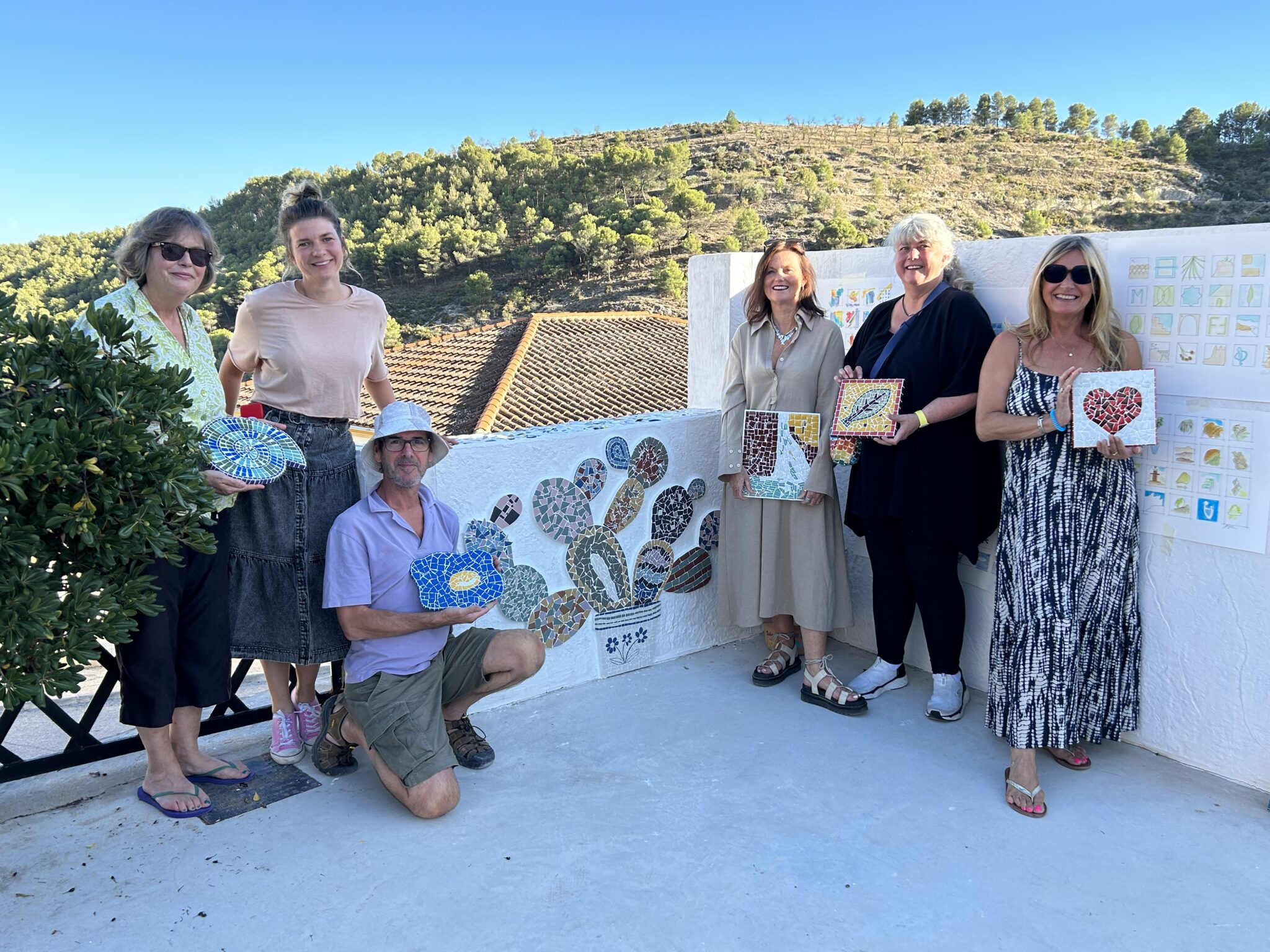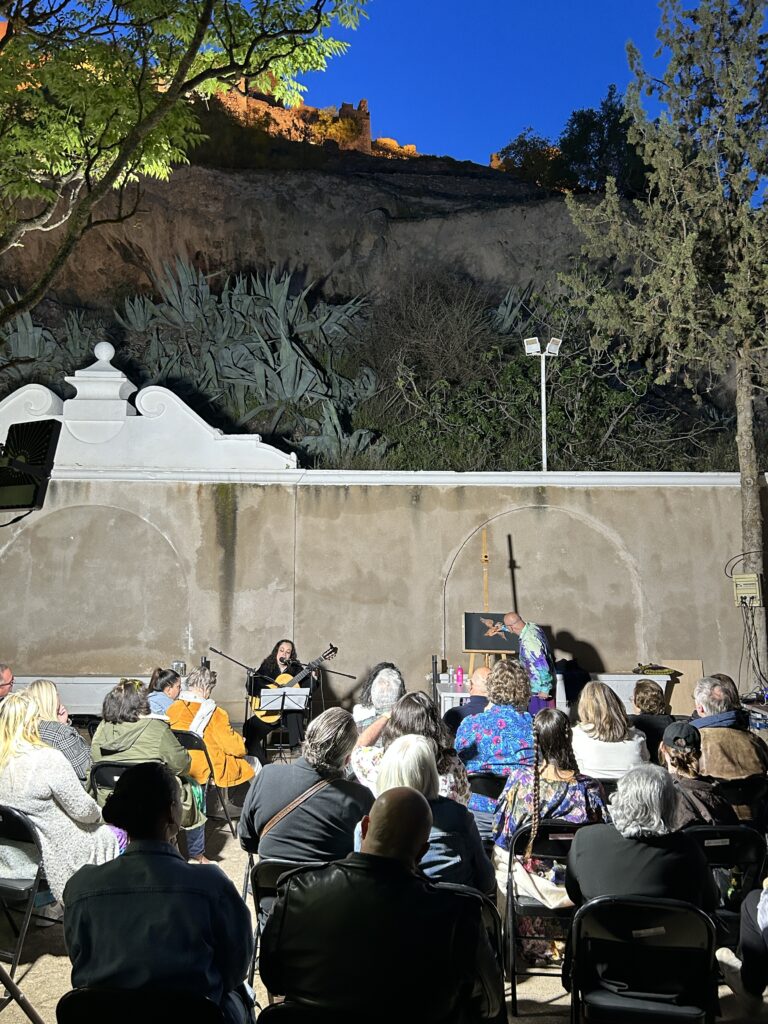 ---
---
How have people welcomed you in Moclín? The locals have obviously embraced you but was it hard initially?
We both agree that we have a real sense of belonging here. The villagers have been unbelievably welcoming and supportive of everything we do. Our immediate neighbour is our family here; we share everything with her and she loves our children and grandchildren. She is an incredible person and we are very lucky to know her. The entire village is made up of warm-hearted, generous people who encourage us constantly. This year, I took part in the local dramatic society's play, and we are about to start on another. We host a weekly Intercambio de Idiomas social evening during the winter months, and this is an opportunity for all friends and neighbours to get together for an informal chat, and for everyone to get to know their neighbours. I was lucky initially, in that I got invited to give English classes to the Women's Association shortly after we arrived. As a result, we had a fast-track into the life of the villagers and we got to know lots of people very quickly.
It sounds very altruistic, but the aim through our pursuits is to offer opportunities to the local people. Moclin is one of many villages in Spain that is suffering from rural depopulation. As older people die, no-one wants to take over their properties as there are no opportunities for employment, unless you are involved in agriculture or construction. Accordingly, young people have to leave to study and work in the cities. Sustainable, cultural tourism can provide new opportunities for development, for investment and then for employment. We try to employ our Spanish friends and neighbours wherever possible, and give opportunities to musicians, artists and performers through our tourism initiatives. It is impossible to change direction overnight, but by giving visitors a reason to visit here, to stay here, then opportunities do arise. We market and sell properties in the area, and one of the pieces of advice we give to prospective purchasers is that buying a house in a rural location comes with responsibility. Not only are you buying bricks and mortar, but you are also buying into the village, and contributing to the future of that village.
The villagers are very open with their opinions, and if you annoy them they will tell you. However, by the same token they will also tell you when you do something worthwhile and beneficial. Fortunately, all of our neighbours have been very kind and generous with their feedback!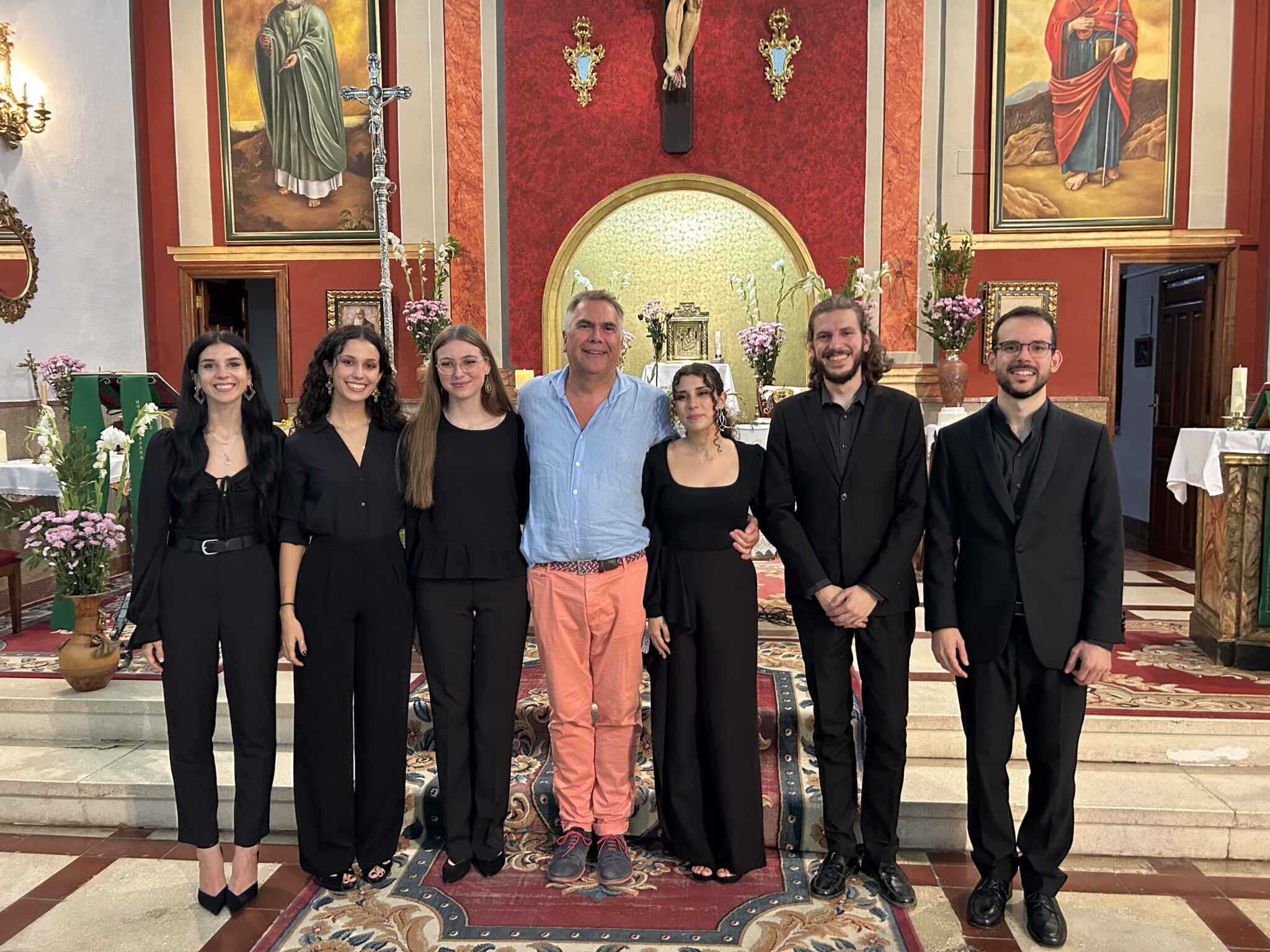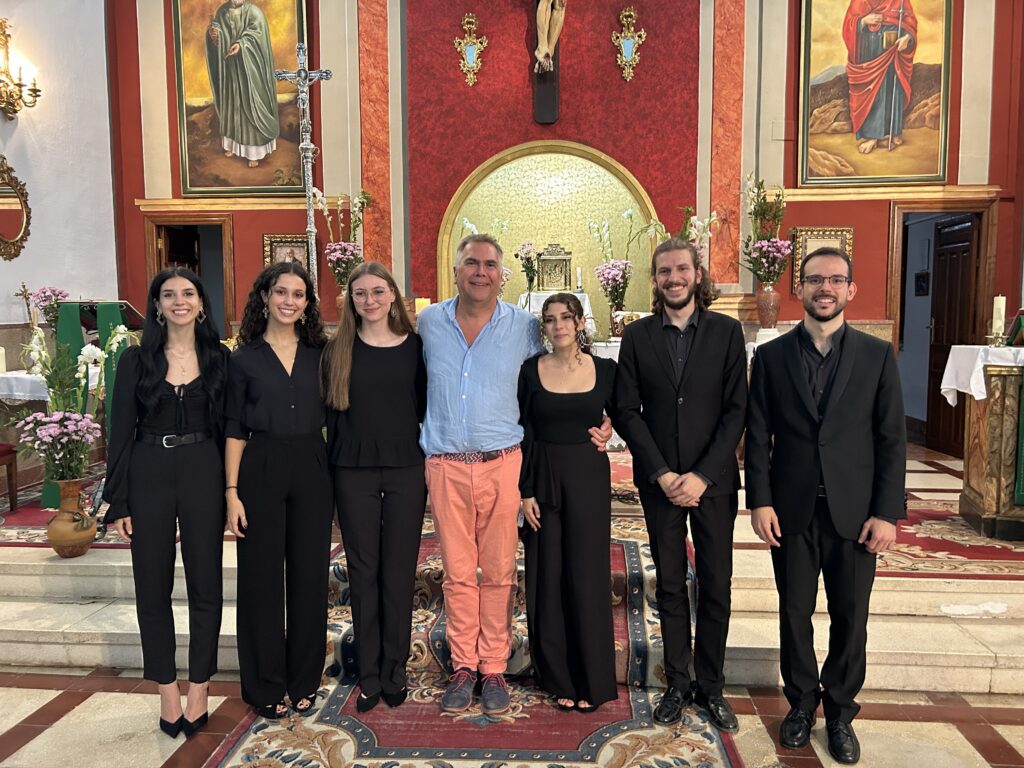 ---
---
Following up on the above: you came to Spain not speaking Spanish yet ended up with all these plans. How did you communicate and get things done? And how is your Spanish today?
When we decided to move to Spain for our year of adventure, there were certain plans we made. We wanted to move to the country because we love the culture, so we knew that we had to do certain things to make sure we integrated. One of these plans was to enrol in an academy as soon as we arrived. We went to Escuela Delengua, an academy in Granada, for 8 weeks, every day. We had previously gone to evening classes at City Lit in London for a year, but we just about understood the alphabet, how to count and the present tense, so an immersive course was essential. One of our teachers is one of our best friends here; she came to our wedding in 2018 and we still see her often. We continued classes with her remotely during the pandemic. The immersive course broke the back of grammar, although it was not easy! Moving to a very Spanish village was also great for our Spanish. When I taught our neighbours English, I very quickly had to learn more Spanish to explain what I was trying to teach! Our friends in Moclín are mostly Spanish, and we get invited to family gatherings and social occasions, so we get plenty of opportunity to practice. Since becoming a Councillor, I have become much more fluent. I wouldn't say that I was 100% fluent, and this can be frustrating, but I am getting there. I have done an hour-long live TV broadcast in Spanish, and had to give off-the-cuff speeches at events.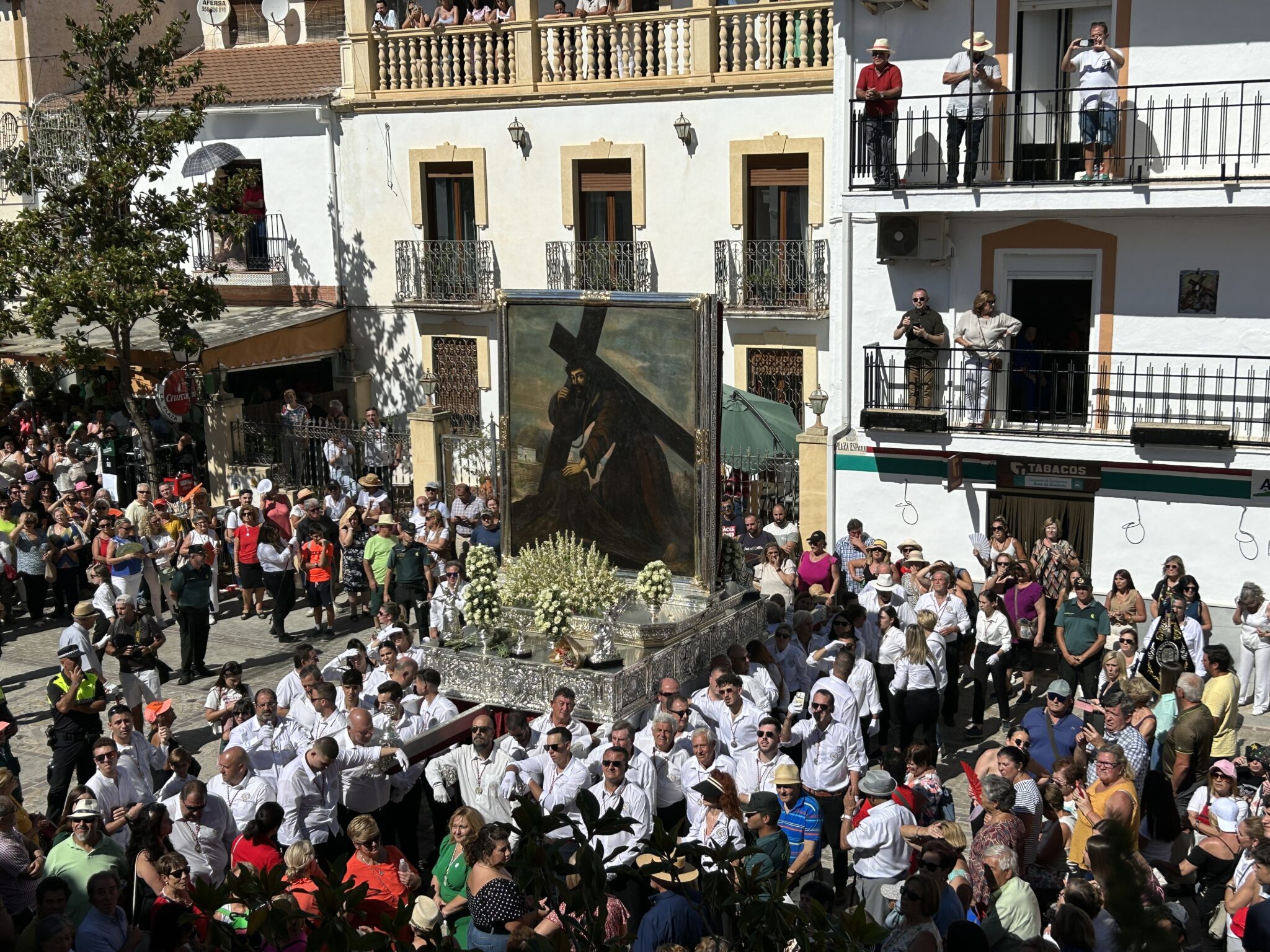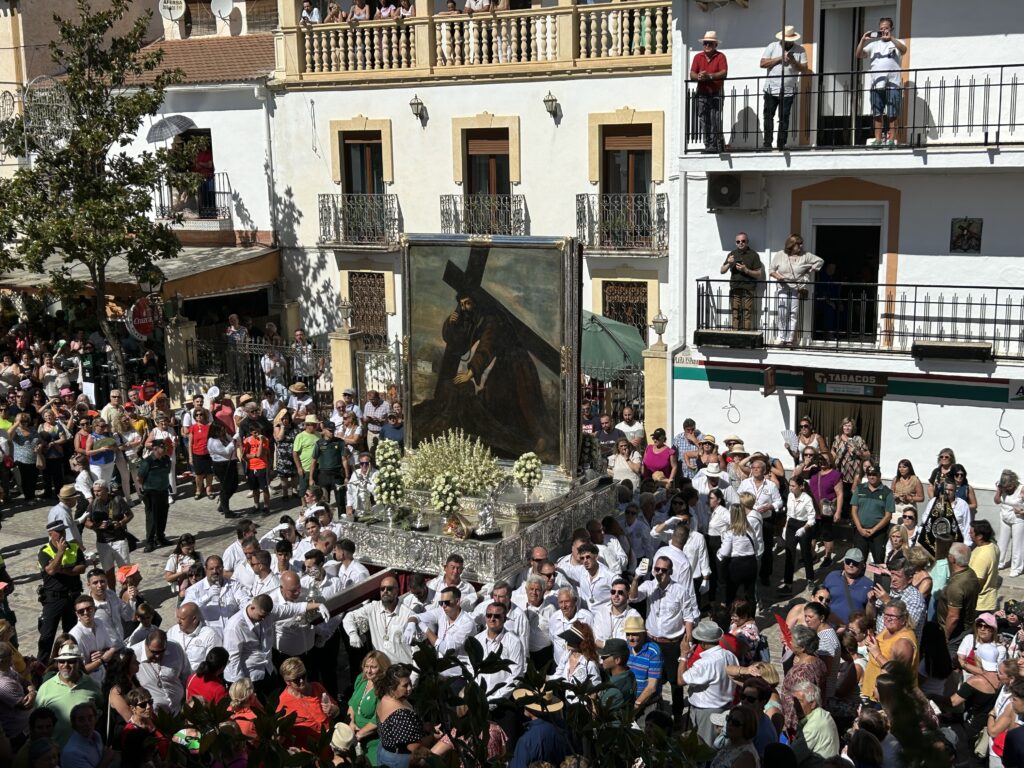 ---
---
Moclín looks beautiful. What are the highlights in town? What can visitors do when visiting? (and do they need a car if visiting Moclín?)
Moclín is beautiful! Never do we tire of its charm and character, its scenery and spectacular views. The village is also historically very important.
The crowning glory is the 13th Century castle that perches impossibly on the top of the hill. When it was built, it was considered to be impregnable and was under almost constant siege for 200 years. It was known as the Escudo de Granada, given its strategic position. The correct name for the castle is the Fortaleza de las dos Pupilas (or Hisn al Muklin in arabic, from whence came the name Moclin). In 1486, by a sheer fluke, the Christian forces from Alcalá la Real breeched the castle walls and consequently the castle became the court of Isabel and Fernando. The Catholic Monarchs remained here until they captured Granada in 1492.
In the area, there are many caves, and 7 of these contain neolithic cave paintings. In one of the caves, the Cueva de Malalmuerzo, archaeologists recently discovered two teeth that have been aged back 23,000 years and that have produced the oldest human genome. The teeth are also the second oldest human remains to have been found on continental Europe.
Archaeologists are currently working on another site in the village of Tózar, within the municipality, and on this site there is a Mozarabe cemetery with 80 tombs carved into the rock, the remains of a Mozarabe village, a neolithic dolmen and civil war trenches – 7,000 years of history in one strip of land.
The village also hosts one of the most important classical religious festivals in Spain. On 5th October every year, an average of 15,000 people descend on Moclín to pay homage to a painting of Christ and the Cross. This painting was a gift from Isabel and Fernando to the villagers following their stay in the castle. This painting, a battle standard, is believed to have miraculous properties: a man with cataracts touched the linen and his sight was restored! The painting is now known as Cristo del Pano, and the story was adopted in the 17th Century to become a traditional Romería. Now, the festival combines the two elements of religious festival and Romería, and Federico García Lorca was inspired to write his play, 'Yerma' following a visit to the Romería.
We hope that we are adding to the cultural make up of the village through our creative and cultural course holidays, and the events we run as part of these courses, as well as through the Moclín Arte festival. We have many other plans up our sleeves.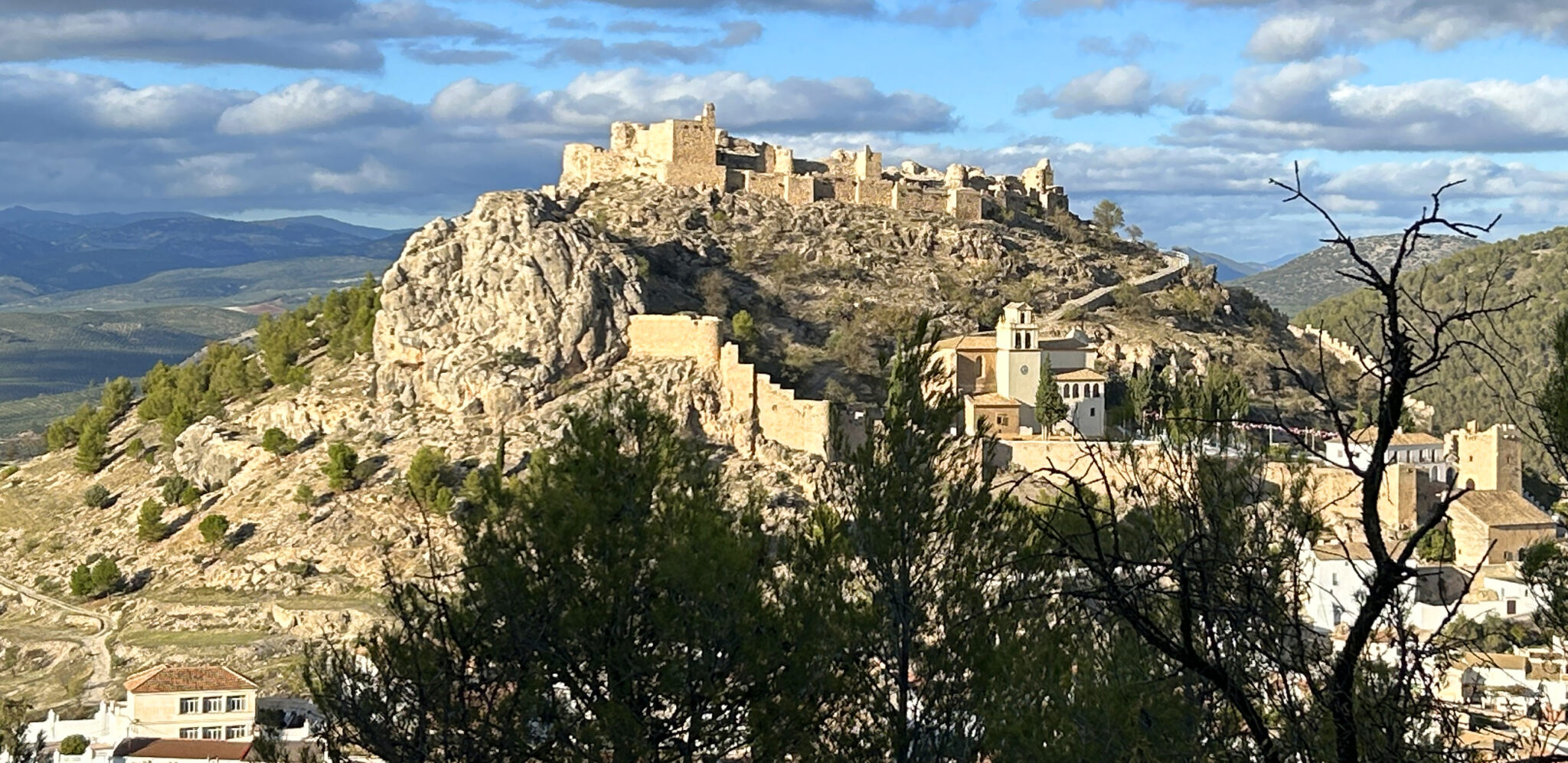 ---
---
What are the highlights a bit further afield? What do you recommend people see if spending 3-4 days in the area of Moclín?
The place is soaked in history. The Fortaleza de la Mota in Alcalá la Real is well worth a visit. There are the well-preserved remains of a large Roman villa in nearby Almedinilla, complete with mosaic floors and frescos. The Ruta del Gollizno is the best-known hiking route in Moclín: an 8 km circular route down through a river gorge and up behind Moclin castle. It's spectacular. The Camino Mozarabe, part of the Camino de Santiago, also passes through the village so we get a lot of hikers visiting. All the caves are worth visiting, as is the castle (I have a key!). There are guided tours of the castle every weekend, in Spanish. The Cueva de Malalmuerzo is very securely protected, due to its archaeological importance, but there are opportunities to visit with a guide throughout the year. We hope to provide more frequent opportunities next year.
Of course, Granada is not that far from Moclín and we have many guests who stay with us as a base for their visits to Granada. Córdoba is also within easy reach.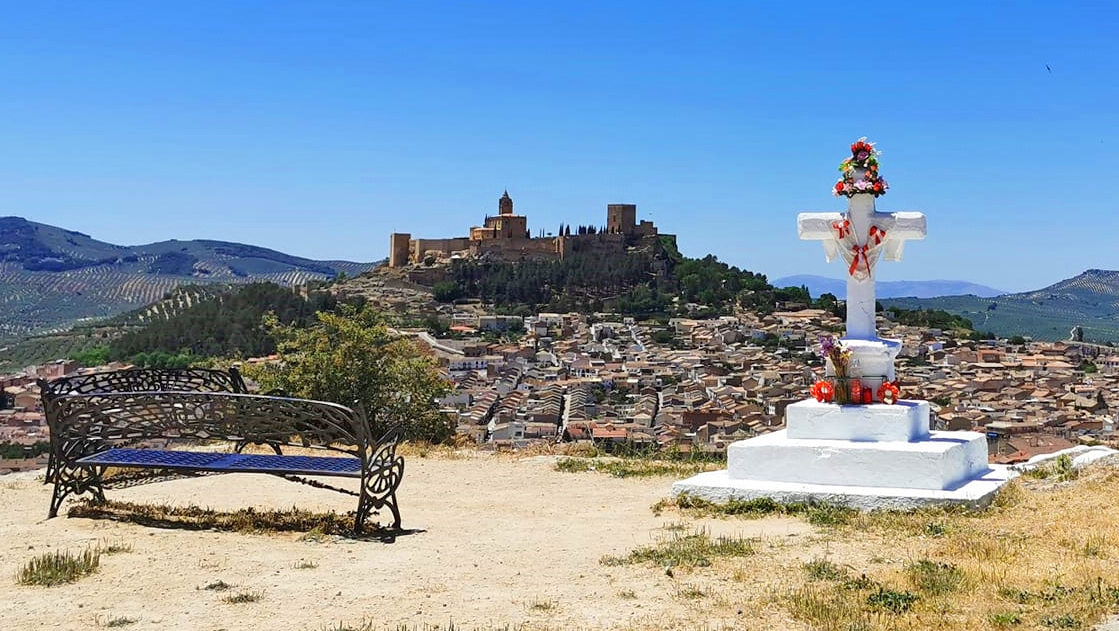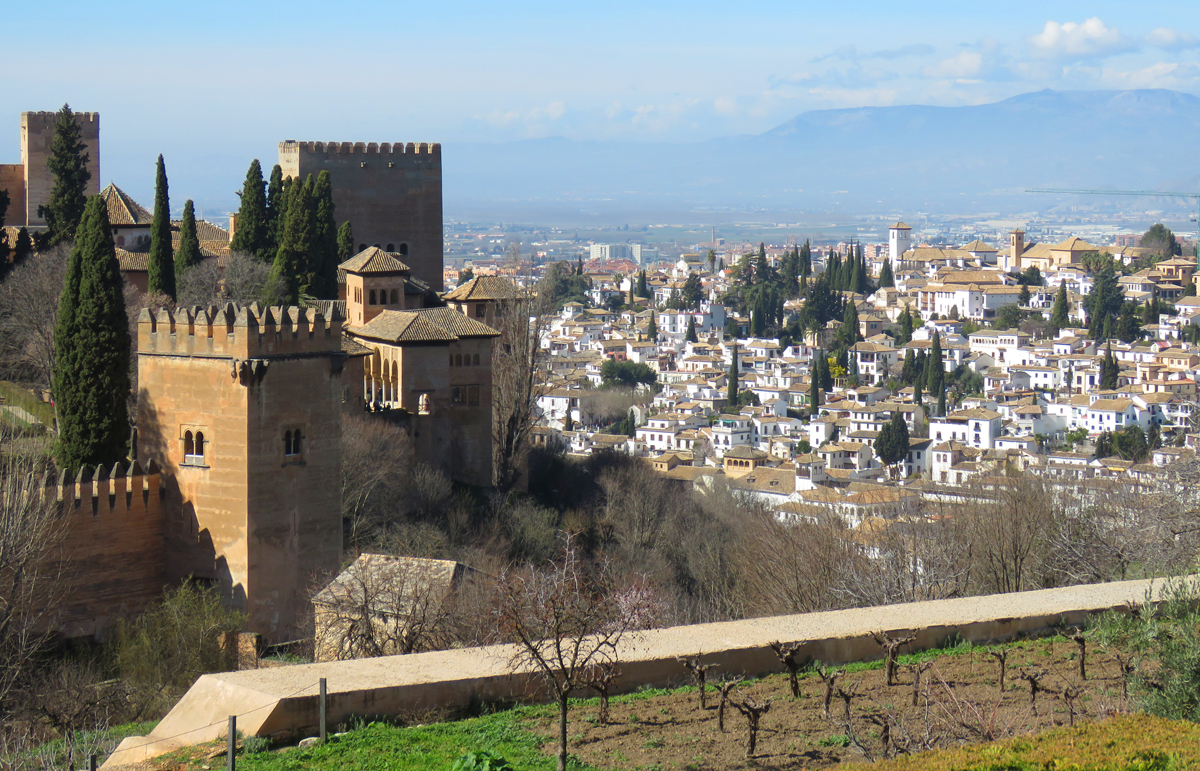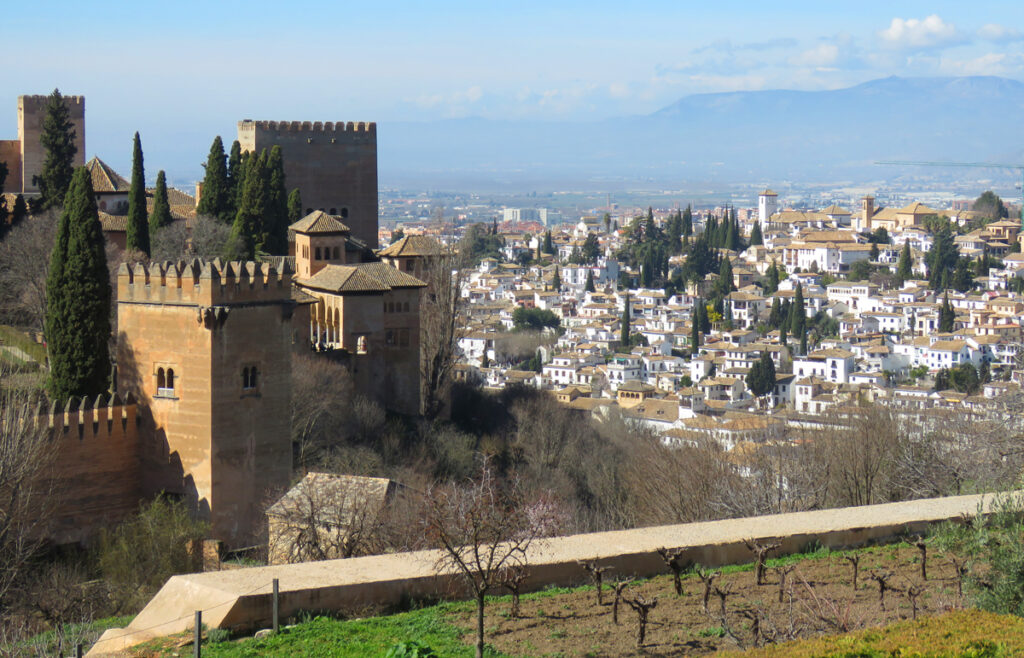 ---
---
Your move to Spain has obviously transformed your life in many ways. I'd love your thoughts on that and your advice to anyone who has similar dreams of moving to Spain and reinventing themselves
We didn't really move to Spain to reinvent ourselves. We were on the verge of falling out of love with London, so the time was right to have an adventure. Beyond our first year, we had no expectations. However, as it happens, Spain provided lots of opportunities. I taught English as a foreign language in Granada for a while, and loved it. I made a very good friend of the owner of the school and he remains a friend. I did Tapas Tours in Granada with another friend, Gayle, who runs Granada Tapas Tours. Through Gayle, I met many bar owners and got fabulous insights into the Granada gastronomic scene. For over a year, I had a radio programme with Talk Radio Europe. In 'Life Stories', I chatted to non-Spanish people who had made their home in Spain and, through the programme, I met many very interesting people and got to visit all sorts of corners of Andalucía in a very short period of time.
I get ongoing offers for voiceover work; far more than I ever got in the UK. I have an agent in Madrid and have recorded voiceovers for documentary films, training programmes for the United Nations and Binter Canarias airline, as well as some strange projects for health care insurance companies in the US! To an extent, we took whatever opportunities presented themselves. Both of us came here to get back to doing things we used to love doing, but were prevented from doing due to our careers. I started to paint again and Andrew started to work on his own designs, away from book design. There is something liberating about having a portfolio career, where we can pursue those things we love, and sideline those things that we are less keen on. I never imagined that Spain would be a land of opportunity, but for us it has been. I would never have imagined that I would become the Councillor for Tourism and Heritage in a traditional Spanish village at the age of 61.
I recall reading somewhere that Dame Judi Dench learns a poem every day to exercise her brain, and her recent appearance on the Graham Norton Show, during which she recited from memory a Shakespeare Sonnet goes to prove her point. I feel rejuvenated as a result of being here. I am constantly learning something new, and the ongoing learning of Spanish must surely be good for the brain. The priorities of the Spanish people are just as they should be – family and community above all else, and you are not judged by age, where you live, what job you have, how much you earn.
A move to any foreign country, where they speak a different language, is never easy. When we used to go into Granada every day, on cold and dark November mornings when the rain was coming down and the pavements were like ice rinks, to sit in a class where no English was uttered, there were times when we wanted to weep! What are these bloody tenses? When and how do we use pronouns? Subjunctive?! What a nightmare….
I tell the story of those days when we were at the academy. Every day, for coffee break, we used to go down the hill to a little bar for a coffee, and it was always served in the handleless glasses that burn your fingers when you life it to your mouth. I used to get a paper napkin and use it as a protection, wrapping it around the glass. For the first week, the bar owner clearly thought we were just tourists passing through. When we returned the second week, he realised that we might be here to stay for a little longer. We came into the bar at our standard time of 11:00, and our saucers were ready on the bar and beside them were two paper napkins folded, ready for our glasses of steaming hot coffee. That was the moment when we felt we belonged.
Our advice, in common with the advice of many other people who settle here, is to learn the language. Admittedly, it is not essential if you want to live in an area where there is a big non-Spanish community. However, if you want to live in a rural village, where life is rich and the culture deep, then you need to speak the language. Our neighbours and friends are very forgiving, but everyone will know that it can be very frustrating when you can't express exactly what it is that you want to say, and that goes both ways. Your life will become immeasurably richer when you can chat about all sorts of topics with your neighbour.
Explore! Take advantage of the fact that you are in a new country and go out and see it.
We have kept a blog ever since we moved here, initially chronicling our adventures as a way of keeping in touch with friends and family, but it grew considerably and provides us with our own reminders of what we have done and how much we have achieved.
I have never felt a strong affinity to the UK. My father was a pilot in the RAF and I was born in what was then West Germany. When I was very young we lived in Cyprus before returning to the UK. I went to Prep School in Belfast and stayed in Northern Ireland until I left school at 18. I suppose the place I felt closest to was Suffolk, where my parents bought a house. As a student I visited France frequently, and when my children were tiny we considered buying a house near Bergerac. I have always loved Europe and feel far more European than British. I think, though, to live anywhere happily you need to commit. Once we decided that this is where we wanted to live, it was easy to leave the UK behind and we now have no material ties; I'd be over the moon if my children and grandchildren eventually came out here to live! Spain is very special. We feel embraced by a large family with a very warm heart. Life will always throw up challenges, but we only need to walk to the top of one of the mountains that surround us, and stare at the vast landscapes that open up before us, and listen to nothing but the gentle sound of trees in the breeze and everything falls into its proper place.
Thank you for doing this interview Ian!