why you get a digital certificate in Spain
It took a few months of living in Spain to realize that the absolute best way to avoid a lot of manual paperwork (and a lot of visits to government offices) was to get a digital certificate. Last year, when other expats were complaining about not getting calls for their Covid vaccinations, we booked our appointments online on the ClickSalud website using our digital certificates. Easy peasy. The digital certificate can also give you access to the Spanish tax service (Agencia Tributaria) so that you can file your taxes online, the local town hall so that you can request the "padron" that you sometimes require for administrative functions, and even the Consular Services website where you can do procedures including renewing your visa. You can even take care of everything having to do with driving/ your car on the DGT website (Dirección General de Tráfico). I've been looking at working towards a Spanish driver's license and you can book your driving exams using your digital certificate.
Spain is famous for its complicated bureaucracy. Having a digital signature makes that simpler.
Another personal example: We have a Spanish accountant who registered us with the Agencia Tributaria. We soon received a letter from the Agency in our mailbox. Fine. But then there was another issue and the next time they sent us something we weren't home. We discovered a "pickup" slip in our mailbox requesting that we pick up the letter at the tax office in Velez-Malaga, 45 minutes away! That's what prompted us to get the digital signature. Once we had it we could just log onto the Agencia Tributaria website and look up any communication from the agency online. No more paperwork.
What is a digital certificate? It's a file that you download to your computer that has been validated by a government department called "Fábrica Nacional de Moneda y Timbre" (translated as "National Currency and Stamp Factory"). It will require you to; 1) apply online (or you can have an agency do it for you) and 2) go to a government office to verify your identity and complete the application (that part takes about 2 minutes). Once done you'll get your digital certificate and can start doing your Spanish paperwork online.
I detail that below.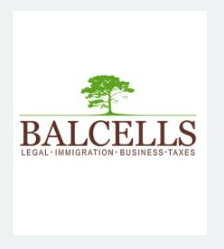 Need help with your immigration needs? Contact Marta at Balcells Group. She handles it all, whether it be a Spanish non-lucrative Visa, Golden Visa, Digital Nomad Visa, Work Visa etc…. More detail here
---
---
How to get your digital certificate
There are 2 ways to get the digital certificate. As I mention above, you can apply online. This document from our local town hall explains that in detail.
Or you can do as we did and ask our lawyer Marta (I have the link to Marta up above) to do the paperwork and set up an appointment for the identify verification. She charged us 30 Euros for the two of us. We had to give her our address here in Spain, our telephone numbers, and our NIE number ("Número de Identidad de Extranjero" or "Foreigners' Identification Number" in English).
Two week later we went to a government office for the appointment that Marta had set up (ask your lawyer to make an appointment at the one closest to you). There we had to show our Passports, our residency cards (TIE), and a form that she had asked us to fill out (which took about a minute to fill out). As I say above, it took about 2 minutes to confirm our identities.
In our case the digital signature was sent from the government office to Marta (because she had set up the appointment). That was done the same day as our appointment. She forwarded me the digital certificates and gave me our passwords.
All we had to do was download the digital certificates onto our computers using the password.
How to use your digital certificate
Once you have your digital certificate downloaded on your computer, you can go ahead to a government website.
An example: the ClicSalud+ website which is the public healthcare site here in Andalucia. At the top it will give you a list of ways to access the website. Chose "Certificado digital". The digital certificates that you have on your computer will pop up, you select it by pressing "Ok", and the certificate automatically logs you into the website.
For some websites there is an extra step where you have to download a program called "autofirma" ("autosignature") onto your computer. You'll find the instructions on that at the bottom of Page 3 on the document I included above (I'm including it again here).
Once done you have access to other government websites. For example the town hall of Nerja website.
---
---
So that's it. As I say, we can now access tax information and make health appointments online. We even got our Vaccination Certificates online. That's just the tip of the iceberg – there are many other practical uses for the digital certificate.
But the main thing is that you can do it all from home and avoid some of the paperwork that Spanish bureaucracy is known for. That's why you need a digital certificate.
People might have a laugh at this video. The sad thing is that it's pretty accurate
Join Our Newsletter
If you haven't subscribed yet and want to get our posts sent to your email, just insert your email address below. It's free!