Alicante…and the importance of the scouting trip
When we did our scouting trip through Spain in early 2020, we looked at a lot of places as potential bases. At the time, Alicante was (in theory) at the top of our list.
We were looking for:
A medium-sized city
To be within (at most) 2 hours of a major international airport
To be linked to Renfe's high-speed train lines
A city with a good bus/tram or metro network
A city with an affordable cost of living
We wanted a city close to nature
Alicante crossed off all the points on the list. It is a medium-sized city, it is within 20 minutes of one of Spain's busiest airports, it IS linked to Renfe's high-speed lines (you can get to Madrid in 2 ½ hrs!), it has an excellent tram and bus network, it IS one of the most affordable medium-sized cities in Spain…and finally, it is close to nature (Alicante has lots of very nice beaches).
So we were very high on Alicante.
One of the things we've learned though is that you always have to get your feet on the ground and see a place for yourself. Because while many people may love a place and write glowing reviews of what it's like to live there, you have to feel it. Like choosing a life partner, you can't choose the place you want to live in based on a checklist.
It's when we got our feet on the ground that Alicante lost us.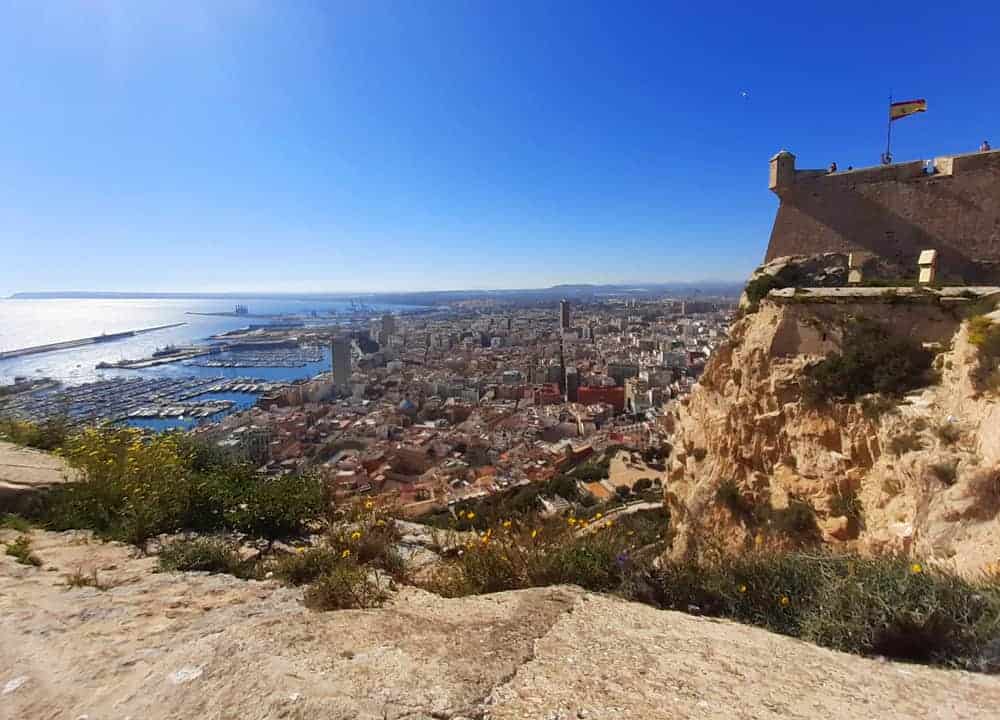 ---
---
We tried to focus on the positives. Getting around on the tram was beyond great. Alicante really is easy to get around and it's pretty thrilling to be whisked up the coastline meters away from the beach. The seaside promenade is pretty with its tiles, palm trees and many cafés. There was a relaxed vibe in the air and locals were friendly.
I don't want to trash Alicante (that's not the point of this post), I'll just say the city wasn't for us. And the worst thing is that we realized it on the first day of our eleven-day stay. It actually left us reeling because we had been so sure, based on our reading, that Alicante might be the place.
---
Note: I didn't include the details of our thoughts on Alicante because this post wasn't about Alicante but about the importance of the scouting trip. I didn't want this post to get off topic.But of course the one question we're getting is "why didn't you like Alicante?" I wrote about it on our other blog if you really want to know. Link here.
---
---
So what's my point?
The point of this post is that you should always get your feet on the ground and check out a place. That is, do a scouting trip (this post covers OUR scouting trip). I've seen too many people who decide, based on reading something, to book an apartment for 6 months in a city they've never visited (or worst, buy. I've heard of people buying sight unseen).
Visit, check out other cities, cross some out by process of elimination. Figure out which interest you most. Even then re-visit to see if you feel the same way about it/them. And if you don't feel the same way, start over by exploring some new places*. We visited 7 cities on our initial scouting trip and would have visited more had Covid not happened (halfway through our scouting trip we ended up getting locked down in León. That was the end of it).
*I also don't believe in the theory of "give it time, you'll fall in love with ____". I believe in following your gut. Again, like looking for a partner, it doesn't have to be instant love – but there has to be enough there to believe in the possibility that it might be THE place for you. And I believe your gut usually tells you that pretty quickly.
---
---
How to plan a Scouting Trip?
Before deciding where to go on your scouting trip, go over your criteria over and over again. Decide what is essential to you and what is less essential. And figure out what you absolutely don't want in a place. Sometimes that's just an important as what you do want.
Then do your research on places where you could see yourself living. Join specialized Facebook pages (ex. Expats in Malaga). It'll give you insights on a city, its neighbourhoods etc.
Make yourself an itinerary but leave it flexible, giving places higher on your list a bit more time. Of course, the longer the time you have for your scouting trip, the more places you can explore.
What we did and what I recommend is that you plan out half the time of your budgeted scouting trip. So if you're planning a month-long scouting trip through Spain, plan out half of that time. Leave the 2nd half flexible. Plan how long you'll stay in each place based on time available and places on your list. I think you should plan at least 3 days in a place. 3 days is enough to get a feeling and at this point you don't want to be wasting time on places that you may know right away might not be for you (case in point our 11 days in Alicante. For us that was 10 days wasted…)
Start your scouting trip by getting a feel for the cities you visit. Visit some of the neighbourhoods you had researched.
By the time you've visited the cities on your list, you should have a pretty good idea of which appeal to you most. Go through a process of elimination and plan out the rest of your itinerary: re-visit the ones at the top of your list, explore them in more detail. You might even reach out to real estate agents and get some information (the previously mentioned FB pages are good for that) and maybe even get in a few visits.
It doesn't mean you'll find your actual home on that first scouting trip. But you'll hopefully have located the city and neighbourhood and started with some connections that will eventually work out to being that place in Spain you've been dreaming of.
Always appreciate when people who've been through the same thing share their experiences! Please feel free to comment below.
PS. Is there a place YOU had high hopes based on reading but that disappointed you when visiting in person?
---
---
Join Our Newsletter
If you haven't subscribed yet and want to get our posts sent to your email, just insert your email address below. It's free!