Hiking El Cielo in Nerja (Spain)
"The difference between enjoyment and endurance is your level of physical fitness".
I kept thinking of this quote while hiking El Cielo. It is the only hike where I've thought to myself "Am I going to be able to complete this thing?". I couldn't regulate my breath, my legs burned, my energy level was low (my fault – I hadn't prepared properly), and I could feel the blisters forming in my boots (the crappy ones I had bought several years ago in Romania but which I had never worn for long periods of time…).
Because of Covid, this was my first hike in 2 years. And I felt like shit.
El Cielo is a peak in The Sierras de Tejeda, Almijara and Alhama Natural Park just outside of Nerja. It is 1508 meters high and located only 6 km away from the coast. While it is a tough hike in terms of endurance (4 hours one way to get to the top), it is a technically easy hike. That, and the fantastic 360 views of the coast and the inland mountains make El Cielo a very popular peak to climb.
I took the hike with Jon Keo Walking Tours. Jon is great and I have many other hikes planned with him.
But in the case of El Cielo – and with the instructions in this post – you don't need a guide because finding your way up El Cielo is pretty easy.
---
---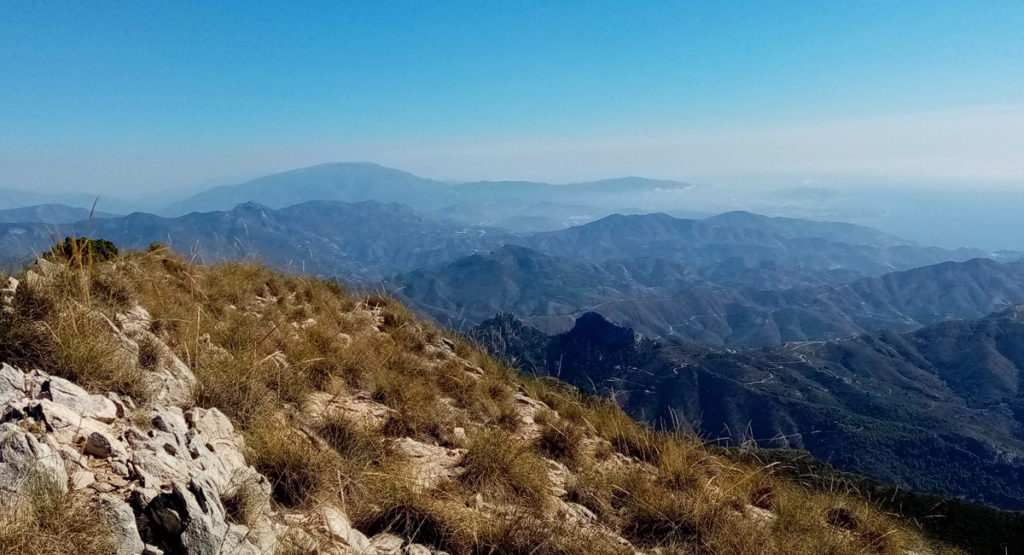 The way up El Cielo
– Start at the Nerja Caves
– Go through the Parking Lot and follow the gravel road
– After 3 km of flat walking, you'll get to a fork in the road. Go right, following the arrow "Sendero" ("Path" in English)
– The road winds up. You'll be continuing on it for another hour and 15 min (approx.). You can chose to take a few of the paths if you wish – they're shortcuts between the switchbacks of the road. Either way you'll always end up back on that road.
– After 2 hours of hiking the road ends. You'll see a sign "Sendero del Pico del Cielo". You'll now be following a trail which is well marked (look for wooden pole indicators, painted rocks, and little pyramids of rocks. The path is also well worn from plenty of hikers). Really, you can't get lost.
– Around the 3 hour mark of your hike, you'll get to a plateau. From here you have great views of the eastern side of the Costa del Sol (which had been previously blocked by the mountain you were climbing). It's a beautiful spot and a good place to stop for lunch. We stopped here for 30 minutes.
– Continuing on, you're now in full sight of the peak of El Cielo. It'll take you a little over an hour before getting to the last part. That's when it gets a bit steep and you have to go over some loose rocks to get to the summit. Note: I've read other accounts of this part describing it as a "mad scramble". I really don't think it's that bad, I used my hands a few times for balance but most of the time I was just climbing on my feet.
– You've arrived at the summit! It's probably taken you about 4 hours to get here (not including stops)
As I say, finding your way is pretty easy and I can't see anyone possibly getting lost.
---
---


Impressions of El Cielo
There were things I liked and didn't like about this hike
– There are some great views as you get higher. Until the 3 hour mark, you'll be looking mostly back at Nerja and the Western Coastline. Once you get to the ridge I mention, you'll have the Eastern side of the coast open up to you.
– The Sierras de Tejeda, Almijara and Alhama Natural Park is a beautiful park with green valleys and jagged ridges and peaks. The natural beauty is impressive and it is totally wild with no man made structures (as Jon explained, man-made structures like restaurants and lodging are not allowed in "Natural Parks" but are allowed in National Parks).
– The biggest negative was the long walk along the road. The first 45 minutes of flat walk are mostly boring. It gets better when you follow the road up but it is still a long, monotonous walk. If the hike had started at the end of the road (at the 2 hour mark) the hike would be perfect. Really, it's around the 2 hour mark that the hike becomes interesting.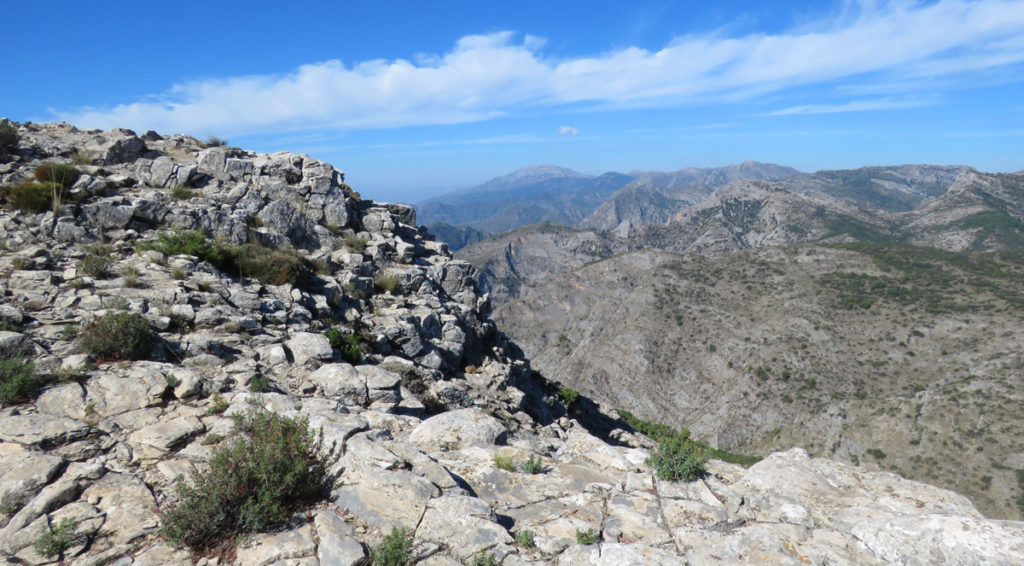 ---
---

Back to the difference between Enjoyment and Endurance…
El Cielo is not technically difficult but it is physically tiring – a long, continuous ascend that requires a good fitness level. Make sure to bring lots of water (I had 1 ½ litres and could have used double that), something sweet (I found myself craving a fizzy drink and a chocolate bar) and wear good shoes. I thought I'd be fine with my Romanian boots but ended the day with blisters all over my feet….
I'm 100% to blame for not being prepared.
Do it right and you'll enjoy this hike a lot more than I did.
Join Our Newsletter
If you haven't subscribed yet and want to get our posts sent to your email, just insert your email address below. It's free!