The Lecrin Valley
Jon and Karol are different than most foreigners settling in Spain – they're young and are looking to grow a business in Spain.
They decided to settle in the Lecrin Valley, a beautiful area halfway between Granada and the coast.
In this interview Jon tells us all about the region and their business.
---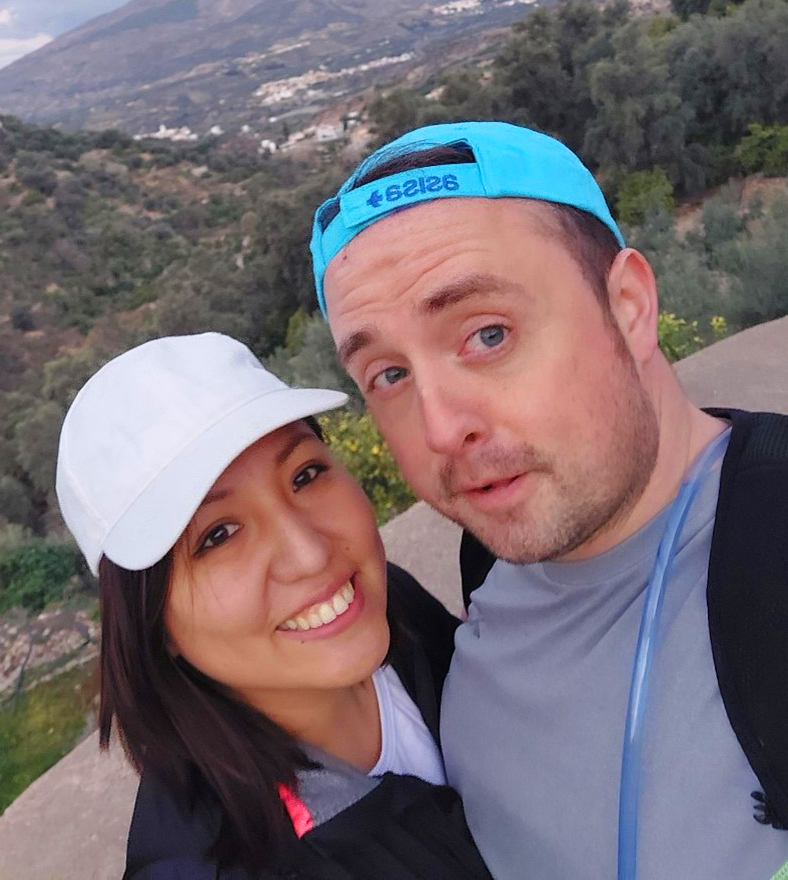 Name: Jon
Age: 34
Country of Origin: UK
Number of years in Spain: 11
---
Hi Jon! You're young and not the typical expat/immigrant we see in Spain. Can you please tell me about yourself and on how you ended up moving to Spain?
I originally came here in late 2012 to teach English. I worked in schools in Córdoba and Cádiz during my first 18 months, then relocated to Madrid, teaching Business English in various companies as well as coaching exam preparation to individuals.
I was originally thinking of going to teach in Turkey, as I had travelled extensively in the country and even learnt to speak the language to an intermediate level. I've long been something of an admirer of Turkish culture and wanted to experience life in a Mediterranean country.
There is an old tale in my family that some of our ancestors were Sephardic Jews who left Andalucía and settled in the Ottoman empire, before eventually finding their way to Britain over the course of a century or so.
If this is true, it would certainly explain a lot. All I know for sure is that the sound of the Spanish Guitar speaks to my soul in the way that the electric guitar never could. I also love Salmorejo, stuffed vine leaves and olives, so the Mediterranean and particularly now, Andalucía, is where I feel most at home.
It was in Madrid that I met Karol, who came to Spain from Perú around the same time as I did (although we didn't meet until a few years later).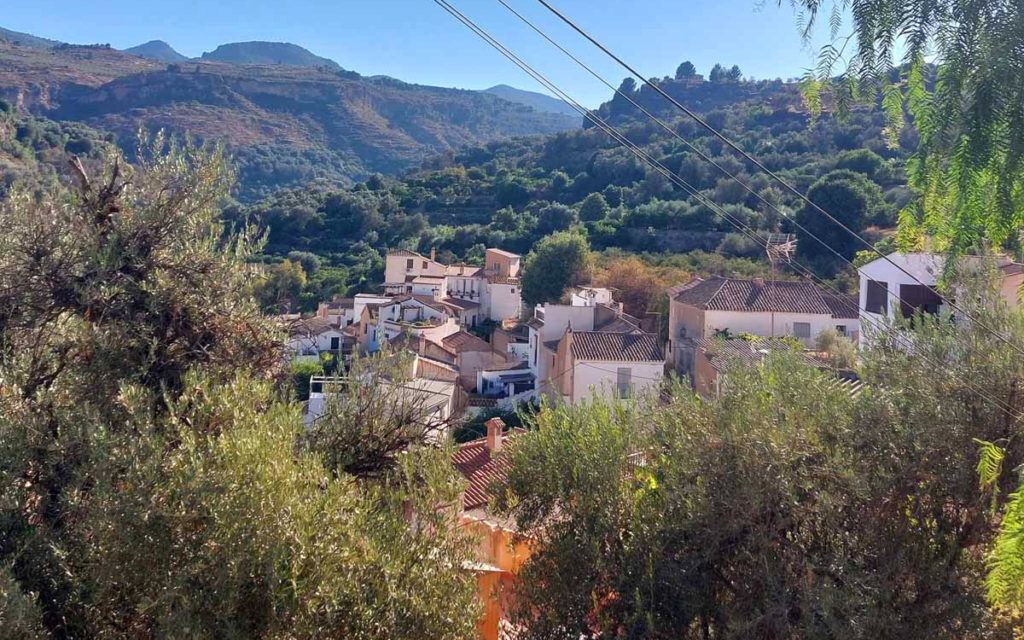 ---
---
You bought a home in a very small town (Saleres) in the Lecrin Valley. Why Saleres?
Having passed through Granada and the Valley a few times on the way to Almuñecar and the Costa Tropical, we knew that this area had something special.
Karol and I were looking to invest our savings. People always like to get away, and the Lecrín Valley really is so incredibly stunning. We bought Casa Balcón in early summer last year (2022).  It had been in use as a holiday let since around 1999-2000 by the two previous owners, and so had an existing customer base. It also came with all the furniture and a tourist licence. So was ideal as an investment.

About the area:
Flanked by the snow-capped Sierra Nevada (the highest mountains in the Iberian Peninsula) and only 30 mins from the beaches of Salobreña and Almuñecar, the dramatic valley is mainly an agricultural area. Of all of the 17 villages in the Valley, Saleres is one of the smallest, with less than 200 people, as well as the most traditional. Families are close-knit and go back hundreds of years. The original inhabitants were the Moriscos of the Muslim Kingdom of Granada.
After the Alpujarras war in the 16th century, most of the Moorish families were expelled, the mosques replaced by churches, and Christian settlers from other parts of Spain repopulated the valley.
The local people largely live as they have always done, cultivating oranges, lemons, limes and olives, not to mention more exotic avocados and chrimoya.
The peaks and hillsides which surround Saleres are covered with fruit trees, which release the scent of azahár in late spring.
Being almost enveloped by the Sierra and gorge, Saleres feels like a mountain village, even though it's only located at 600 m above sea level. The canyon and forested peaks seem to tower above the houses. From our roof terrace, the cultivated terraces seem about to leap across the valley and surround the house in green, and jeeps pass almost overhead on ancient donkey paths, driven by farmers on the way to water their fincas.
Bread comes fresh from the bakers in Restábal and is some of the best you'll taste anywhere in Spain. The citrus fruit is to die for, amazing for making Granada Remojón or Peruvian Ceviche, and the local honey has the flavour of the valley herbs and flowers.
Editor's note: have a look at Jon and Karol's Instagram page to get a full appreciation of how beautiful the region is.
---
---
You rent out your house in the Lecrín Valley to visitors. Besides the incredible views of the Sierra Nevada, what makes Saleres and the Lecrin Valley special?
It's the people – both the locals (those born in the valley) as well as more recent arrivals. There are lots of British people living here, including our next-door neighbours, who have been incredibly helpful in helping us adapt to all aspects of life in the valley.
Go into any of the bars, shops and supermarkets in any of the villages and people remember you and ask after your family, tell you local news, and crack jokes. After just a few months you feel like you've been in the valley all your life.
'Celeb spotting' is also a local pastime for Brits in particular, as more than a few notable alternative comedians, 70s- 90s rock band members, and other music industry people have second homes in the valley. I think they value the anonimity of rural Andalucía, being able to go and have a drink in any rural bar and blend in. People love the tranquility and traditions of the valley.
We haven't seen anyone famous so far and probably won't bother them even if we do. We prefer to blend in here too.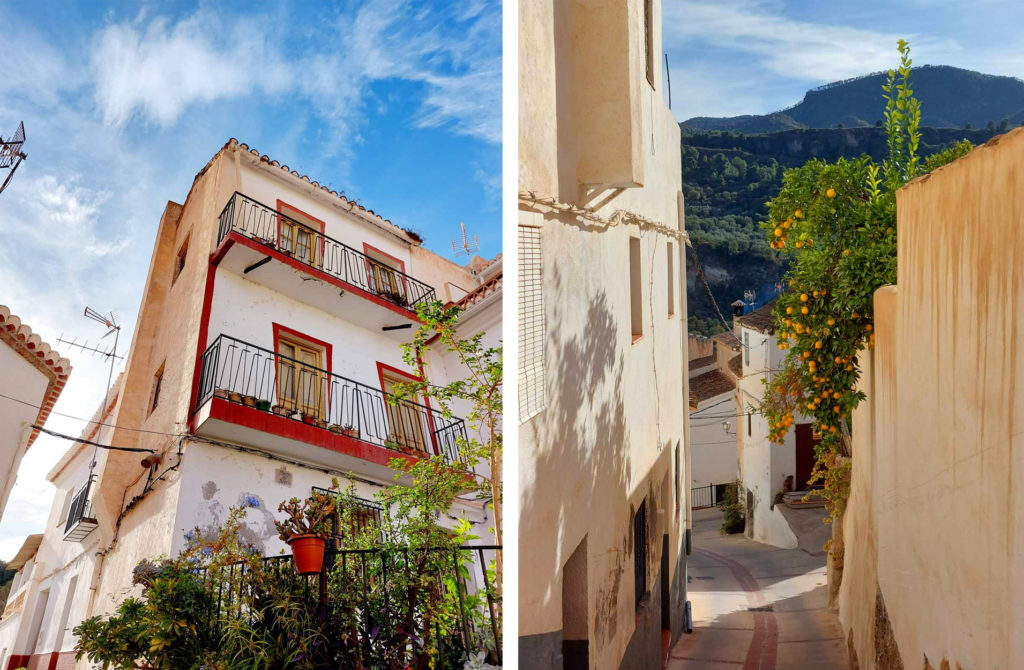 ---
---
What kind of visitors have you had visit you in Saleres? Are they locals? Foreigners? are they people looking to hike or looking for the charm of a typical small town?
So far, I'd say the visitors have been 80% Spanish, with other from Hungary, Norway, UK and Poland. A lot of people come here to hike, Saleres is right on the longest hiking route in Europe, the GR7, (known in the rest of europe as the E4) which extends from Tarifa in Cádiz, right through to Athens in Greece, and runs right through the village centre (you can see it from our roof terrace).
There are many other hiking routes, extending in all directions, all of which offer stunning views of Saleres, nearby villages and the verdant countryside.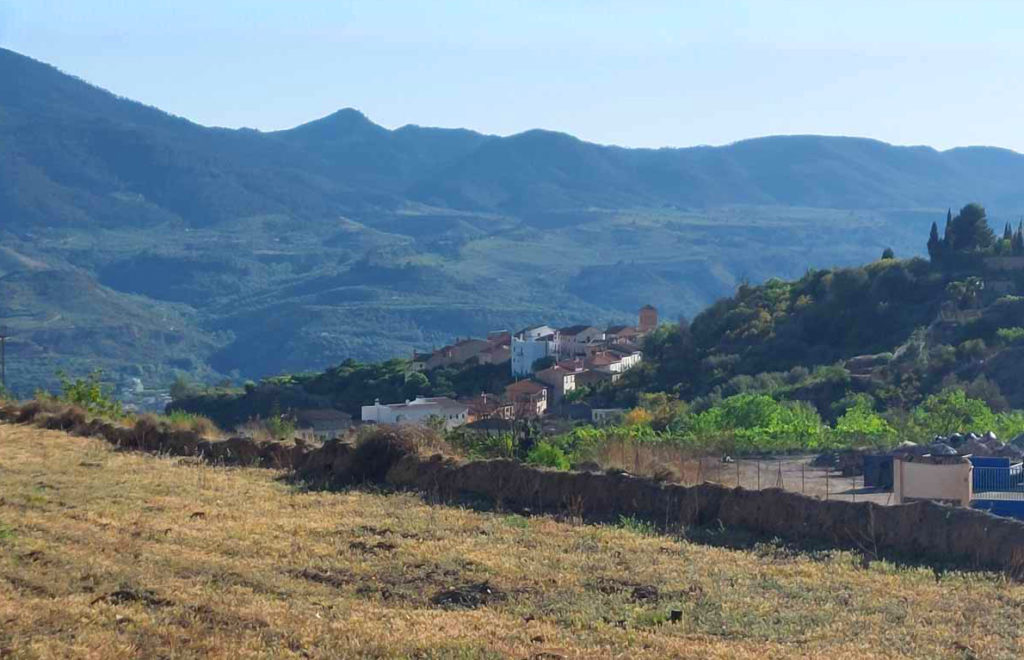 ---
---
What do you do to keep busy in Saleres? Do you ever get bored? What is the charm of it for you?
When we were considering buying here, we were a little worried we might get bored. Karol is from Lima, a city of nearly 10 million, and I'm from the commuter belt of Kent, UK, just 40 minutes by train from London Charing Cross.
However, what you lose in size, you gain in intimacy. We have met more people in the Lecrín Valley in eight months than we had in Madrid in eight years.
---
---
What are the attractions in the region? I know Granada is only 30 minutes away. Are there any other places you like to go (or that you recommend to guests for a day trip?)
The beaches of the Costa Tropical are only 25 minutes down the motorway, and the Sierra Nevada ski resorts are about 50 mins drive. You can ski and sunbathe the same day!
From Saleres you can walk to pretty much all the other villages in the Lecrín Valley, all of them paradise for photographers.
Albuñuelas is five mins away by road, at the end of a winding lane that winds its way over a crest of a hill that splits the valley in two, with one side cascading into the shady Barranco de la Luna (a fantastic, stream- filled hiking spot decending down rocky platforms where the water comes up to your knees) the other side hosting the spectacular,orange- scented Albuñuelas gorge which dominates the valley.
The GR7 walking path also leads through the gorge to the aforementioned village, so if you want to take things slowly, you can take a ramble to the Moorish Barrio Bajo of Albuñuelas which clings to the side of the gorge, rising up out of it, and offering views of scented pine forests over smokey chimney pots. Its narrow winding alleys are of another age, and donkeys are more common than cars.
'La ruta del Azahar' leads from the Melegís viewpoint (where you can see Pinos del Valle, Restábal and Saleres laid out like an Instagram reel under the seven or so forested peaks which seperate the Lecrín Valley from the mountain villages of Los Guajares, Lentegí, Otivar, and the Costa Tropical)
This path leads to Mondújar and eventually Nigüelas, right at the foot of the Sierra Nevada. Walking there will take you alongside a tree-lined stream, through orange groves with green grass, just crying out for a picnic stop.
The area has star-filled skies, and we've seen a few meteors and comets. Local legends also mention a 'strange moon' (La Luz de la Rambla) which might be seen in the hills above one of the villages, accompanying walkers on their return from the fields along the Santo River.
The wines of the area are pretty great in my opinion, even though it's not really a noted area. There are extensive vineyards around Cozvíjar, as well as in the Costa Tropical around Otívar.
There are vines growing along the front of many village houses, including ours. What more could you ask for?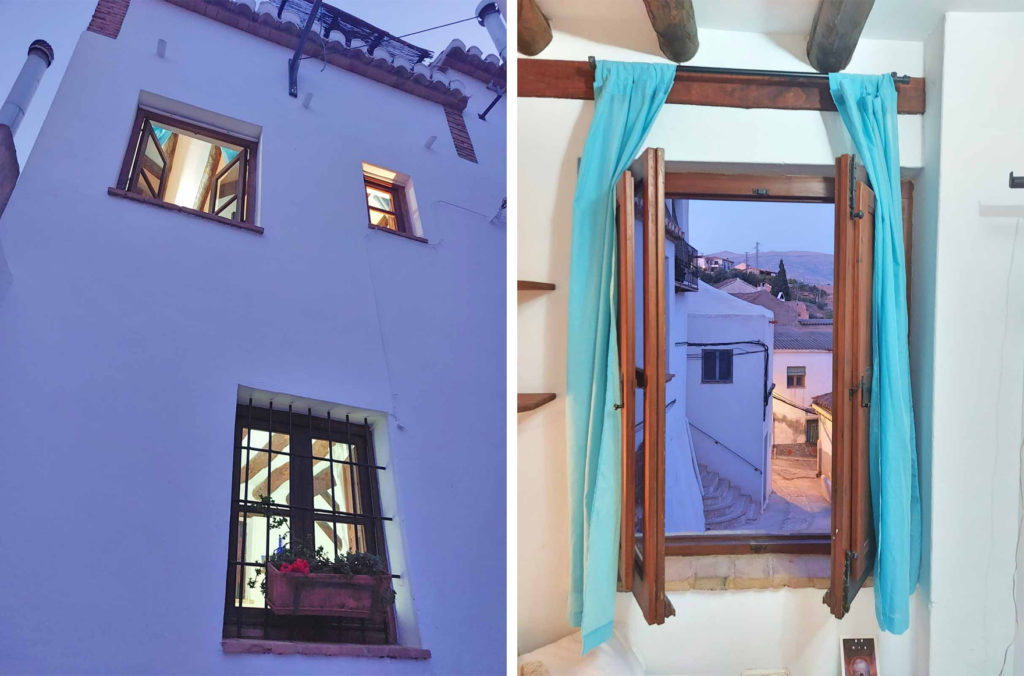 ---
---
How was your adaptation to living in Spain? Do you speak Spanish? Were locals friendly when you moved to Saleres? Any culture shock?
I didn't speak a word of Spanish when I arrived in the pueblos of Córdoba as a 23-year-old just out of university. Fortunately, I lived with an american guy who was an old hand in Andalucía. In Spain, if you're living outside the expat zone, you just have to learn.
Later, in Cádiz, I lived with Brits, Colombians and locals, not all of whom spoke English. I had to adapt.
Working in Spanish companies and Spanish-run English academies with 'local' teachers really helped – as did writing student reports and communicating with parents in the language.
Luckily, I came to Spain not long out of my teens and adapting to the language was relatively easier than if I'd been a few decades older. I've been pretty much practicing 'total immersion' since I came here.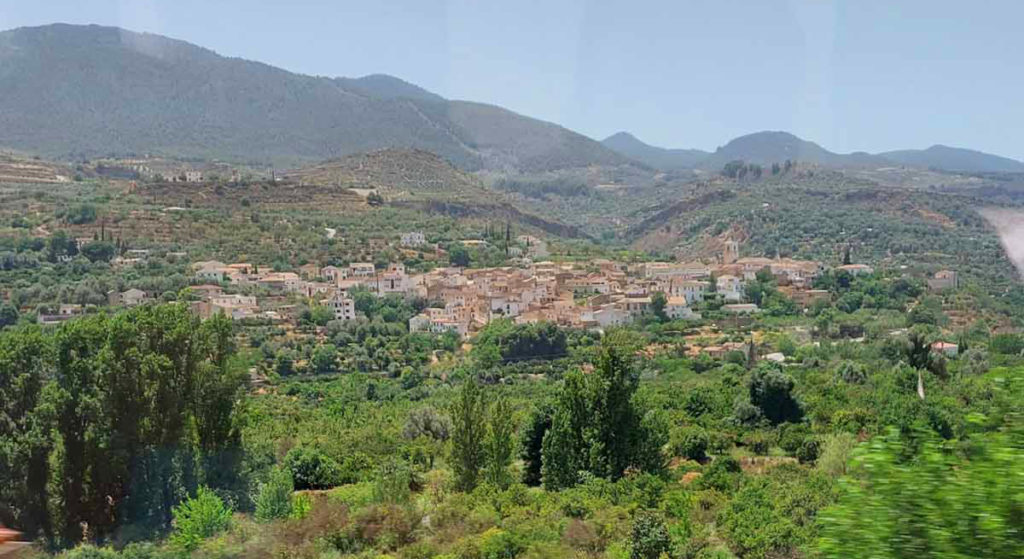 ---
---
What do you think the future holds Jon? Do you think you'll still be in Saleres 10 years from now?
I'm sure we will. Our lives are here now. Property is still great value and we see other options where we can invest in the future.
I also love photography and enjoy nothing more than spending an afternoon capturing the spirit of the valley on film. The countryside is truly dramatic and I've even been inspired to paint some of it.
Spain is home now.
Thank you for doing this interview Jon!
Join Our Newsletter
If you haven't subscribed yet and want to get our posts sent to your email, just insert your email address below. It's free!