What's it like living in the Canary Islands?
I love this interview because Sheila does such a great job describing a place I've been very curious about.
In this interview Sheila talks about living in the Canary Islands. She covers what led her there, the extraordinary beauty (and variety) of the islands, the unique climate and fauna and the cosmopolitan mix of its residents.

Even if she doesn't convince you to want to live on the Canary Islands, reading this interview will make you at least want to visit this beautiful archipelago of islands.
---
Name: Sheila Wilson
Age: 67
Country of origin: UK
Number of years in Spain: 11
---
Hi Sheila! Tell me about yourself and how you ended up moving to the Canary Islands
I was brought up as a Francophile and a Europhile. We had very few holidays in the UK; instead we would get a ferry to Calais and then a train or a cheap charter flight somewhere, but never a package holiday – we always went "native". I later married John, who was soon as much in love with France as I was. We both worked for Shell and were expatriated to The Hague in 1993 with our seven-year-old son. Our Great European Tour had begun!
Three years later, John having "retired" at the grand age of 47, I achieved my life ambition when we moved to the south of France, where I went on to spend 15 years as a self-employed business English trainer and translator. We were all set to end our days there: I had a fulfilling career, John was the president of an aeromodelling club and was providing the music for a campsite each summer, and our now-adult son had settled down in Brittany.
But then we visited Fuerteventura for a one-week holiday and it was love at first sight. We snatched quick visits to the beach while house-hunting, and put a deposit down on a tiny bungalow on day six. There followed three chaotic months as we crammed Spanish, found tenants for our French house, and sold or junked 75% of our possessions. I also had to close down my business and set up a Spanish one. I'm happy to say that the cat coped very well with the three-day trip to Fuerteventura and I lost just one client in the move.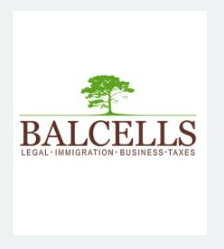 Need help with your immigration needs? Contact Marta at Balcells Group. She handles it all, whether it be a Spanish non-lucrative Visa, Golden Visa, Digital Nomad Visa, Work Visa etc…. More detail here
I know little about the Canary Islands and even less about Fuerteventura. Can you tell me a bit about the different islands and why you chose Fuerteventura as a place to live?
I would say that Fuerteventura chose us! Or rather, it was the town of Corralejo that chose us. We'd heard from musician friends in France that it was the place to go for live music, and it's so very true. The vibe for us is all about live music, which you can find in over ten venues, while those that prefer karaoke or DJs are well catered for too. I think music is everywhere here because there are so many different nationalities to entertain and music really is an international language. Some casual onlookers think the town is full of Brits, but what they're really finding is that everyone is speaking English as the lingua franca. As an example, a four-piece band here is often made up of four nationalities.
Fuerteventura is the oldest Canary Island and all our volcanoes have been eroded right down to their cores. They are fascinating for geologists and for those of us who can appreciate beauty in a landscape that isn't predominantly green and blue. Each volcano has a different mineral content and those minerals provide a range of hues – reds, browns, yellows, even greens – that alter as the sun passes overhead. It's a breathtakingly beautiful island, in my opinion.
One word that sums up the Canaries is "variety". Even on my own island, known for its many beautiful beaches and its tranquillity, there's a big difference in the atmosphere between the north, centre and south. That's also true of Tenerife and Gran Canaria, where the north has historically been developed by the locals, the centre is very rural, and the south has been largely given over to mass tourism. Lanzarote, meanwhile, is a small island with a lot going on and lots to discover. No development of any kind has happened on La Graciosa, the eighth and newest Canary Island off the north coast of Lanzarote, where the roads are made of sand and used by just a few 4WD vehicles, and there's a distinctly '60s atmosphere. La Palma and La Gomera are very green, covered with crops and forests, whereas El Hierro, the youngest island, is rocky and quite barren.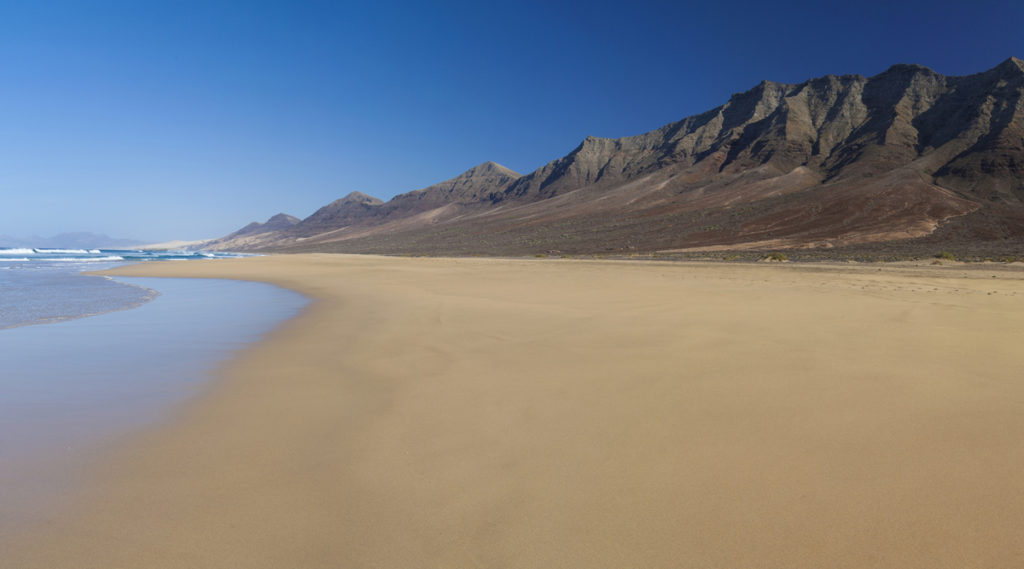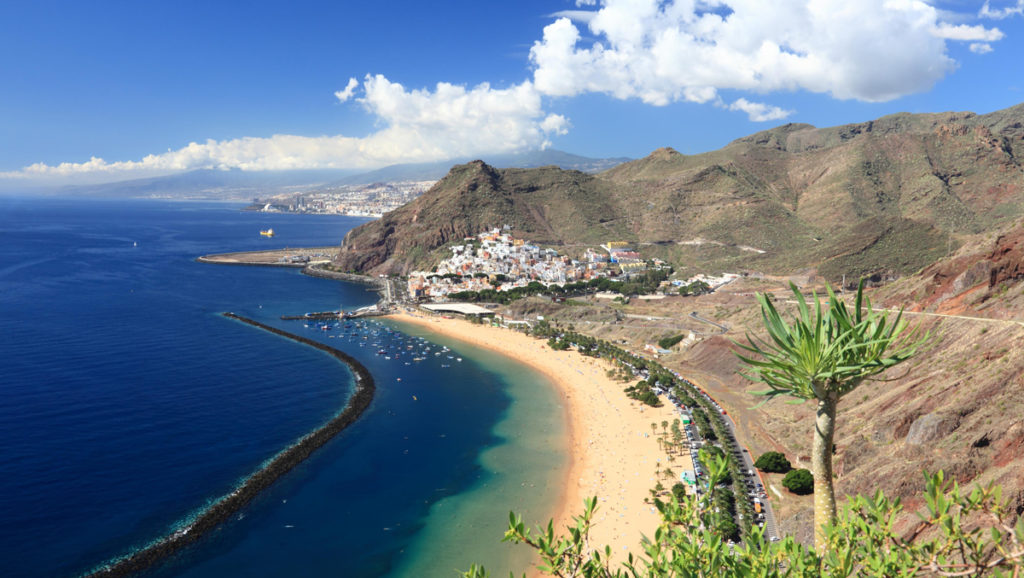 ---
---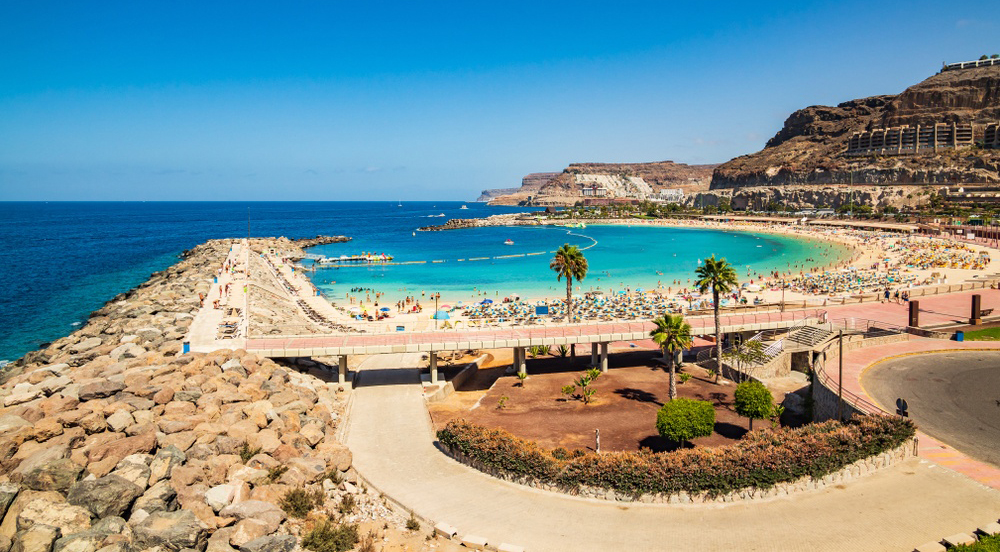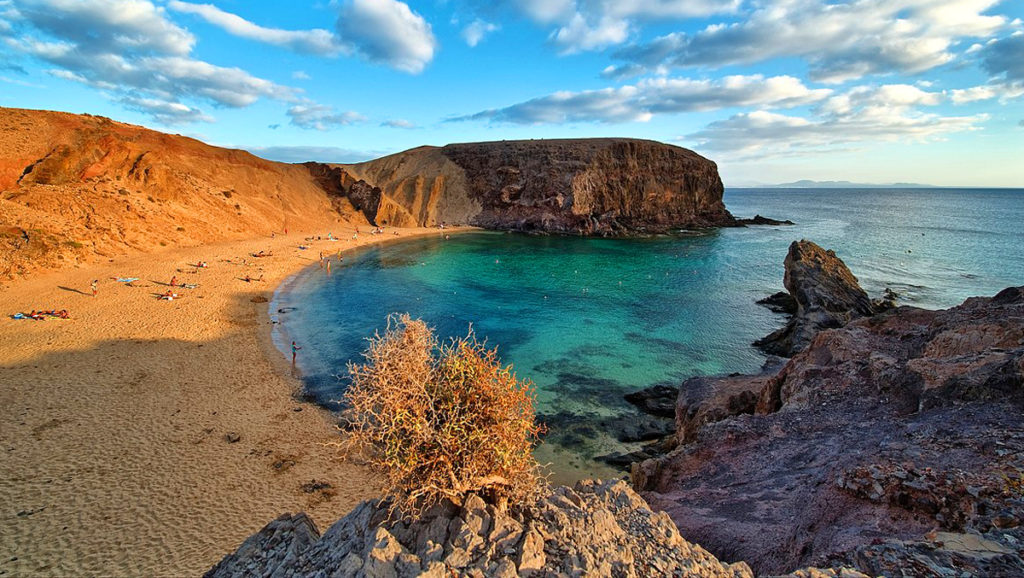 What do you do to keep busy in Fuerteventura Sheila? Can you give me a snapshot of your daily life?
Until two years ago I was busy working. I retired at a bad time, while we were still very much restricted by the pandemic, and I felt quite lost and bored. But then a badminton group was set up, rekindling my youthful love of the game. Through that, I got involved in pádel. I hear this game, which is a cross between tennis and squash with its own peculiarities, is now becoming established in the UK and the US but it has its roots in the Spanish-speaking world and is very big here. I now play about six hours a week and am quite likely addicted to it. Learning Spanish is still work in progress unfortunately, as English is used so much here. But it's the evenings when I really come alive, being a night owl. I love to go into town for a meal and some live music. A typical Sunday is lunch in town followed by an afternoon gig, with me dancing wildly to a heavy rock band (yes, I'm well aware that that's inappropriate behaviour for a 67-year-old!), then another restaurant meal and another music gig before a midnight taxi home. It's a hard life, particularly as I have two hours of pádel from 9 a.m. Monday morning!
---
---
Do you have a lot of expatriates moving to Fuerteventura? Where do they come from? Is there a "particular type" of expat who chooses Fuerteventura as their place of residence?
The municipality that covers the north of the island is the most cosmopolitan in Spain, with 50.1% of the population at the last census declaring a non-Spanish nationality and a total of 92 nationalities represented. Local schools reported over 45 languages being spoken by pupils. It really is a melting-pot here. As committed Europeans who speak three languages, we really appreciate that aspect of local life. Latin American countries are well represented here, as they are throughout the Canaries. In fact, many Canarians feel far more kinship with Latin America than mainland Spain. Also well-represented are Europeans, both from our main tourist bases in Western Europe and also from further afield, e.g. Bulgaria, Hungary and Croatia. Fuerteventura being a really chilled, laid-back place attracts lots of ageing and new-age hippy types with their hand-made jewellery and other crafts, art and sculpture, yoga and meditation, veganism, and music. The ever-present wind and accessible coastline attracts surfers and divers. And the beaches, the superb climate, and the affordable lifestyle attracts retirees from all over the north of Europe.
Fuerteventura is an exceptionally tolerant place. Everyone is welcome here – all nationalities, as said, but also all types of people. There are lots of ageing hippies; Rastas; new-age travellers and digital nomads; musicians, sculptors and artists; LGBT+ members of the community; and naturists. You will find many naked sunbathers on the beaches, although there isn't actually a single nudist beach here. As allowed by the Spanish law of human rights, everyone has the simple right to be naked in public. On Fuerteventura this means that all beaches are officially "clothes-optional", where tolerance is expected by all and naturist sunbathers rub shoulders with "textile" ones (textiles being the naturist tag for non-naturists). You'll see I refer to naturists rather than nudists. This is because some people simply like to get an all-over tan, whereas many people on Fuerteventura adopt a lifestyle that is very much in tune with nature: clothes-free whenever weather and circumstances permit, accepting of their own and others' bodies, and respectful of the planet and all its life forms. For those who are frankly appalled at the idea, you can rest assured that there are places where you won't face nudity. Beaches within town limits or directly behind textile hotels are, by unwritten rule, reserved for textiles, although this is a very small percentage of the total beach area of the island and it excludes all the most beautiful stretches.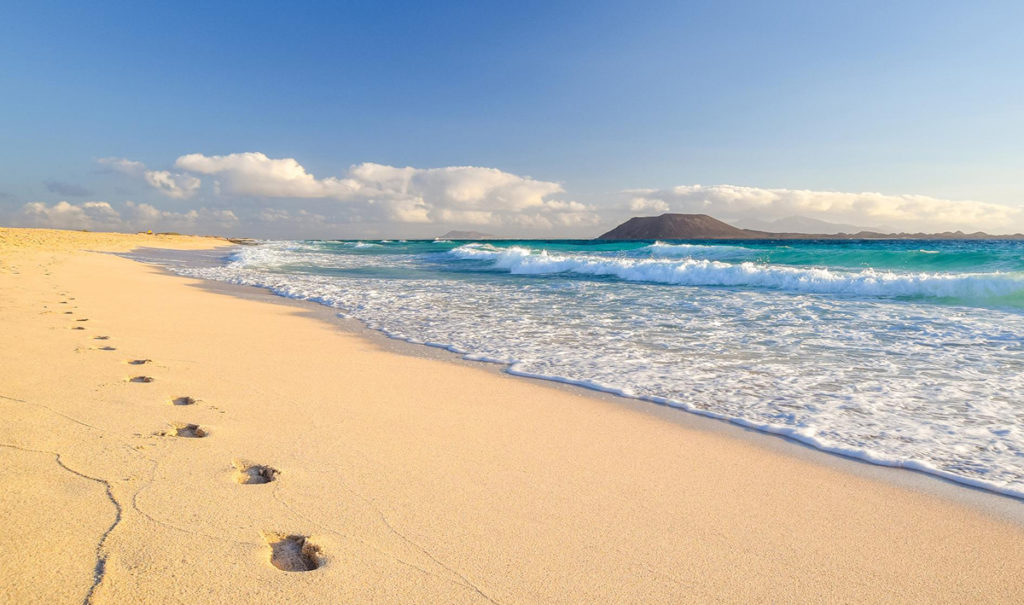 ---
---
What is the weather like in the Canary Islands? Is it dry? Humid? Any particularities that differentiate it from mainland Spain?
The Canaries enjoy a sub-tropical climate that's very different from anywhere on mainland Spain. They have long had the nickname "The Archipelago of Eternal Spring". There are winter snows high on Mount Teide, Tenerife (incidentally, the highest mountain in Spain), but the coastal areas never really experience winter weather. Around the coast of Fuerteventura, we never see temperatures below 10°C, and the island never experiences snow, frost, sleet, etc, although we do occasionally have hail that lasts for a few minutes. Most "winter" days the temperature manages to reach 20°C and a day when it only gets to 16°C is going to be complained about for years.
On the other hand, unlike southern Spain, we rarely experience extreme heat either. There's a phenomenon called a Calima that in summer might raise the temperature to as high as 40°C for a few days. It's a wind straight from the Sahara that's laden with dust. It turns the island into a greenhouse, with just a hazy sun, stifling temperatures and a very dusty atmosphere. But some summers we don't have any Calimas and the maximum temperature can be a steady and very pleasant 26°C for weeks on end.
The eastern islands of Lanzarote and Fuerteventura are very dry and desert-like, whereas the western islands have more rain, with La Palma being covered in forests. Tenerife and Gran Canaria have complicated climates, with a northern area of variable weather, a mountainous and very fertile centre full of micro-climates, and an arid, sunny south.
The explorers came across the Canaries because they're bang in the path of the Trade Winds, the winds that blew Columbus's ships to the Americas. We rarely have flat calm days, but it's not always blowing a gale either. In fact, it's very welcome most of the time, as it stops you feeling the full force of the African sun. And it does make for ideal conditions for board sports. The World Championships for kite-surfing and wind-surfing are regularly held here.
---
---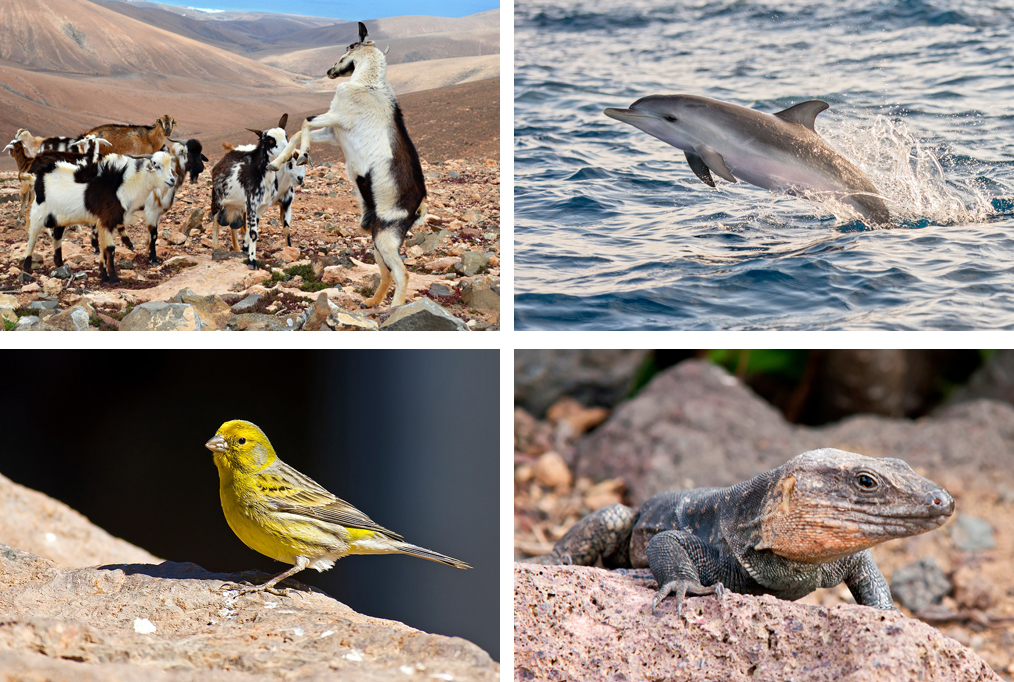 You are on an island and closer to Africa than to Spain. I imagine you have amazing nature and wildlife? Please give me a visual of what your environment looks like.
We are indeed closer to Africa than mainland Spain — the coast of Western Sahara is just 100 km from Fuerteventura, while the distance to the Spanish mainland is well over 1,000 km. Our climate is officially semi-desert and there are very few trees outside irrigated areas, just sparse scrubland. Far too intensive farming a few centuries ago coupled with strong winds and a series of droughts have conspired to rob the island of most of its soil. Even though there isn't a lot to eat, the local goats manage to find something edible everywhere. With its population density being just 45 inhabitants per square kilometre, there are more goats than humans here!
Next to them, the most common land animals are Barbary ground squirrels and geckos. The geckos are sweet as they cling to you with their suction-pad feet, enjoying your warmth. They sometimes share your home too – if you see black-and-white blobs on a wall you know there's a gecko in residence. I can't identify most of the birds, but we have several endangered ones, including our emblematic houbara bustard and the Egyptian vulture, which I believe no longer exists in Egypt but is recovering quite well here. We've seen the latter circling over our housing estate – it's quite eerie to be spied on by a vulture while you sunbathe. In the sea, we have a lot of endangered marine life, much of it unique to the area, so fishing and boating activities are closely controlled by UNESCO. We have plenty of turtles and dolphins and the occasional migrating whale. We're lucky in not having a great deal of "nasties" – no snakes and no giant or deadly insects – although you do have to learn to live with the odd cucaracha (cockroach) as they are endemic here.
---
---
I know there is a lot of tourism in Fuerteventura. What is the main reason people come here? What would you suggest to anyone visiting?
Tourism is by far the biggest income earner on the island, with only goat's cheese and aloe vera products as back-up. People come here for water-sports, hiking, sport training and simply to relax. We do have some elements of mass-tourism, such as all-inclusive hotels, but there aren't the number of tourist coaches that you get on some of the other islands, and there's just one water park and a zoo to visit – no other theme parks. Generally speaking, the island attracts more independent-minded tourists who hire a car and explore on their own. That's what I recommend – "go native", find your own favourite restaurants and your own spots on the beaches, explore the island on your own and enjoy the solitude, kick back and simply relax.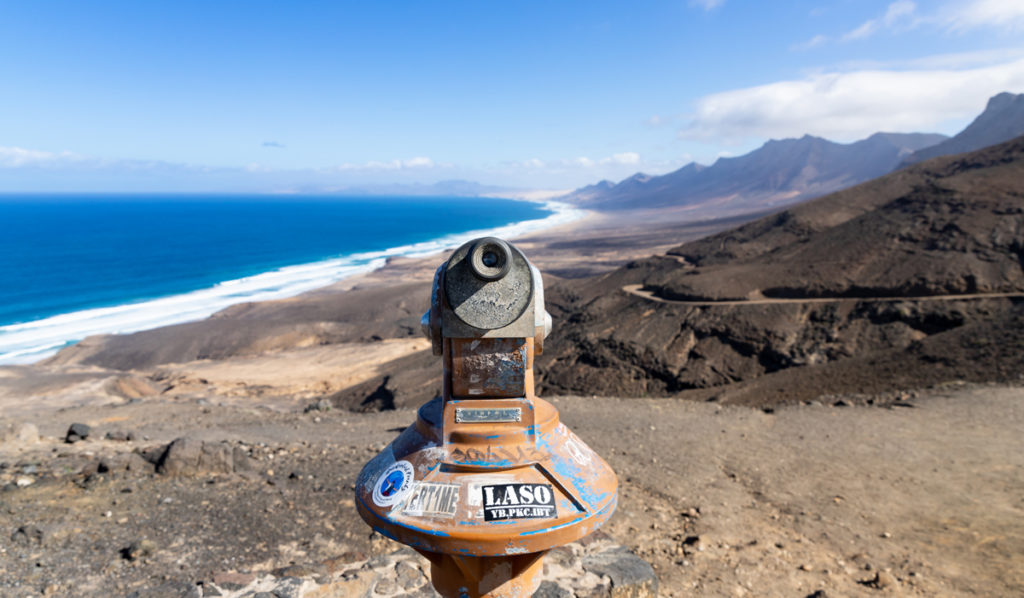 ---
---
Do you ever feel a bit isolated there?
I suppose it would be easy to feel isolated and I certainly know now what's meant by "island fever". After all, in two hours you can comfortably drive from top to bottom, and east to west coast is about a 20-minute drive. But we have a good ferry service and a couple of airlines for inter-island hops, and there are both ferries to the mainland and a wide range of national and international flights. The Spanish government think we are disadvantaged by being so far from Madrid, so they give us a 50% discount on all travel to Spanish destinations, and the Canaries government chips in another 25%, so there's really no need to stay all year on one island. The only time I feel isolated is when I need something that's unavailable on the island and nobody seems willing to ship it here for an affordable sum.
Where do you see yourself in the future? Do you think you will always be in Fuerteventura?
After the sudden decision that brought me here, I'd be daft to say I'll never leave. I will certainly never go back to the UK – that's for sure. Brexit (a swear word in our household) has made me feel an outcast as they didn't even see fit to allow me a vote in my own future. It has also made it more difficult to move anywhere else in the EU, but I could one day go back to France, or move on somewhere new. However, for the moment we're both very happy here.
Thanks for doing this interview Sheila!
Want to be interviewed on Mapping Spain? If so send us an email or leave a comment
Join Our Newsletter
If you haven't subscribed yet and want to get our posts sent to your email, just insert your email address below. It's free!