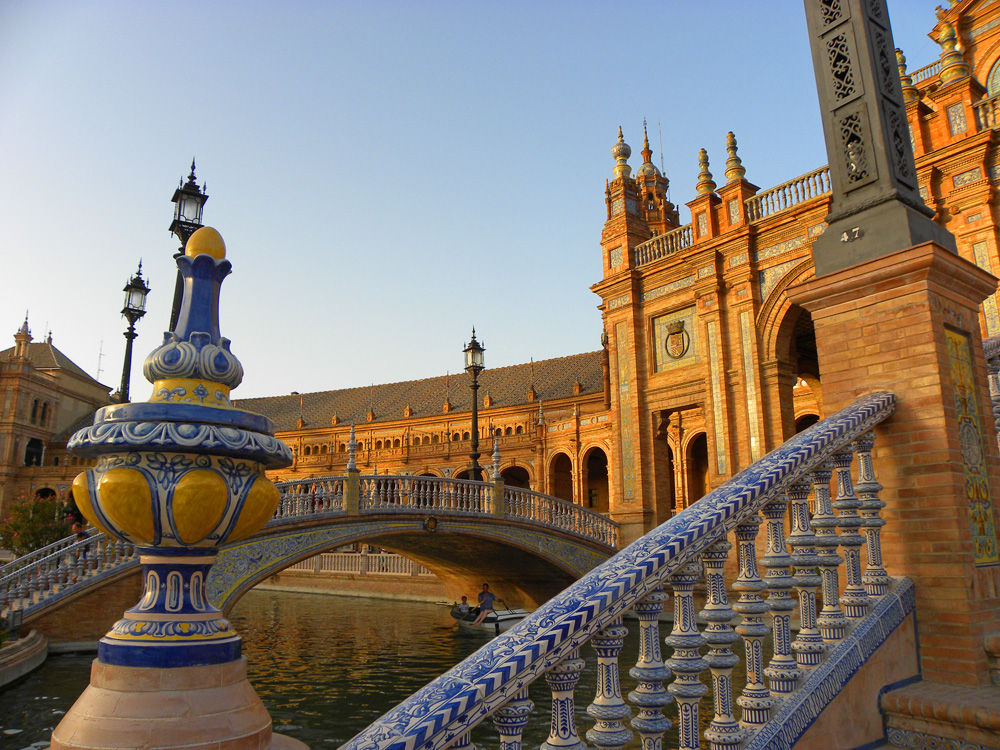 Plaza de España – one of Seville's highlights
Plaza de España is one of Seville's top highlights, in fact it falls in what I call the "Top 3" of highlights in Seville (along with the Cathedral and Real Alcazar). This huge, semi-circular building was built in 1928 for the Ibero-American Exhibition of 1929 (Expo 29). It incorporates different styles of Spanish architecture and has a canal and four bridges in front of it (you can rent small boats to row the canal). Some call the Plaza "the Venice of Seville". It is a beautiful site and has been featured in different movies including Star Wars, Lawrence of Arabia, and as the presidential palace in Sasha barn Cohen's El Dictador.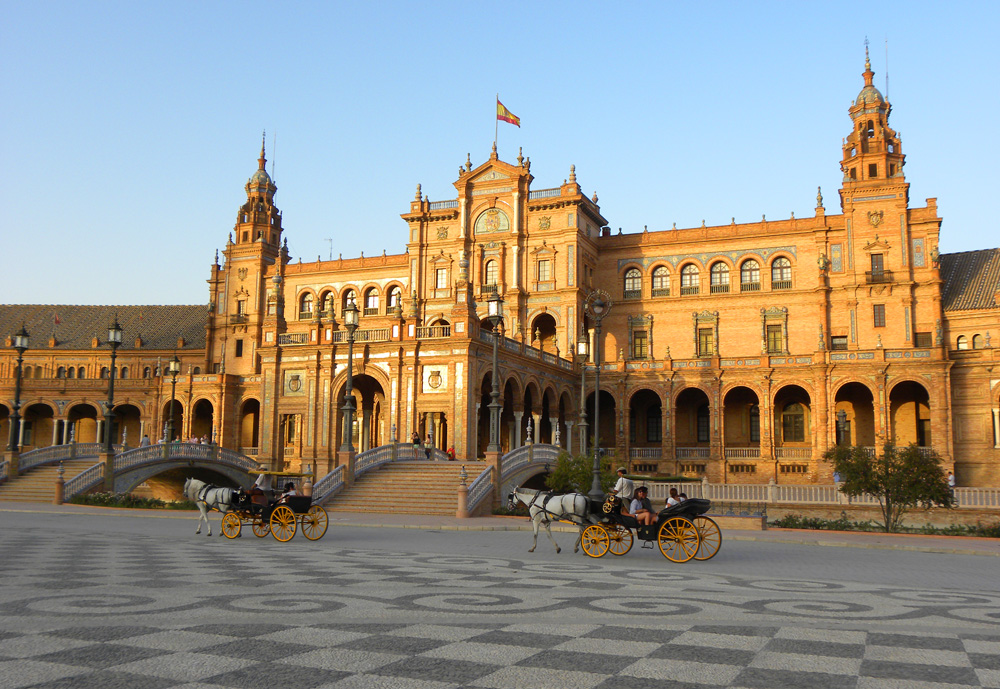 ---
---
The highlights of Plaza de España
The building has two high towers on either side of the building which can be seen from most spots in the city. One of the most beautiful features of the building are the tiled alcoves (each with a bench) that feature colourful murals of Spain's provinces*.
*There are 50 provinces in Spain but only 48 alcoves – that's because: a) the Canary Islands only had 1 province in 1928 (it now has two: Gran Canaria and Tenerife), b) Seville province is not represented because it is featured in other murals around the building.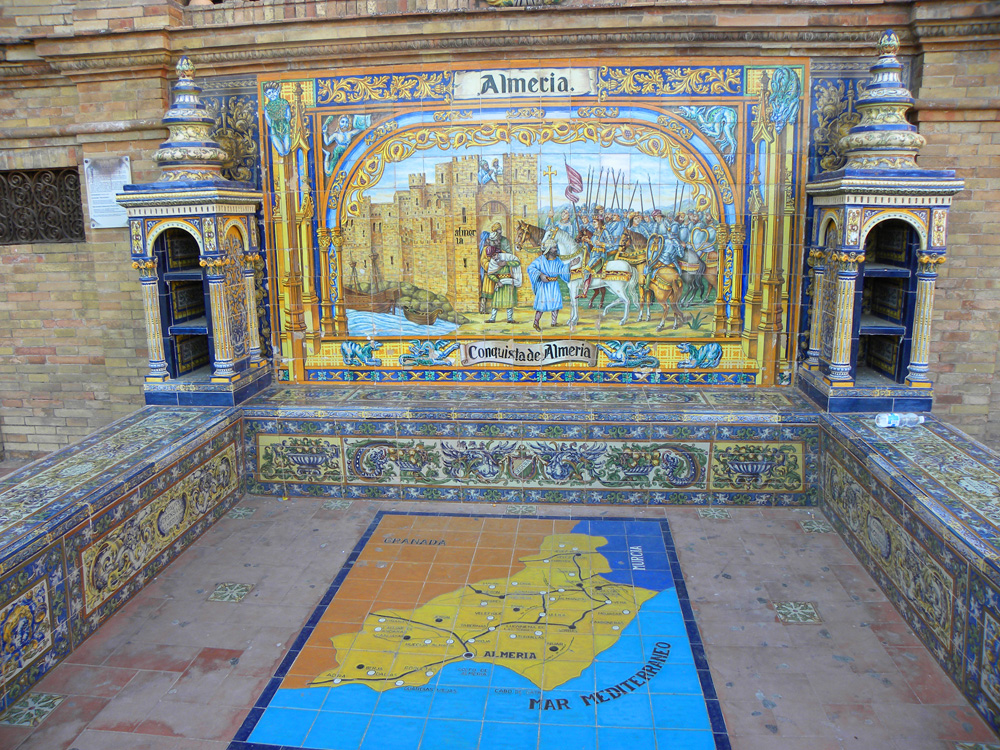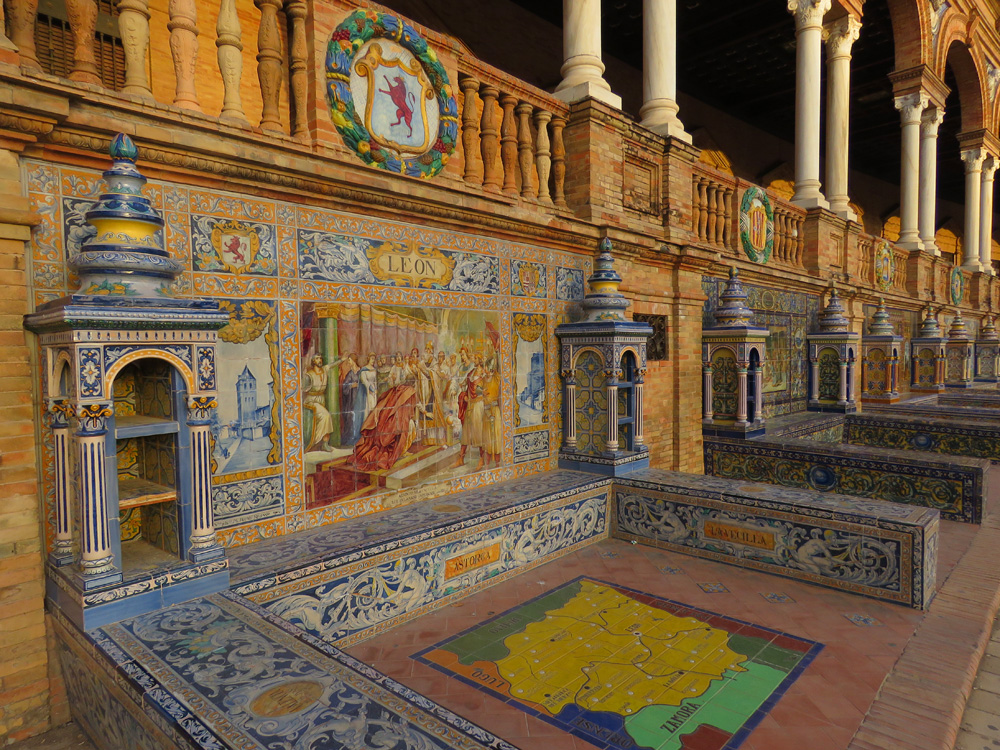 ---
---
The four bridges that connect the building to the huge square in front of it represent the 4 ancient Kingdoms of Spain: Castile, Aragon, Navarre and Portugal.
While the sheer size of the building (and the square surrounding it) are impressive, what really awed us was the tilework (or azulejos). You'll see it in the alcoves featuring the various provinces but also along the framing of the building and along the railing of the bridges.
---
---
---
---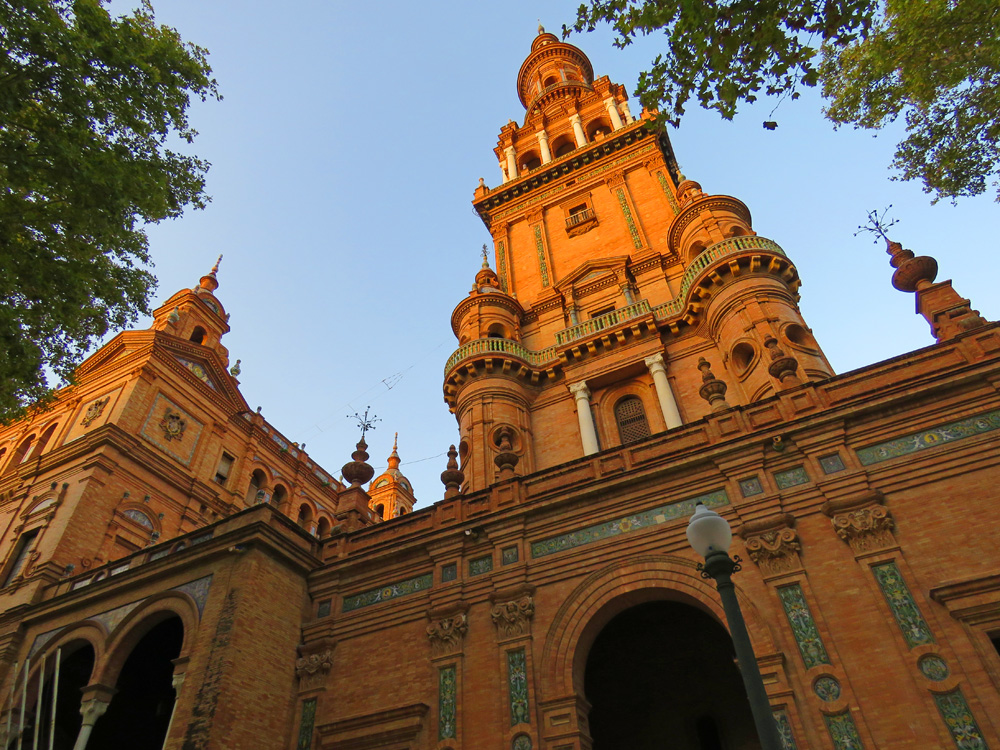 What to do at Plaza de España?
1) walk the plaza, cross the bridges, see the 48 provincial alcoves. Go up the steps to the 1st floor of the building's balconies. It's all very picturesque (and free).
2) you can rent a boat and row around the canal for another perspective (cost 5 Euros for 45 minutes)
3) Plaza de Espana is a popular starting point for a horse carriage ride around Seville (usually about 45 Euros for a 40 minute ride)
4) Have your photo taken wearing a typical Andalusian outfit.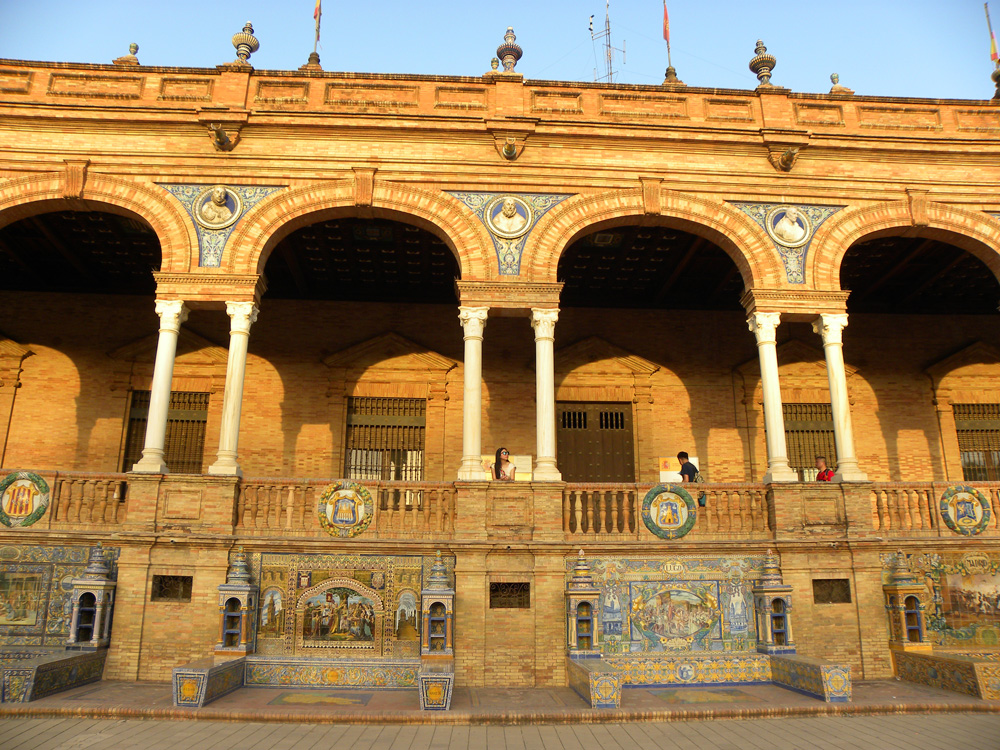 ---
---
Plaza de España is touristy but it is also a favorite spot for locals (also because of its location in Maria Luisa Park. More on that below).
Where is the Plaza de España?
Plaza de España is at the northwestern edge of Maria Luisa Park, a 15 minute walk from Seville's old quarter (where you'll find Seville Cathedral and the Real Alcazar).
It is also worth continuing further into the park after exploring Plaza de España. Maria Luisa Park is beautiful and you'll see a lot of plants, flowers, and parrots. At the end of the park is the Archaeological Museum which is a great (and inexpensive) place to visit on a hot day.
Accommodation in Seville
A few recommendations: Hotel Fernando III (spiffy hotel with pool, great location, nice views. Good value). Hotel Alminar (superb hotel with fantastic location). Budget options: Hotel Goya (nice little place, great location. Fantastic value for money) and For You Hostel Sevilla (one of the nicest laid out hostels you'll find anywhere. Really superb).
Join Our Newsletter
If you haven't subscribed yet and want to get our posts sent to your email, just insert your email address below. It's free!