The Top Things to Do in Barcelona
Barcelona is one of the most touristy cities in Europe. If you like modernistic architecture, great restaurants/bars, and a vibrant culture that's different from any other place in Spain then you should visit Barcelona.
In this post I'll cover the Top things to do in Barcelona, where to Stay, and I'll give you a recommended itinerary.
So what are the top things to do in Barcelona?
There's a ton to do in Barcelona and chances are you won't see everything. You have to prioritize. I'll be honest – some of the tourist sites in Barcelona are insanely expensive to the point of extortion (35 Euros to enter Casa Batllo? I would never pay that).
Here are what I think are the Top things to Do/See in Barcelona:
1. Modernist architecture
Barcelona is known for its modernist architecture, most of it located in L'Eixample Neighborhood (more on that further down). Many people come to Barcelona just to see Modernist architecture. And nobody is more famous in Catalonia than Antoni Gaudí. Gaudi is everyone's favorite Catalan architect and his projects are some of the most touristed attractions in Barcelona: Casa Batlló, Casa Milá, Park Güell, the Sagrada Familia (which I'll discuss separately below). And they're not cheap:
Basic entry fee Gaudi sites (2022):
Casa Batlló 35 Euros/per person
Casa Milá, 25 Euros/pp
Park Güell, 10 Euros/pp
Sagrada Familia, 26 Euros/person
If you're going to pay to enter these sites you'll be poor before you know it. Honestly, the only one I would pay for is the Sagrada Familia and maybe Park Güell. Casa Batlló and Casa Milá can (and should) be seen from outside on the street.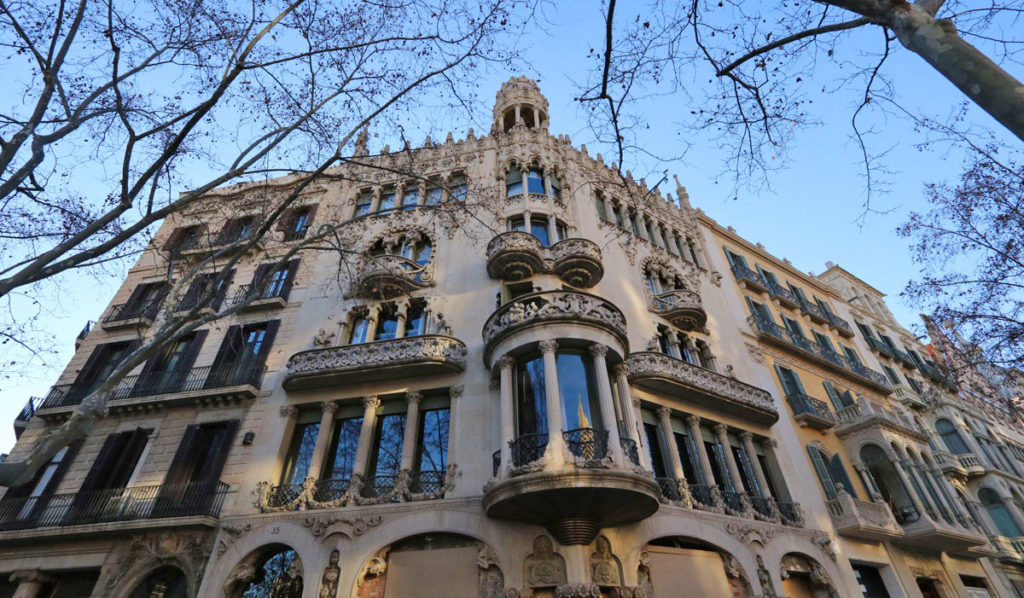 ---
---
Lesser known than Gaudi is Lluís Domènech i Montaner. He is/was Barcelona's 2nd most famous architect and we actually enjoyed his work more. Hospital de la Santa Creu i Sant Pau and Palau de la Música Catalana are both magnificent and are both sites worth visiting.
Basic entry fee Domènech i Montaner sites:
Hospital de la Santa Creu i Sant Pau 16 Euros/per person
Palau de la Música Catalana 14 Euros/pp
Casa Lleó Morera* closed for visits
*Casa Lleó Morera is on the same block as Gaudi's Casa Batlló. Also there is Casa Amatller by Puig i Cadafalch. The 3 highlight a block called "mansana de la discòrdia" (block of discord) in the center of Barcelona. While I wouldn't pay to enter these buildings they should definitely be seen from the outside. Besides anything else, Passeig de Gràcia (the main boulevard here) is one of Barcelona's most beautiful avenues.
---
---
2. The Sagrada Familia
Barcelona's most touristed site and Gaudi's most famous project. I wrote about the Basilica in detail here: The Sagrada Familia – Love it or Hate it?
Whatever you think of it, Sagrada Familia should be seen. At 26 Euros/pp it's not cheap though.
3. Las Ramblas/Boqueria
Las Ramblas (also know as La Rambla) is one of Barcelona's most famous attractions. It's a 1.2 km pedestrian walkway that takes you from Plaça de Catalunya (Barcelona's main square which is considered to be the city center) down to the Columbus Monument at the port.
Walking Las Ramblas you'll see little bars/restaurants, souvenir stores, a few churches and other historic buildings, and plenty of life. I won't lie: some of it is pretty seedy especially later in the day. I also don't quite understand what's so special about Las Ramblas but it's the place to stroll in Barcelona so what do I know…
---
---
La Boqueria is a market just off Las Ramblas. It's a very colourful place with everything you could expect in a market and it's very popular with tourists. It's the Barcelonian equivalent to Madrid's Mercado San Miguel: busy, colourful, touristy, expensive and not always of great quality (we made the mistake of buying a couple of empanadas here. The worst we've had in Spain). Still it's worth having a look at.
Las Ramblas also leads you from Barcelona's Eixample district (the more modern part of the city) down to the Ciutat Vella district (the older part of the city made up of neighborhoods like the Gothic Quarter and El Born, both neighborhoods to be seen).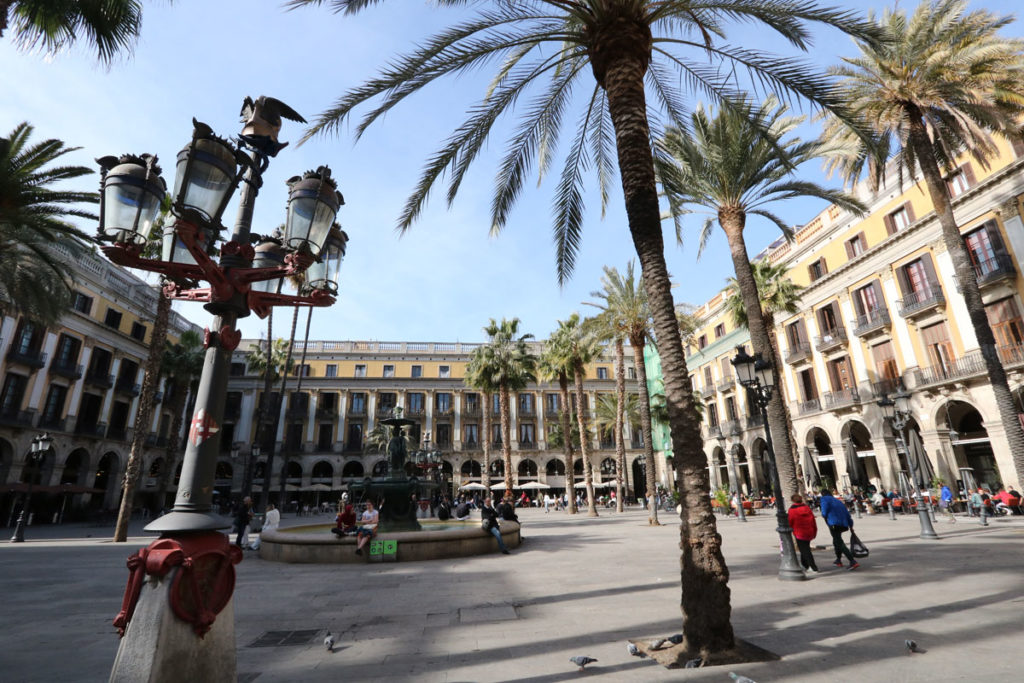 Towards the end of las Ramblas, hidden away, is Plaça Reial. It's the prettiest square in Barcelona and it's worth coming here and having a drink on the square. Note: the street lamps in this square were designed by Gaudi, one of his first work projects.
---
---
4. Gothic Quarter
The Gothic Quarter dates back 2000 years. Lots of history here and you can spend a day just wandering the streets.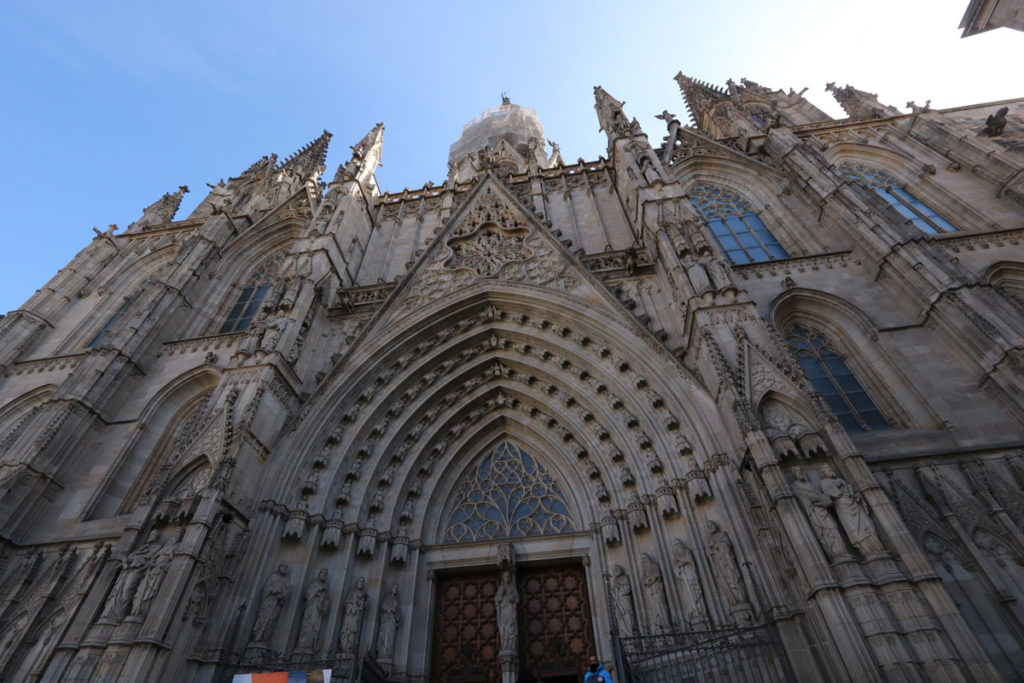 Highlights: The Gothic Cathedral (ie. Barcelona Cathedral. Cost 9 Euros), Plaça Reial (which I mentioned above), The Basílica de Santa Maria del Pí, Plaça de Sant Jaume, Plaça del Rei, and Plaça de Sant Felip Neri. There's lots to see including remains of a Roman Aqueduct, old fountains, and little hidden away churches (you'll see some in the video above).
5. El Born District
Just next to the Gothic Quarter, El Born is more residential and filled with tapas bars and little streets. We were told by our friendly Hotel manager that this is the area to come for tapas and wine.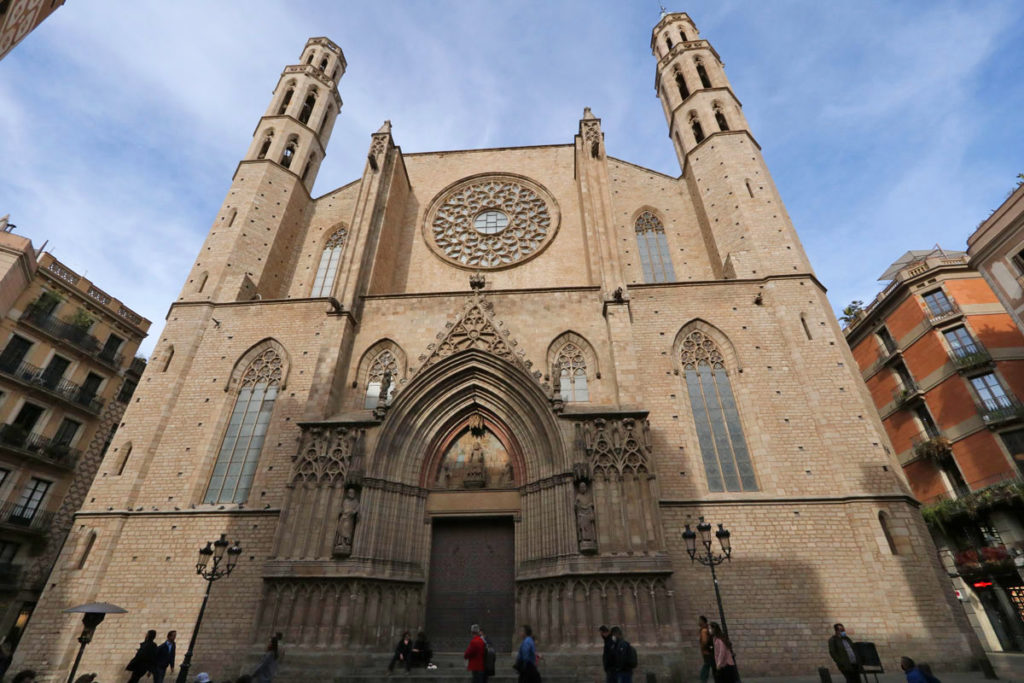 Highlights: Basilica de Santa Maria del Mar (free), the Picasso Museum, Palau de la Musica Catalana (which I mentioned higher up as being one of Domènech i Montaner's famous works), Mercat Santa Caterina (a much quieter, much more local market than La Boqueria).
---
---
6. L'Eixample Neighborhood
This is the most modern part of the city, filled with large boulevards, beautiful 19th century architecture, pedestrian streets (Rambla de Catalunya) and lots of glitzy stores, sidewalk bars and restaurants. You'll find much of the Art Nouveau/Modernist architecture that I mentioned off the top. But forget Gaudi, Domènech i Montaner, and Puig i Cadafalch – just walking the streets you'll see tons of stunning architecture.
L'Eixample was by far our favorite neighborhood and brought visions of Paris and Prague. Just beautiful.
---
---
Barcelona suggested itinerary
I've listed a bunch of things that you have to see. Here's how I would plan a stay in Barcelona:
Day 1. Walk around L'Eixample Neighborhood (and stay in the area. I'll give a recommendation below). Explore some of the famous architecture – Casa Batlló along with Casa Lleó Morera and Casa Amatller (all on the same block). See Casa Milá which is further up the street. Wander down Passeig de Gràcia to Plaça de Catalunya. Stroll up Rambla de Catalunya, having a drink somewhere and watching all the well-dressed office workers. You can easily fill up a day doing all the above.
Day 2. Sagrada Familia, Hospital de la Santa Creu i Sant Pau, Park Güell. They're all quite close together. Start with Sagrada Familia and give yourself about 2 hours. After, walk to Hospital de la Santa Creu i Sant Pau (about 10 min away). Give yourself about 2 hours there as well. Park Güell is about 30 minutes away from there: we walked 10 minutes up the hill behind the hospital to Rda Guinardó (there's a bus stop there). Take the H6 bus for 3 stops (about 10 min). Then walk about 10 minutes up the hill to Park Guell. Pre-buy all your tickets online.
Day 3. Explore Las Ramblas, Boqueria, the Gothic Quarter and El Born District. That's a very full-day. If you have more time in Barcelona you can easily spend 2 days in the above parts of the city..
Day 4. Take the Hop On/Hop Off and explore other parts of Barcelona outside the center. You can buy a 1 or 2 day ticket which will allow you to explore the city at your leisure. Some suggested stops (in addition to all the ones I've listed): Montjuïc (a hill with a funicular and great views overlooking the city. Holds the National Museum of Catalan Art), Tibidabo (for a church, a fairground, and more incredible views of the city), Parc de la Ciutadella (huge park with lakes, monuments and the Barcelona zoo), Barceloneta beach (the most famous of many city beaches), Camp Nou (the football stadium of FC Barcelona and one of Europe's best football stadiums). Besides helping you get to specific sites of interest, the Hop On/Hop Off is always a great way to see a city.
I've laid out a 4 day itinerary but the above can easily be stretched out to a week. And remember, Barcelona is a big city so that's just scratching the surface…
---
---
Where to Stay in Barcelona
I 100% recommend that you stay in the L'Eixample Neighborhood: safe, centralized, with easy access to everything. Our Hotel of choice is Room Mate Emma. We stayed there 5 days and the staff and facilities were amazing (they also had a special discounted rate at the time which made it a bargain). Very much recommended.
Join Our Newsletter
If you haven't subscribed yet and want to get our posts sent to your email, just insert your email address below. It's free!