Visiting Torrox
It's a question we've often been asked by people looking to settle in this area of the Costa del Sol: "What's Torrox like? And how does it compare to Nerja?"
What a lot of people don't realize is that there's two parts to Torrox: the seaside community of "Torrox Costa" and the inland town of "Torrox Pueblo". The two are separated by about 4km of farms as well as the A7 highway that connects the region to Malaga (to the west) and Almeria (to the east).
In this post I'll cover the two parts of Torrox. Both are pretty (and underrated) and – in my opinion – both are worth exploring: both as places to visit and/or possibly settle.
Note: I include a few maps below. I picked them up at the Ayuntamiento in Torrox Pueblo (on Plaza de la Constitución).
Torrox Costa
Getting there: Torrox Costa is much more accessible than Torrox Pueblo. Torrox Costa is a stop for most buses coming from Malaga (most buses, unless direct, will stop in Torre del Mar and Torrox Costa before continuing on to Nerja). Depending on the bus route, getting to Torrox Costa from Malaga will take between 1 hour to 1 ¼ hour.
Torrox Costa is about 7km west of Nerja. Besides the bus, you can walk from Nerja to Torrox Costa – it is actually one of the most scenic coastal walks on the Costal del Sol east of Malaga.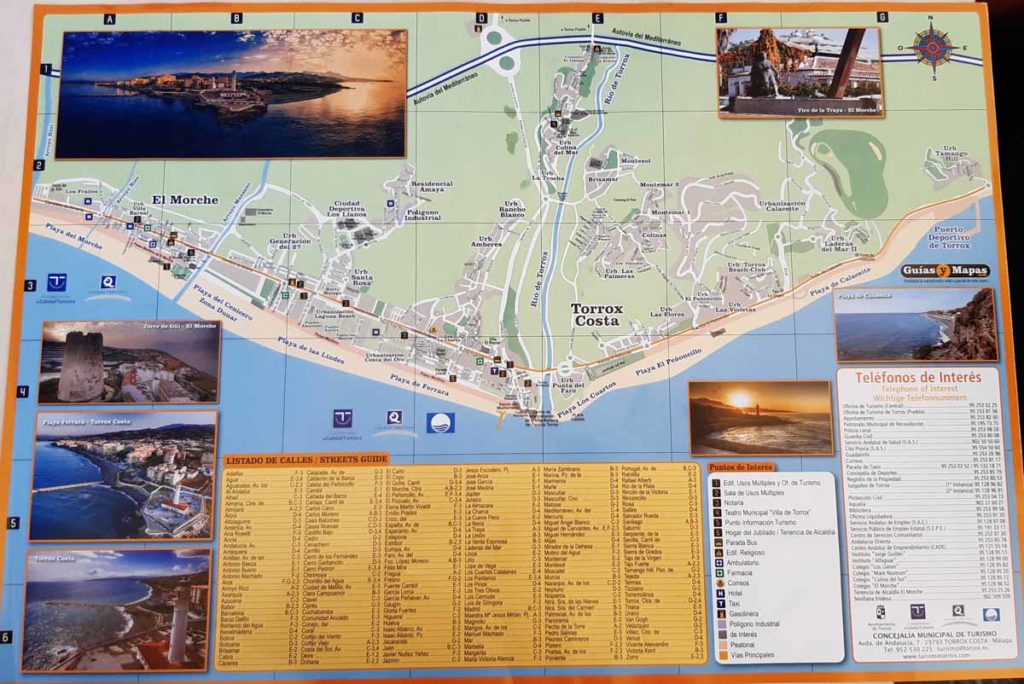 ---
---
Impressions of Torrox Costa
Torrox Costa is basically a community of high-rise buildings built up along the coast. The town "center" is next to the bus station – but in all honesty it's not the 'town center' that you would associate with most towns (like Nerja). And again, that's because Torrox Costa is basically a long stretch of high-rise buildings built up along the coast.
The above doesn't sound very appealing. But Torrox Costa does have charm – if you like flat beaches and long promenades then you'll like Torrox Costa. If you have mobility issues you'll love it (versus Nerja where all the beaches require going down steps or steep paths). The promenade here is wonderful and very relaxing with lots of cafés and restaurants. You can walk the promenade, ride a bike, go jogging…it's very nice.
If looking for "highlights", those are the Balcon Mirador (which you see in the beginning of our video) and the Faro de Torrox (the lighthouse). The lighthouse has a museum which houses Roman ruins from an ancient fish salting factory.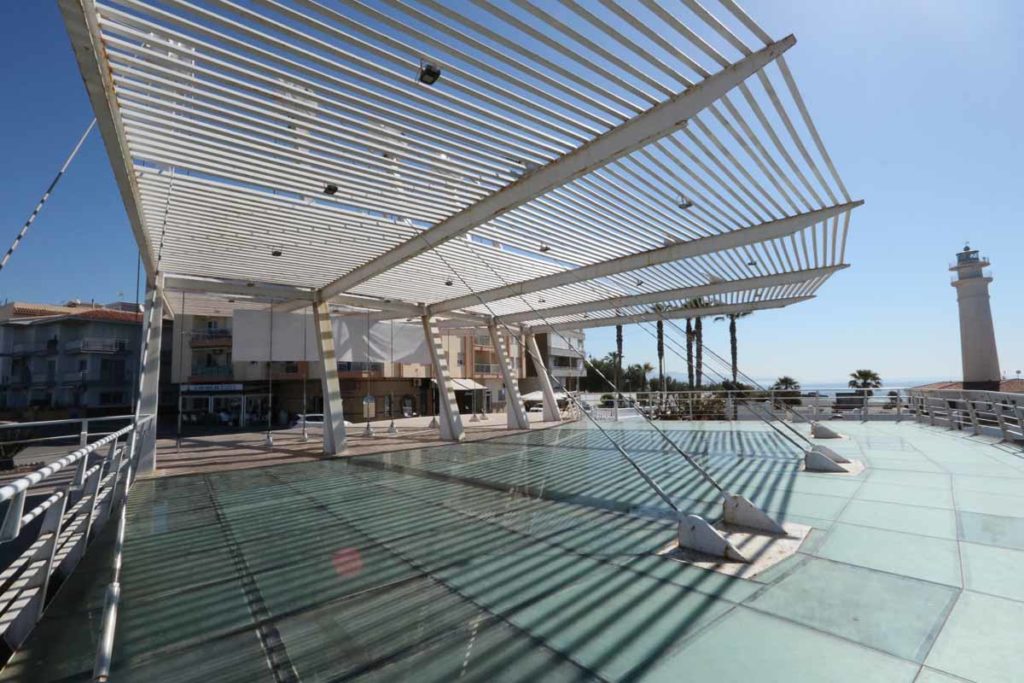 ---
---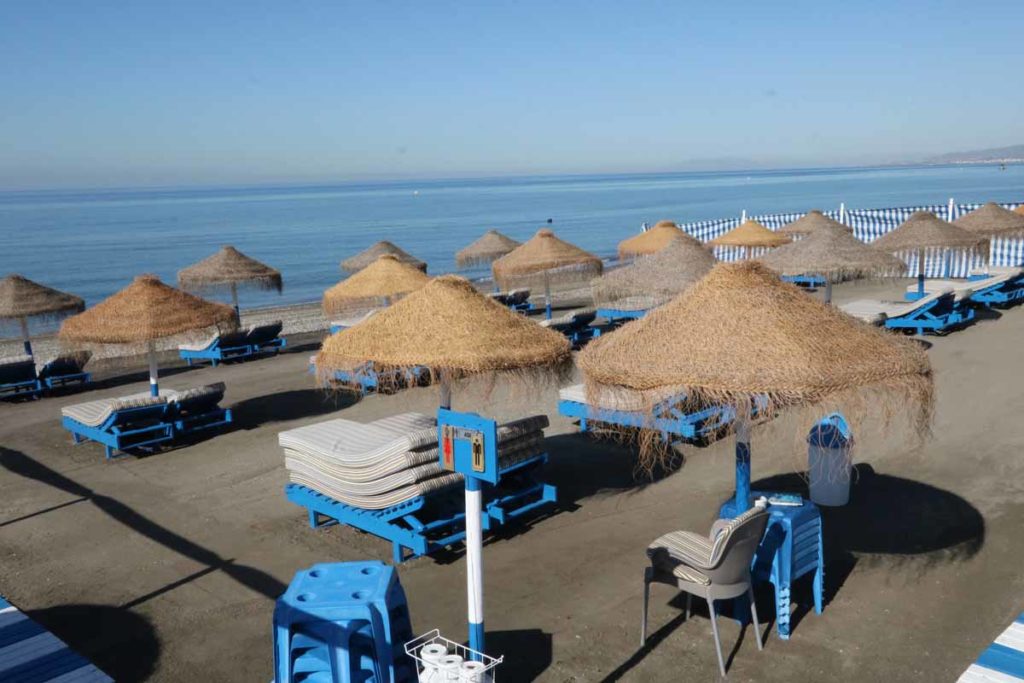 Torrox has a large German population – the largest German population of anywhere in Spain as a matter of fact. Every year Torrox Costa holds an Octoberfest festival (in late September) which is one of the largest Octoberfests in Europe. It's a lot of fun. The large German community means that Torrox Costa has a very different feel than Nerja which has a predominant Irish community.
As mentioned, Torrox Costa is very stretched out and you'll find some very quiet areas as you stray a bit from the center. There you'll find lots of traditional Chiringuitos (open air restaurants) where you can have a beer and meal…and pay less than you would in Nerja. The whole coastline is full of beaches so if you're looking for privacy you'll find it.
As far as conveniences, you'll find it all. There's an Aldi, a Lidl and a Mercadona steps from the bus station. In addition, there are lots of little stores along the road that runs through Torrox Costa.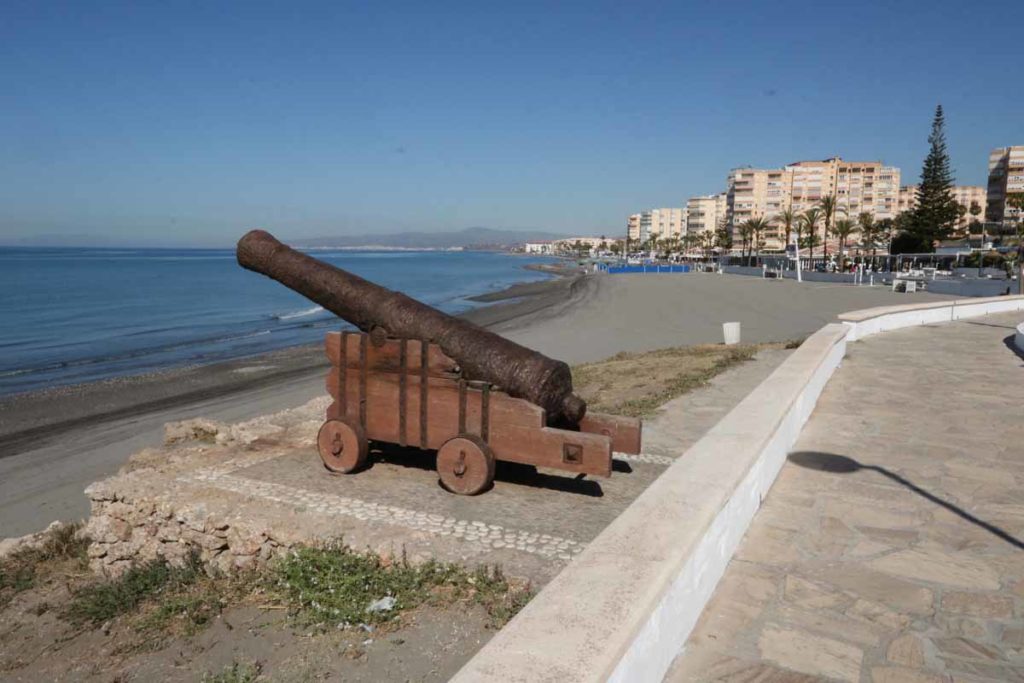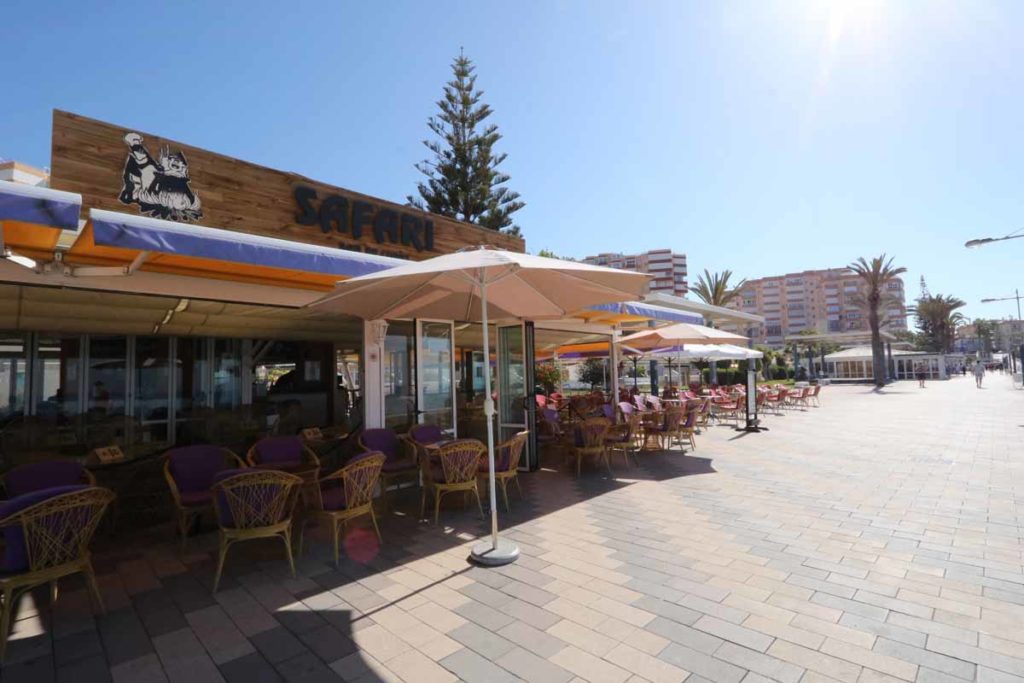 If you're looking for something quieter than Nerja then Torrox Costa is a possibility. It doesn't get anywhere the tourists that Nerja does. Another plus to Torrox Costa that there's more availability and cheaper prices if looking to rent (again, compared to Nerja).
---
---
Torrox Pueblo
Getting there: You can't get directly to Torrox Pueblo from any other town, you have to take the bus from Torrox Costa. Torrox has 2 bus lines that will get you between Torrox Costa and Torrox Pueblo. Buses aren't frequent though. I've included the bus schedules here (I admit I have a hard time reading them – I thought I had coordinated my trip from Nerja well but when arriving in Torrox Costa the sign at the bus station told me we would have to wait 74 minutes for the next bus to Torrox Pueblo…)
---
---
Impressions of Torrox Pueblo
People always talk of Frigiliana but never talk of Torrox Pueblo. I don't understand that because we were very impressed by what we saw.
Torrox Pueblo is a very pretty "white town", a town built in the foothills of the Sierra Almijara and Tejeda mountains – just like Frigiliana. And just like Frigiliana it is a jumble of streets, the town having been built by the Moors.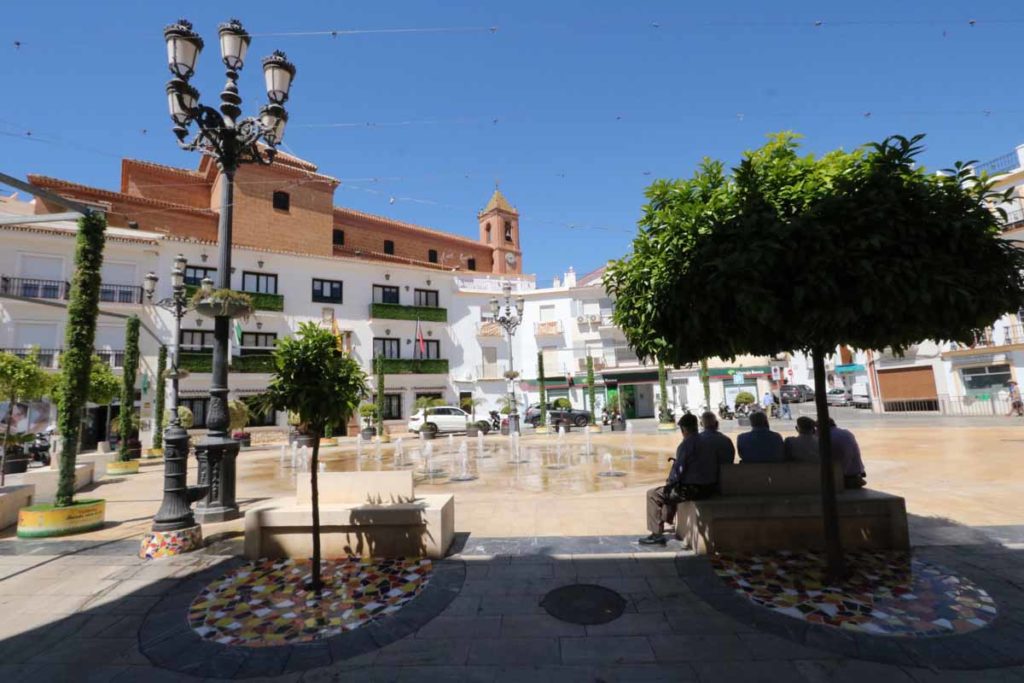 ---
---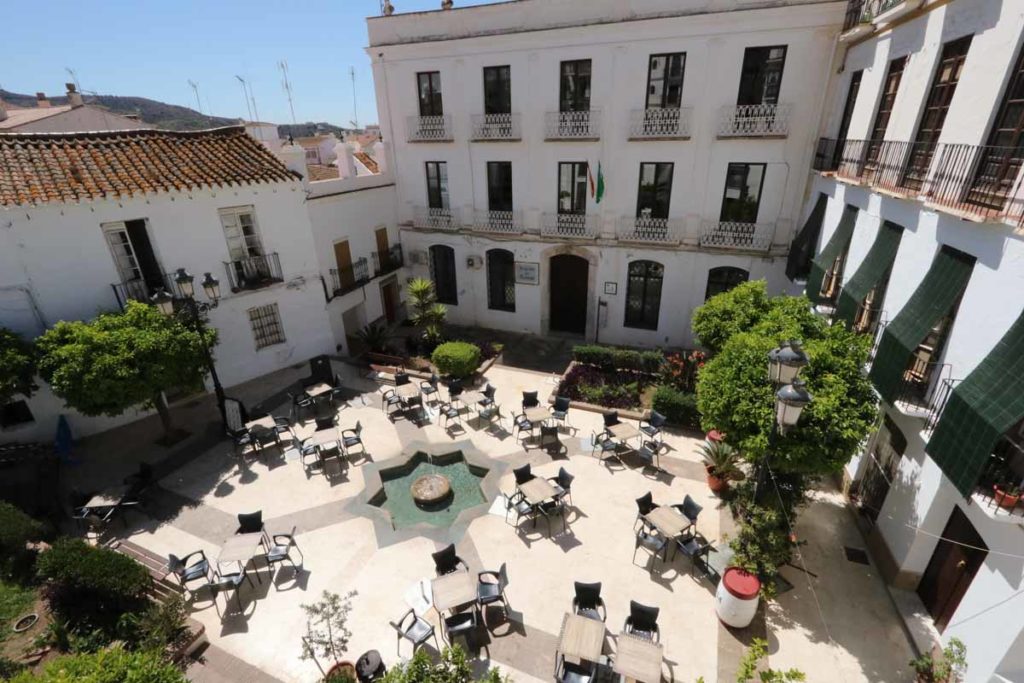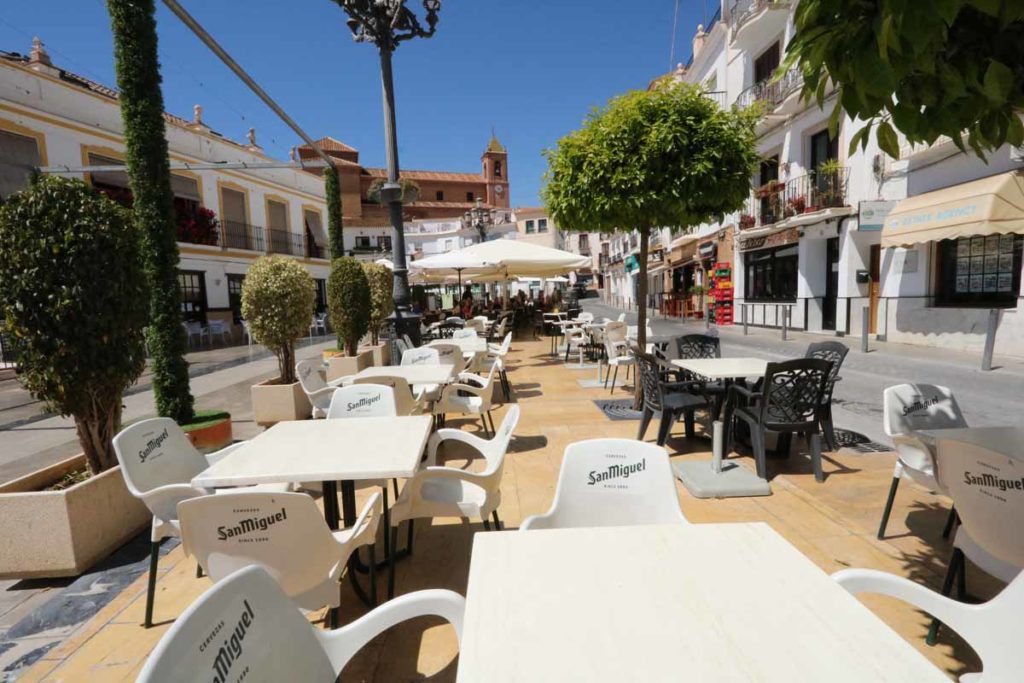 Torrox Pueblo has lots of charm. The main square, Plaza de la Constitución, is very pretty and holds the Town Hall. In the summer, colourful umbrellas cover the square, making it one of the most beautiful squares anywhere. There are lot of laidback bars and restaurants, a palace called "Palace of La Joya" (previously owned by a rich family, now the town courthouse), and a large church (Parroquia de Nuestra Señora de la Encarnación) that looks over the town.
The difference between Frigiliana and Torrox Pueblo is that Torrox Pueblo is still a genuine town with everyday people going about their business. Its streets are not packed with tourists.
---
---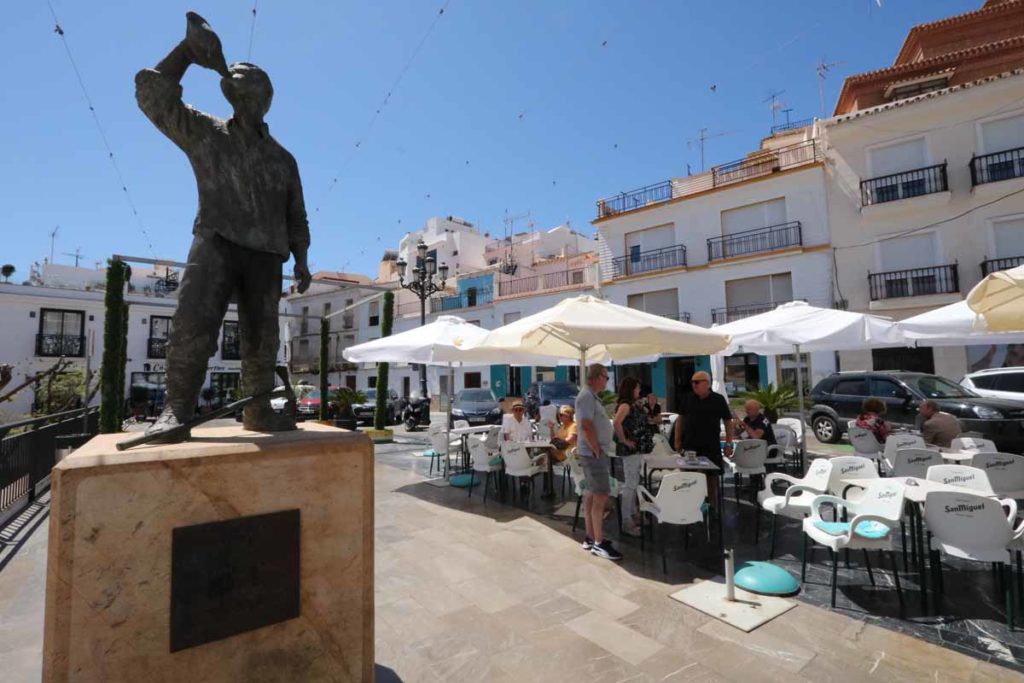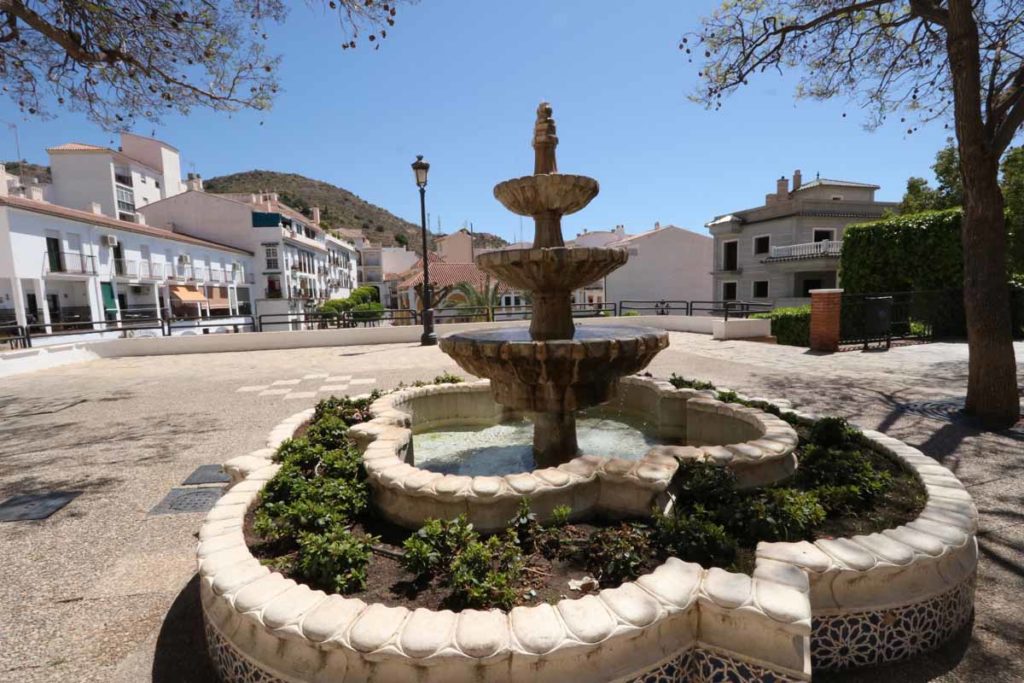 As far as living in Torrox Pueblo? You'd need a car – but anyone thinking of possibly living in Frigiliana should also look at Torrox Pueblo. We actually prefer Torrox Pueblo. We found it very charming.
Summary: Very different, but Torrox Costa and Torrox Pueblo are both worth a visit. Both have their appeal and both have a very different vibe to Nerja.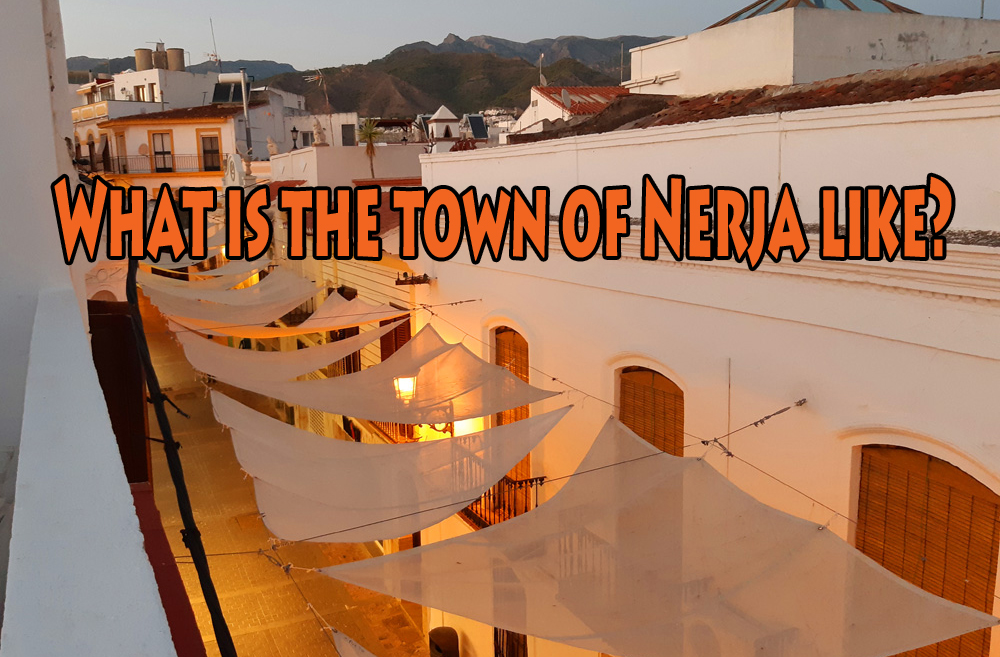 Join Our Newsletter
If you haven't subscribed yet and want to get our posts sent to your email, just insert your email address below. It's free!