Aljafería Palace (Zaragoza)
Aljaferia is a fortified medieval palace built in Zaragoza during the second half of the 11th century (completed between 1065 and 1081) and was one of the most northerly outposts of Al-Andalus (ie. Muslim-controlled Spain). It represents the height of the Taifa (independent Muslim empires) in Spain.
A UNESCO World Heritage site, the palace was built in the style of the desert castles found in what is present day Syria and Jordan (square, with semi-circular towers).
When Zaragoza was reconquered in 1118, it became the residence of the Christian kings of the Kingdom of Aragon. Much of the palace was restored at that time. It was again restored in the 14th century by Peter IV of Aragon (Pedro IV de Aragón) who was the King of Aragon.
The Highlights of Aljafería Palace
When you enter the palace, you'll see a courtyard with a pool. This is the Patio de Santa Isabel. The rooms of the entire Taifa palace were distributed around this central garden.
---
---
To the right when coming in you'll see an impressive porch with arches, pillars and a wood panelled ceiling. This is the Golden Hall, the main room of the Palace. There you'll see a beautifully decorated Mosque with, at the back, a Mihrab (a Mihrab is a niche in the wall of a mosque that indicates the direction towards Mecca). It may remind you of the Mihrab in Cordoba's Mezquita. This area is of the Palace is beautiful and is the highlight of a visit to Aljafería.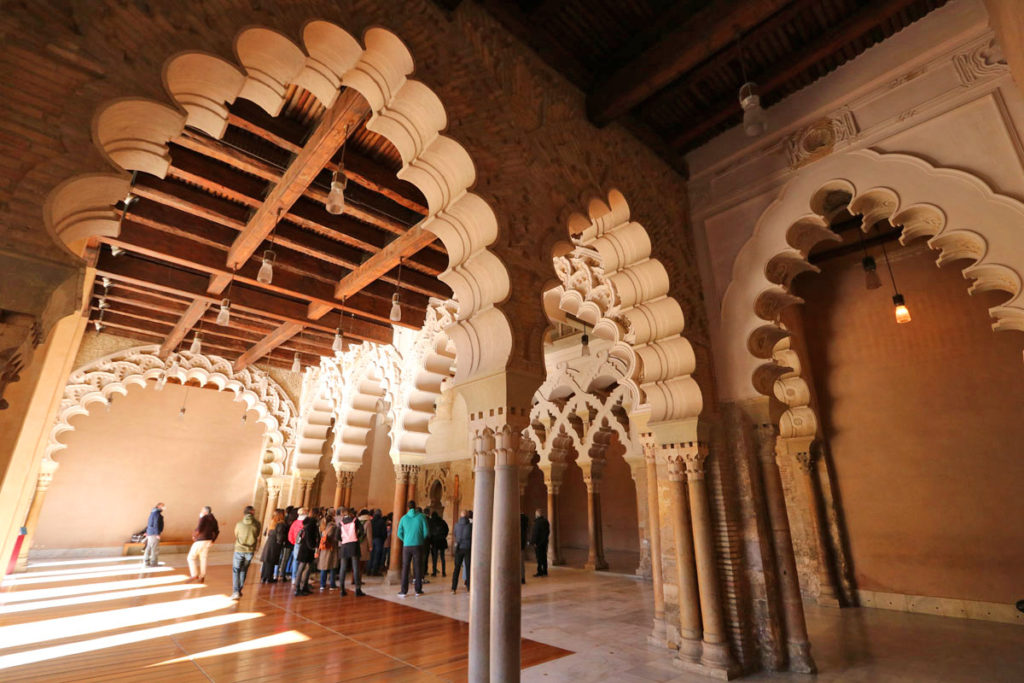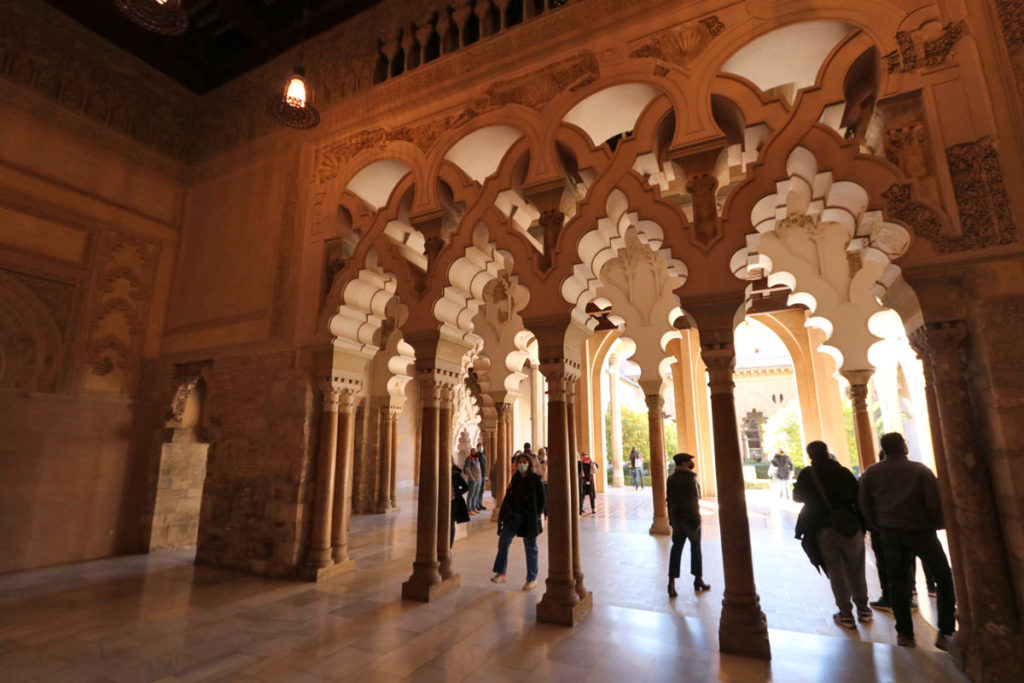 ---
---
The upstairs rooms have undergone a lot of restauration and most are not very interesting. The ceilings however are spectacular, all carved in Mudejar style under the orders Of Peter IV in the 14th century.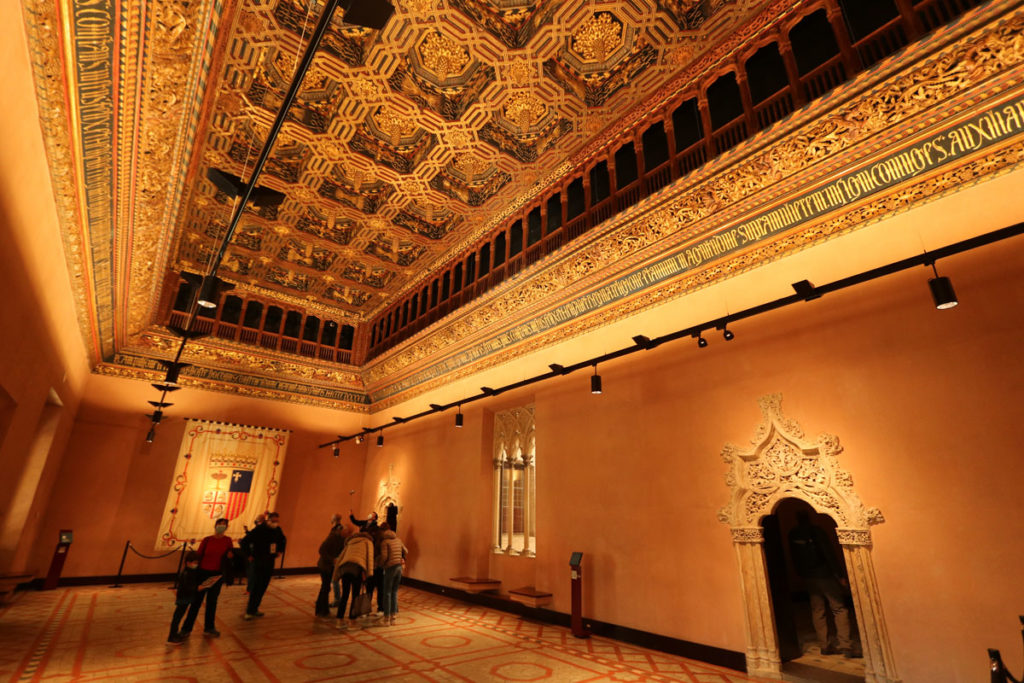 Visiting Aljafería Palace
It is best to go on the website to reserve your tickets (choose the day and the time). The price is 5 Euros but this is only a reservation – you will pay when you pick up the tickets at the ticket office outside the Palace.
Reservations are a good idea because they only allow 55 people per 15 minute time slot.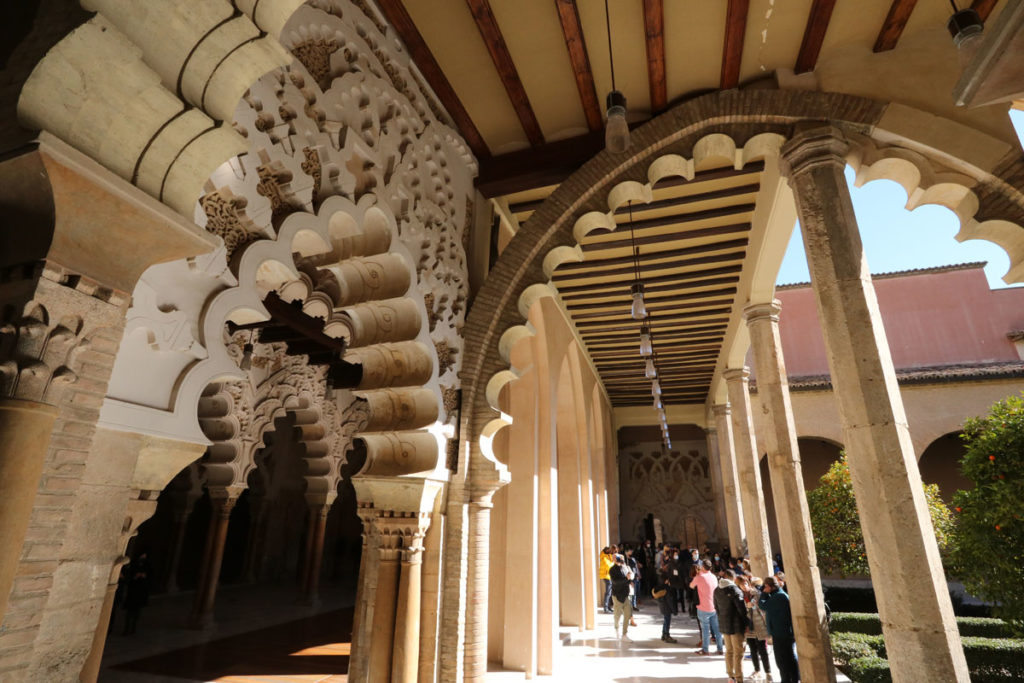 Is it worth visiting Aljafería?
As impressive as it is on the exterior, don't expect the Alhambra or Real Alcazar when walking into Aljafería. It doesn't compare. But it is worth a visit and, in our opinion, worth the 5 Euro entrance fee.
---
---
Join Our Newsletter
If you haven't subscribed yet and want to get our posts sent to your email, just insert your email address below. It's free!