Benalmádena, Almuñécar OR Estepona?
A lot of people love Benalmádena, Almuñécar and Estepona but few have actually visited all three. Andrew has and in doing so fell in love with the town that is now his home (you'll have to read on to find out which of the above it is).
Andrew's story below. He also has plenty of general tips for foreigners as well as some very detailed information for anyone looking to buy a home in Spain.
---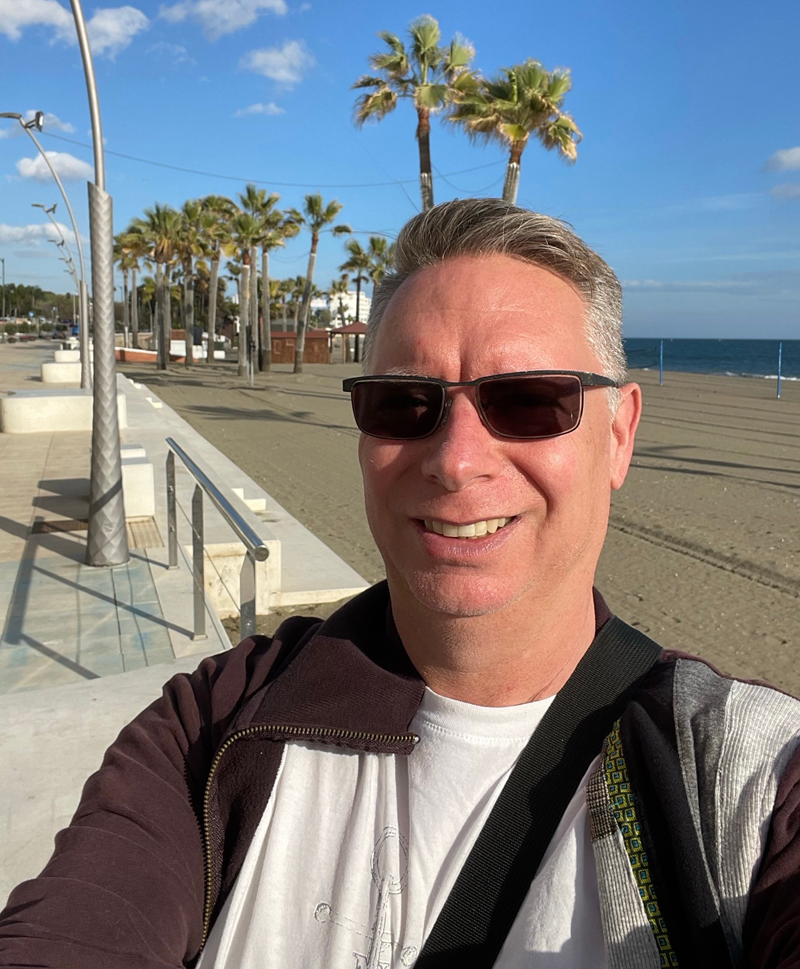 Name: Andrew Peachey
Age: 57
Country of Origin: Canada
Number of years living in Spain: 2
---
Hi Andrew! Thank you very much for doing this interview. First question – how did you end up deciding to live in Spain? Would love to hear your story.
Well, I had always thought about living in Europe since I've studied several languages including French and German, plus I really enjoy the history and cultural diversity that Europe has to offer. Many of the places I still want to visit are in Europe. My hand ended up getting "forced" a bit due to Brexit since I wanted to use my British passport to move here, as it was far easier to make the move as a British citizen than as a Canadian. For this reason, I had to make the move during the 2020 transition period.
In terms of Spain, I had been looking at potential countries to semi-retire to, and Spain and Portugal were always in the top five destinations. The weather is much better in southern Spain than Vancouver where I'm from, and is also better than in many other parts of Europe, plus the cost of living is much less. I also travelled to Portugal to check it out and, although there are many beautiful places there, Spain felt right for me. So I ended up choosing Spain.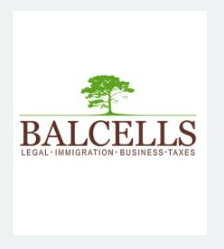 Need help with your immigration needs? Contact Marta at Balcells Group. She handles it all, whether it be a Spanish non-lucrative Visa, Golden Visa, Digital Nomad Visa, Work Visa etc…. More detail here
When you went about deciding where to live in Spain, what was your criteria?
The main criteria for me were weather, affordability, being in a safe and clean country, and proximity to other travel destinations that interest me. Most of my family decided to retire to Mexico. There are things that I like about where they live, but for me it's too hot there and I don't feel as safe. The quality of the water there isn't great either, so you have to do things like brush your teeth with bottled water. Also, it's not as close to other places that I'd like to be able to visit.
Below: Images of Benalmádena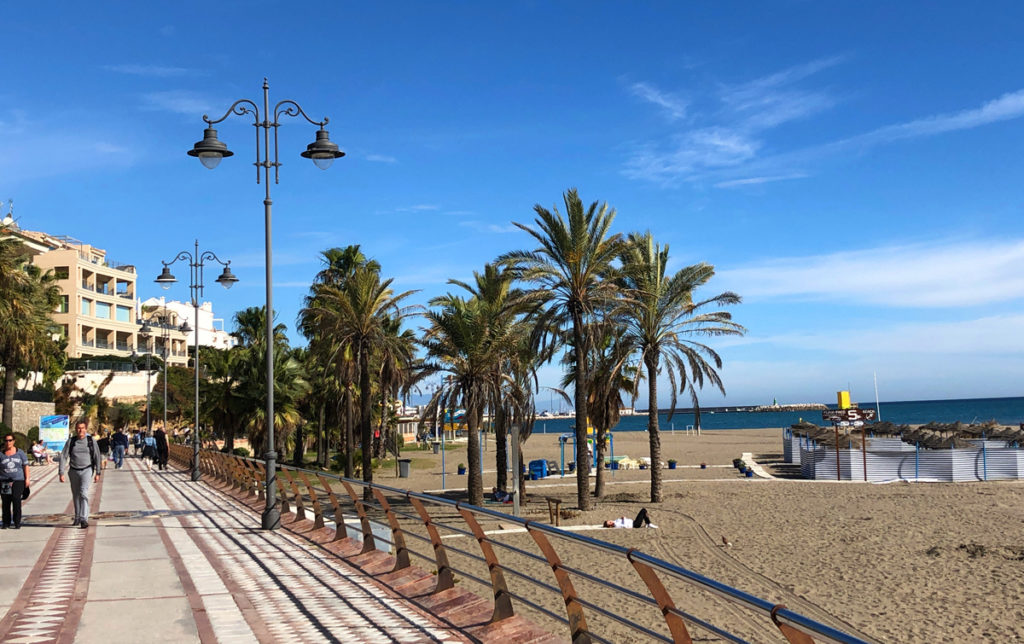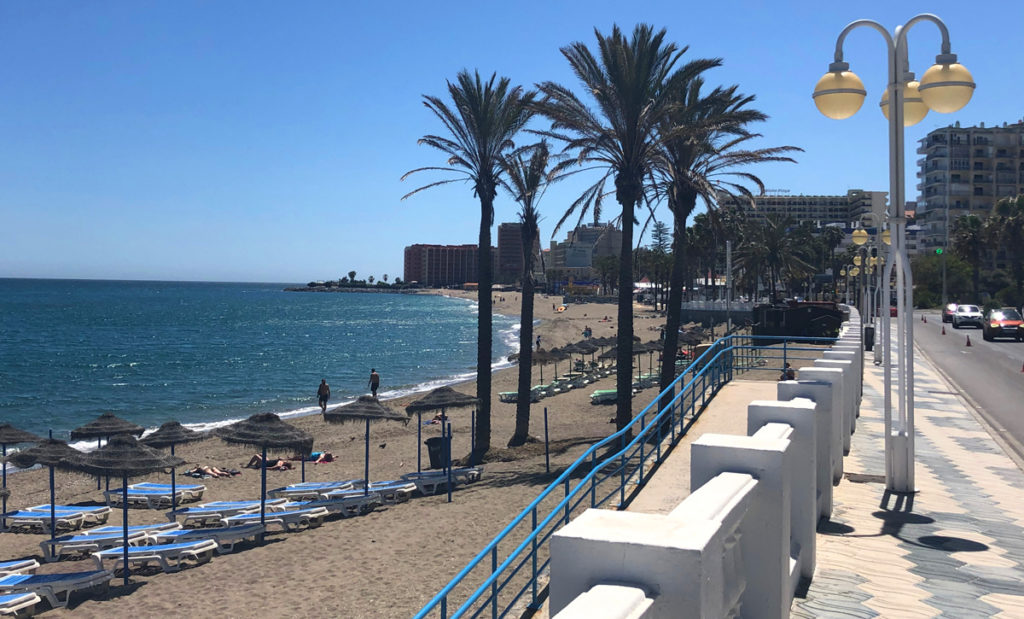 ---
---
You mentioned that you lived for 2 years in Benalmádena. What made you choose Benalmádena? And, in the end, what made you decide to move on from Benalmádena?
To be honest Benalmádena was a complete fluke! I had never even heard of the place before booking my accommodation there. I had originally planned to head to Spain in May 2020 to coincide with my nephew's destination wedding reception (which of course got cancelled due to the pandemic). However, I was concerned about Brexit and whether I was going to have any issues getting my residency here, especially since the consulate in Vancouver couldn't tell me whether I would have any problems in making the move. So I changed my plans to arrive here as early as possible.
I then had to decide where in southern Spain as I had been considering the Alicante area as well. I chose to be in southern Spain because I wanted to live in a warmer climate. Since I was arriving in January rather than May, I chose Málaga since it's warmer there at that time of the year. Benalmádena only happened because I was looking for temporary, affordable accommodation for when I first arrived, and the Airbnb I found was in Benalmádena. But I ended up liking it there, at least as a starting point in Spain, so I stayed. I was actually very fortunate because I found a great apartment with an amazing landlord, which was a great comfort after the pandemic hit about six weeks later and we were in total lockdown!
Below: Images of Almuñécar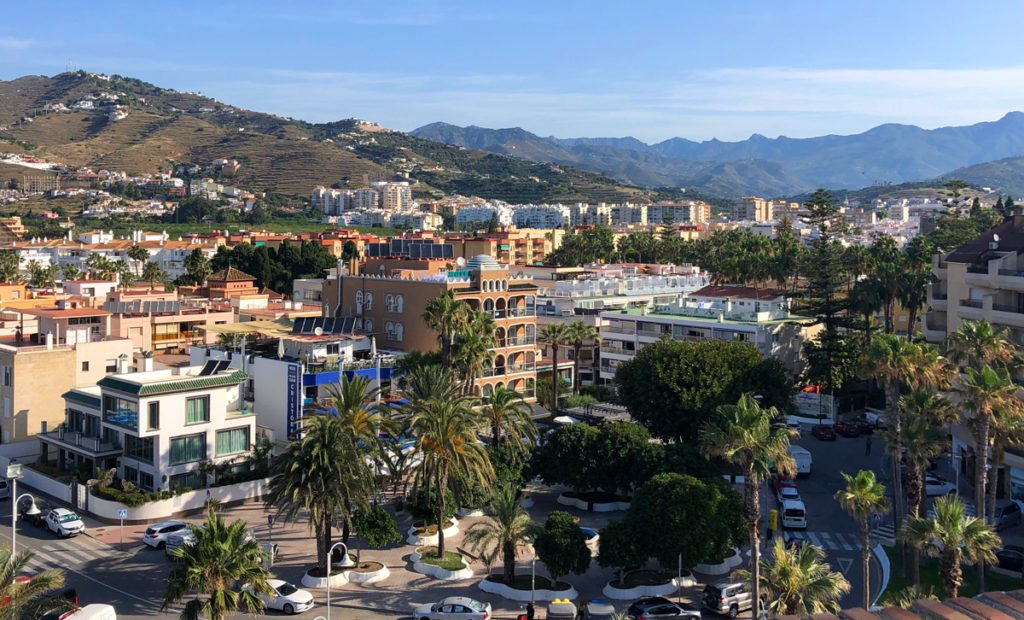 ---
---
You said that after Benalmádena you looked into both Almuñécar and Estepona. How did each compare to Benalmádena?
I really like all of the cities in different ways, including Benalmádena which I feel often gets a bit of a bad rap like Torremolinos and Fuengirola as mainly being a tourist destination for drunken Brits! (The Arroyo de la Miel area of Benalmádena is quite different in my opinion.) But of course I wanted to explore more cities before making a final decision, especially since I was looking to purchase. And keep in mind that I really wanted to be near the Med even though properties inland are much cheaper. Several people I spoke to recommended Almuñécar and Estepona. I went to Almuñécar first and really liked it but felt it might be a bit too quiet for me, and the beach areas are quite rocky. I also wanted to be in a larger town with more amenities. Then I headed to Estepona and immediately fell in love with the town. It's a good size without being too big, the beaches are wonderful, and the old town is extremely pretty with all of the cobblestone streets and potted flowers on the walls. As well, it's more authentically Spanish than some other places along the coast, and to me it also has more of a laid back, chill type of vibe. However, one thing I will say is that I do miss the train from Fuengiorla, Benalmádena, and Torremolinos which provides easy access to Málaga and the airport. There are buses from Estepona but they aren't quite as reliable or convenient. But I think this is also one of the reasons why Estepona hasn't been developed to the same extent as the other three. You have to take the good with the bad.
Below: Images of Estepona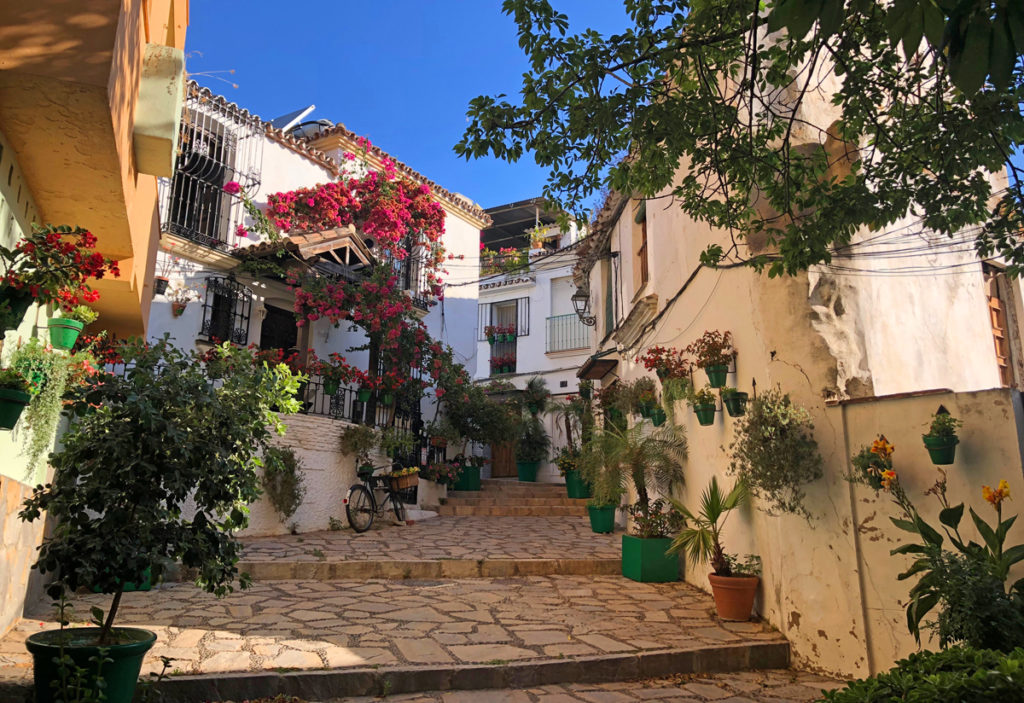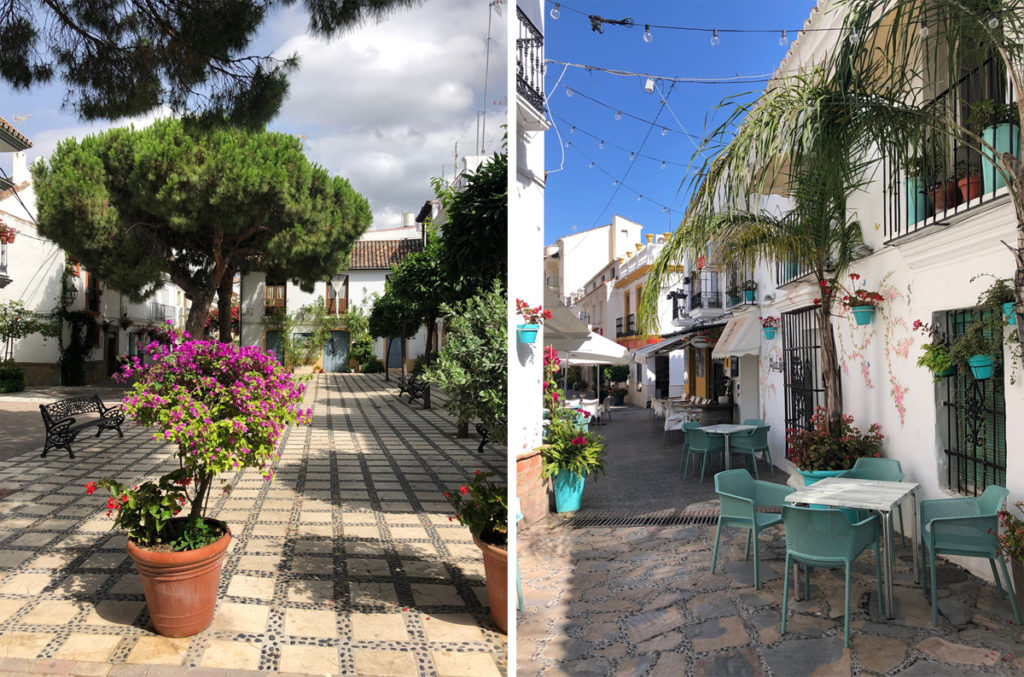 ---
---
In comparing the 3 towns, do you think that different people with different criteria would chose differently? Do you meet a different genre of expat in each town? (or is the demographic makeup similar and preference is just based on personal taste?)
I definitely think that the expression, "different strokes for different folks" really applies here. I also travelled to southern Portugal in the fall of 2020 just to make sure that I was choosing the right country for me. I really enjoyed much of the Algarve area but never found a spot that I could envision actually living in. I remember one town called Olhão came highly recommended by a lady I was chatting with online. I was really excited about going to see it. However, when I arrived there, I was completely disappointed. I honestly couldn't see what she was seeing in terms of why the town was so great. But this didn't mean that she was wrong; she just has different tastes to me even though we are in a similar age demographic. The same goes for the three towns we're describing. I don't think the genre of expat in each town is that different. In my opinion it's more about what each individual or couple is looking for. If you want something a bit smaller and on the quieter side, you might gravitate towards Almuñécar. If you want to be in a bigger place with a larger expat community and easy access to Málaga, you'd probably prefer Benalmádena. Estepona just happened to speak to me, so I chose this place. But I think each town is lovely in its own way and has a lot to offer.
Do you see Estepona as being your forever home in Spain? Or do you see yourself ever moving somewhere else in the future?
Due to various things that have happened in my life, I've lived in about five different places since 2013, so I wouldn't want to commit one way or the other. Life sometimes deals you some unexpected challenges or opportunities, and you're forced to adapt. But my intention is to be here for a while since it offers pretty much everything I was looking for.
More images of Estepona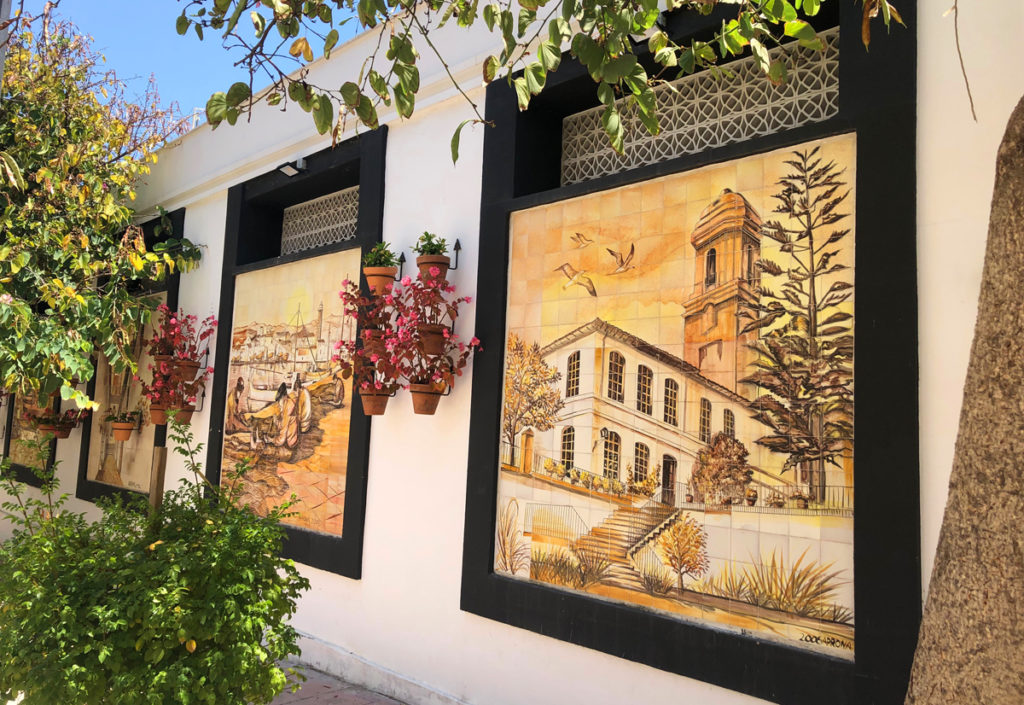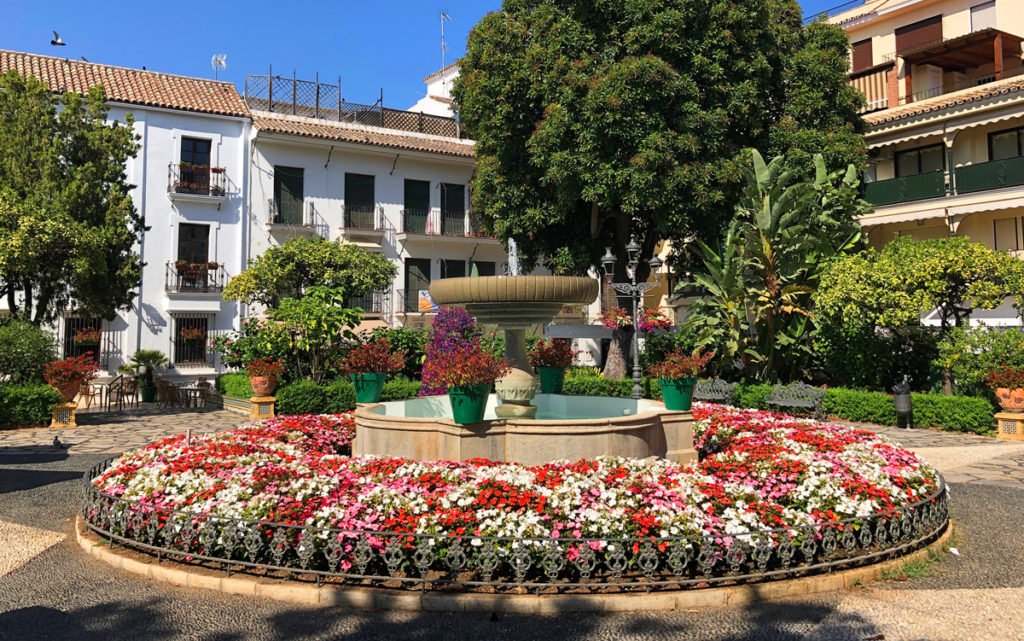 ---
---
Do you have any advice for foreigners thinking and/or looking for a new home in Spain?
Yes, definitely! Here are some points for folks to keep in mind when considering a move to Spain:
Be prepared to try it first. I didn't officially "move" to Spain until 2021 – I left most of my belongings in Canada just in case Spain wasn't what I thought it would be. The dream can sometimes be different than the reality. You might miss home – friends, family, etc. – more than you anticipated. Bureaucracy in Spain and most southern European countries can be very frustrating to deal with at times.
Make a list of what your "must haves" and "nice to haves" are. I knew that I wanted to be by the ocean, so there was no point in looking at anything other than coastal communities. Also be sure to consider the types of amenities and services available in the places you are considering including proximity to hospitals, sports facilities, grocery stores, etc.
Figure out what your budget is whether renting or buying, then do enough research to understand what you can actually afford in the areas you are considering, as the cost of living in different places of course varies greatly. You can join various Facebook groups to get insights and advice from other expats who have already made the move and can share their experiences with you. (Side note: rent prices are often negotiable in Spain!)
When choosing a location, think about your day-to-day life and what will work for you and what won't. As well, consider how much exploring you're likely to do wherever you settle. For example, one of the big selling points for me about living in Andalucía is the proximity to amazing cities like Sevilla, Granada, and Córdoba. As well, depending on where you end up, many locals might not speak English, so be prepared to learn at least some Spanish. (I'm still a work in progress in this regard!) If you're planning on working, you will very likely need to be able to speak Spanish unless you're relocating through a company or working remotely.
Spend time in a few different areas before you end up planting roots. Benalmádena ended up being a good home base to work from so I could explore other places like Almuñécar and Estepona. And remember that visiting a place versus living in a place full-time is completely different. A particular town might be a wonderful vacation destination for a few weeks, but imagine living there year-round. It might not be so appealing then.
Be patient. Making an international move is a big deal, so you'll need to be comfortable with a certain degree of ambiguity as you won't have all of the information you need to make certain decisions until you've been here for a while. For this reason, you'll also need to be flexible and adapt to new pieces of information and experiences as they happen.
Try to manage your expectations as much as possible. While Spain has a great deal to offer, some aspects of the culture are quite different and take some getting used to; for example, longer timelines to get things done.
Keep an open mind but also trust your instincts. Only you'll know what's right for you in the long run.
---
---
Buying a Property
If you are thinking about buying a property, I'd recommend researching the process here as it's likely quite different than your home country. Some things that I found to be quite different than in Canada were:
Many different agents advertise the same property. Back home the seller is represented by one agent, and the buyer is represented by another agent.
There are many real estate sites in Spain where you can look for properties; Idealista is the largest one. I have to admit that I miss the centralized Multiple Listing Service (MLS) system back home where all available properties can be found on one site. As well, sometimes homes that are listed online are no longer available as the agent hasn't bothered to take the ad down. I was also told that if you respond to an ad about a property, you are then committed to using that agent to represent you in terms of viewing and purchasing that property, so be careful about following up on any properties you're interested in.
Property prices to some extent seem to be a bit over the map here compared to back home, where agents show you comparables to understand what an appropriate price for the home would be.
The costs involved in buying a property are much higher here – around 11 to 14% of the purchase price. The property transfer tax alone is around 7 to 10%. Also, here you pay fees to both a lawyer to draw up the sales contract (which can be in both English and Spanish) and to a notary to change the title of the property into your name. Back home you'd only need one or the other. The lawyer in Spain will look after setting up your electricity and water but you'll need to decide which companies you wish to purchase services from.
The whole process of making an offer and landing on a price is quite different. All of the negotiations are done verbally until the price is agreed upon, and then the purchaser makes a deposit to reserve the property. Back home every offer and counter offer is documented in writing and signed or initialled.
I was surprised to learn that home inspections don't typically happen on condominiums. Apparently, this is something that happens more often when purchasing a single-family home. (There are other aspects of purchasing a single-family home that are more complicated than purchasing a condominium, so be sure to find out about these before making an offer.)
Thank you for doing this interview Andrew!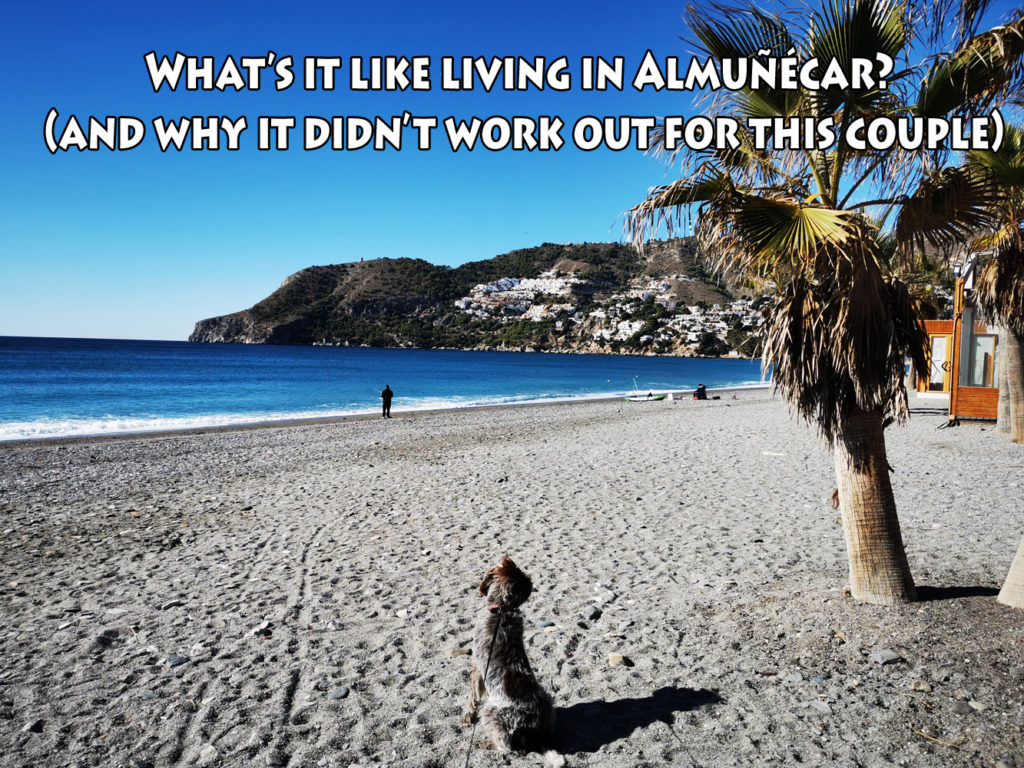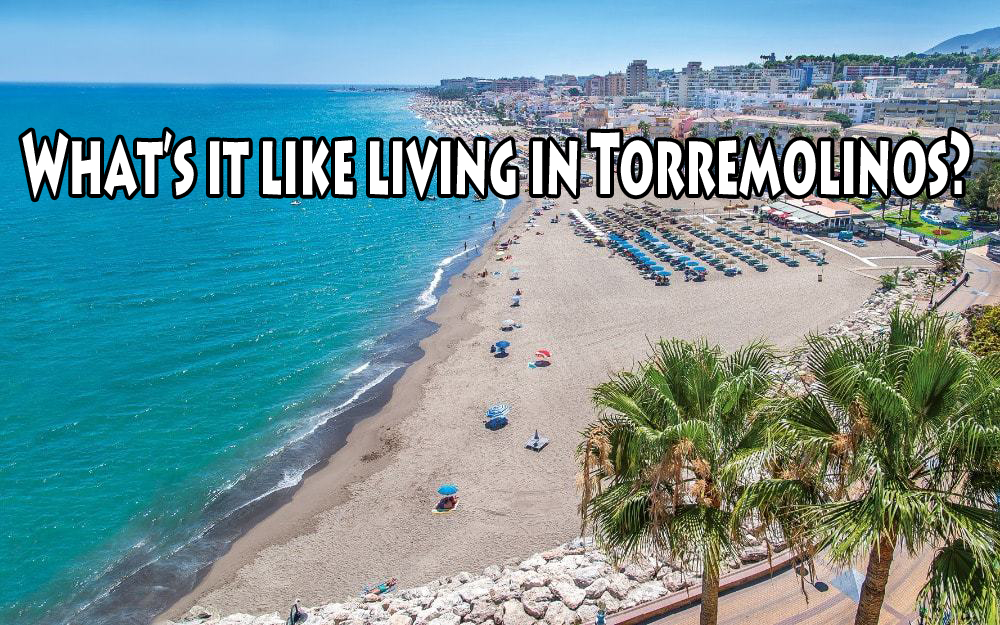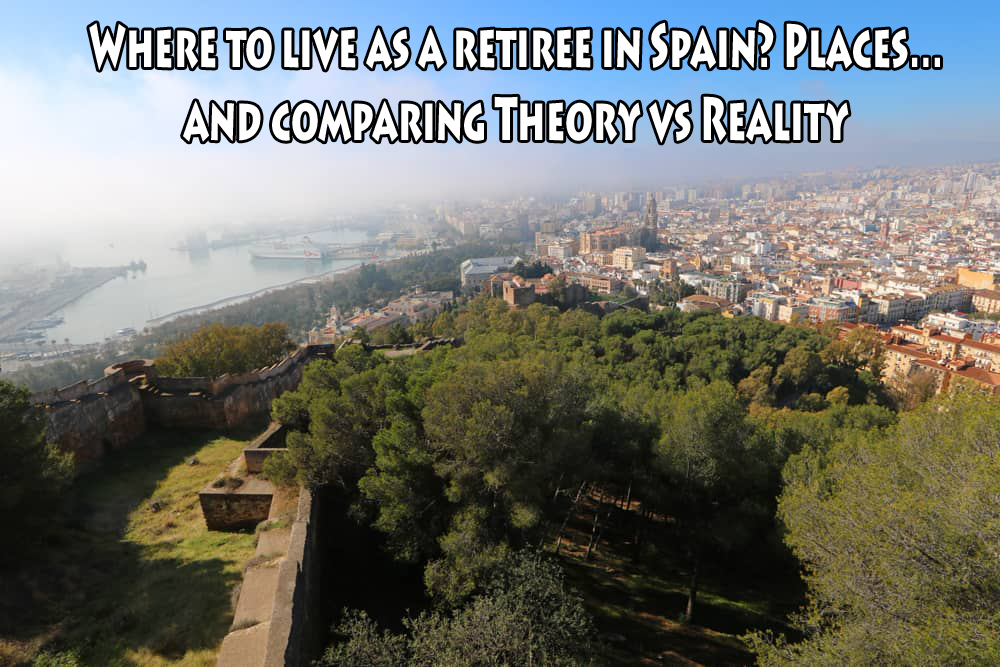 Join Our Newsletter
If you haven't subscribed yet and want to get our posts sent to your email, just insert your email address below. It's free!