Cost of Living in Nerja.
So how expensive is it to live in Spain? Or, more precisely, Nerja?
I dug up all our costs, comparing 4 months of this year: March, April, August and September.
With the high inflation we've had this year, it's no surprise that costs have risen and that our highest costs occurred in September. We don't have a car, so for us it's our grocery bill that's been hit the hardest (grocery costs in September were 15% higher than where they were in March).
I'm breaking down our total costs below.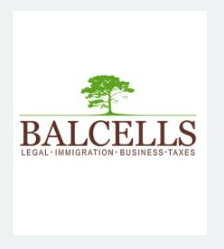 Need help with your immigration needs? Contact Marta at Balcells Group. She handles it all, whether it be a Spanish non-lucrative Visa, Golden Visa, Digital Nomad Visa, Work Visa etc…. More detail here
COST OF LIVING IN NERJA – SEPTEMBER 2022
---
---
It's interesting analyzing these figures. Back in 2017 we lived in Split (Croatia) and I did a similar breakdown of our costs there…and compared them to a couple of friends who lived in Spain and Portugal at the time (post here). Although costs in Euros are slightly more than what we all paid in 2017 (although very much in the same ballpark as what you see above), the monthly cost of living in USD in 2022 is less than it was in 2017. That's all due to the very strong USD. For Americans, it's actually cheaper living in Europe today than it was 5 years ago. For Canadians, like us, it's about the same as it was (the Canadian dollar has strengthened against the Euro as well, but not as much as the USD). Either way, living in Spain is good value compared to either the United States or Canada.
Breaking down some of our costs
Rent. Our 800 Euros gets us a 3 bedroom townhouse with a huge yard. We get a LOT for our money, probably too much. We would easily pay more than double (maybe triple) what we pay for something equivalent in Montreal (where we previously lived). Our rent includes water usage. We also have a pool in the complex.
Note: the average apartment in our complex is about 675 Euros (just to give you an idea of what you can pay on average)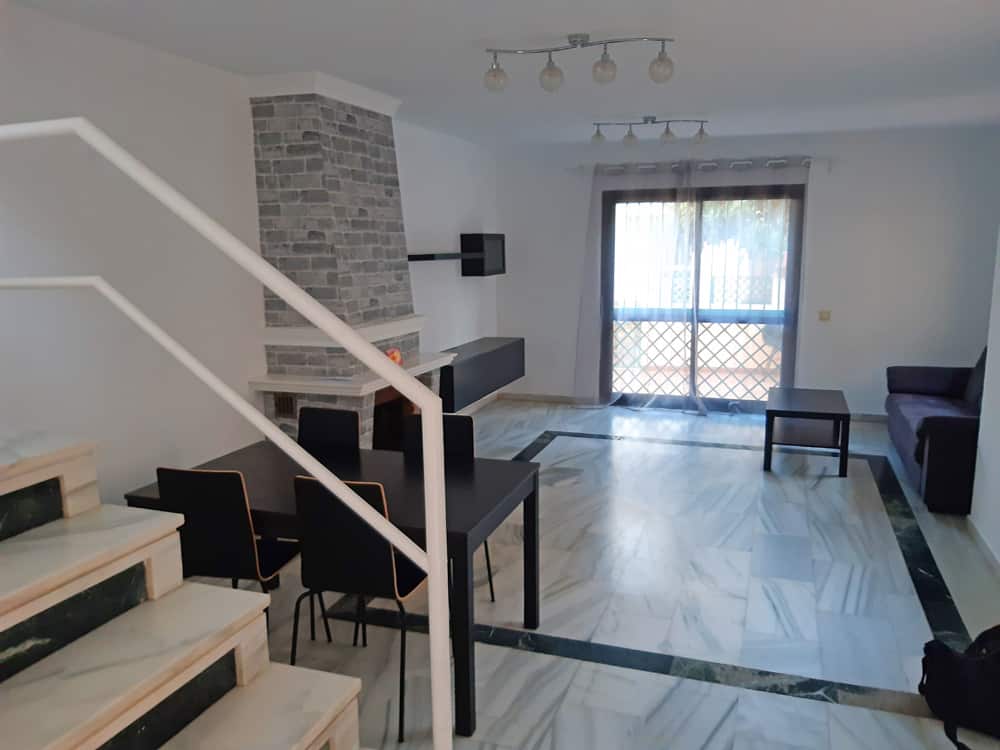 ---
---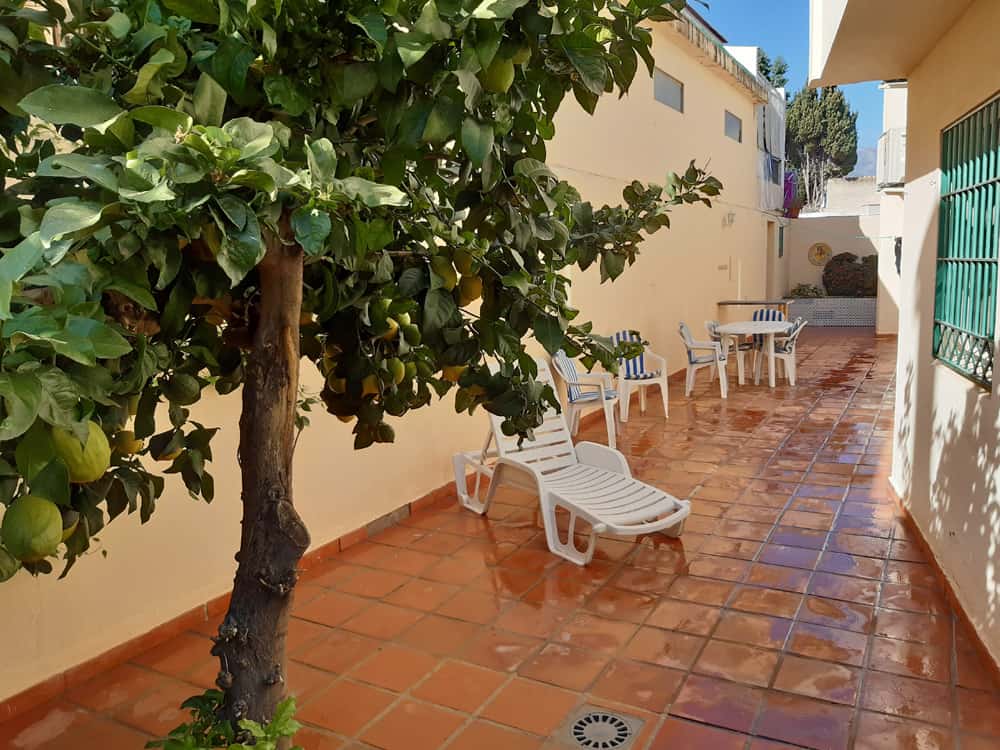 Electricity. Our average bill comes out to 60 Euros/month. The most we ever paid was 95 Euros and that was in August (we ran the AC the whole month). The least we've paid was 36 Euros.
Wifi. Axartel is our service provider. We find internet speed average at best (compared to other places we've been around the world). But they respond quickly when there are issues.
Cellphone service. We both have phones which we charge up once a month with Vodafone. Maybe we would get a better rate if we switched service to Axartel but we don't want the headache of changing our telephone numbers. We've also been happy to have cellphone connection the few times our wifi has gone down.
Gas/garbage. Our water is heated by gas and every 6 months we have to order new tanks from Cepsa. It's not expensive though. Twice a year our landlord gives us a 12 Euro garbage bill that we have to reimburse.
---
---
Food. Besides rent, food is our major expense. And when I say food that includes alcohol – we drink wine every night and I usually also enjoy a shot or two of rum (Brugal rum from the Dominican Republic is my favorite). It also includes many bathroom products (TP, toothpaste, face creams, nail polish, shampoo, conditioner etc. We usually buy all that at Mercadona).
For convenience we do most of our everyday shopping at the local Coviran (bread, coffee, milk, wine, water etc). A couple of times a month we do a big shopping at Mercadona (which is downtown and convenient). We also occasionally shop at Iranzo. We nickname it "the expat store" because we buy imported stuff there that we don't find elsewhere (Oriental soups, Indian sauces, and tofu products for Lissette). It's more expensive though so we're careful what we buy there.
Fresh vegetables/fruits are bought at a local fruteria owned by a Spanish man and his wife. It still amazes us the selection of exotic fruits you can buy in Spain.
Pharmacy, hardware store, and odds and ends from China Home round up some of our other "basic" costs.
Restaurants. We don't go to restaurants much. We love Indian food (Mum's is our favorite) and we usually order in twice a month (40 Euros each time. But it's usually good for 2 meals). We have a Chinese restaurant close by where we also order a couple of times a month. Finally, we have a little Spanish restaurant that specializes in take away food: roasted chicken, potato tortillas, bacalao in tomato sauce, paella…They're quite inexpensive.
Tapas/coffee. We enjoy going out for Tapas and it's great value. I've documented many of our Tapas experiences on the blog (see the Nerja section for that). We also enjoy Coffee experiences around town (some posts coming up).
"Other". Finally, we have other costs such as Private Health Insurance. It's a requirement as temporary residents of Spain. It's 55 Euros/month each and luckily we haven't had to use it except for the one time we went to the dentist for a cleaning – and found out that our Adeslas plan covered the cleaning (we paid a ton in taxes in Canada for healthcare and never had dental cleanings covered). I also stuck another 100 Euros/month into "other" in case someone accuses us of underestimating our costs.
I think the above is an accurate depiction of our costs here in Spain. It doesn't cover things such as travel, I've stuck to the day-to-day costs of living.
I recently wrote a post on our other blog about living in Spain and working towards Permanent Residency. There were several reasons we've wanted Permanent Residency in Spain: we wanted to be in Europe, we wanted to get away from 6 months of winter and, finally, as retirees we wanted a cheaper cost of living. The above is proof that you can have an affordable lifestyle in Europe*.
* PS. I'm stating the obvious if I say that different people will have different costs depending on their lifestyles. The above if just to give you an idea of our costs. I hope it's helpful to people.
---
---
Join Our Newsletter
If you haven't subscribed yet and want to get our posts sent to your email, just insert your email address below. It's free!