Renting an apartment in Spain
I've read how bad renting an apartment is in Spain. So I was prepared. But it still blows my mind how frustrating the experience can be.
This post is about renting in Antequera. But it doesn't matter the city, the experience seems to be similar almost everywhere you go in Spain (hence the title of this post).
The Criteria
We wanted a modern, clean, 1- or 2-bedroom apartment. There were a few reasons why we were moving from Nerja, one of them being that we wanted to downsize. Another criteria: we wanted something modern and clean – ie no bugs, no insulation issues, no plumbing issues etc. Something modern.
Initially we wanted a non-furnished apartment. It didn't take us long to realize that specifying "non-furnished" would make renting an apartment much more complicated. So we ended up looking for either non-furnished or furnished. The most important thing was finding a nice apartment that we would be comfortable in.
We have no pets. Which is a good thing because a lot of owners don't want renters with pets.
And our budget was up to 700 Euros (although we were open to paying more if we really fell in love with something).
Really, I don't think our criteria was that difficult.
---
---
Resources to find an apartment
Real estate agents
Knowing the stories people have renting in Spain, we decided to get in touch with a few real estate agents in Antequera. We know someone living there and she gave us the names of 3 agencies that she had used.
"Call them. Don't write them, they never respond" she warned.
I have a thing about the telephone. I hate it (doesn't matter the language, I hate the phone).
All 3 agencies have facebook pages as well as websites. And those facebook pages and websites also have Whatsapp numbers. So I went on a blitz of emails, FB messages and Whatsapp texts (I learned that Whatsapp was the best way of getting a response)
And they did write back (although response time varied between 2 days and a week).
Once each responded we exchanged messages and I told them my criteria.
I felt pretty good having 3 agents looking for an apartment for me.
Note: with an agent you have to pay a fee to them if they find you an apartment. It's usually equivalent to 1 month's rent.
Websites
Besides looking at the apartments on the websites of the real estate agents that I had contacted, I did searches on 2 major real estate websites: idealista and fotocasa.
Unlike in North America, real estate in Spain seems to be a free-for-all. There's no centralized listing in Spain (such as MLS or Realtor that we have in the US and Canada). Instead owners might advertise their apartments on idealista, fotocasa (or other search websites) and/or with agents. You can see the same ads on different sites and often at different prices. And when you do find an apartment on a search website, often you'll have to contact a real estate agent for more information (because they're the ones who've put the ad there).
Add to that that the advertisement is often out of date. I saw ads on the search engines that had been there for 3 years (on most of the sites there's a search option where you can say "most recent". Best to use that).
---
---
How the Search went
Initially there wasn't anything on market that interested us. The agents sent us photos of a few listings but the apartments were often old, too big, not central, too expensive or a combination of all the above.
I would contact the 3 agents I was dealing with every 10 days, asking if there was anything new on the market. 2 of the 3 were good in keeping in contact and letting us know if there was an apartment that sounded within our criteria.
But there wasn't much and it was frustrating: every time I would write them I would have to repeat the information that I had initially given them. It was like starting over every time. Sometimes I would write them asking about an apartment they had on their website and they wouldn't get back to me.
The search websites also weren't working. I sent a few requests for more information and never got a response from owners or agents.
Pretty soon 2 weeks became a month, pretty soon a month and a half…
---
---
Lining up Visits
It was almost 2 months since we had first contacted the agents in Antequera.
The best of the agents (the one most responsive. She also seemed to get the most leads) had lined up 3 visits for us. For one of them, she had sent us photos. The other two didn't have photos.
Getting a bit desperate, we decided that we would come to Antequera for a day and have a look at the apartments with her.
In a last-minute attempt to line up a few other visits, I went on Idealista. There I saw an ad for a brand-new apartment. The ad had been put up by the owner and it said "no agents". So I was dealing directly with the owner. I messaged her to try to line up a visit.
It took 2 days but she got back to me. We arranged to see her apartment.
So we had a total of 4 visits lined up.
---
---
The Visits
We took the bus to Antequera on a Sunday in April and check into Hotel Manzanito.
It was 8:30 am on a Monday morning when we met the owner of the apartment on Idealista.
The apartment building was a 10-minute walk up the hill from the old town. A brand-new apartment building (construction had just completed), it had 4 units. None were rented so we had a chance to examine each.
The apartments were immaculate: clean, with brand-new appliances, spacy, nice wooden floors, top of the line windows. The more expensive apartments (on the top floor) also had their own private terrace on the roof. And at 650 Euros it fell into our budget.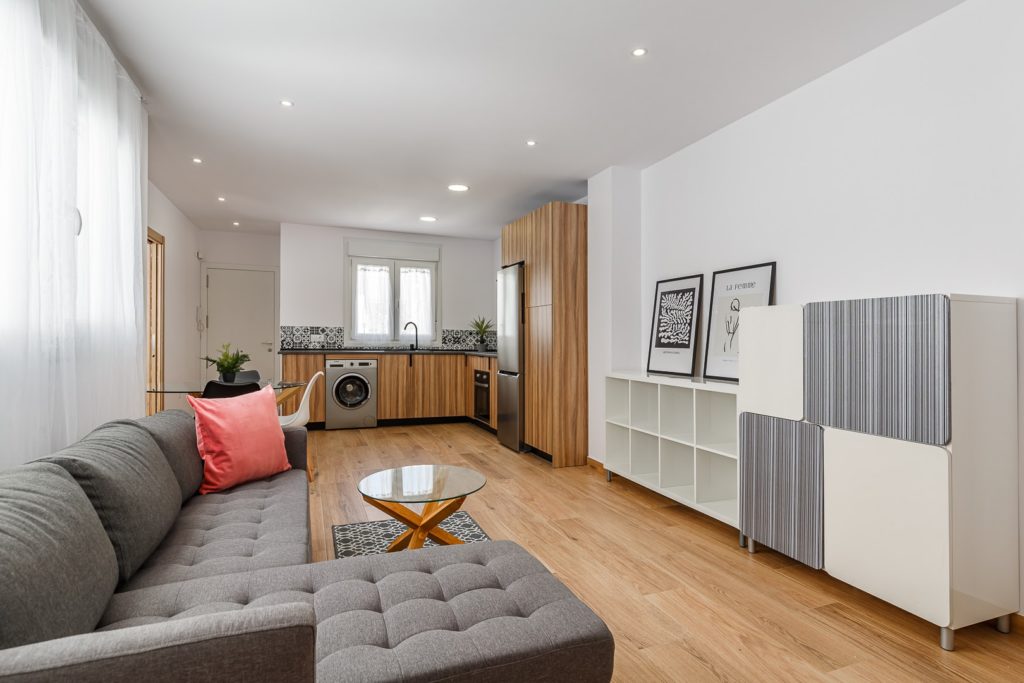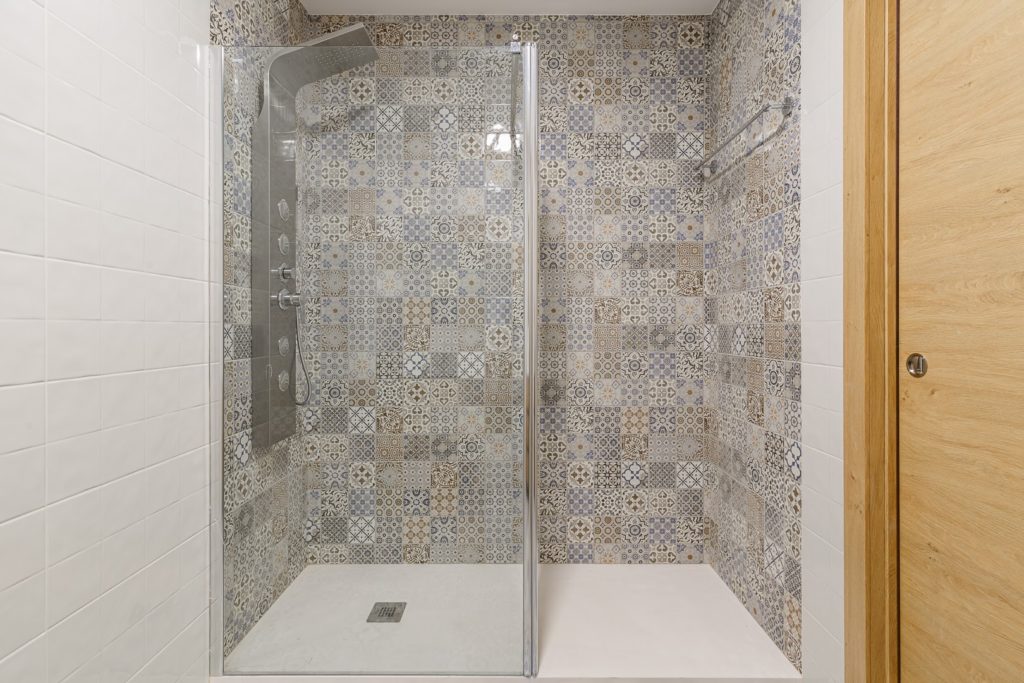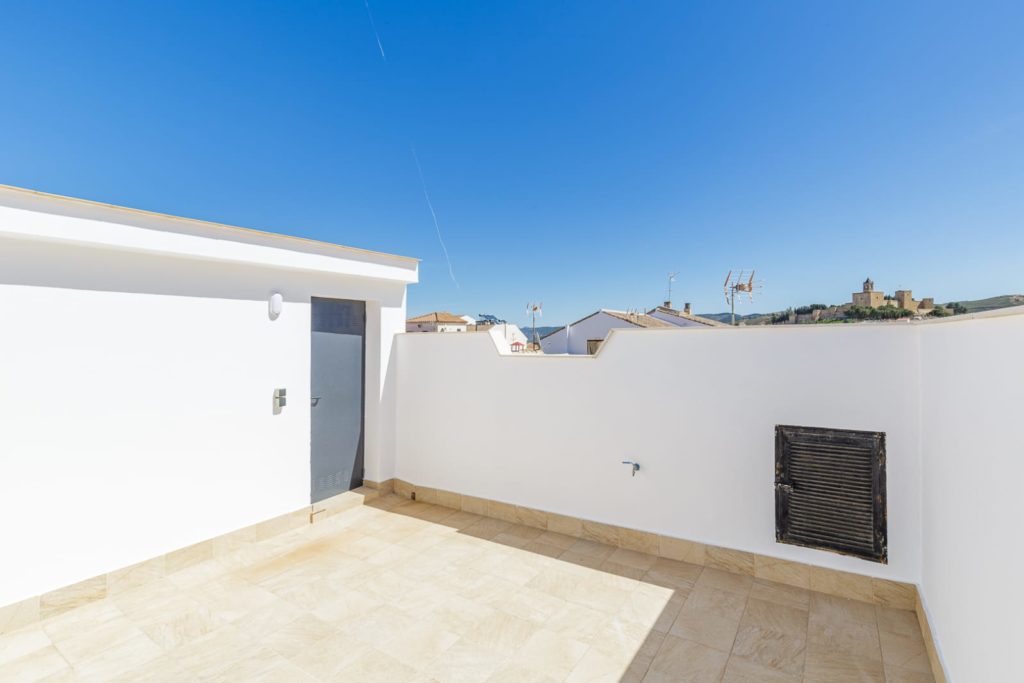 We liked the apartment(s) and the owners as well.
So it was a promising start to the day.
At 10:00 am we met with the real estate agent who would show us the 3 apartments she had signed up.
The 1st apartment was in the large apartment blocks next to La Veronica shopping center (ie. outside the old town). One thing we realized off the bat – in Spain when you visit an apartment the owners are present. They open the door, they show you around…it's a little awkward and very different to North America where the agents are given the keys and give you a private tour.
In this case the owners were an elderly couple who were all dressed up for our visit. The apartment was nice – nicely furnished and decorated, modern appliances, large. The downfalls: It was 100% furnished, there was absolutely no room for anything that we had. Also, the apartment looked out at other balconies of the apartment complex. There was no privacy, no view and the location outside the town center wasn't good for us. Price 650 Euros.
Little did we know that the apartment would be the best that the agent would show us.
The 2nd apartment was perfectly located in the center of Antequera next to the Torcal theatre. We met a very old man dressed to the nines with a full suit, rings, rolex watch (Antequera is old school). A very nice man who explained that he was trying to rent the apartment on behalf of his son. But the apartment was dated. The kitchen and bathroom hadn't been renovated in over 50 years. The living room and bedroom featured kitschy outdated custom-made furniture. The apartment had enormous potential – but it would have had to be gutted and renovated. Price 600 Euros.
The 3rd apartment was in an apartment building across the Plaza de Toros. Perfect location. We met the tenants: a young couple, 4 kids, and an aunt. The place was a mess, every room was filled with toys, furniture (they had 4 TV sets), books, all kind of garbage. The walls had broken/peeling paint. It looked like a home featured on "Hoarders". It made me claustrophobic and I couldn't wait to get out. Price for this 4 bedroom: 700 Euros.
That ended our visit with the real estate agent. Honestly, it was horrible. None of the apartments inspired us. It was depressing and if these were the only apartments we had seen that day we would have actually contemplated just staying where we were in Nerja.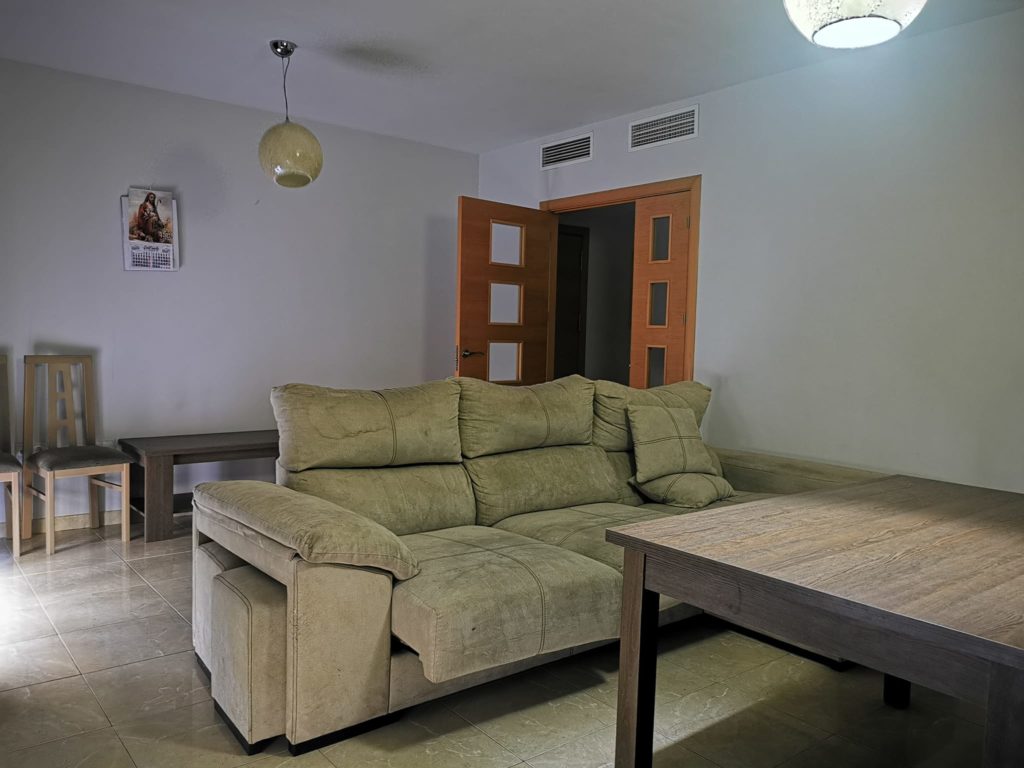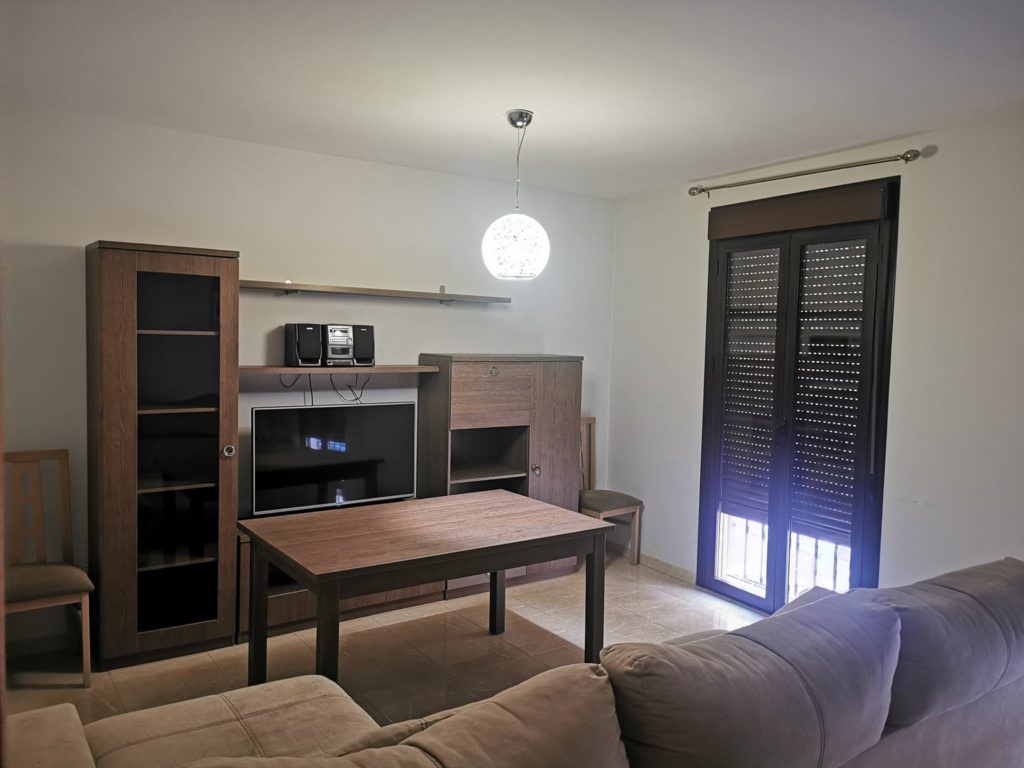 Thankfully we had seen the first apartment with the private owner. The other visits only confirmed that it was the one for us.
---
---
Finalizing the lease of our apartment
We decided to rent the apartment right then and there.
We went to the bank and withdrew 650 Euros, the equivalent of 1 month's rent. We called the owner and asked her if we could come by.
After a nice chat, we paid her the 650 Euros. She wrote us a receipt. We had found our apartment in Antequera.
A few other formalities: we had to pay another 650 Euros as deposit (so she asked for 2 months rent up front). We also had to show proof of financial solvency (I used the bank letter obtained from the bank when applying for the Spanish non-lucrative visa).
---
---
Summary and tips for people looking for an apartment
It took us 2 months to find an apartment in Antequera and we consider ourselves lucky – because apart from the apartment that we found on our own nothing came remotely close to what we were looking for. If I hadn't seen that idealista ad, we might have never found a suitable apartment.
If you have pets your experience will be even more complicated. If you want a non-furnished apartment your search will also be more complicated.
When we asked our real estate agent why it was so complicated finding an apartment in Antequera, she said demand exceeded supply. She also said that apartments usually stay in the family or are rented through word of mouth.
As far the quality of apartments, anytime demand outstrips supply owners can't be bothered investing money into renovations. We saw it in our apartment in Nerja – all 'renovations' were superficial. The banister on the stairs was loose. They used a combination of newspaper and glue to solidify it. Mold? They painted over it.
Tips if looking for an apartment in Spain?
Spread yourself out, call/write agents and do your own research.
Don't expect real estate agents to be very professional. Write them often so you're always at the top of their mind but also be friendly so that they want to work with you. Never mind that you're paying 1 months commission – you'll sometimes feel like you're courting a potential girlfriend. Real estate agents in Spain are not regulated…and it shows.
Use idealista and fotocasa. It's frustrating and time-consuming but you may get lucky as we did. Make sure any ad that interests you is recent. Sign up and write the owner. PS By finding an apartment on Idealista we saved ourselves a month's rent of commission that we would otherwise have had to pay to an agent. So it was worth the work.
---
Note: on this post I'll include helpful/informative comments that we receive on other media like FB. The goal being to give people reading this post other examples to draw from.
– John from our Mapping Spain FB page: "Very difficult when we first arrived in Malaga 16 months ago. From demanding a year's rent in advance, to refusing to rent to foreigners, we had a very difficult time finding our first place here. No one would return emails or phone calls. We eventually had to hire a real estate company, and pay them a month's rent, to help us find a clean, suitable apartment, in the area of town we wanted to be living in. Our second rental experience was much better, and we have a great place exactly where we want to be living, with a very nice landlady".
– Lisa from Expats retired or working and living in Spain: "Looking for a flat in Barcelona was one of the worst experiences of my life and I've lived in 7 countries. Most people that come, end up living in a room in a shared flat due to rent prices and the difficulty in being chosen for the flat. It is a casting and so much better for high earners, couples (two salaries) etc. I live out of the city centre, much easier to find something".
– Renee from Expats retired or working and living in Spain: "I rented the first place unseen (Covid) directly from the owner through Idealista, year contract. During that year looked around for empty houses I liked, asked the neighours of those houses, asked in the local bar, asked my own neighbours. Found a house a liked very much on my daily dog walks and the owners were willing to rent it out long term".
– Toby from The Spain Revealed Community: "What a hassle. Our experience of buying a flat in Basque Country wasn't much different. The experience was so different than we were used to. I was in residential real estate 2000-2008, so the experience in Spain threw me for a loop. After deciding on our flat, I asked if there were any inspections. The agent replied "You saw the flat, didn't you?"
– Dennis at Benalmadena Costa del Sol Group: "What a fantastic and true story,the problem in Spain is there is no regulations surrounding real estate, you will find many agents that used to work in bars one day real estate the next.it took me over 11months to find our perfect place and I've lived in Spain for 30+ years ,every agent either never got back to us or just opened the door of the property and let us look around ourselves while they were on there mobile. We honestly looked at over 30 properties and they were either old overpriced or they wanted 12 months upfront (totally illegal) I personally find its abuse as people coming from outside Spain don't know the laws (we do) the agent just laughed and said no problem I have 5 other viewings this week.eventually through a friend of a friend of a friend we found our house directly with the owner 1 deposit 1 rent and 5 year contract.its a mine field".
– Kevin at Benalmadena Costa del Sol Group: "I always get slated for daring to say anything negative about estate agents based on my experience or that of friends (Spanish included) but that article is a good reflection of how dismal and frustrating it with agents or direct with landlords. Worse to come when it comes to the end of tenancy and deposits not being returned. And the idea of paying a month's rent as commission to one of those lazy, useless, dishonest estate agents in Arroyo is just
 The article should be required reading for anyone contemplating a move and a rental in Spain".
Rented in Spain? Would love to hear your stories and any helpful tips you may have.
---
---
Join Our Newsletter
If you haven't subscribed yet and want to get our posts sent to your email, just insert your email address below. It's free!