Andalucia: The Best of Southern Spain
Most people visiting Andalucia come here for a week or two. They have a limited time and want to see the highlights of the region. For that kind of travel Rick Steves is one of the best. In the past we've discovered places like Bacharach in Germany, Reutte in Austria and Lauterbrunnen in Switzerland through Rick Steves. He's great at covering regions in depth: he'll tell you about the "must-see" highlights but he'll also cover little-known gems that don't make it on a lot of itineraries. His books and videos also describe the essence of a destination through his coverage of food, culture and history.
In this post I thought I'd share a Rick Steves video we just watched titled "Andalusia: The Best of Southern Spain".
Note: there is a surprise destination in this video which was another reason to do this post.
---
---
Below I recap some of the places covered in the video with a few of my own notes (because while we love Rick Steves he tends to breeze through places…)
Jerez De la Frontera (1:32 in the video)
It's all about horses and sherry. The annual Feria del Caballo brings you back to a romantic Spanish epoch where women wore flowery dresses, men wore short jackets and hats, and where everyone rode on horseback. More here on the Jerez May Horse Fair. Make sure to go to a bodega in Jerez to see how sherry is produced and to do some sherry tasting.
Granada (4:42 in the video)
The Alhambra, Generalife Gardens, the Cathedral (Catedral de Granada), the Albaicin, and experiencing Gypsy music in a Sacramonte cave are all covered in the video. I'd add to that the Basilica of San Juan de Dios which is fabulous.
More: 2 Days in Granada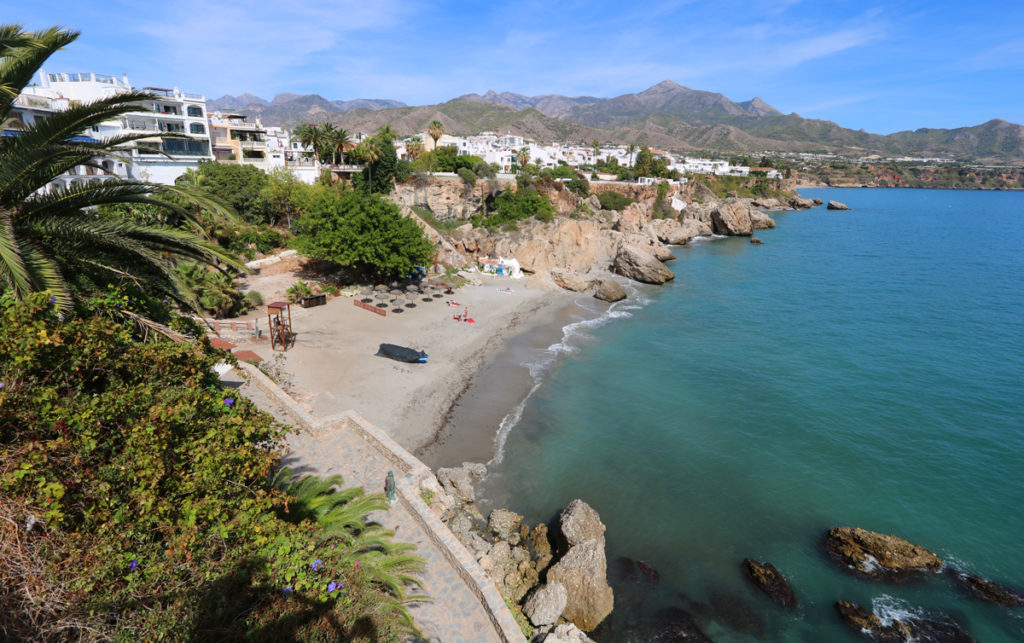 Nerja (16:30 in the video)
Yes, our Nerja is covered in this video. Steves' calls it his "favorite" place on the Costa del Sol (overall he seems a bit negative on the Costa del Sol and the expats who live here trying their best "not to intergrate")
Related: our post on the town of Nerja. You should also see our post on the Beaches of Nerja.
---
---
Córdoba (19:30 in the video)
The Mezquita and Córdoba's history is highlighted in the video. The Mezquita is often overlooked by visitors but it's one of the most incredible things I've seen in my life, anywhere in the world. But there's more to see in Córdoba as I cover in this post.
Zahara (27:31)
I had never heard of Zahara before seeing this video. An impressive castle, great views and (from what I've read) it's one of the province's prettiest little towns. Highlighting places like this is why I like Rick Steves. More on Zahara.

Arcos de la Frontera (28:15)
Pretty town with a castle, an impressive location on a huge limestone cliff, and incredible views. Not a place I would want to drive based on what I see in the video (very narrow streets). More on Arcos de la Frontera.


Ronda (29:36)
Another hilltown with a whitewashed village, Ronda is famous for the bridge built on the deep El Tajo gorge. Steves' also covers Ronda's bull fighting heritage – the town is the birthplace of Spanish bull fighting. More on Ronda.
Gibraltar (34:12)
A piece of the UK on the Spanish mainland, otherwise famous for the Rock of Gibraltar. Highlights are the monkeys and the views across the strait to Morocco (15 miles or 24 km away).
Seville (37:22)
The Real Alcazar, Seville Cathedral, the Golden Tower, the Santa Cruz district, Flamenco, and the Macarena church are all highlighted here, along with the history of Seville.
Seville is a magnificent city. We spent 2 months here a few years back and there is so much more to see then the above. There's the Palacio de las Dueñas, the Casa de Pilatos, the Metropol Parasol, the Plaza de España and many other churches and palaces.
For many people, Seville epitomizes everything "Andalucia".
Related: Seeing the highlights of Seville and Saving Money.
So, what do you think? What would you add to Rick Steves' list of highlights?
---
---
Join Our Newsletter
If you haven't subscribed yet and want to get our posts sent to your email, just insert your email address below. It's free!