The Best of Marbella and around
Georgina and her family have moved all around the western Costa del Sol, living in Marbella, Calahonda, Manilva and Sotogrande.
In this interview she compares these different communities in terms of quality of life, demographic makeup and education (for those with kids).
Very informative for anyone thinking of making this area their base in Spain.
---
Name: Georgina Shaw
Age: 43
Countries of Origin: UK
Number of years living in Spain: 15
---
Hi Georgina! Can you please tell me about yourself and on how you ended up moving to Spain?
I'm originally from London but travelled quite a bit, living in China and Peru teaching English there for a year at a time in my early twenties. I started my career in events and marketing in London, but then was looking for a new challenge and thought a change of scene might be good, so I put my CV on two recruitment websites, one for Spain and one for New York. A few weeks later I was offered a dream job as Communication Director for a leading PR agency in Marbella and within a month I had packed up to start a new life on the Costa del Sol.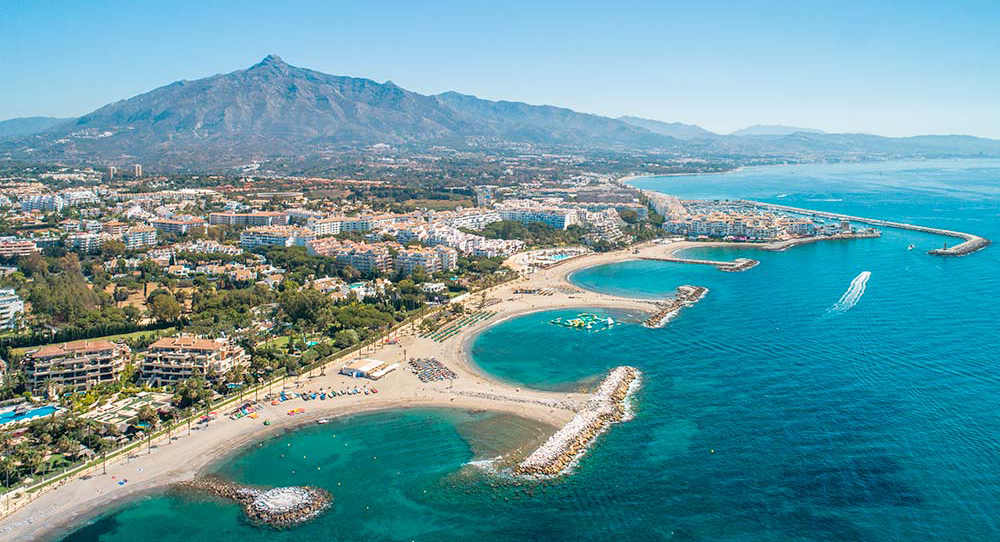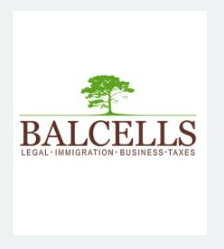 Need help with your immigration needs? Contact Marta at Balcells Group. She handles it all, whether it be a Spanish non-lucrative Visa, Golden Visa, Digital Nomad Visa, Work Visa etc…. More detail here
You've lived in many of the towns in the Marbella area. What was your criteria for finding a base in Spain? And what was your first base?
I started in Marbella because that's where my job was based. I chose a central area and a shared flat on the main road, right in the middle of town, so I could keep costs down while I settled in and got to know the place. I really loved the buzz of Marbella, the great restaurants and social scene and although I left there when my contract ended, we actually moved back again a year or so later as we thought it was such a great base for business and pleasure.
So you've lived in Marbella, Calahonda, Manilva and are now planning a move to Sotogrande. How are these towns different and what kind of demographic do you think each caters to?
The great thing about the Costa del Sol is that it's so diverse and there's a place that will suit everyone. The differences between Marbella, Calahonda, Manilva and Sotogrande are extreme and it has been fun to get to know each area.
Marbella is one of the larger towns on the Costa del Sol, with a great buzz and everything you need on your doorstep. I loved the restaurant and bar scene back when I was living there and there's so much choice.
It's interesting, because even within the town itself there are some very different neighbourhoods, which certain nationalities tend to be drawn to. Although it certainly is an international town, it has a very Spanish identity. Live on the main streets and apartment blocks in the centre, as I did, and you will struggle to find anyone non-Spanish. But move closer to the sea and into the more upscale apartment buildings and developments and you'll find a much more international crowd.
It has a reputation as a jet set destination, and there's no doubt that there are some very expensive bars, restaurants, clubs and shops. However, there are still plenty of places for a cheap beer or coffee, a great value Menu del Día and affordable shops too. Look for the places that are popular with the Spanish, move off the seafront promenade and you don't need to spend a fortune.
In terms of the demographic that would be attracted to it, I'd say it would suit young couples, families and retirees who want to be in the centre of the action and don't want to have to drive too much.
I had a lot of fun in Marbella when I was younger and didn't have a family and wanted to be out most nights. I also enjoyed my time there while my son was young, as it's very family friendly, has great nurseries and schools and lots of playgrounds and things to do for kids.
Calahonda is a large residential community in Mijas, close to Fuengirola. It has a very strong British identity, with a high street full of international bars and restaurants and a shopping centre which caters to expats. It had a feeling of Britain in the sun and is very easy to adapt to if you didn't speak Spanish, but lacked the Spanish identity that I was looking for. However, it's conveniently located within easy reach of the big town of Fuengirola and just 30 minutes from Malaga airport. It suits British expats wanting a familiar flavour of home and ease of access to the airport.
---
---
Manilva is a district on the western Costa del Sol, between Estepona and Sotogrande. It comprises of Manilva Village, Sabinillas town and Duquesa port on the coast. We live within walking distance of the village, which is a small and traditional, typically Spanish village. It has suited us very well while our son was young, as there is a good state primary school, excellent sports facilities and is a safe and comfortable place to bring up a young child.
Having Sabinillas down the road to offer the shops and amenities you need within easy reach, as well as lots of places to eat and drink and a busy calendar of events is really handy. Duquesa definitely has a British identity, so you can easily access the tastes, sights and sounds of home, as and when you need it. The combination of the village, town and port, means the area has a lot to offer. It's also still really good value for money in terms of property, going out and activities such as sports and classes, so is popular for retirees and families on a budget.
Many expats who work in Gibraltar base themselves in this area, or nearby Sotogrande, to take advantage of the Spanish lifestyle with the higher Gibraltar wages.
Sotogrande is only 15 minutes away from Manilva, but has a very different vibe and demographic. It has a reputation for exclusivity and elegance and is famous for golf and polo and the marina. It was established in the 1960s as the largest private estate in Spain, developed in the style of the Pebble Beach resort in California. It is definitely international in look, feel and demographic, although it is also popular with successful Spanish families. We are moving there next year to be closer to our son's school, Sotogrande International School and the rugby club he plays in. The school is excellent and we really like the marina area and Pueblo Nuevo. Although we haven't got to know it too well yet, it seems like a very nice, safe residential community and we look forward to moving there.
---
---
You've done a lot of moving around Georgina. Do you rent? Or have you bought in these different places? And what advice would you give to anyone looking to do either?
I was renting for the first 7 years of my time in Spain and was really pleased to be able to be flexible and move around as my situation changed in terms of work or family life.
We bought in Manilva, as we felt it was a good time to buy, but ideally would have rented for a year first before taking the plunge. Although rental prices have gone up a lot in recent years, the ability to try before you buy is really valuable, especially if you are new to the area.
You mentioned having children that go to school in Spain. Can you tell us about the schooling experience in Spain? How easy/difficult was it getting your kids into schooling in your area of the Costa del Sol and how do you think it compares to the schooling back home?
I have tried quite a few education options in Spain over the years.
We started with a private bilingual nursery in Marbella when my son was 1 year old. It was called La Latina and was an absolute godsend for us, as the staff were so lovely and kind and gave us a lot of help and advice, which we were missing from being away from extended family. The team spoke English, so we didn't have to battle with the language, but we knew our son was growing up and developing both languages, which was really important to us.
When we moved to Manilva, he was 2 and they can start school here the year that they turn 3, so we got him straight into the local Spanish state school, Pablo Picasso. The only thing that can catch you out, is that the applications for the schools are in the March, before the start of the school year in September and you have to get your forms in between the 1st and 31st. The form is pretty baffling, so definitely get someone to help you with that, even if your Spanish is good.
I already spoke Spanish, and our son had also been to a bilingual nursery, so we were both well prepared to go into the Spanish system and I have to say it was a really great experience. In the infants' school "infantil" it was such a loving environment and the kids and the parents were well looked after. The only thing you need to be ready for is that they need to be out of nappies and the teachers will call you in to change them if they have an accident – so be prepared!
Primary is more structured and highly disciplined and the homework starts to get heavy pretty quickly. However, there are homework clubs at the school and privately, which work very well especially if you don't speak much Spanish at home. We also used some online tutors to help with the workload in the final stage.
We've now moved him to an International school for the final year of primary and hope he'll stay there until 18. He really benefited from going to Spanish school, but it started to get a bit too rigid for us and the homework and constant testing regime didn't suit our son at the end.
The international system is very different, much more individual and flexible and offers many more opportunities for music, sports and technology and so he's very happy with it, as are we!
Every school varies and you have lots of different options along the coast, depending on your budget and requirements. I would say compared to the UK and the international system, in the Spanish system there's more homework and it's probably more old-fashioned with lots of rote learning and testing. If you're looking for an individualised system, then international schools will probably be a better fit.
---
---
You've got a marketing business here in Spain. What exactly do you do? Do you cater to the local market or are you international?
Our company is called Shaw Marketing Services and we are a full-service marketing and PR agency. We offer all types of marketing and communication services including copywriting, social media management, PR and media relations and marketing training.
Our core clients are companies on the Costa del Sol led by international entrepreneurs. We work with all kinds of sectors including hospitality, real estate and retail. We're here to help people to communicate better to the international residents, tourists and Spanish customers and tailor our services to each client's needs. April 2023 will be our 15th Anniversary and we're really proud to have been able to build our business and survive the financial crisis, COVID and lots of challenges along the way.
You can find out more about us on our website or social media channels.
---
---
Spain is known as not being very business friendly. I'd like your perspective on setting up a business here in Spain. Any advice for people looking to do the same?
The Costa del Sol is a hard place to make money and the system isn't the easiest to manage. However, they are trying to make it better for new businesses, with reduced social security payments for the first few years for example.
I'd advise people to use professionals who know the system and know how to make it work for you and try not to compare too much with your home country.
I halved my salary coming from London to Marbella, for a massive promotion, but the cost of living was so much lower that I actually had much more money in my pocket at the end of each month, so you need to change your mindset a little.
Most people fall in love with the lifestyle here and then find a way to make enough money to support that lifestyle.
There are opportunities here, either to work for other people, or set up your own business, but you do need to work within the bureaucracy and learn along the way how everything works. I have always tried to be flexible, not to judge and to enjoy the life here and have been able to build a successful business. My life here isn't about making millions, it's about providing a great life for me and my family and that's what we've been able to do. If other people feel the same way, then they will love it too.
If you want something more traditional, then take a look at Gibraltar, where salaries are a lot higher and then aim to live on the western Costa del Sol to get the best of both worlds.
The new digital nomad visa will also offer lots more opportunities to work for companies in other parts of the world, while living in this beautiful place and I definitely think that this will be an attractive option for many.
What does the future hold? Do you continue to see yourself in Spain in the future? If so, do you think it will be in the same region?
Spain is my home and in fact I am planning to build a property so that my parents can live with us and we can enjoy the wonderful lifestyle together. I feel settled and happy and established in my business and will certainly be in Sotogrande for the next 8 years. After that who knows, but I'm not in any hurry to go elsewhere. Spain is a wonderful place to call home!
Thank you for doing this interview Georgina!
---
---
Join Our Newsletter
If you haven't subscribed yet and want to get our posts sent to your email, just insert your email address below. It's free!