What's it like living in Sotogrande?
Kerys is inspirational: a writer, director, artist, teacher, and businesswoman with her own clothing line and photography/graphic design business. She's even organizing the recording of a charity song!
She's lived in a few different places in Spain and now makes Sotogrande home. Why Sotogrande? All about that below…
---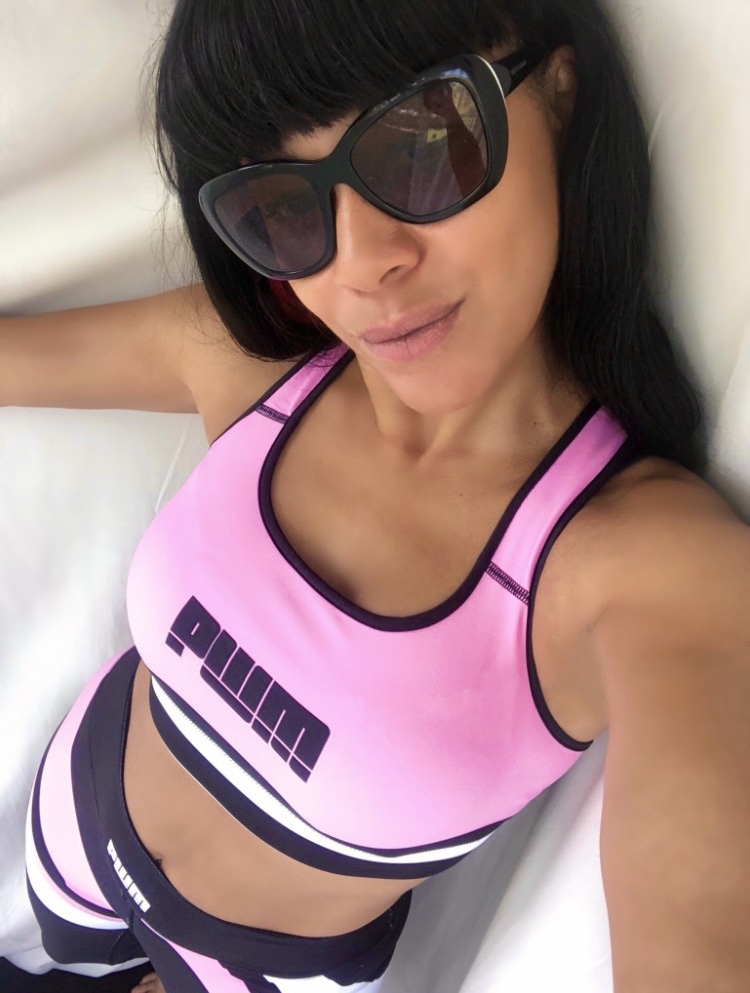 ---
Hi Kerys! Can you please tell me about yourself and on how you ended up moving to Spain?
I've been a Director and writer for almost 30 years in the UK and the USA. Unfortunately, I worked so much that I had no work/life balance and had almost no time to travel and take in the beauty of other countries and their fascinating cultures. And so I decided, after suffering 2 near-fatal tumours, that once my daughter went off to University, I would finally go travelling to all the places on my bucket list.
First stop was France, then Spain. I then randomly ended up in Melilla on the coast of North Africa. There, as I wrote my next book, Covid hit. With the covid drama playing out, I decided to remain in Melilla for the next 2 years. It was culturally fascinating and inspired my new novel. I then returned to mainland Spain and spent time exploring Madrid, Ciudad Real and Malaga for a bit before making the decision to create my home base in Sotogrande.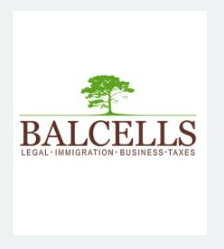 Need help with your immigration needs? Contact Marta at Balcells Group. She handles it all, whether it be a Spanish non-lucrative Visa, Golden Visa, Digital Nomad Visa, Work Visa etc…. More detail here
What attracted you to live in Sotogrande?
Although I loved Madrid and Malaga (not so much Ciudad Real which I found extremely flat and boring), I felt that as a Londoner, I'd had enough of the busy city life. I craved a more tranquil environment to inspire me. Priority number one though, after having lived for 2 years by the beach in Melilla, was to have a sea view! Or at least to only be a 10 walk away from the beach, with mountains and fabulous countryside in which to walk. Sotogrande had all of that for me. I generally write initial concepts and chapters for books and scripts on the beach or up a mountain where there are no people (my happy places) so I definitely needed to be deep in nature.
The beauty of Spain is that there are so many wonderfully diverse places to visit and should you be looking for something different to where you are, you can easily travel around by car or train. I find both are relatively easy and much more interesting than the M25 in the UK. I visit other towns more often now from tranquil Sotogrande. When I need a City girl fix, I can easily head to Malaga or jump on a train to Madrid and get my shopping and theatre trips in. You can take the girl out of the City, but not the City out of the girl, as the saying goes.
Sotogrande is very different to Malaga in that you can find real tranquility and silence here. I found that Malaga never stopped. I loved the centre, but for me it was too dirty, noisy and way too overwhelming. I'm a creative person and need my peace and space in which to think properly. I found that outside Malaga's old town, it was filthy, the crime rate was concerning and I didn't always feel too safe. I did however love the old town (the most beautiful and interesting thing about Malaga).
Sotogrande is much quieter in general and rather beautiful. Its picturesque landscape is gorgeous. Surrounded by vast amounts of lush greenery and a river with actual water in it (first I've seen in Spain), it often reminds me of back home in Maidenhead where I had a house. Sotogrande attracted me because it's clean and feels very safe (compared to Melilla, Malaga and Madrid) and has a very laid back attitude. For a high-end wealthy spot, I find this very refreshing. Everyone feels equal here, no showing off or bragging, which I have found in other cities.
Soto of course is famously known for its high-end amenities, such as restaurants, Spa hotels, golf, polo and tennis clubs and at the centre of it all, an absolutely gorgeous marina (my favourite place to take a coffee break and watch the boats and a world of fancy people go by). I'm not a lover of either golf or polo but I do love boats and water. So here I am.
The beaches are nicer and more diverse than in Malaga. Overall, a very interesting and varied coastline all the way down to Tarifa (which I love and which is only 1 hours' drive away). Every beach here has something different to offer. Out of season it's beautifully quiet, so it feels like my very own private beach. Living between Malaga and Tarifa and so close to my beloved North Africa is the perfect spot for me to base myself and my businesses, so it was an easy choice to move to Sotogrande.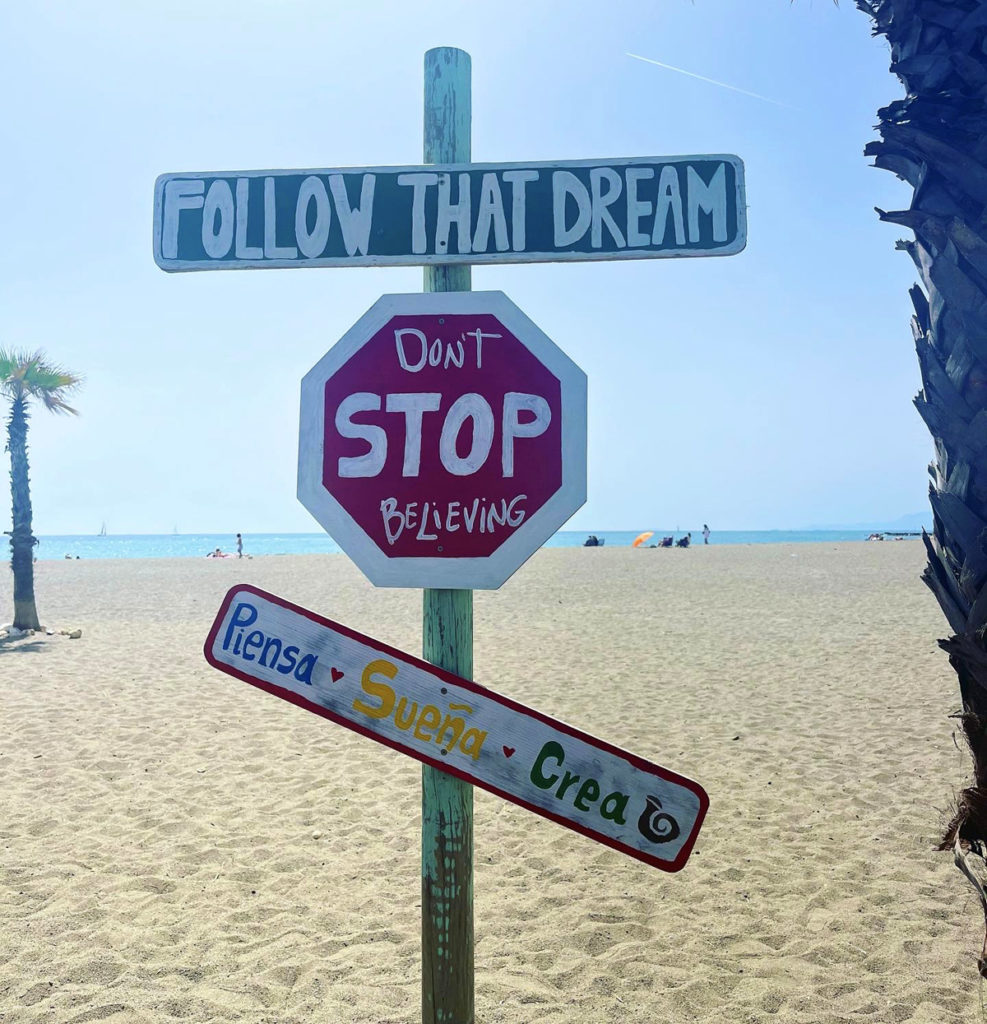 ---
---
What's your favourite thing about Sotogrande? Is there anything you don't like about it?
There's not a great shopping centre, or a Sports Center with a large gym, pool and a variety of classes. I really miss that, but La Canada and Marbella are only up the road and we have many tennis and paddle clubs there. There's also not much as far as social dancing opportunities here in Soto (I'm a huge fan of Kizomba, bachata and flamenco dancing). I miss that about Madrid – there I could take classes and spend evenings dancing with hundreds of people (as I used to do in London).
However, what Sotogrande lacks in that kind of entertainment, it certainly makes up with a fantastic array of musicians, artists and creatives in the area (which is totally my thing!) and by the amazing social connections and community found here. People really care and most engage with others beautifully. It's a seemingly small place (namely the marina area) but Sotogrande itself is actually set out over a large portion of San Roque. There are many fabulous connected pueblos that all have a slightly different vibe. So whatever you're looking for (apart from social dancing and commercial shopping centres!) you really can find it all here in Sotogrande. The lifestyle is glamorously laid-back with a slightly bohemian vibe in summer and that's perfectly alright by me.
I guess I would say my favourite thing is the relaxed vibe and yet, the high-end business connections that are made here. Which is great for me as I am just now (after covid) relaunching my 3 UK businesses here in Spain. I run an artist/student performance coaching company (since 2000) now renamed CREATE SPACE, a small photography and graphic design business called DESIGN BALANCE and have my own sportswear line called PWM (which was created after surviving my tumours and PTH disease). It focuses on supporting women worldwide. The brand and mission was born out of the success of my book PHENOMENAL WOMAN and so now, I'm excited to be bringing my physical products and offering my creative services to the local area. As it turns out, Sotogrande has a fabulous array of talented young performers and I am currently now putting together a group here in Spain instead of the UK to record a charity song I've been planning. That's very exciting to now be able to do this kind of work here.
Other than the beaches along this part of the coast, I also love the port, the river and nature walks and the wide choice of restaurants. Malaga of course has many more, but being able to walk around the port and have so much choice in one small area is great. The chiringitos here in summer, where you will find many live bands performing, are also probably the most fun I've seen on mainland Spain.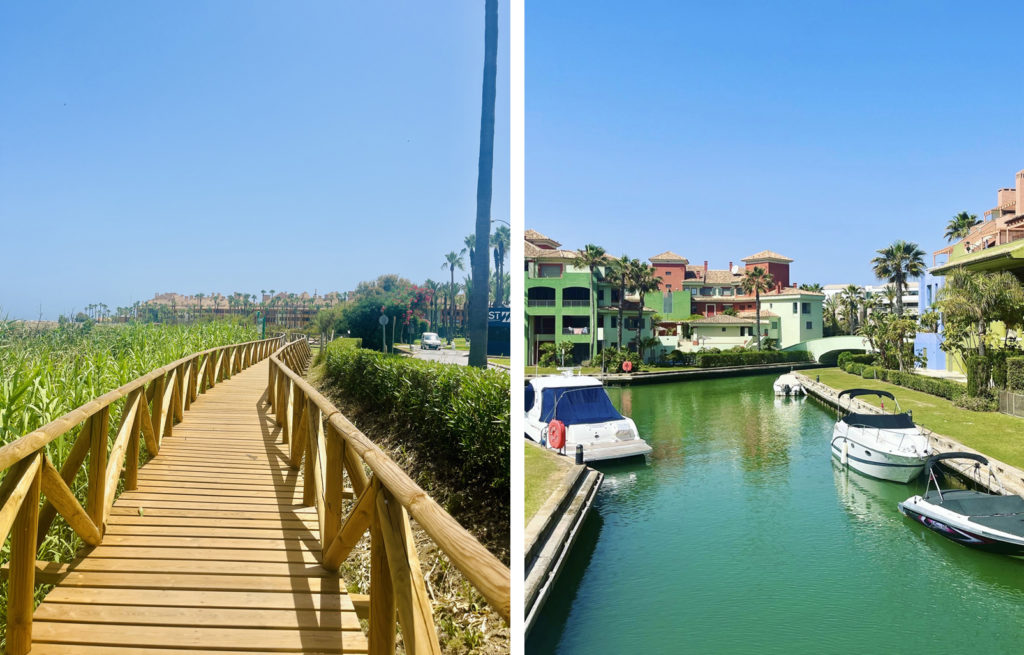 ---
---
What do you in Sotogrande Kerys? How do you keep busy?
Well, I still spend a lot of my time working for sure, running 3 businesses and producing a book and a movie certainly take up the bulk of my time. However, after surviving parathyroid cancer and moving to Spain, I feel blessed to be here and therefore my priority is in having a good work/ life balance (That is also my excuse for socialising a lot ha! It's hard not to here as I've found it much easier to make new friends down here).
I spend my free time eating or going to the gym (albeit a small one), chilling on the various beaches, walking and visiting local pueblos and the many tapas bars in the area with new friends. I'm hoping to try out some horse riding and water sports soon too. There are also a lot of artists in Soto so there is always an art display or gallery showing to visit. I came to Soto for a safer, cleaner and slower pace of life and that's exactly what I get here.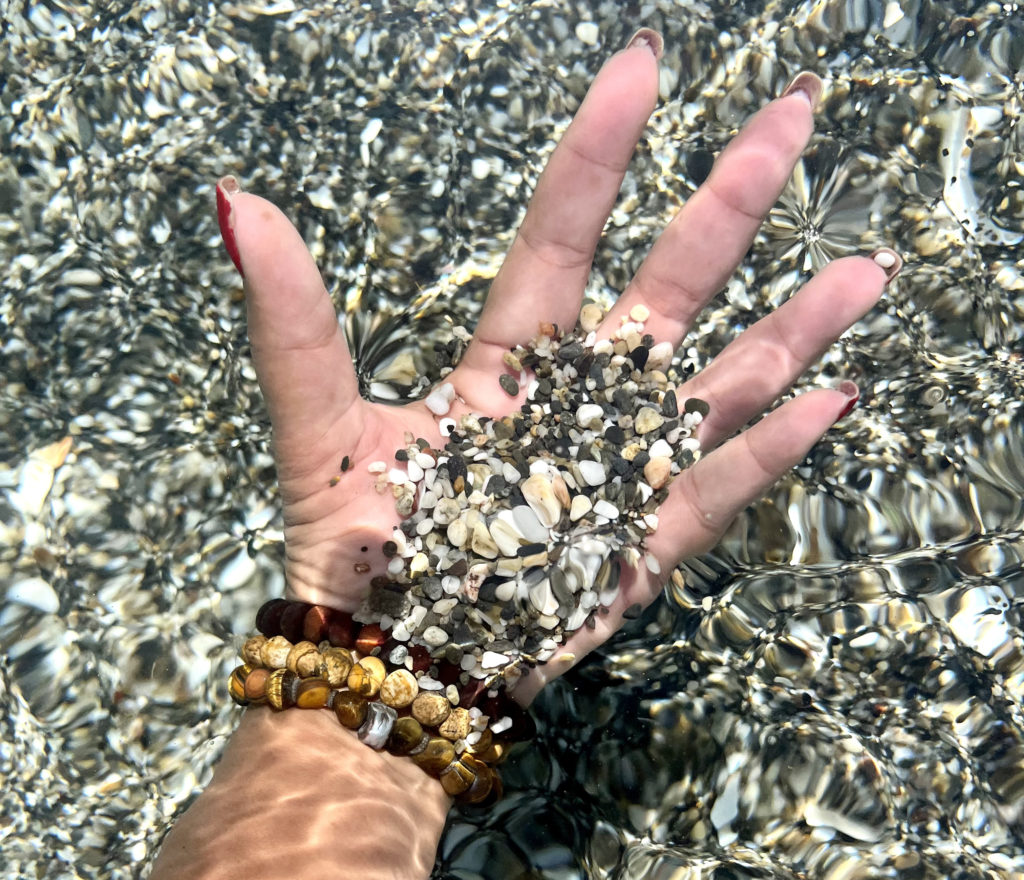 ---
---
I see from your Facebook page that you're a very creative person and have a lot of businesses. One of the stereotypes about Spain is how it's a difficult place to do business. Do you have any thoughts or advice on that?
When I first came to Spain I worked as an English teacher (throughout Covid) because it was the easiest job for me to get and as a non-Spanish speaker (on arrival) there really wasn't any other work for me. However, this gave me the opportunity to get my residency more easily (especially pre-brexit) and enabled me to learn Spanish (which was my other goal. I wanted to be fluent in 3 languages). Where I lived in Melilla, no-one spoke English really, so I learned Spanish very quickly.
4 years in, I have learned that running my businesses here is more than possible, especially here in Sotogrande. Most people speak English and run diverse businesses and although very international, the town is still very Spanish too. I love that. I think if you are determined enough and are willing to put the work in, I believe anything is possible! I worked very hard in the UK for my career and became successful because of it and now, I'm adopting the same mindset to do that here all over again in Spain.
The tag line for my Phenomenal Woman Mission brand is "Live a life that serves you and become your greater self" and that's exactly the mindset I choose to live by every single day. It's mine, my clients and my customers' motivation. We are all definitely on a mission!
I think that if you really want something out of life, then you have to believe in yourself first. Then do the research, put in the work and find the right kind of connections that help elevate you to the next level in your own journey. It's what I've done since I was 17 years old and it's what I teach my performing students/artists to do. Spain isn't the easiest place to work, but if you adjust your business mindset to the local market, everything really is possible. So that would be my advice. Integrate – motivate – Elevate!
---
---
What are the things people do for fun in Sotogrande? What's its principal attraction?
The principal attraction for people to live here is definitely the exclusivity and real estate! There are so many gorgeous houses (I particularly like Sotogrande Costa). However, I guess the principal attraction has to be the Polo, golf and riding schools. The world famous Ryder cup is also held here and the Royal family and the such like to visit regularly and many royals and celebrities have homes here. If privacy is your thing and you like Polo and golf, then Sotogrande really is the place for you. There are some gorgeous 5-star hotels in and around Soto too.
Sotogrande has a reputation for being super exclusive and it is in many ways, however, unlike in Marbella, exclusivity in Soto is classier and more relaxed (Just my opinion lol). Many people may have money here (not all) but those that do are not as flashy as the Marbs set so it would seem. People just go about their business, no showing off required.
---
---
Accommodation. Do you rent or did you buy Kerys? What's the process in Sotogrande? Any advice for people looking for an apartment or house?
I am currently renting, but I hope to buy a forever home here in Spain one day soon. For now I am really just enjoying the environment, lifestyle and rebuilding my businesses. I'm always keeping an eye out for potential houses that might become my heart's home. There are some amazing properties to rent here for all sorts of budgets (especially if you live just on the outskirts of Soto). I found it easier to find somewhere to live here than I did in Malaga, where the rental market has gone through the roof and people are asking for huge deposits and creating bidding wars. It was exhausting looking for a decent flat in Malaga, so I gave up and moved to Sotogrande. I haven't looked back since. It's perfect for me and when my adult daughter comes to visit from London, she gets to have a chilled-out vacation spot with awesome views.
I probably wouldn't have chosen such a remote or quiet place in my 20's or 30's (there isn't enough for that age group to do I would say). So, the younger set here tend to head to Marbella at the weekends. Best of both worlds really.
---
---
What's kept you in Spain Kerys? What do you like about living here? Do you see yourself staying here the rest of your life?
Whether I will live in Spain for the rest of my life I can't say, but for now, it's certainly a very nice long-term plan. I love the language and the people. The food is good too. Of course, the top reason to stay has to be the year-round sunshine as it makes such a noticeable difference to my mental and physical health. After being severely ill and stressed out in the UK and now being given a second chance at life, I'm here to make the absolute best of it, explore and enjoy every second possible.
Do you have any parting words of advice for anyone thinking of moving to Spain?
Firstly, I'd advise everyone to live in another country (if not 2 or 3) for at least a year! Travel changes you, but immersing yourself in another culture truly makes you! Experiencing new cultures is probably one of the best things you can do to educate yourself on the important things in life. My advice is to be brave and go try it all! Find your 'place in the sun' (or snow if that's your thing) and as I say in my book (Phenomenal Woman) 'Live a life that serves you and become your greater self'
Thank you for doing this interview Kerys!
Join Our Newsletter
If you haven't subscribed yet and want to get our posts sent to your email, just insert your email address below. It's free!