What's it like living in Teruel? (Aragon)
Fellow Canadian Teresa lives in Teruel, the capital city of the province of the same name in the autonomous community of Aragon in Northeastern Spain.
It's not a region that attracts a lot of foreigners but in this interview Teresa tells us all about Teruel's attractions and why she loves living there.
---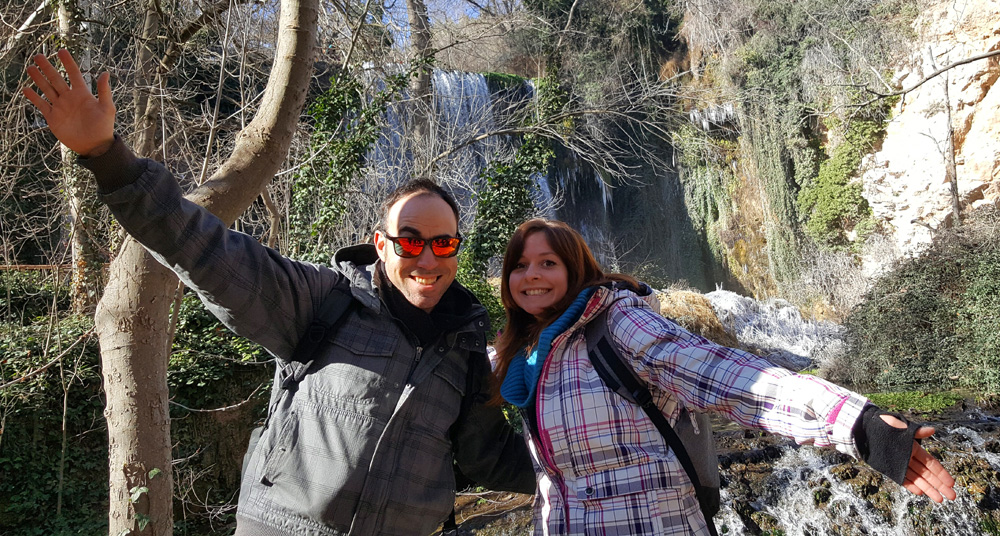 Name: Teresa Maria Julian
Age: 31
Country of Origin: Canada
Number of years living in Spain: 8
---
Hi Teresa! It's nice to meet another Montrealer in Spain. I'm wondering what led you to Spain?
Likewise. I always love meeting fellow Canucks, especially those from Montreal! In answer to your question, my father is from Teruel. He was born there and moved to Canada at about 8 years old with my grandmother. My grandfather moved two years prior with one of the major operations between Canada and Spain in the 60s. For some personal medical issues, I decided to get away from home, Montreal, Quebec. I was looking to go somewhere like Costa Rica (I had been there in 2011 for 5 weeks on a volunteer program) however my parents were truly concerned about my travelling alone considering my health. To ease everyone's mind, I decided to come to Spain and reconnect with my roots. I originally planned to be in Teruel my first year and then relocate to a beach side location like Valencia haha. However, as I was living in the city of the Amantes, of course I found my love. Here we are, almost 8 years later living in our house, getting married and with our beautiful baby girl born last year.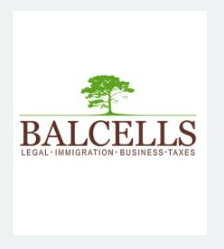 Need help with your immigration needs? Contact Marta at Balcells Group. She handles it all, whether it be a Spanish non-lucrative Visa, Golden Visa, Digital Nomad Visa, Work Visa etc…. More detail here
I read up a bit on Teruel. It has a fascinating history. I also read that the town is the smallest provincial capital in Spain and is known for its harsh climate. So what's it like?
The climate is harsh in comparison to the rest of Spain but it is perfect for a Canadian. Our winters mean warm days (10-20 degrees) with the mornings and evenings possibly dropping down to below 0. It used to be far worse but this is what it has been since I have been here. Also, if you want to see snow in Spain, the province of Teruel is perfect for this. It is one of the largest provinces in Spain when we talk territory. Unfortunately, the declining population and the lack of support from the national and autonomous government make it difficult to shed more light on this beautiful land. That being said, I can certainly say that anyone who HAS visited Teruel agrees that it is stunning and the people are extremely kind and welcoming. I may be a big city girl, but this small city also has my heart.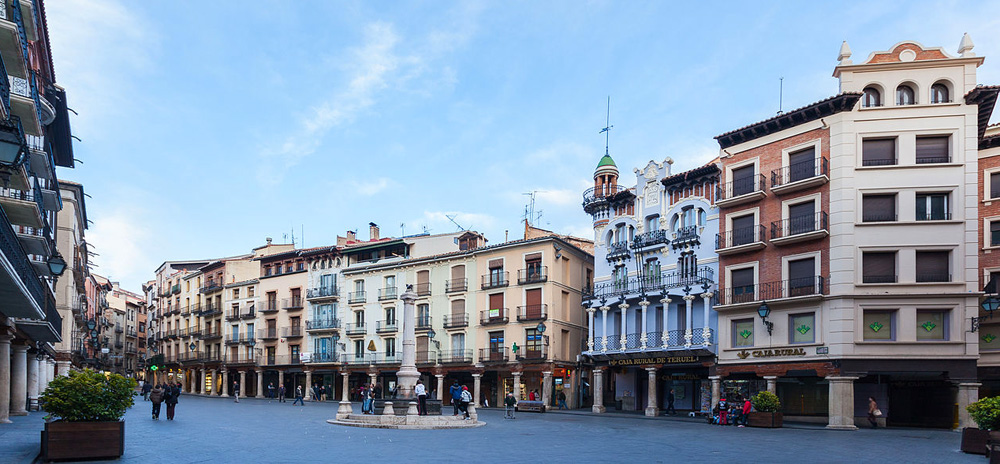 ---
---

What do you like about living in Teruel? Is there anything you dislike?
I come from a very large, very international city (Montreal), so the sudden change to living in Teruel one would assume would have been terrible. However, I lived in Lennoxville, Quebec for 4 years prior to moving back home and then to Spain, so I got used to the small town/city life. I love that the skies are always very clear. The stars at night are incredible and during the day it's just this bright clear blue. The people are very kind and the architecture, the history, is breathtaking. I love our festivals (the running of the bulls, the medieval festival, semana santa). Teruel, the province, has so many beautiful spots for outdoor sports activities, hiking, biking, picnic with the family, little lakes that are just fun to explore. We are also right in between 4 major cities (Valencia, Zaragoza, Barcelona and Madrid) and only a 45 minute drive to Sagunto beach. As a Montrealer, you can imagine that 45 minutes is nothing haha.
Teruel most likely won't make it on any expat's list of potential places to live. What would you tell them to sell them on living in this region of Spain?
If you want a quiet, welcoming community to raise your children, or a place to really blend into the Spanish culture, this city is amazing. So many expats choose to live where there are many expats and that is unfortunate because I often find there is little effort made to learn the language and really meld with the locals. There are many many Spaniards that speak English and would love to chat and in Teruel that is very typical. Also, its proximity to Valencia and Zaragoza as well as the beach makes it ideal because you have the safe, fun, small city feel but you can easily escape to the big city or beach for the day/weekend. Teruel also has ski hills about 30 minutes from us and our 3 main festivals are so much fun to take part in. We actually do Airbnb/Booking with our Villa so we love to welcome people here to Teruel and guide them. You can find us typing "Villa CiTe Teruel" in both AirBnb and Booking if you are looking for a getaway.
---
---
What do you do for work Teresa? When you came to Spain did you come with something lined up or did you just happen to find something?
I originally I did join the auxiliares program to get into Spain and see what things were like here but I settled on Ken's Education Group in my second year, where we built incredible programs joining Canada and Spain together. It has been an absolute pleasure to introduce students from both side to the others cultures, joining teachers, parents, students, families and friends together. It has been a very rewarding journey and I am thrilled to continue it.
What (if anything) do you feel you most had to adjust to when coming to live in Spain?
Considering I am part Spanish, the adjustment was not as difficult as it would be for other expats. My biggest issue was being so far from my family. We are a very close family and so the decision to move away was not an easy one. I also miss my best friends, my godchildren etc. Spain itself, I would say the administration (government bureaucracy) was and still is my biggest pet peeve here. The food and the people have been great. I did also have to adjust to some cultural perceptive differences, how we talk about certain groups of people etc. where in one country it is accepted while in the other it would be seen in a different light. I also took this opportunity to teach people about our Canadian way of life and our view on people, politics, cultures etc. as well which helped a lot.
---
---
What's your daily life like in Teruel?
I am going to say pre-covid, my life consisted of waking up and getting ready for work. Walk to work (or drive 5 minutes to the parking and then walk). Work until about 14h-14h30 and home for lunch. We cannot forget our almuerzo/coffee break, where we head out to one of the local terraces for a quick bite and coffee. After lunch, back to the office. I am used to a more sedentary way of life so after work I would come home, prep supper and then watch some television, play board games whatever the case may be. Sometimes I would also travel to other parts of Spain for work meetings (Valencia, Castellon, Zaragoza, Madrid, Burgos, etc.). On weekends, we almost always went to meet our friends at a local terrace for our vermouth and snacks. This was always a favourite of mine. Most Saturday evenings we would go out for supper with friends. Finally, I always went back to Canada for vacation at least once a year and for work usually twice a year.
NOW, life is different. I got pregnant in February 2020 meaning that I have not seen some of my friends since then due to Covid. I also have not had a chance to see my family since January 2020 because they were not able to travel here and I could not go home. Pregnancy and post-labour were really difficult to deal with without having my best friends and family from Canada here with me. I also was not able to celebrate or be with my friends and family here in Spain much either. I do a combo work from home/office. That being said, the health care, my hospital team etc. were amazing to me throughout the entire pregnancy and during labour. I could not have asked for better care in this regard. Though I digress… my daily life now, after maternity leave, is working part time until my daughter is old enough for day care. I work mostly from home, while taking care of her, and I go to the office some evenings when her father can watch her. Evenings are spent with our daughter and trying to relax and our weekends we have my husband's family over. Aside from this, we are relatively isolated from everyone, due to Covid though we are hoping this summer, since we can be outside, we will be able to see more of our friends and family.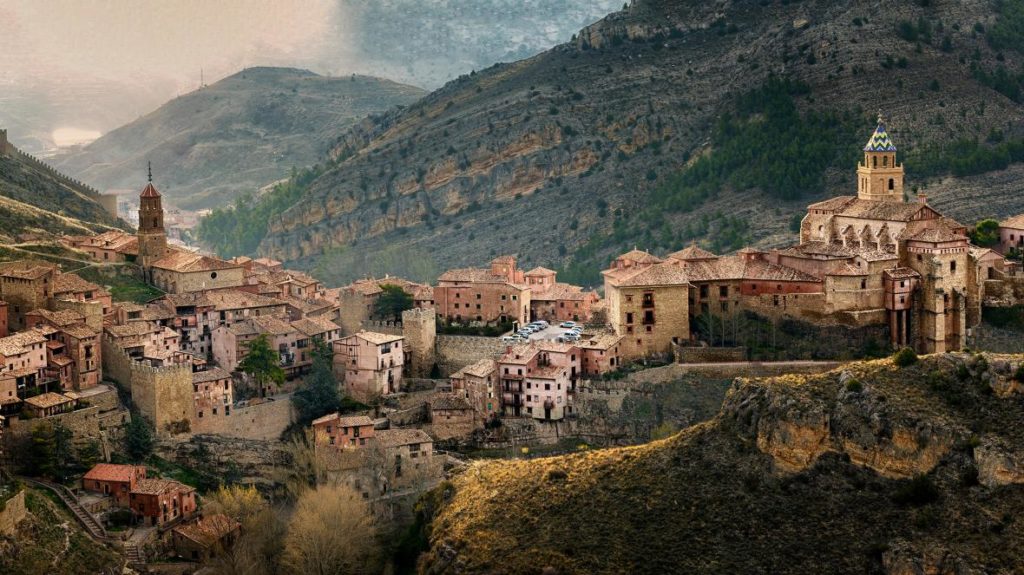 ---
---
All the provinces and cities have their distinct culture and language. What stands out for you in Teruel (and Aragon in general)?
They have a special dance, the jota which I find fascinating. The different festivals like los Pilares in Zaragoza in October, the medieval festival of Teruel in February and our running of the bulls (la Vaquilla) en July. It is a very chill, relax attitude and atmosphere in this area, and when you are from here, you are from here and proud of it. This is nice to see. Not to mention the different natural landscapes you can find in this area.
What's your favourite local dish?
Hmmm local not sure. Oreja (pig's ears) is famous, especially in Teruel and truffles and cheese as well. That being said, I am notttt a fan of Oreja haha and I love patatas bravas, sepia (cuttlefish) with garlic and parsley and of course, Teruel's famous delicias de Jamon (ham) con tomate (internationally prized).
Do you have any regrets at all? Would you do it all over if you had to do it again? Would you have changed anything?
One thing I have learned in this life is not regretting anything as it serves no purpose to do so. What I do is take life as it comes. It is a journey after all, and life will continue after I am gone, I am just along for the ride. This means accepting things, learning from things, challenging others, and more. I strive to live my best life however I can and whatever that looks like. Did I see this life for me, no, but can I honestly say I knew exactly what I would be doing? No. I am happy and that is what counts. Do I miss my family, my home and friends? Terribly so, but when I visit or they visit me, it is like no time has passed at all and that is what it means to have true friendships and a family that loves you. I love Spain, it is a part of me now and always will be just as Canada always was and will be as well.
---

Many thanks to Teresa for sharing her experience in a little known region of Spain.

Teresa welcomes guests to rent her villa in Teruel and will guide them so they see the highlights of the region. You can find more information here on Airbnb or here on Booking.
---
---
Join Our Newsletter
If you haven't subscribed yet and want to get our posts sent to your email, just insert your email address below. It's free!