Barcelona or Madrid?
The easy answer is that you should visit both. But that's no fun. The question is, if you have to choose, which of these cities should you visit?
I have my opinion which I'll tell you further below.
But no matter what your opinion is, one thing that is definite is that both cities are very, very different. And those differences are probably why you prefer one city over another.
Barcelona
Barcelona is an old city, dating back over 2000 years. You see that in districts such as the Gothic Quarter and El Born. You also see it in newer parts of the city, such as in the 19th century grandeur in L'Eixample Neighborhood (which reminds me somewhat of Paris.
But Barcelona is probably best known for its modernist architecture. The Sagrada Familia is the signature piece, a basilica built by Antoni Gaudí (Barcelona's favorite architect). But there's more than just Gaudi, there's Lluís Domènech i Montaner as well as Puig i Cadafalch. Together they produce UNESCO sites such as Casa Batlló, Casa Milá, Park Güell, Hospital de la Santa Creu i Sant Pau and Palau de la Música Catalana.
Barcelona has a lot of things to see. It also has beaches, although I would argue that Barcelona is not the place to go to for beaches (go the the nearby Costa Brava for that).
---
---
See: The Top Things to Do in Barcelona (and costs!)
Barcelona is very much a tourist city with all the side effects of being a tourist city: hordes of tourists, high prices, and lots of pickpockets (I personally know 3 people who've been pickpocketed in Barcelona. It was the first thing we were warned about when checking into our hotel).
---
---
Madrid
Madrid is a modern city* with most of its architecture dating from the 19th century. While Barcelona had Catalan Modernisme, Madrid had a mix of styles in including Art Deco, Neo-Plateresque, and "Eclecticism". Madrid is a city of wide boulevards, high buildings and large squares.
*people get angry with me saying that. Yes, it was a military outpost in the 9th century under the Emirate of Cordoba. But unlike many places in Spain, there's not many vestiges of history in Madrid. In fact, during much of its history prior (to the moving of the court in the 1500's) Madrid was an agricultural town and minor in comparison to neighbouring Segovia and Toledo. They only broke ground on the Cathedral in the late 1800's. Construction on the Royal Palace started in 1735. So I'll stick to what I say about Madrid being a modern city.
---
---
Madrid has lots to see but overall doesn't have the big name attractions or the quantity of attractions that Barcelona has. Highlights include the Prado museum, Plaza Mayor, the Royal Palace, and Retiro Park. Madrid also has some great art museums.
While there is tourism in Madrid, significant tourism in fact, it doesn't attract international tourists the same way Barcelona does. It means prices are lower and lines thinner.
---
---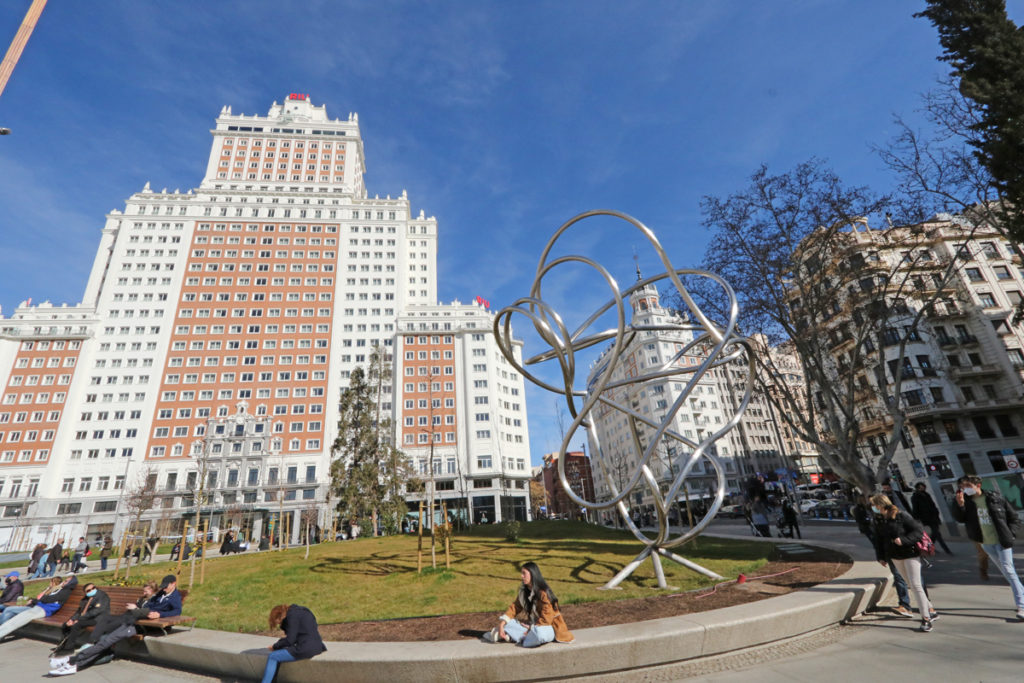 ---
---
So which city would I choose?
If I had to choose one of the two cities, I would choose Madrid.
I found it (overall) grander. The buildings of the Gran Via impressed me as did many of the monumental buildings and large squares you find throughout the center. We liked the parks, both big and small.
The city felt cleaner and more spaced out. I've heard people talk about Madrid being "gritty". We didn't see too much of that in the center. It in fact seemed much less gritty than what we saw of Barcelona.
If you're looking for a "Spanish" experience, Madrid is more representative of Spain in its language and culture – it very much represents every part of Spain being such a large and cosmopolitan city. Barcelona is part of Catalonia, a different part of Spain with a unique language and culture. If "different" is what you're looking for, you might be more curious about Barcelona than you are about Madrid.
But again, it depends on what appeals to you.
Another factor is location. Madrid is ideal (right in the middle of Spain) for seeing many great cities in the vicinity: Segovia, Toledo, Ávila are all within an hour by train. Barcelona has much less options.
An interesting comment from our Spanish FB friend Marziano: "It's interesting that among Spaniards and in Spain, Madrid is preferred… but abroad Barcelona has a better image. If you ask a random person in the street about Barcelona… most people are going to tell you that is a city that is overrated, overpriced and dangerous.."
Always interesting to hear what locals say.
So what's your opinion? Madrid or Barcelona?
Another Opinion: Madrid vs Barcelona? I live in both cities but my heart loves this one
Join Our Newsletter
If you haven't subscribed yet and want to get our posts sent to your email, just insert your email address below. It's free!