Riyad: a Moroccan restaurant in Nerja
Riyad restaurant is run by the same people who own the Riyad furniture & decorative items store a block over. So when we were told that they had a new restaurant and that they had decorated it with the same furnishings found in their store (gorgeous stuff!), we decided to visit.
The restaurant is in the heart of Nerja on Calle Pintada. The exterior is unassuming and you could easily miss it.
Step inside and it's a whole other world. The ground floor is decorated in rich red colours, bronze and copper furniture, Moroccan lamps and the characteristic warm and colourful pillows. It opens up to a courtyard where you'll find mosaic tables, rattan umbrellas and placemats, and hanging plants.
---
---
The best is upstairs. Here the walls are decorated with rich and colourful fabrics. The lamps look like they were taken right out of the Alhambra (ok, maybe I'm exaggerating). Carpets cover the floors, giving off a warm and inviting vibe.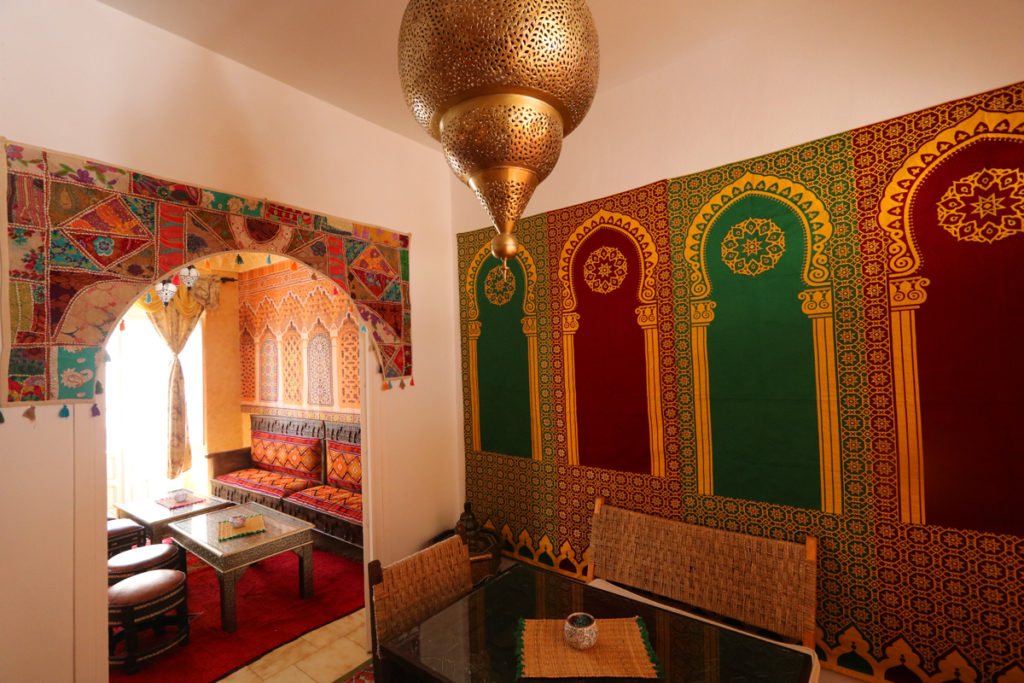 ---
---
The place is beautifully decorated. I can only imagine how beautiful it is in the evening when the multi-coloured lamps are on.
Food at Riyad Restaurant
I'm attaching the menu below.
What we ordered: The Riyad Salad for Lissette, the Minced meat skewer (Kebab) for me.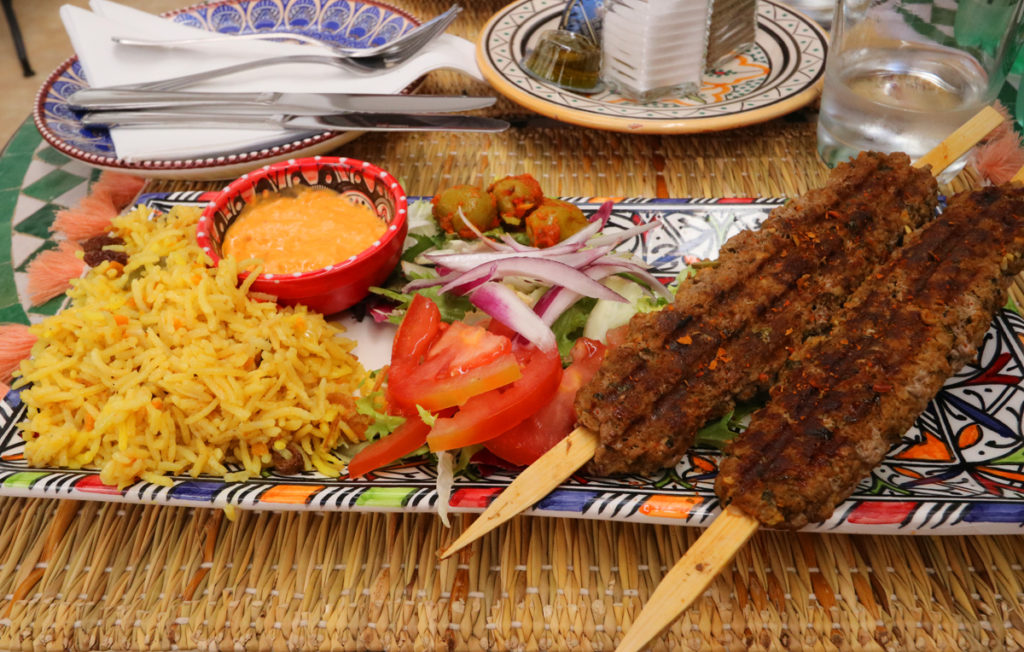 The salad was good. The Minced meat skewer on the other hand was fantastic: nicely spiced and accompanied by rice peppered with raisins. And at 7,90 Euro I think it was excellent value. I would come back here over and over again for this dish.
If there's one thing I would recommend to the restaurant it would be to have a vegetarian main dish for people like Lissette.
---
---
We had coffee with dessert, I had the Arabic coffee which is spiced with cinnamon. Very good. We had 3 little cakes, all very good. Not overly sweet, all very tasty.
Summary. We always like a restaurant experience and visiting Riyad was as much about the décor as about the food. It's a beautiful place and the food is good. I would recommend it to anyone looking for a different kind of food experience in Nerja.
Riyad Restaurant
Calle Pintada 16
Nerja
---
---
Note: we've previously reviewed Teteria Zaidin which also serves up a Moroccan experience. There are some similarities in the décor and the drinks. But Teteria Zaidin is more of a teahouse which also serves shakes, waffles as well as alcoholic drinks. Riyad also serves up teas and shakes but it is more of a restaurant than Teteria Zaidin is. It also more traditional and doesn't have alcoholic drinks.
Join Our Newsletter
If you haven't subscribed yet and want to get our posts sent to your email, just insert your email address below. It's free!