Our Top 5 Tapas Bars in Nerja
One of the great things about Nerja is the tapas scene – Nerja has a lot of bars and many give you a free tapa with your drink (something you don't see everywhere in Spain). Visiting different tapas bars is a fun way of discovering different restaurants, trying out different dishes and enjoying the buzz of a place.
We visited many tapas bars in Nerja during our 2 ½ years of living there, it would usually be our thing to do on a Friday night. This post covers the Tapas bars at the top of our list, places we wouldn't hesitate in recommending.
La Puntilla
On the east side of town, La Puntilla became our "go to" place. Why? Their tapas are great, the beer ice cold (usually served in a chilled glass), the wine good and generous. It usually has a buzzing atmosphere and you'll see the waiters running around with hands full of beer and tapas. It's a cool place that attracts both foreigners and locals.
La Puntilla has a tapas menu (in both English and Spanish) so you can chose your tapa from the list. My preferred tapas are the chorizo, the morcilla (blood sausage) and the pork pinchitos. Lissette (who doesn't eat meat) loves the Gambas Pil-Pil and the Bacalao (cod).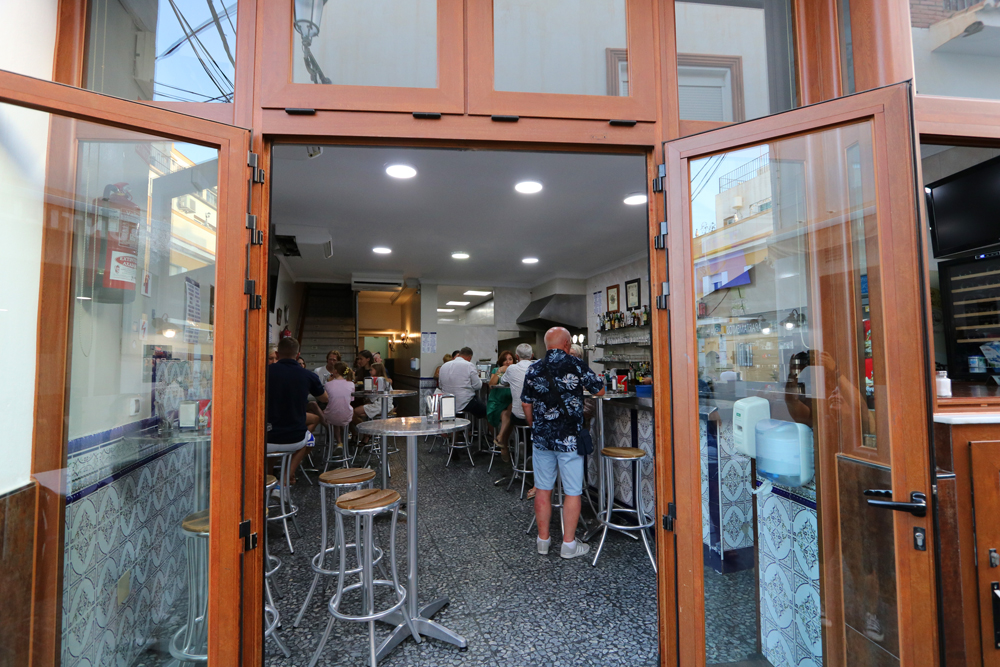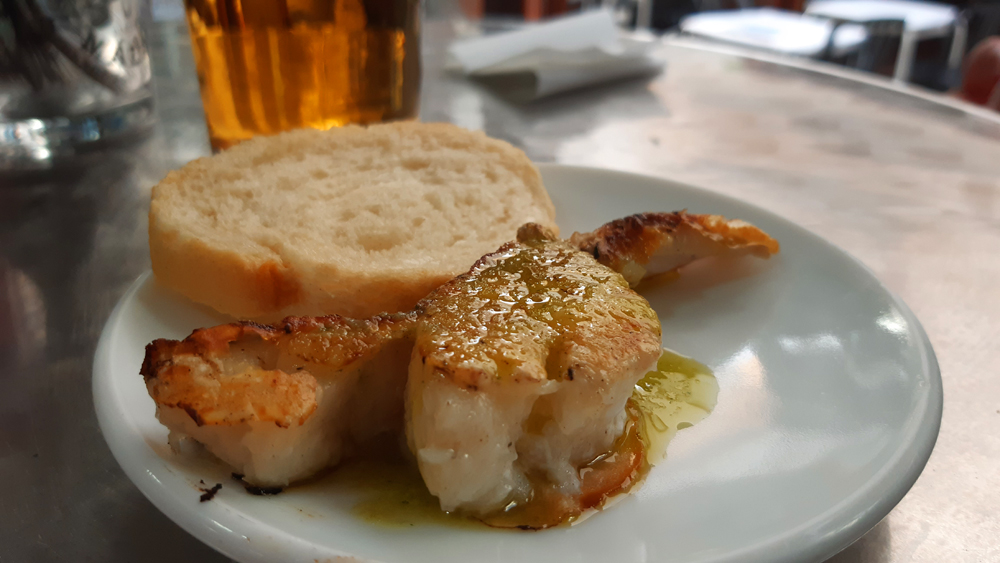 The pricing is very good, averaging around 2.50 Euros for a drink and tapa combo (Note: I'm not going to mention prices with my other reviews. Most tapas bars are all in the same price range).
We loved La Puntilla.
Summing it up: good tapas with lots of variety, super cold beer, generous wine, fun atmosphere, good prices.
More on Tapas at La Puntilla.
---
---
Dolores el Chispa
Just down the Street from la Puntilla, Dolores el Chispa became another favorite. Its tapas specialize in fried fish.
Honestly, we didn't like it the first time we came here. The service was unfriendly and nothing was explained (there's no Tapas menu here, they'll randomly give you a tapa).
It took months before we tried it again. That's when we really got to like Dolores El Chispa. In our opinion, the fried fish here is the best in Nerja. They give you generous portions, a wide variety of fish, and the cook doesn't oversalt the dishes (something you see a lot of in other places). As far as the service goes, we found them friendlier every time we came back.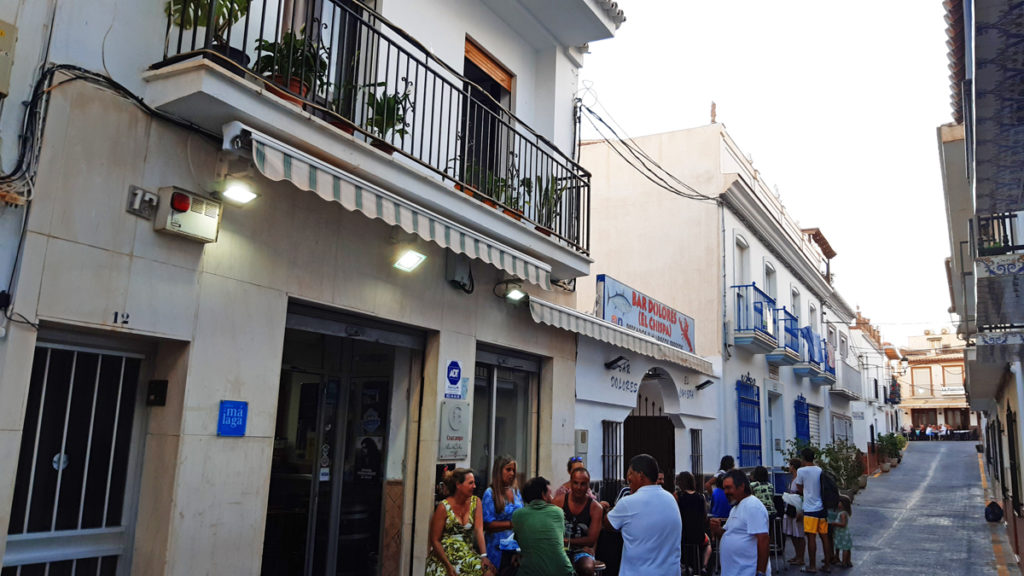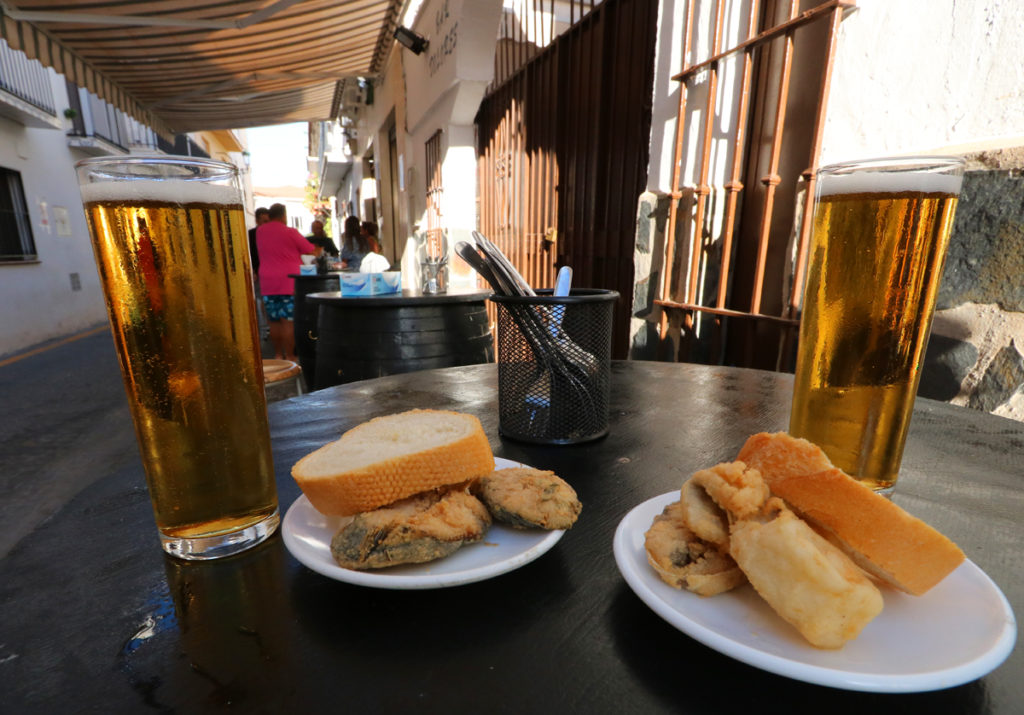 Most of the people who come here are locals and it can get busy and loud. But it's a fun, unpretentious place. Try to get an outside table.
Note: once in a while they'll fool you by serving you pork pinchitos as a tapa. The first time it happened we were trying to figure out what kind of fish it was (this really is a fish place). Let them know if you don't eat meat.
Summing it up: generous tapa sizes, very good fried fish tapas, large variety, good beer and wine.
More on Tapas at Dolores el Chispa
---
---
La Rienda
A very busy Tapas bar on the west side of town that caters mostly to locals. It's almost always jam-packed and it can be hard to get seating. Tapas are served inside or at the barrels just outside the entrance. If you're sitting outside they'll bring you a tapa of their choosing (unless you tell them otherwise. Lissette doesn't eat meat so the waiter gave her some non-meat options). If you're sitting inside you can choose your tapa from a range of trays. We didn't see the tapas menu that you see in some other places.
The Tapas are very large and very good. We had cod fritters, paella, pil-pil, chorizo, huevos con papas and octopus. Drinks are generous and good quality – really liked the red wine.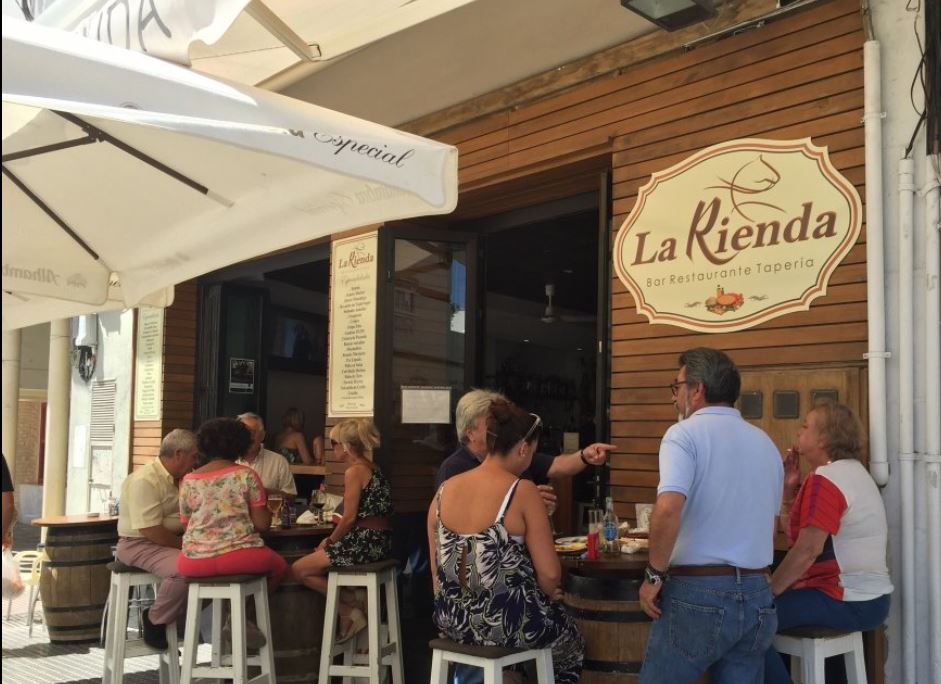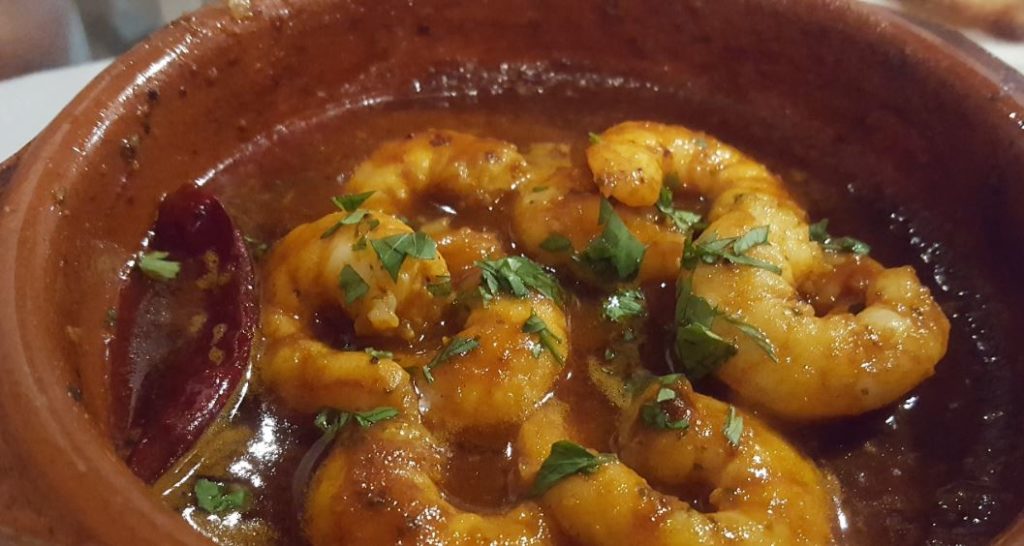 La Rienda has a reputation of not being friendly to non-locals. We didn't have any issues. The biggest issue is that it gets very busy…in fact we only experienced La Rienda once because every other time we came there was no seating.
Summing it up: Very good food with a wide selection, large portions, good prices, buzzing atmosphere with lots of locals.
---
---
El Pulguilla
We have two downtown tapas bars that we recommend – El Pulguilla is one of them. It is a huge place serving many, many customers which are both local (mostly) and foreigner. The prime spot for tapas are the 10 or so little tables outside the restaurant (get there early). A great spot to watch the world go by. If you can't manage an outside seat you can sit/stand inside (they have a large interior tapa section…if you go even further in you'll find their restaurant section. El Pulguilla is huge).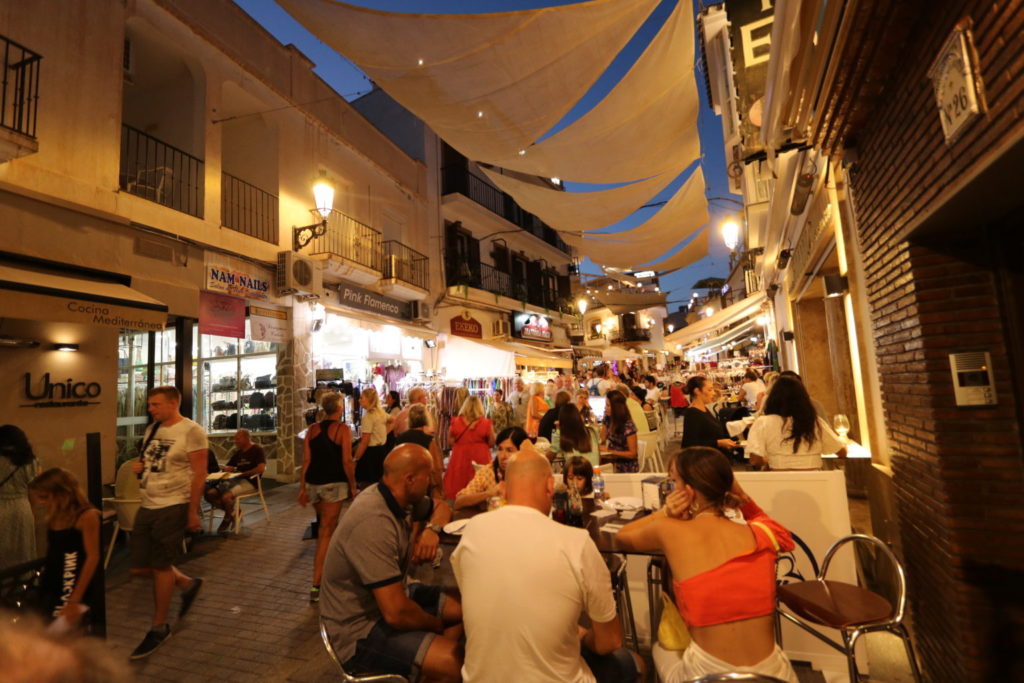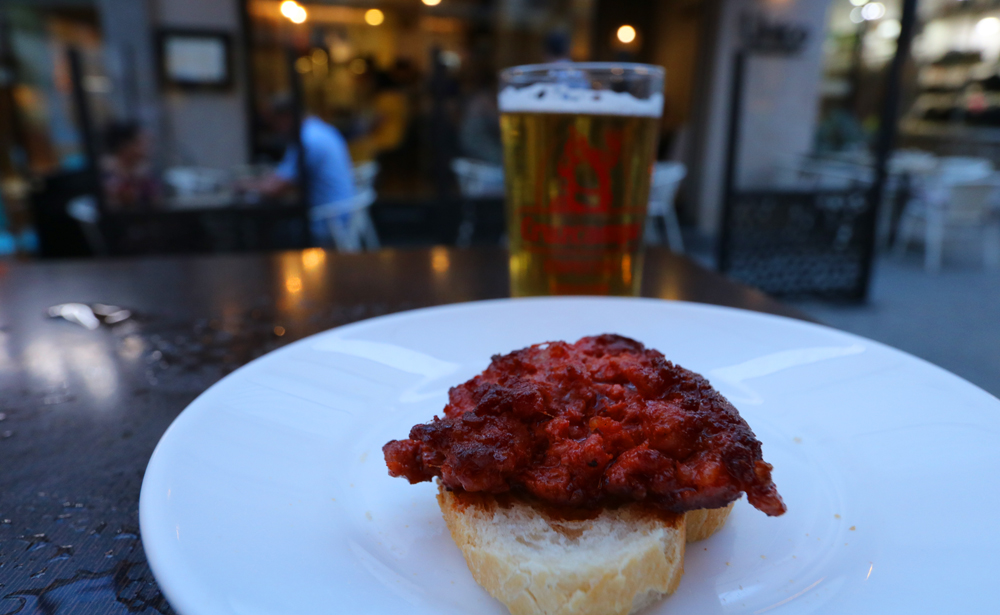 El Pulguilla is much like La Puntilla – there's a tapa menu with a large variety of tapas that you can chose from.
Summing it up: Good tapas, professional service…but for us the highlight is sitting outside and watching the world go by.
More on Tapas at El Pulguilla
---
---
El Portico
El Portico is about 50 meters from El Pulguilla. It's very popular among the older expat crowd, a place that pumps out great old-time music. A fun place with happy people.
Everything here is big, from the tapas to the drinks. They're very generous with the portions.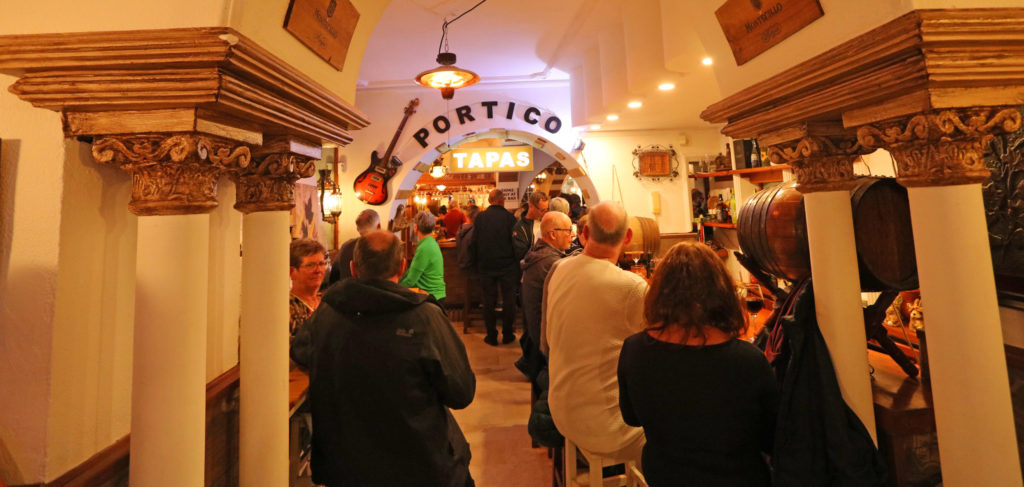 The 'Tapa protocol": they don't have a tapa menu. If you don't eat meat, just tell them when you order your drink: they'll list off a series of options for you. One of my tapas was a whole chicken leg served with rice mixed with chorizo, another was a big sausage and potato plate. You'll feel like you ate a meal when you leave El Portico.
Summing it up: fun party atmosphere for older foreigners, big portions, large drinks, inexpensive. Very welcoming place.
More on Tapas at El Portico
---
---
Do You have a favorite tapas bar in Nerja?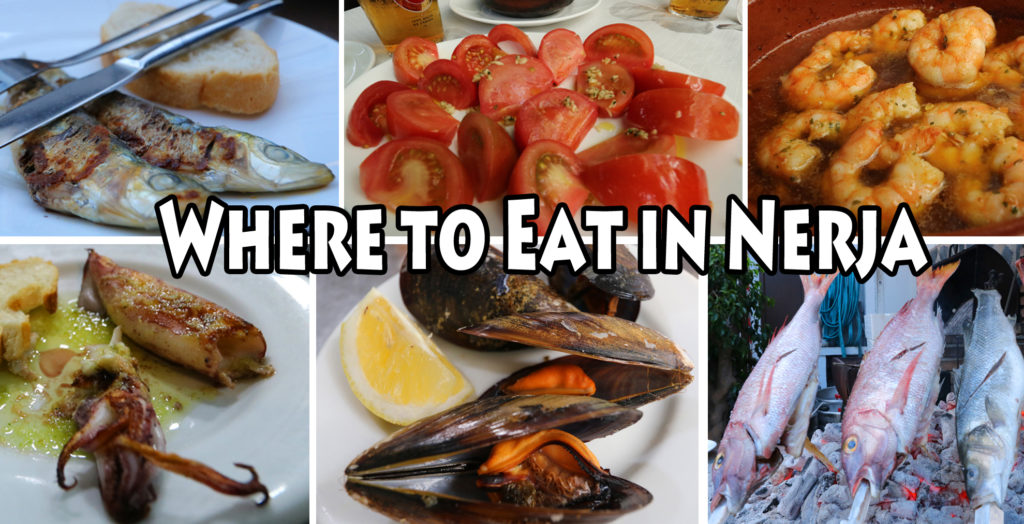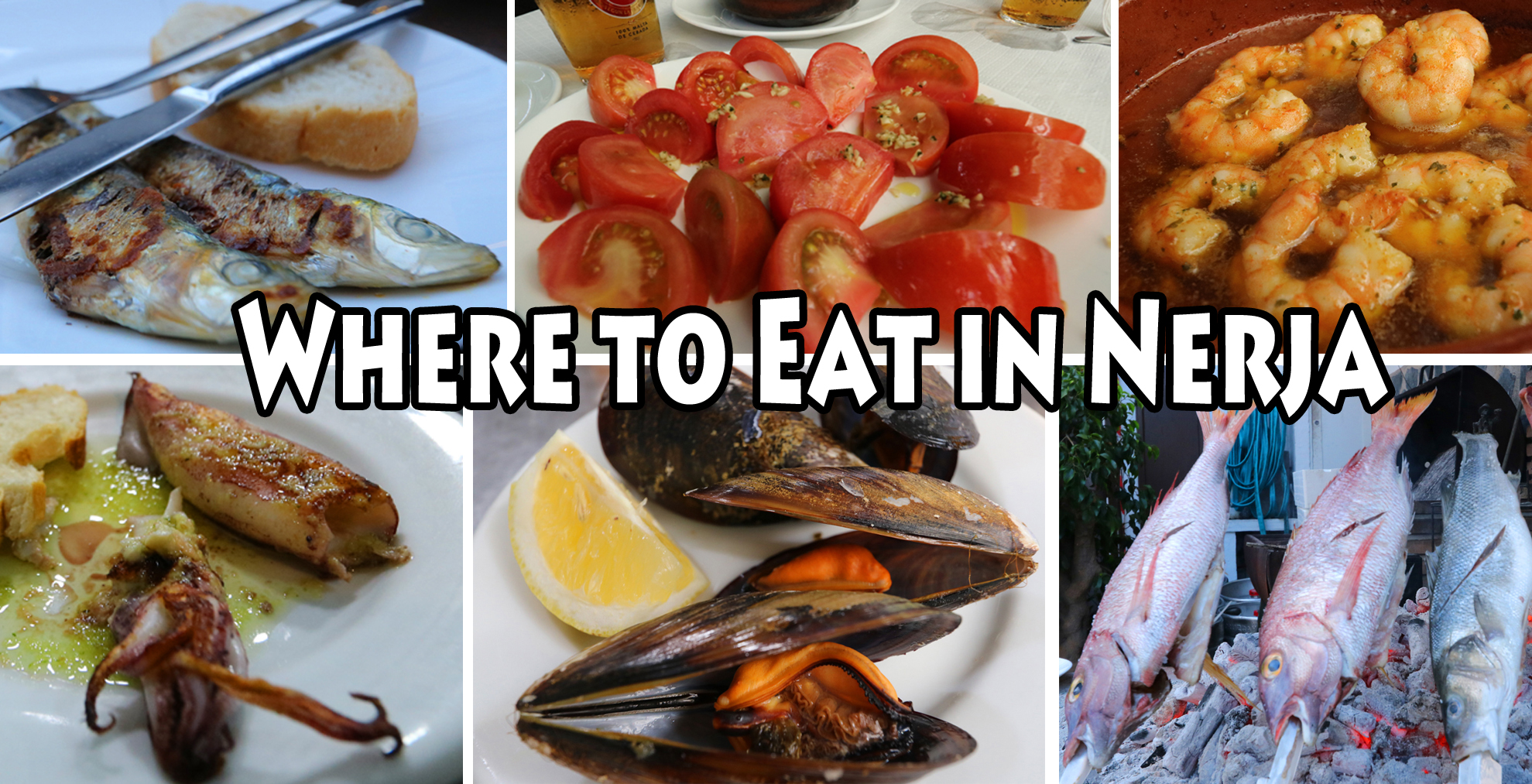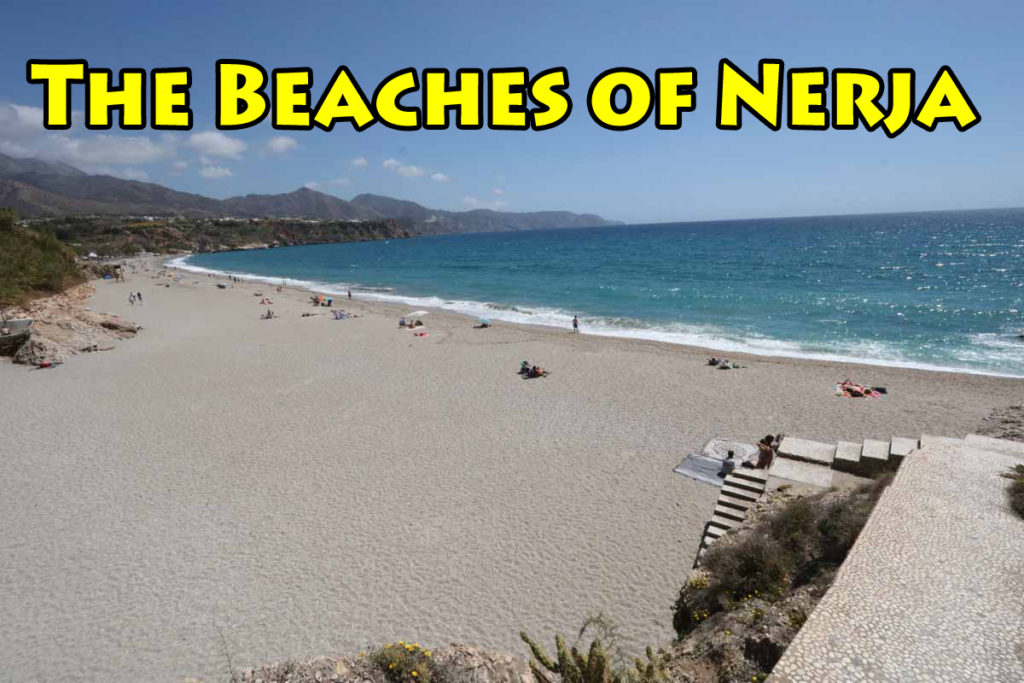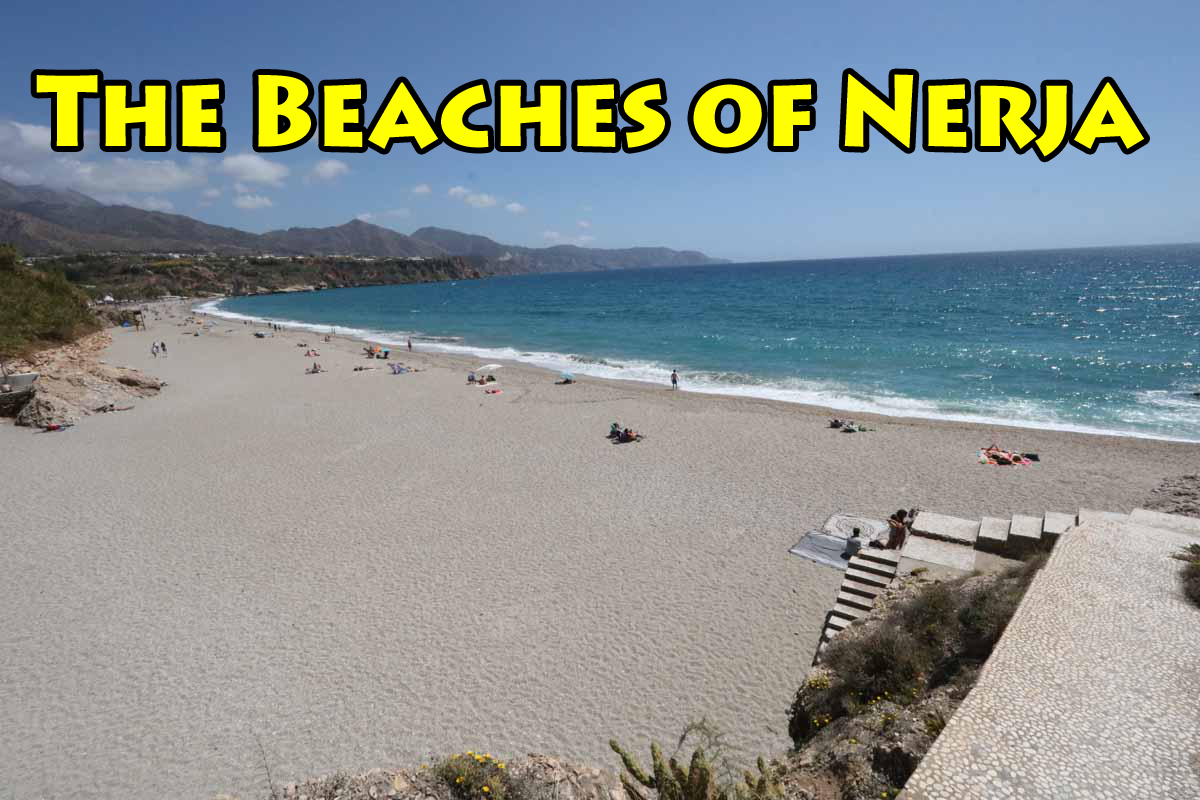 Join Our Newsletter
If you haven't subscribed yet and want to get our posts sent to your email, just insert your email address below. It's free!