The Best Day Trips from Nerja
We lived 2 ½ years in Nerja and during that time got to know much of the region. Although Nerja is known as "the crown jewel" of the eastern Costa del Sol there are other towns and cities that are lesser known and just as interesting as Nerja.
In this post I'll concentrate on a relatively small region, the idea being to have manageable day trips that can easily be reached by public transportation – most of the places I mention below can be reached in 30 minutes to 1 hour by public transport.
I'll start with the closest and progressively fan out a bit further.
Frigiliana
Frigiliana is the easiest day trip from Nerja being just a 10-minute bus ride away. You can spend a few hours here and come right back by bus, making it a very manageable half-day trip.
The town is known as one of the prettiest white villages in Andalusia, a former Moorish town characterized by steep narrow streets, colourful flowerpots, beautiful views and an old fountain and pretty main church. It's a touristy town but a fun place to spend a few hours wandering around.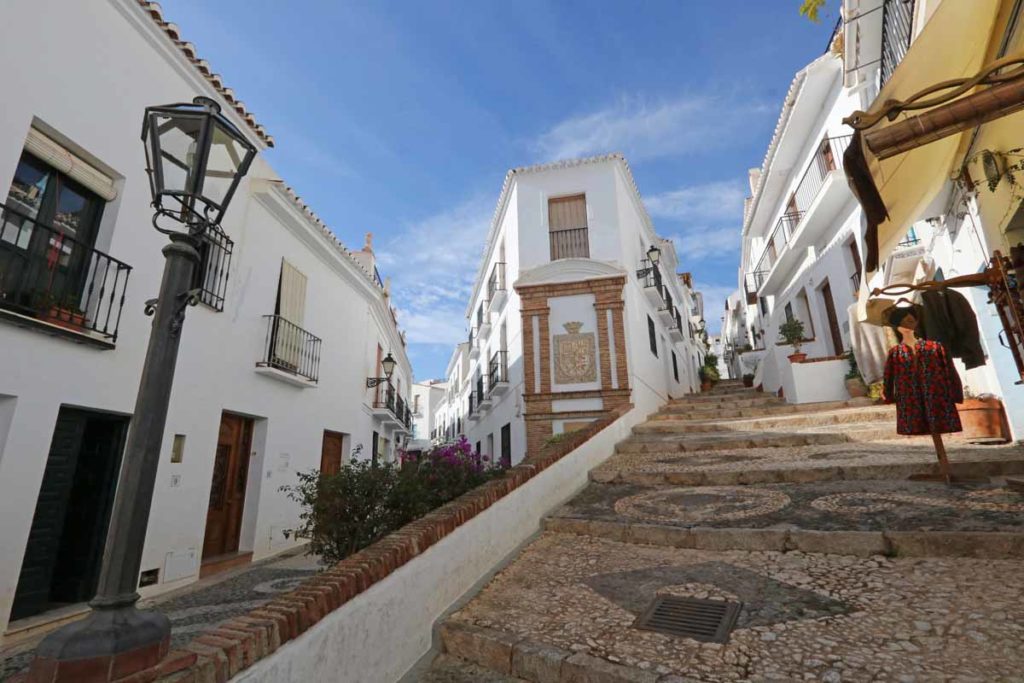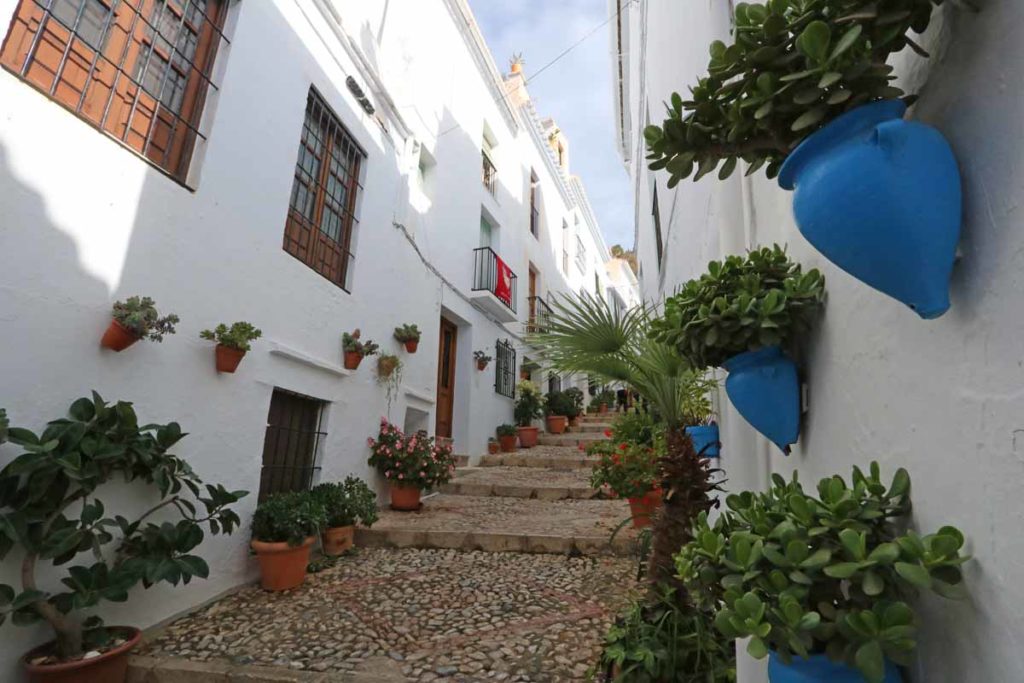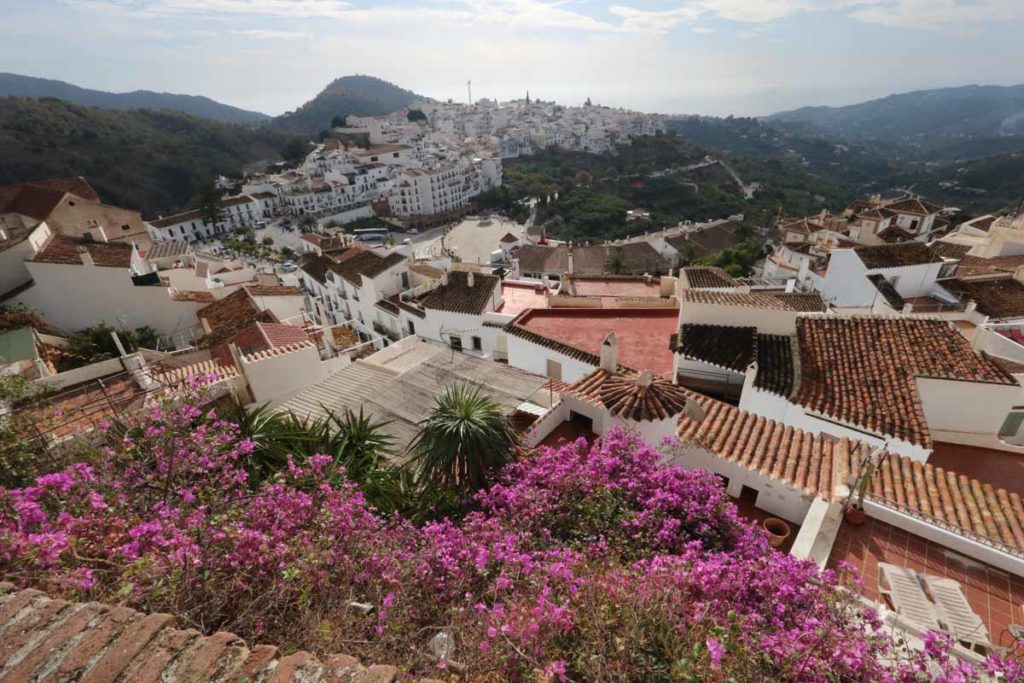 I have a detailed post and itinerary of what to see in Frigiliana here.
There's a Nerja – Frigiliana bus almost every hour. See the schedule here.
Another suggestion for Frigiliana: it's the jumping off point to hike El Fuerte which is a great and relatively easy hike in the mountains behind the town. Don't do it in the summer, it's too hot. Any other time it's a fantastic hike. More here on hiking El Fuerte.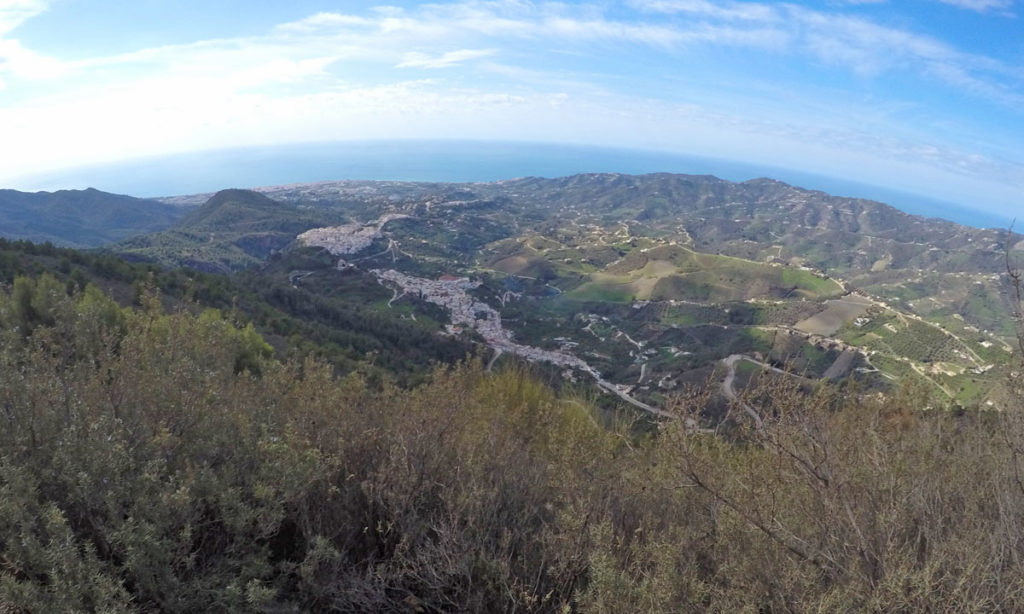 ---
---
Nerja Caves
I include this as a day trip because it is in fact about 15 minutes (by bus) outside the actual town of Nerja.
If there is one thing you have to do in Nerja it is to visit the caves. They are immense with some incredible rock formations including one of the largest rock columns in the world.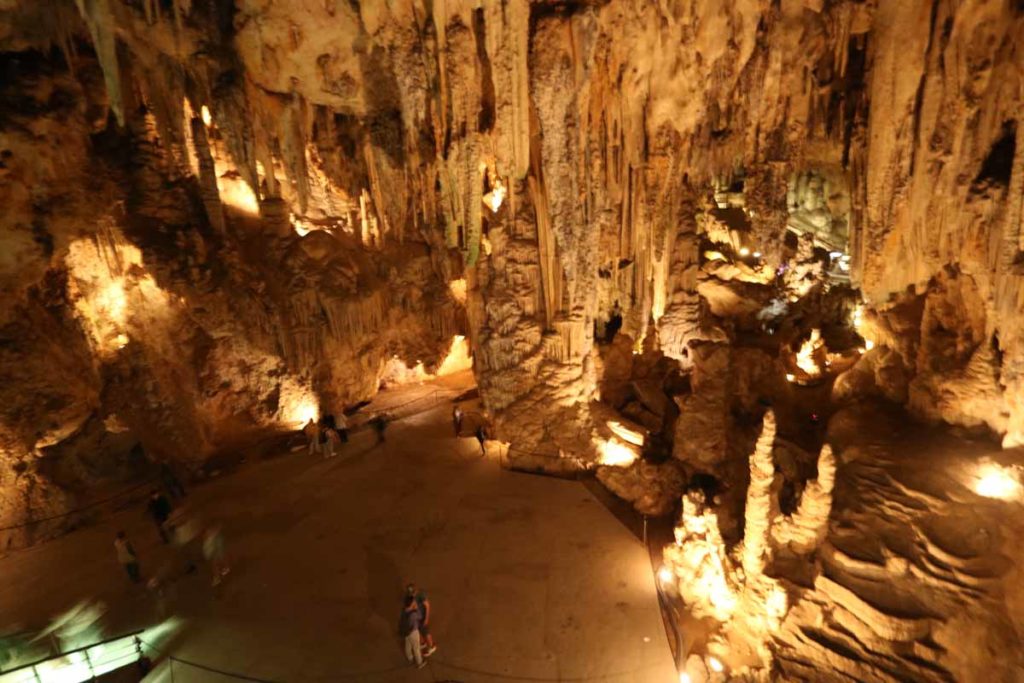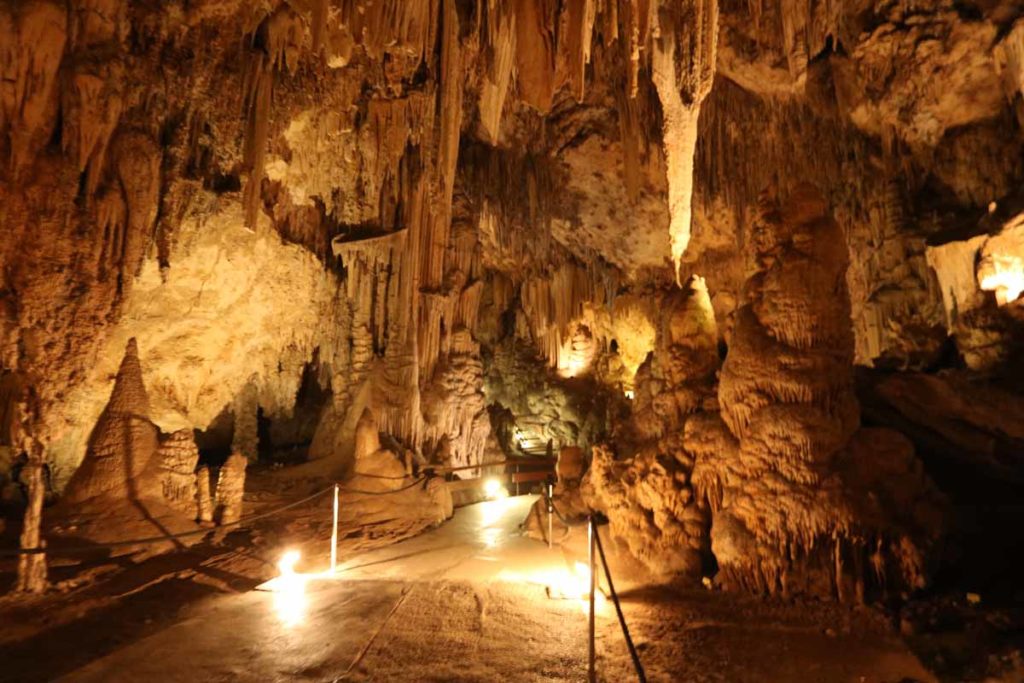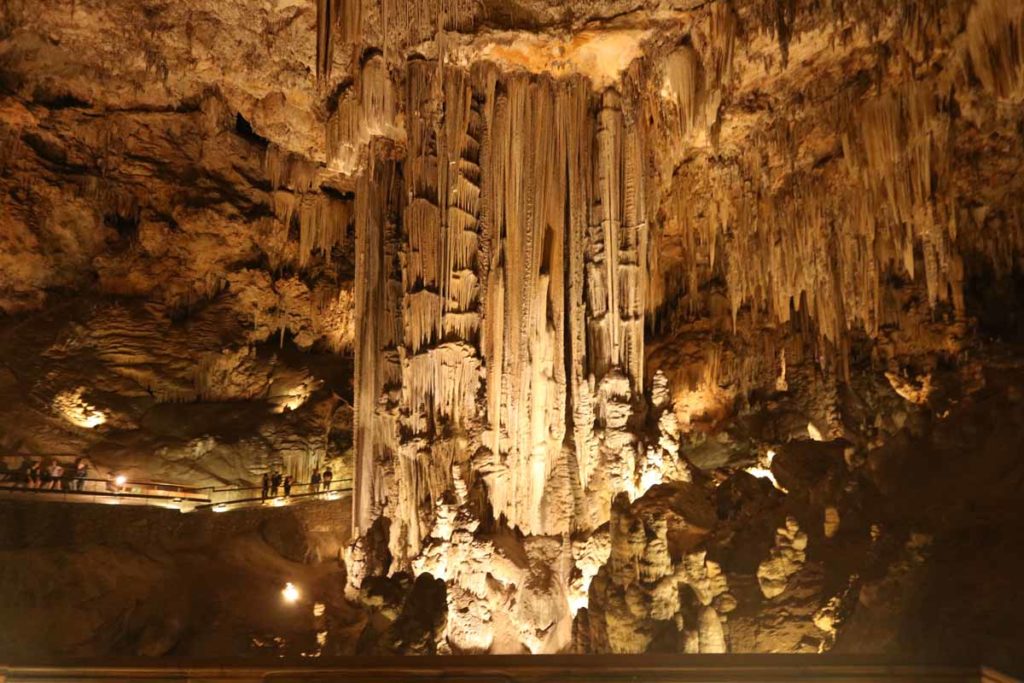 I have a very detailed post on the Nerja Caves here.
The official website for the Caves.
There are a few different ways of getting to the caves:
1) You can take an Alsa bus from the Nerja bus station (located up the street from Mercadona). It's cost you about 1.35 Euros and take you about 15 minutes to the caves. I recommend buying your ticket online* on the link above, just show the driver the downloaded ticket.
*I always recommend buying your Alsa ticket online because I hate queuing at the little box office in Nerja for tickets. For this little trip you could pay cash online when you get on the bus…but generally better to have the ticket in hand because going west towards Malaga the bus is often full. So learn to use the Alsa website. In the above case, just enter "Nerja" as Origen and "Nerja Cuevas" as Destino. Then press "Buscar" and it will give you options and a schedule for the buses.
2) You can get there by taking the tourist train at Plaza Cangrejos, near Torrecilla beach (just a few minutes walk from the balcon de Europa in the center of Nerja). If you go to the official website of the caves, you can get a package the includes the caves and the train (16 Euros for the caves, 20 Euros if you include the tourist train. That's for a return trip). It's worth it because taking the train is a fun way of getting there.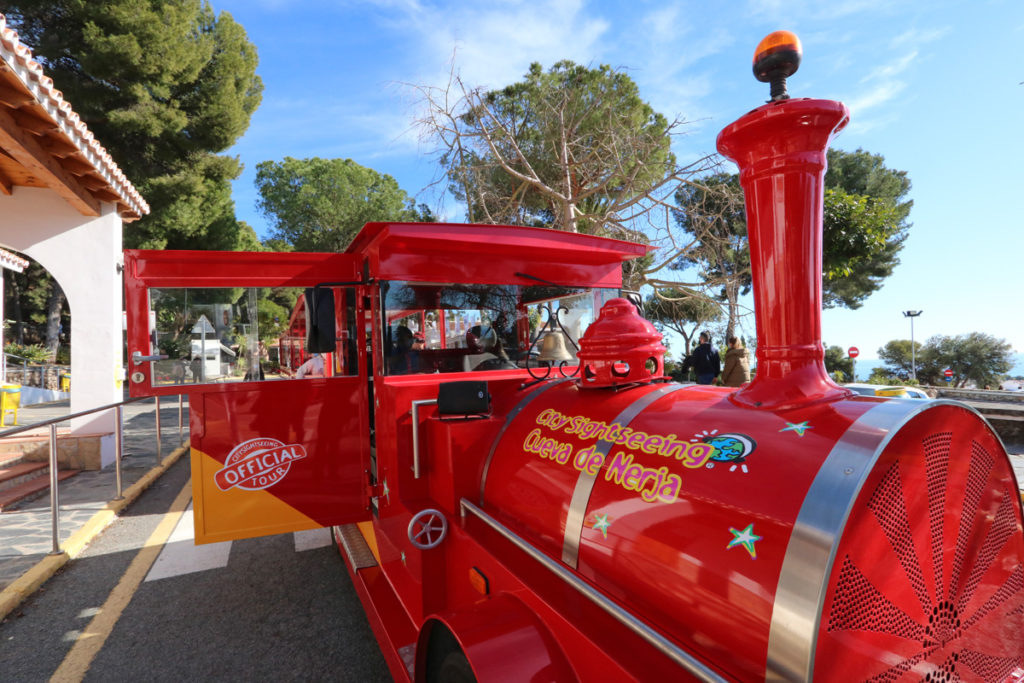 3) You can walk there, the road out of Nerja to the Caves has a wide sidewalk and many people like to walk along this route. It'll take you about 45 minutes.
You'll most likely spend about an hour in the Nerja Caves, so categorize this as a short day trip. BUT you can combine it with the next destination below.
---
---
Maro
Just across from the Nerja Caves, through some botanical gardens and across a bridge, is the small town of Maro.
There's not a ton of things to see and do in Maro…but it's a pretty place with some attractions such as: 1) Maro beach, considered by some as one of the nicer beaches on the eastern Costa del Sol, 2) the Maro Cerro Gordo Nature Reserve, a nature reserve with hiking trails, old Roman Towers (the Maro Tower being the most famous) and beaches, 3) El Acueducto del Águila (the Eagle Aqueduct located about 10 minutes from Maro), 4) the Nerja Caves (mentioned previously).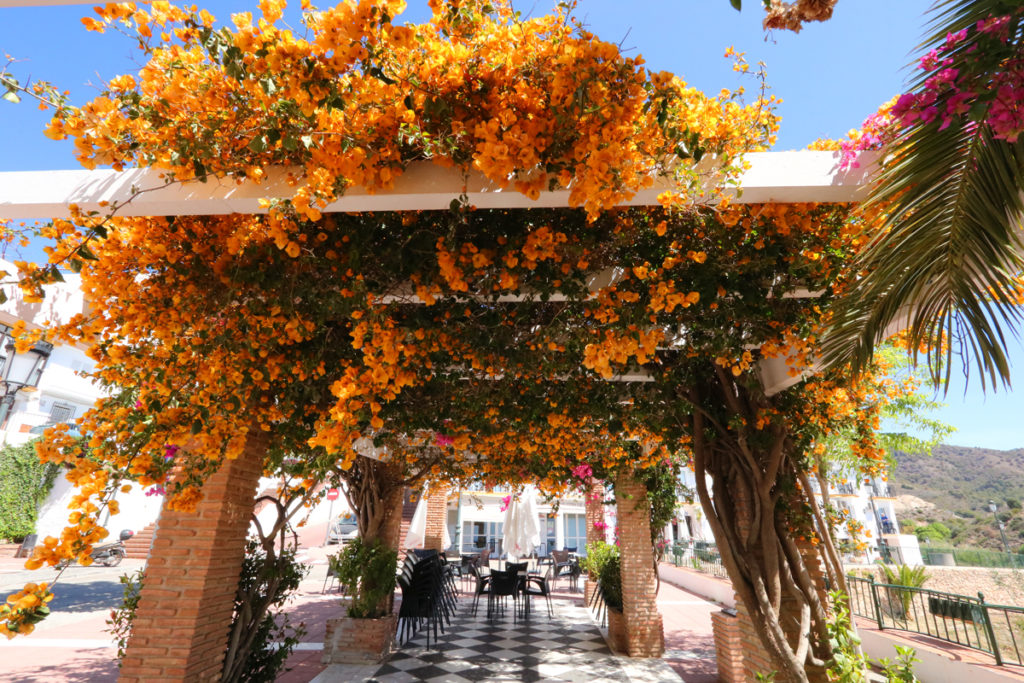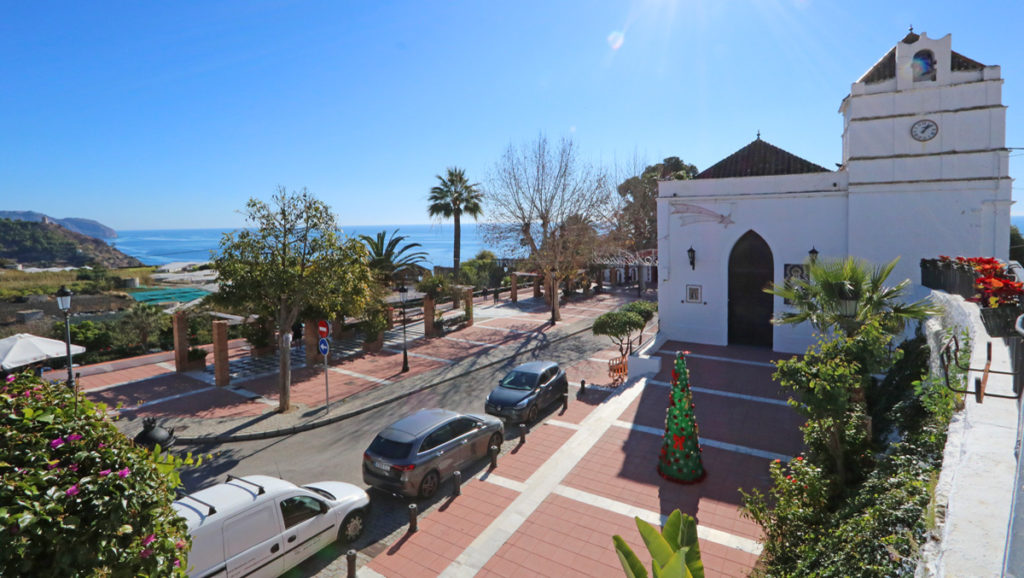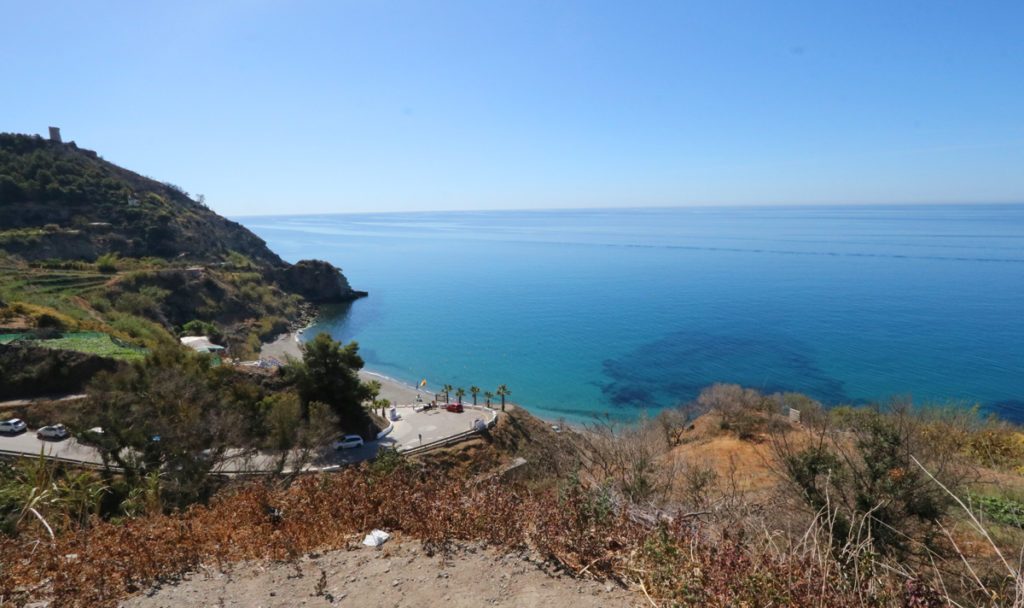 How to get to Maro: take the Alsa bus (previously described under Nerja Caves) and get out at the Maro stop which is just before the caves (ie about 12 minutes from Nerja). As mentioned, you're very close to the caves here so you can also come/go by tourist train if combining Maro with a visit to the caves.
---
---
Torrox Costa
Torrox is a seaside town about 15 minutes (by bus) from Nerja. It has a very different vibe from Nerja though with a heavy German influence (it has the highest German population in Spain). It is aesthetically also very different from Nerja with a large walkable promenade skirting the town's beaches (in Nerja the beaches are generally in coves and you have to access them by going down. Torrox is flat). You can walk the beaches, drink/eat in the many restaurants, and enjoy the views from the Balcon Mirador. Torrox has a special, relaxed vibe that we always appreciated.
I should mention that the walk between Nerja and Torrox Costa is one of the nicest walks on the Costa del Sol. It'll take you about 45 minutes but it's worth it for the views and all the beaches and small Chiringuitos (open air restaurants) along the way.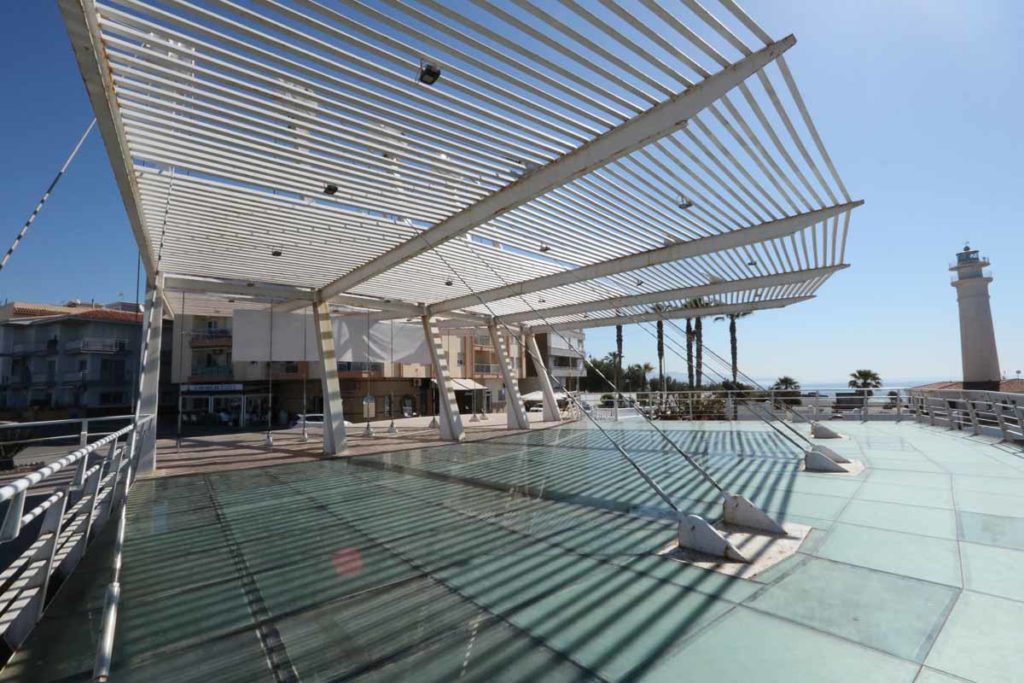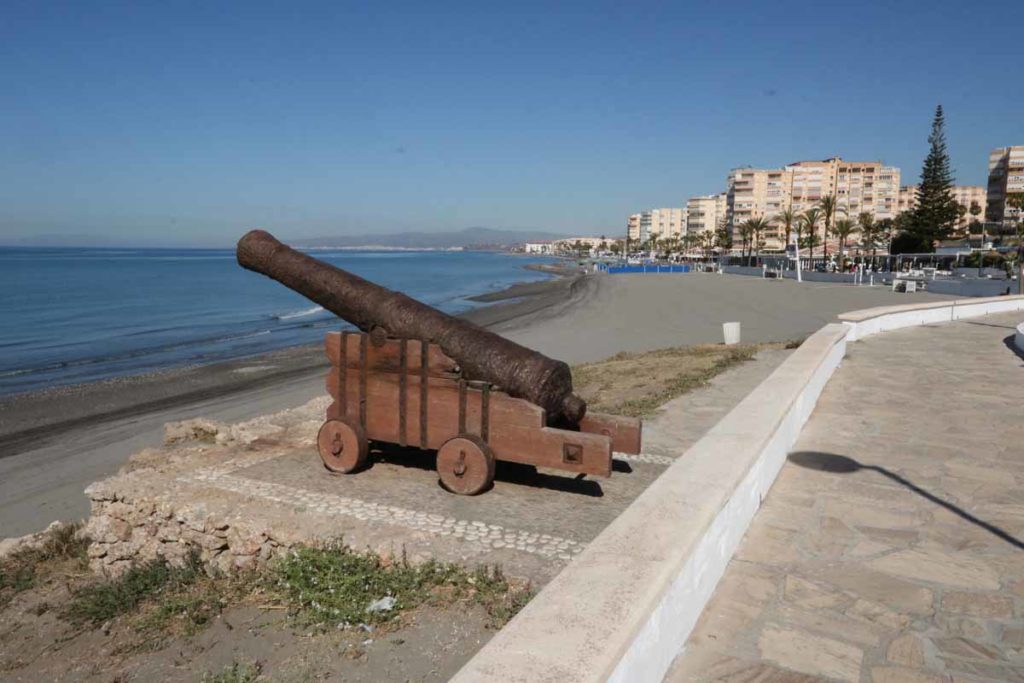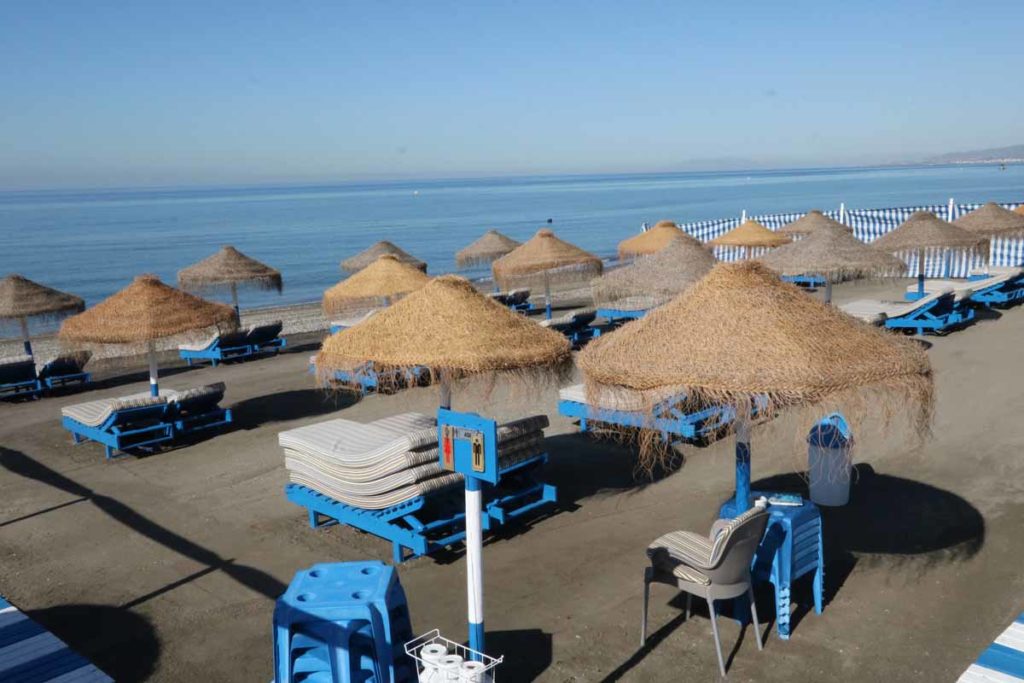 How to get to Torrox Costa: Besides the walk mentioned above, it's very easy taking the Alsa bus to Torrox Costa. It'll take you about 15 minutes from Nerja.
---
---
Torrox Pueblo
Nobody seems to know about Torrox Pueblo…but it is a very, very pretty town located inland from Torrox Costa in the foothills of the mountains. In a way it's quite similar to Frigiliana. In summer colourful umbrellas are in placed over the main square (Plaza de la Constitución) making one of the prettiest squares you'll find anywhere.
Have a drink on the plaza, visit Iglesia de Nuestra Señora de la Encarnación, and have a look at the impressive Palace of La Joya. You might fall in love with Torrox Pueblo.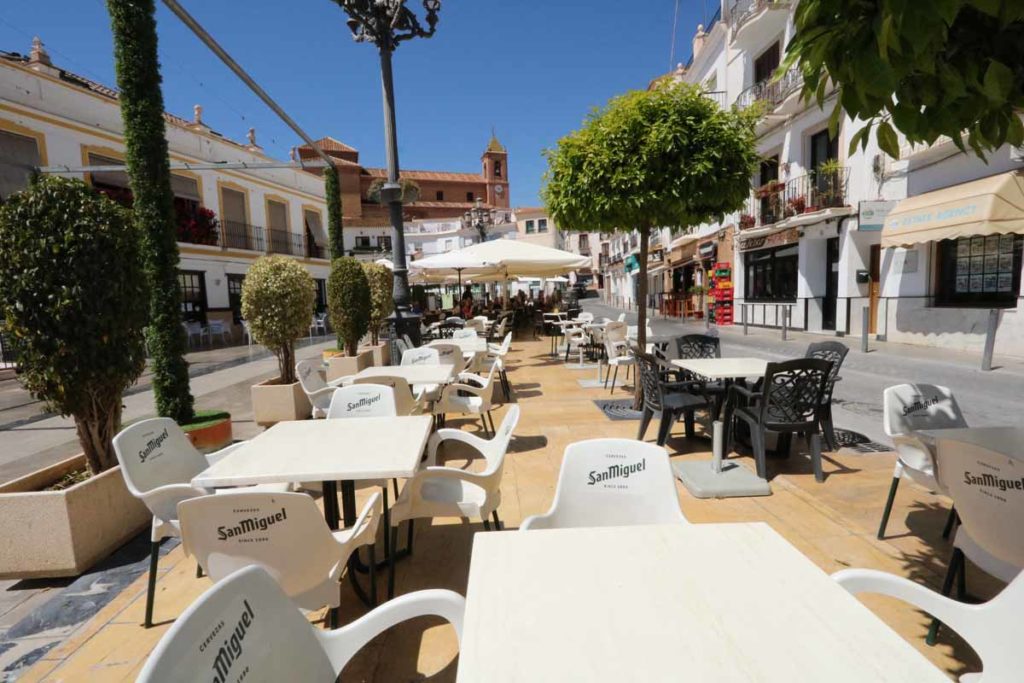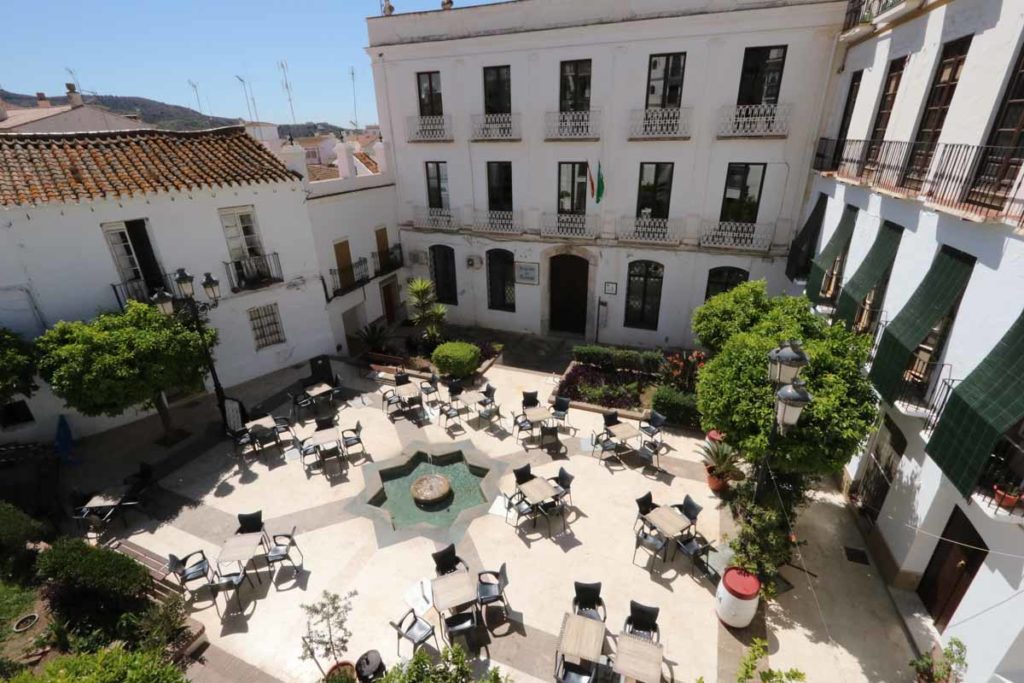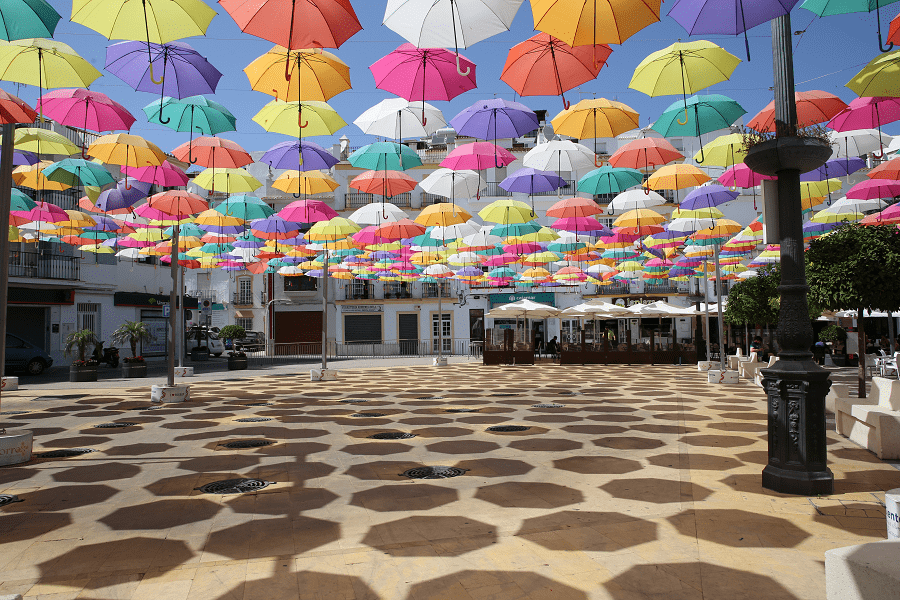 More on Both Torrox Costa and Torrox Pueblo here.
Getting there: It's the biggest inconvenience of Torrox Pueblo. If you don't have a car, the only way is to get here by bus from Torrox Costa. It's not far (about 20 minutes from Torrox Costa) but the average time between buses is about an hour. Schedule here.
---
---
Torre del Mar
Torre del Mar has, in our opinion, the most beautiful beach on the eastern Costa del Sol. It's a gorgeous beach with great facilities. A fantastic place to bring the family. It's picturesque and has a lighthouse along with beautiful views of the mountains lining the coast, it has a 4 km promenade with a dedicated bike path so you can rent a bike and take a ride. It has traditional Chiringuitos where you can have grilled fish.
Torre del Mar is very charming and I'll admit we were smitten by it.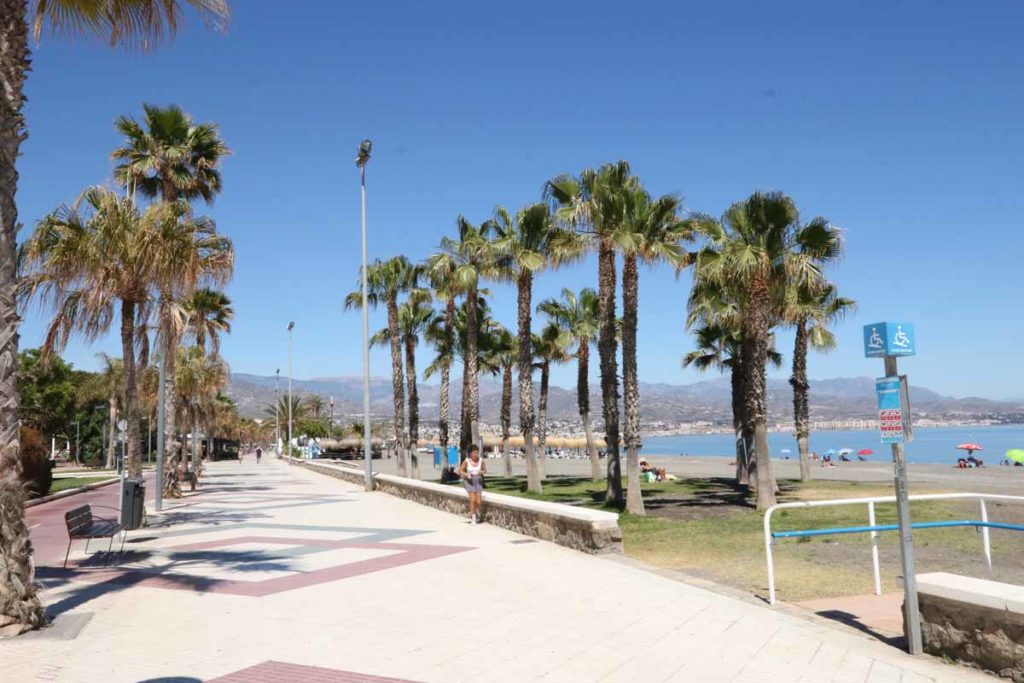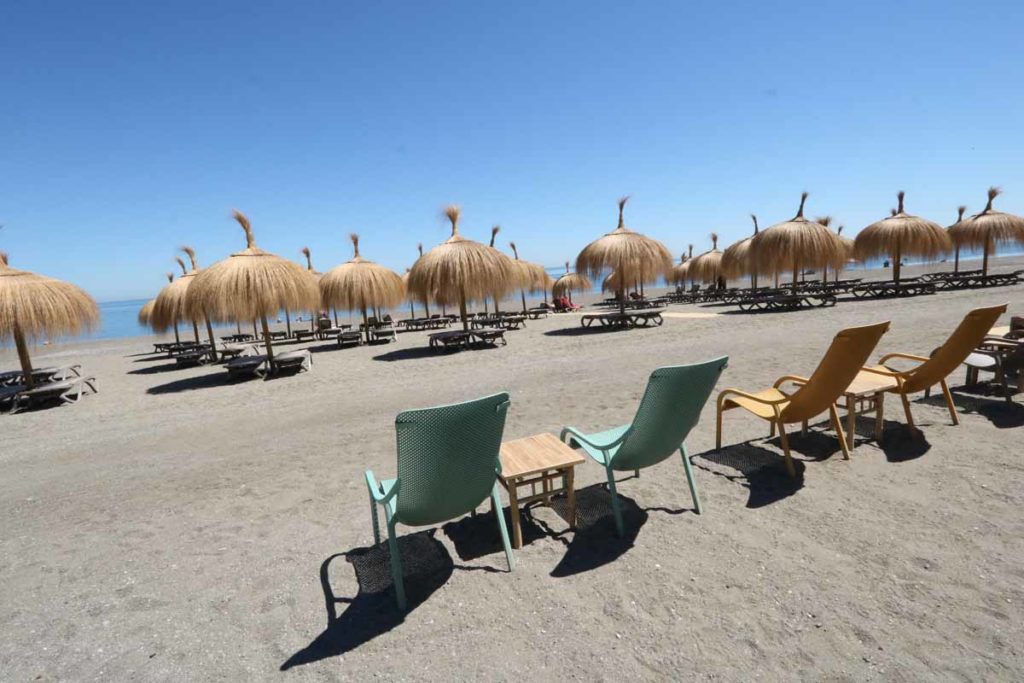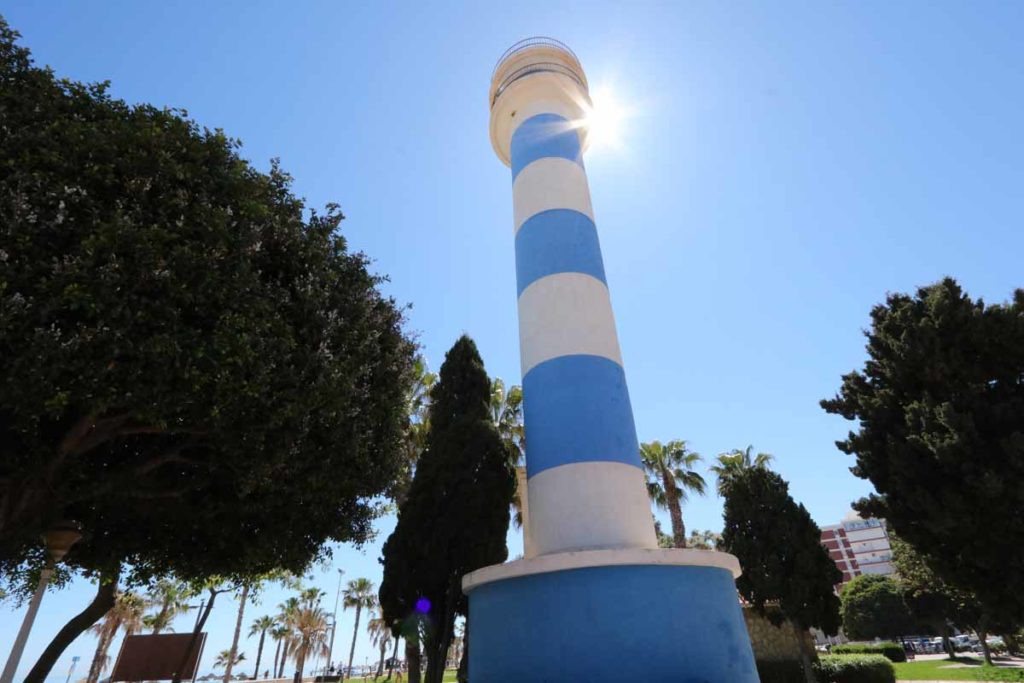 How to get to Torre del Mar: Most Alsa buses going between Nerja and Malaga stop in Torre del Mar (which is about 45 minutes from Nerja).
---
---
Vélez-Málaga
Vélez-Málaga is the largest city on the Costa del Sol east of Malaga and has easily the most interesting cultural/historical attractions in this region. You'll find churches, museums (do you know that Cervantes – Spain's greatest writer – lived in Vélez-Málaga in 1594?) and the remains of a fortress looking over the city. There's a lot of history in Vélez-Málaga.
You can easily spend a full day visiting Vélez-Málaga, it has a lot to offer. Probably the biggest obstacle to seeing everything though are the schedules: between siesta and all the churches having different opening hours (including some that were closed when they were meant to be open), Vélez-Málaga needs a bit of planning.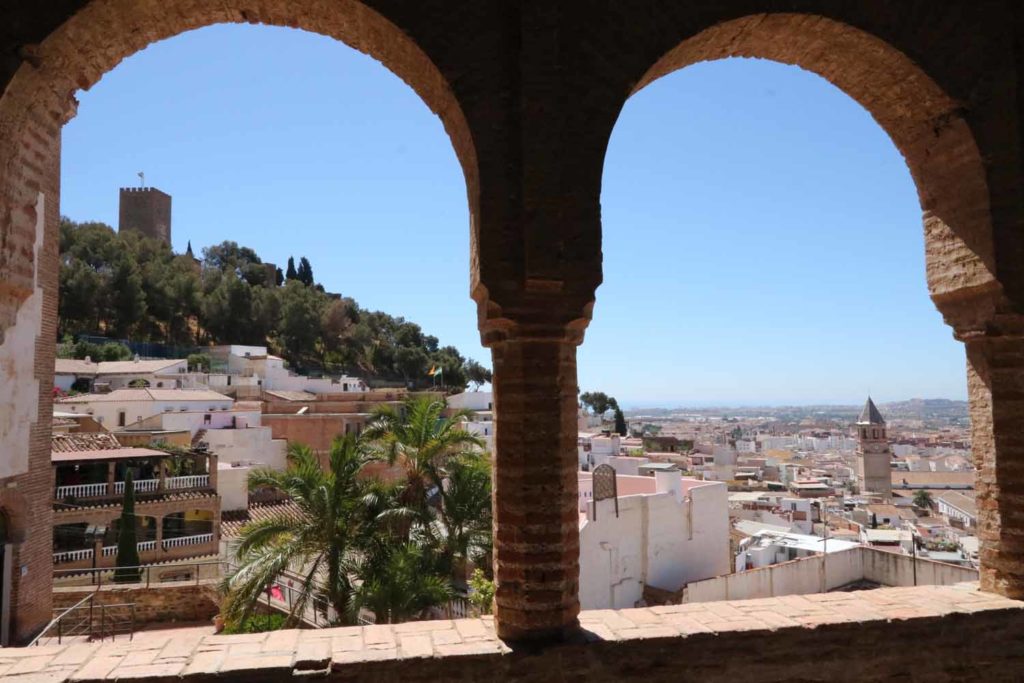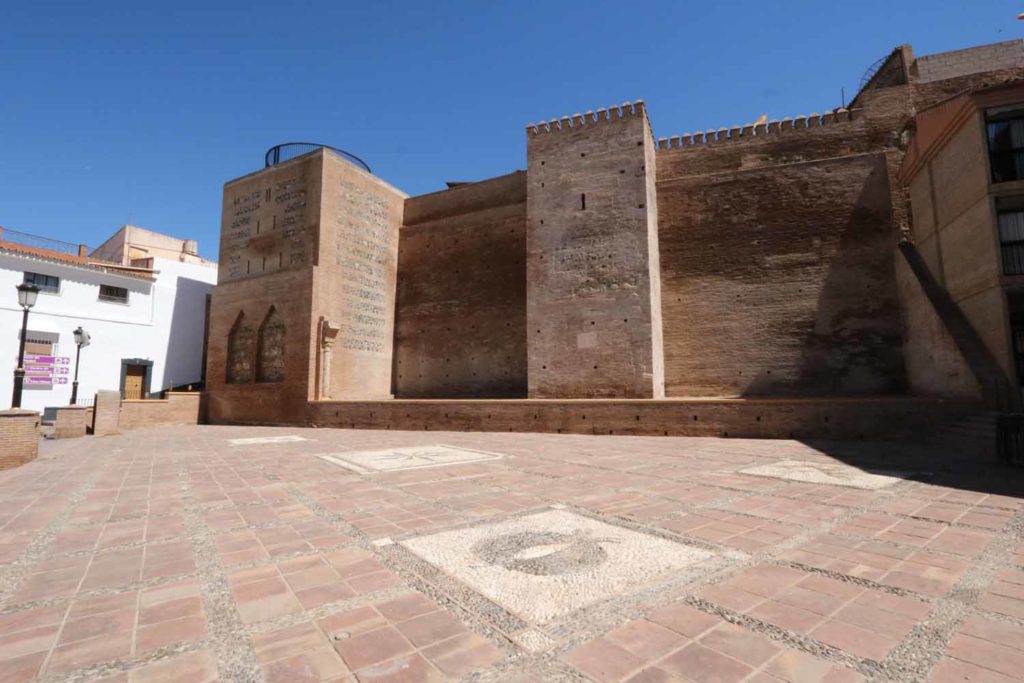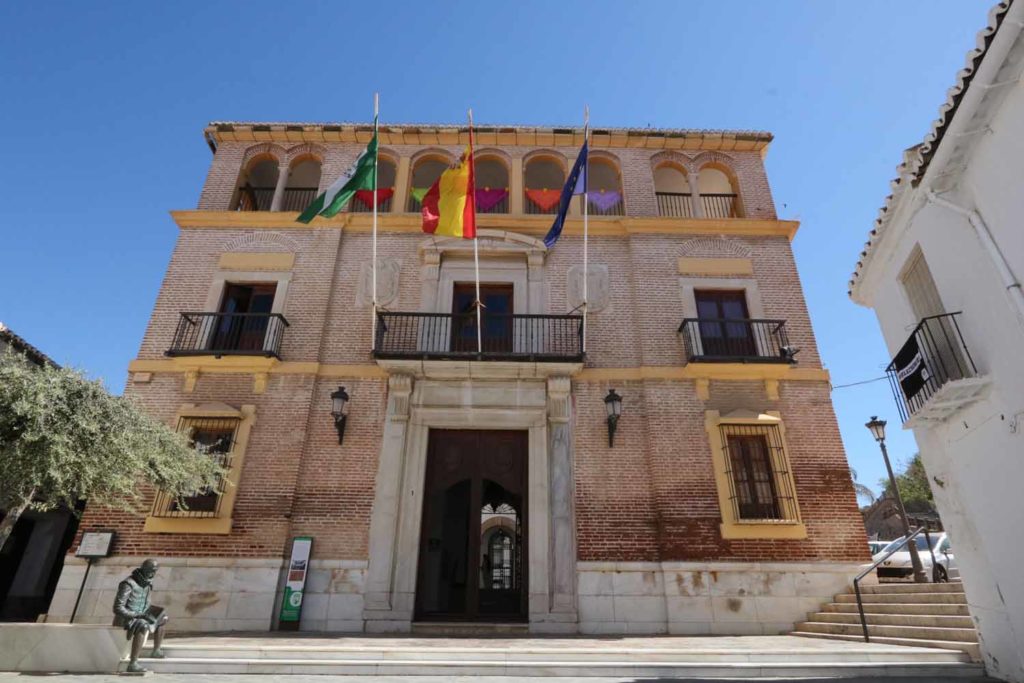 More here: 30 Photos that will make you want to visit Vélez-Málaga
How to get to Vélez-Málaga: By city bus from Torre del Mar. But unlike in Torrox, there are plenty of buses and you don't have to wait long.
---
---
Almuñécar
Most of the destinations I've mentioned above have been west of Nerja. But 30 minutes (by bus) east of Nerja is a destination that has both historical and geographic highlights…. Almuñécar.
There's a fortress looming above town, there's a rocky outcrop (Peñón del Santo) where you have fantastic views of the town and sea, there are Roman Aqueducts and a botanical garden. There's a large beach and the water has a turquoise color that you don't see in Nerja.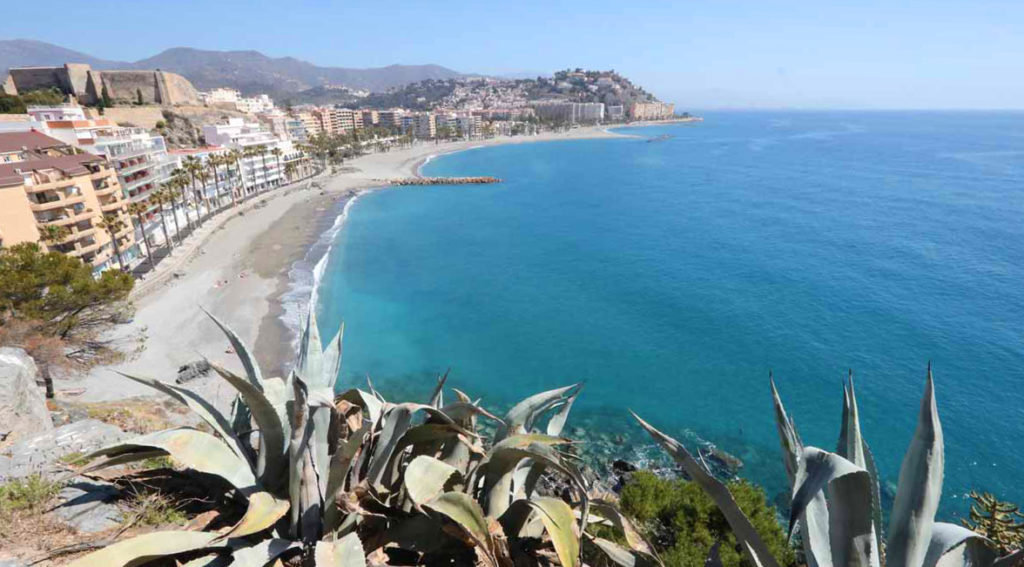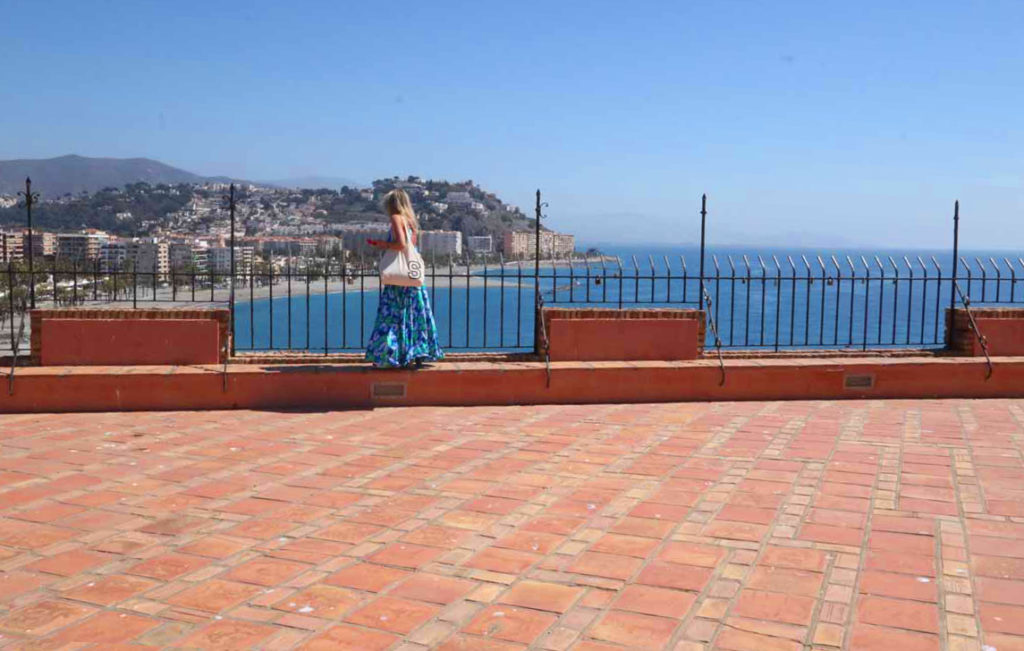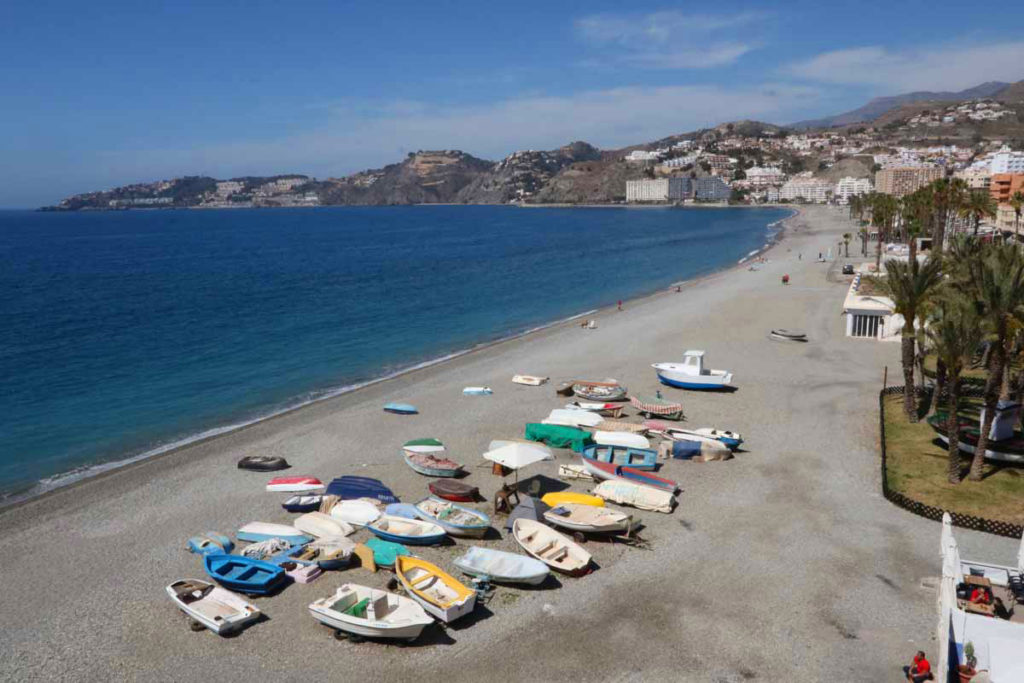 More on what to see in Almuñécar
How to get to Almuñécar: Alsa bus gets there in 30 minutes, arriving at one of the strangest bus stations you'll see in Spain.
---
---
Other day trips from Nerja
How about other day trips? I have a few suggestions.
If you're a hiker contact Jon at Jon Keo Walking Tours. I've done nearby hikes with him, doing El Cielo, Almendron and the above mentioned El Fuerte. On occasion he'll even do hikes a bit further away like El Torcal de Antequera. A great way to have a fun-filled day meeting different people and seeing some of the amazing geography in Southern Spain. It's not expensive and he takes care of all the transport so you don't have to worry about anything.
Malaga. It's further away than the other destinations I've covered above…but Malaga can be reached in 1 hr, 15 minutes from Nerja if you take the direct bus and it has lots of points of interest. Enough to fill a day.
See: 24 hours in Malaga in Photos
Granada. I don't like recommending it as a day trip because Granada deserves much more than a day. But if you're in Nerja and absolutely want to see Granada it can be done. Most Alsa buses take about 2 hrs, 15 minutes getting there. Better yet take a tour such as this one which includes transport from Nerja, a tour of the city and the Alhambra. It's the best way to see Granada on limited time.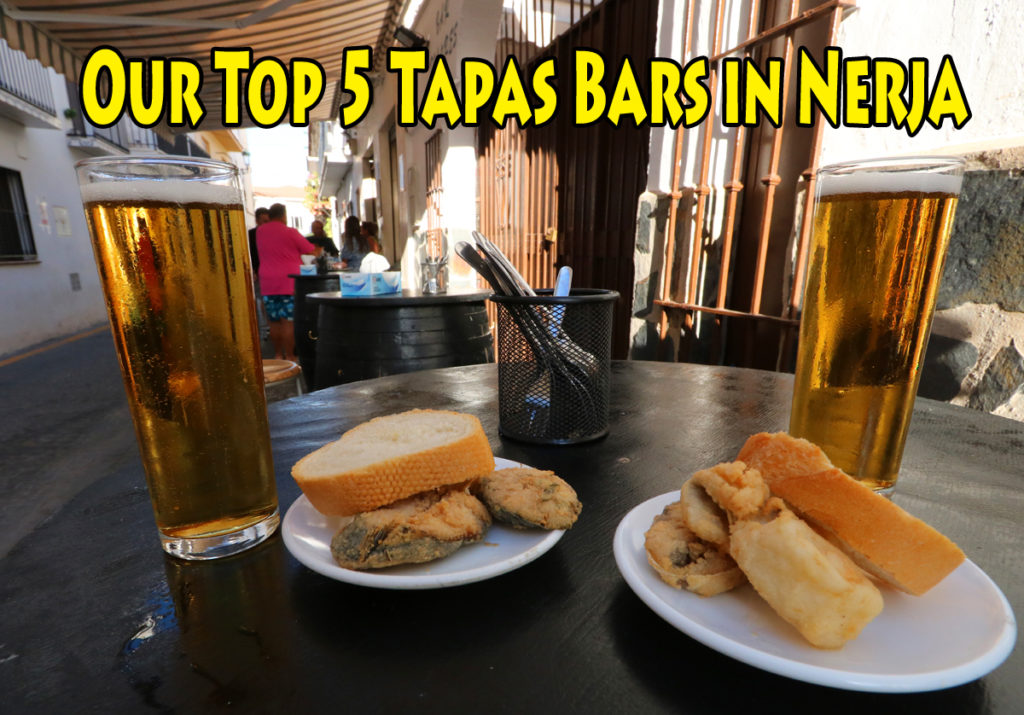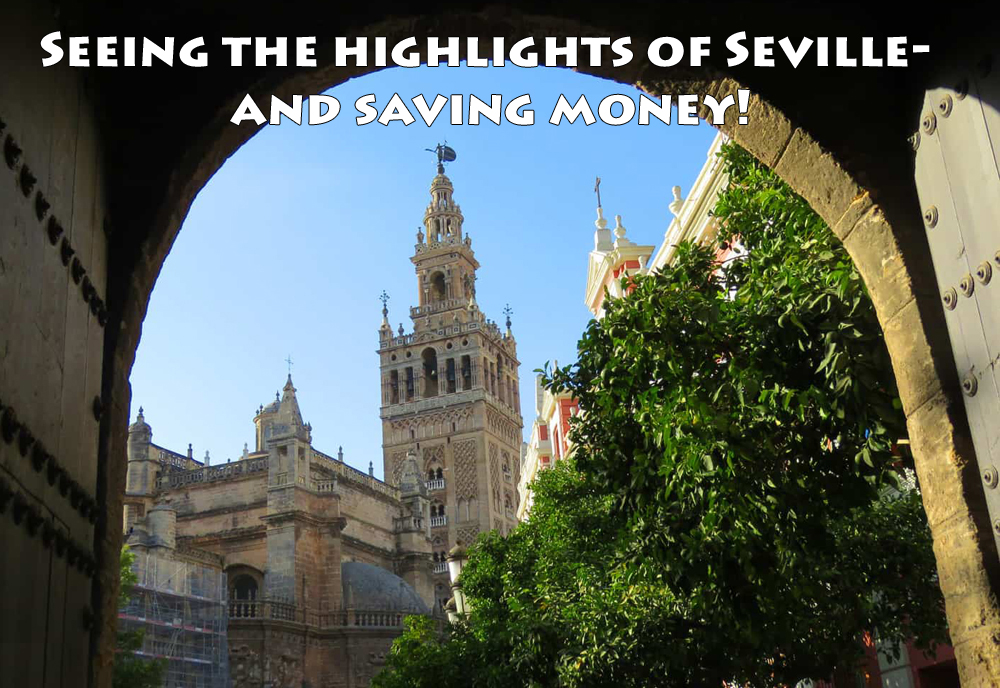 Join Our Newsletter
If you haven't subscribed yet and want to get our posts sent to your email, just insert your email address below. It's free!